I've been creating fine pen doodles, sometimes known as zentangles, for years now and have sketchbooks full of them. When I started creating these, the originals were always black and white and if I added colour I did it digitally after I'd scanned the originals. I was very precious with those originals – too frightened to experiment in case I ruined them. But just recently I've started adding them into some of my mixed media work…
…and I'm quite pleased with how they're turning out.
This one was created using a collage of book pages, followed by a watercolour wash and clear gesso glaze. The doodling came next. I don't plan this, its totally spontaneous and I'm always surprised by the end result! Lastly I added some colour to the doodling using pitt pens and a bit of shading with a water soluble graphite stick.

Nearly May – and the weather's still no better. We've had a mixture of snow and hail storms this week! But it hasn't stopped me making art.
I'm really loving working in this A6 journal – it's perfect for those days when the big journal is too intimidating!
I created this spread using watercolour paints, tombow markers, a stencil and a gel medium resist.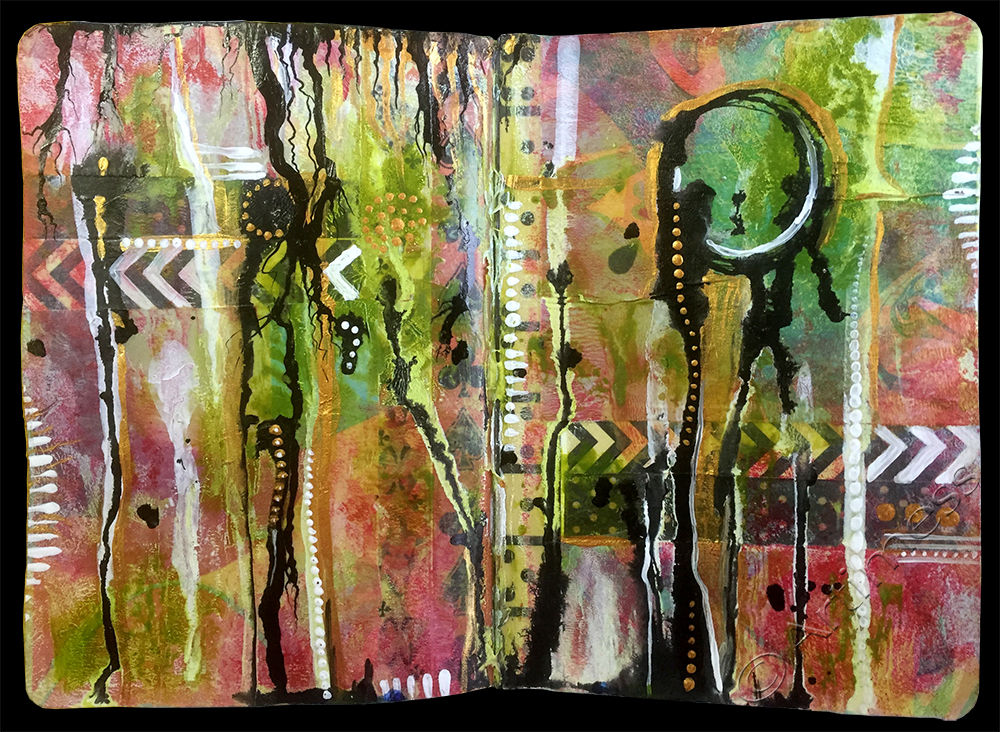 This spread started out as a collage which then got covered up with layers of paint, ink and paint markers. I love the richness of the colours.
I started this next spread by covering the pages with washi tape, then used thin washes of acrylic paint to colour the page and create the 'green girl' on the right.
My 'I Believe' spread was inspired by Effy's Book of Days spreecast about wonder. I really love how it turned out.
In this last spread I decided to play with some rediscovered hand made funky foam stamps that I made quite a few years ago. I had so much fun – I'm planning on making some more stamps to add to the collection!
I've almost finished making the postcards for the iHannah DIY Postcard swap so keep watching for some pictures of those once they're done.
A few weeks ago I attended the last of a series of Person Centred Expressive Arts Workshops with Dinah Brown up in the Lake District. One of our tasks over the weekend was to create a loom from natural materials into which we wove words from stories we had written. This is my story loom.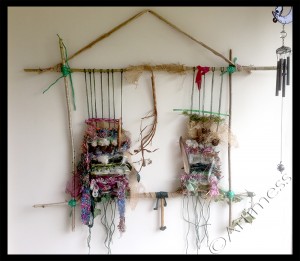 Going back to messy paint, I've managed to create a couple of rather spooky images in the last few days.
This first one was created using collage, washi tape together with some distress ink and fluid acrylic paint. When I had finished playing I noticed this strange looking person looking out at me so I used a white posca paint marker and some light coloured very dilute acrylic paint to bring the figure out from the background. Then I noticed three more shadow people standing by.
This second image started out as just playing with tombow brush markers distress ink spray and dripped fluid acrylic paint. I decided to make the drips look 3D by highlighting and low lighting them with posca paint pens. When I'd finished, I noticed that I'd created another spooky image. Not my usual style – will there be more?

I can't believe that a whole month has gone by since I last posted anything here. I've made plenty of art – just haven't got round to sharing it. So here goes. I'm a bit late uploading them, but here are the last of my faces for 29 Faces 2016. Yeah – I made it!!
They're created with a mixture of watercolour, oil pastels and pencil. I really enjoyed the challenge of drawing so many faces.
I've also been playing along with the Journal 52 prompts. This is my response to Sarah Trumpp's prompt for week seven using a mixture of tombow brush pens and posca paint pens – called "Nerdy Love"…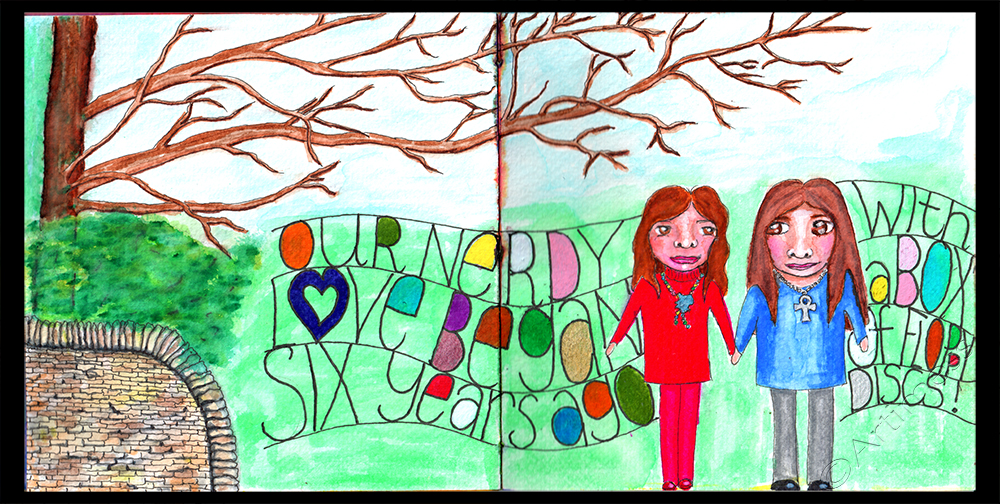 …and for week eight using a mixture of fluid acrylics, distress ink, collage, tombow brush pens, posca paint pens, stabilo all pencil and calligraphy pens – called "Listen to Crow".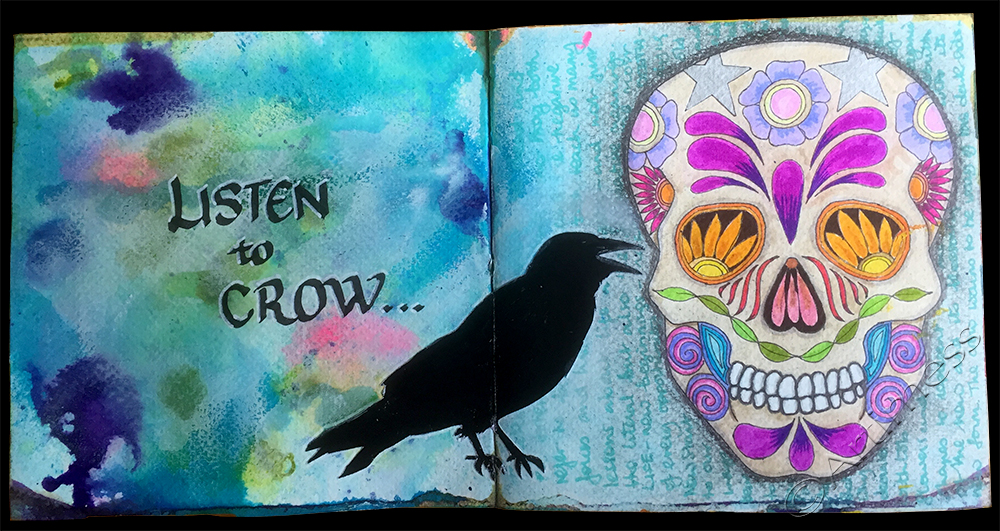 This next spread was created in response to the prompts for week eight of Effy Wild's Book of Days. I created it over the course of a week using tombow brush pens and computer generated text, and was amazed by how it all came together over the course of the week.
I was continuing to think about spring and all the new growth starting to appear while playing with acrylic paint which led me to create this spread. I just love the vibrant colours on this page.
I love the word emergence, and had great fun creating this spread in response to Effy Wild's prompt for week ten of Book of Days. I used acrylic paint, fluid acrylics and a collage of computer generated text to create these pages.
I have lots more work to share so keep watching … here's just a sneak peak of something a bit different that I'll show you more of in the next post.

Since the beginning of this year I have been inspired by so many challenges and classes. Although I haven't necessarily completed all the prompts and suggestions, I've found that having so much inspiration has enabled me to maintain a much more consistent artistic practice. I have been making art every day – and am definitely feeling the benefits.
I've been working in a number of different journals and have been playing with lots of different styles.
This first piece was inspired by Effy's Book of Days theme for the month of January. The background is a created with lots of layers of acrylic paint, then I added the bird and the lettering as collaged cutouts which I created using tombow pens. I like the subtle contrast to the bold colours of the background this creates. I wrote the quotation using a dip pen and indian ink.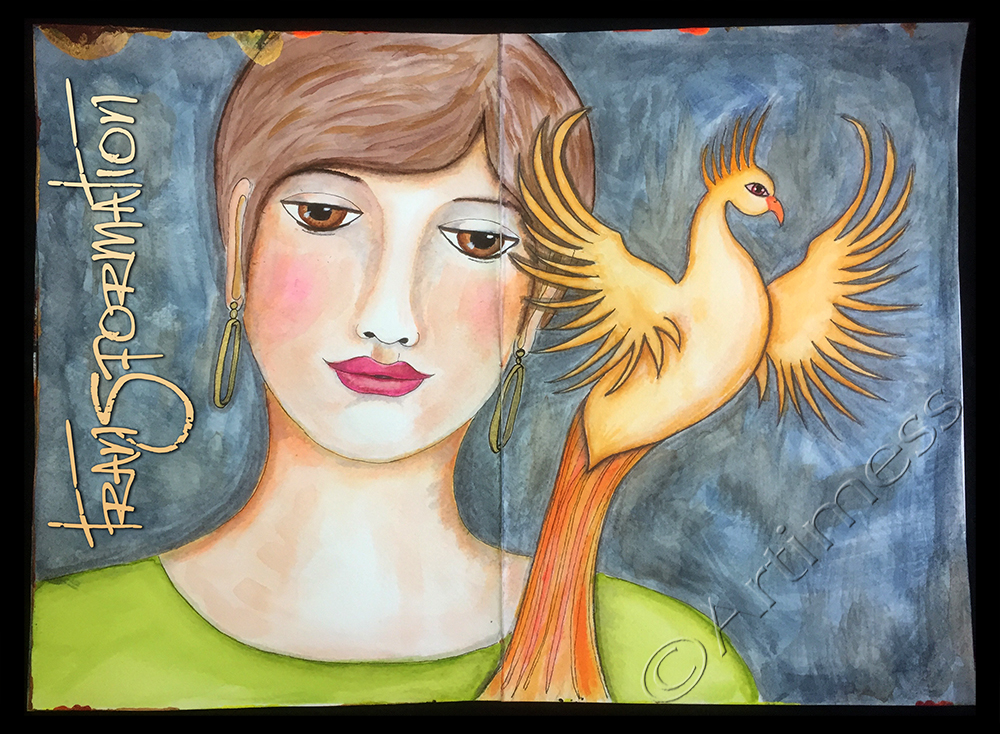 "Transformation" is my interpretation of Tam's lesson from Radiant 2. I used Tombow pens to colour the lady and the phoenix and watercolour paint for the background. I added the text digitally after scanning the completed spread.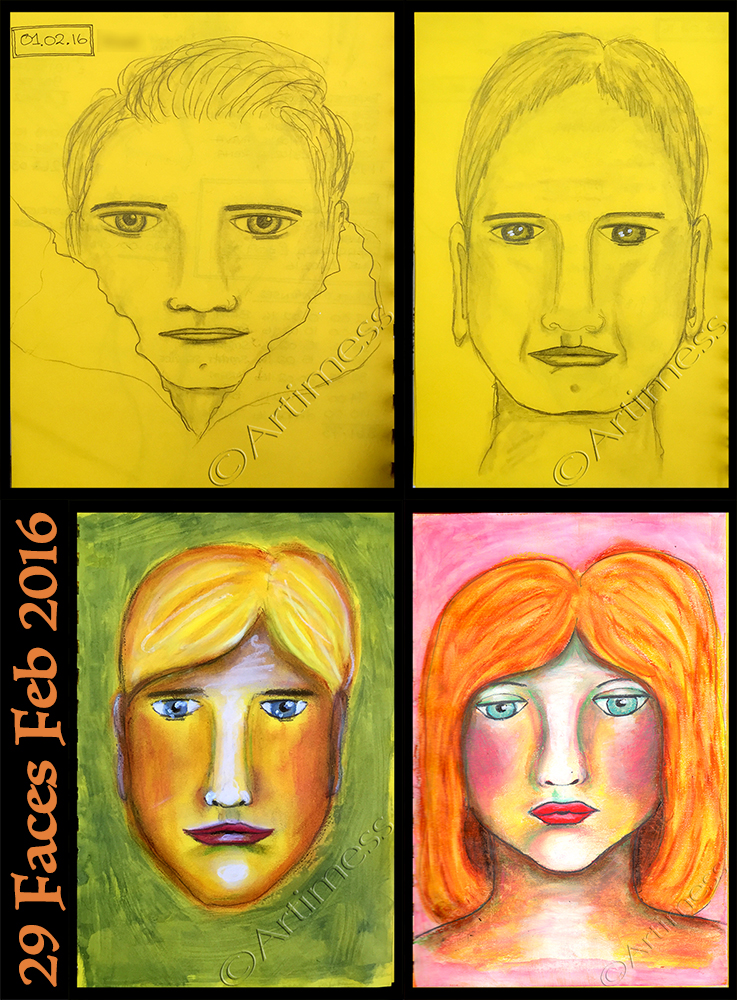 Moving on to challenges – I thought I'd try to include some male faces in my responses to the 29 Faces challenge this year – this is my first four. I'm really loving using oil pastels for the faces.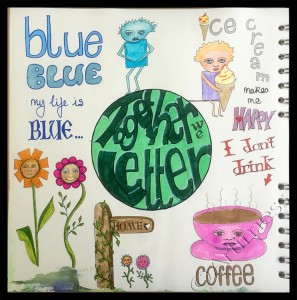 Finally, as a result of following the Journal 52 group on Facebook, although I haven't got around to journalling any of those prompts, I was inspired by Sarah Trump's work and checked out her blog posts. As a result I discovered the "Together We Letter" challenge by @lissletters on Instagram. This is my response to the prompts for the first four days – so much fun!

It's been a while since I made a collage that stayed visible after I completed the piece. Normally by the time I finish the image, the collage is buried under layers of paint, stamping or stencilling or a mixture of all three. But the last two classes I've done as part of Radiant 2, both have visible collage in the completed pieces!
This first piece was my response to Dyan Reaveley's class.
Her lesson was so great, I especially enjoyed the things she shared about her process – thank you Dyan. Although I didn't have many of the supplies Dyan used, I think my substitutions have worked well – I love the result and the quotation taken from Sandra Sturtz Hauss's poem "These are my wishes for you".
My second piece was made in response to Effy's interpretation of Felicia's class.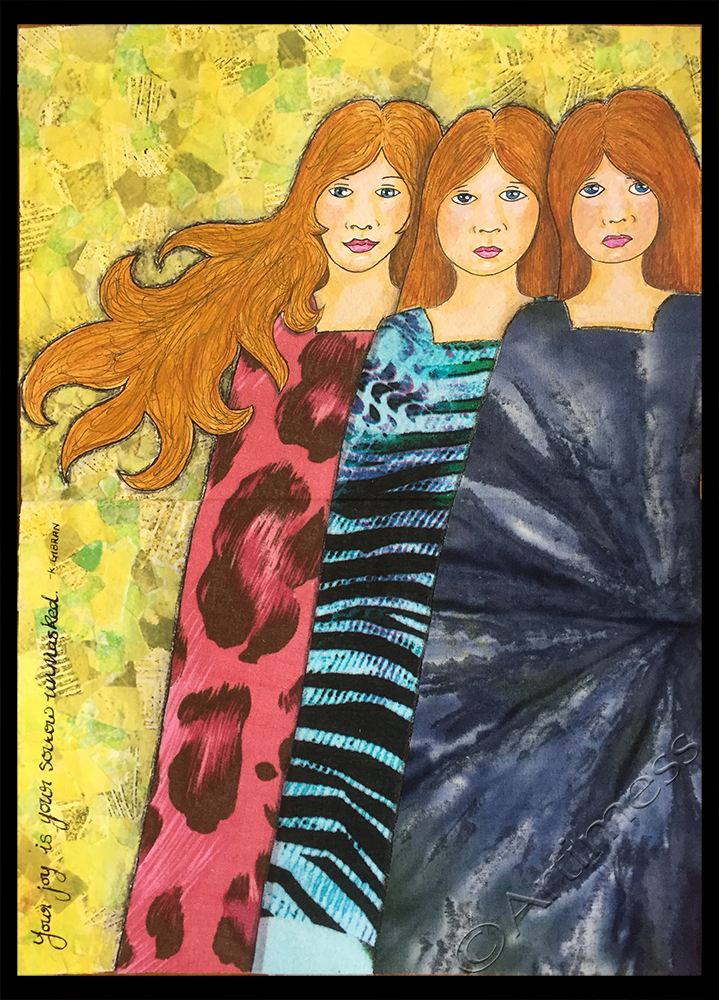 I loved the process, and learnt loads from the note writing. I found it really interesting to create a second image in a different style – thank you for a really inspiring lesson Effy. By the way – if you want to look up the quotation, it's taken from "On Joy and Sorrow" by Kahlil Gibran.
I haven't quite made up my mind what to do next, but I think I might start making postcards for iHannah's postcard swap ready for the end of the month.

I really enjoyed all the mixed media work I've been doing recently, so I decided to do some more playing with layers, both physical and digital.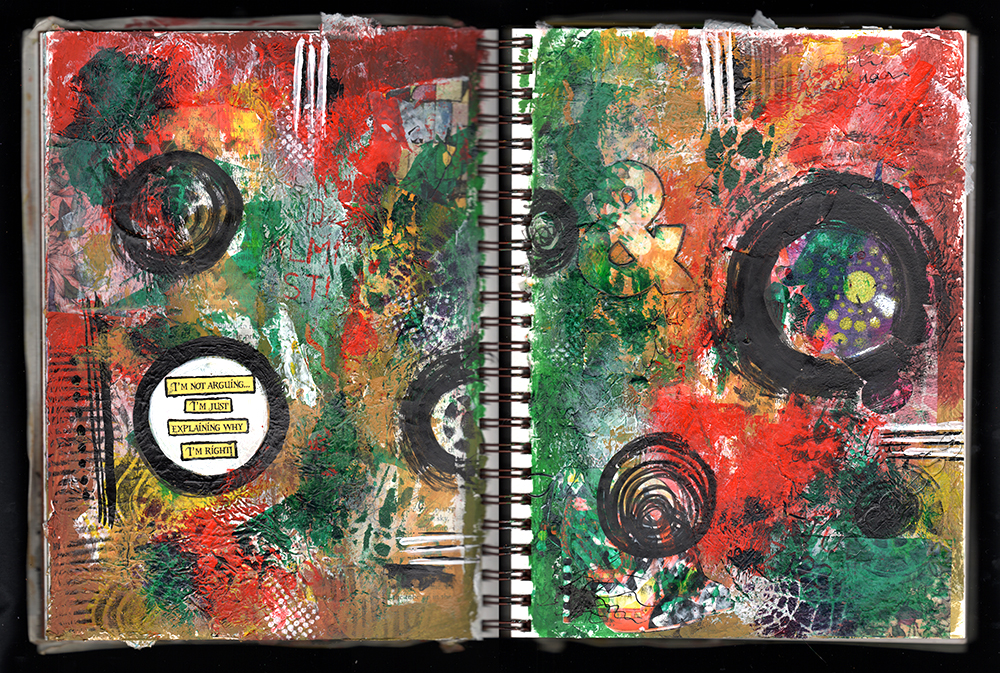 This first image started out as a collage using a mixture of old papers, book pages, old paint stained tissues, and magazine clippings. This was followed by a liberal application of acrylic paint, stencilling, homemade stamps, washi tape, and more collage. The quotation made me smile, as it's the kind of thing I say all the time!
This second image was inspired by some work I did at the weekend on the Person Centred Expressive Arts workshop that I attended run by Dinah Brown and Nuala Eden. It began life as a geometric abstract created using watercolour pencils. Although it was quite colourful, it looked a bit flat, so I gave it the mixed media treatment. I added acrylic paint, stencils, homemade stamps, paint markers and indian ink, then finished it off with some letter stamps and collaged letters.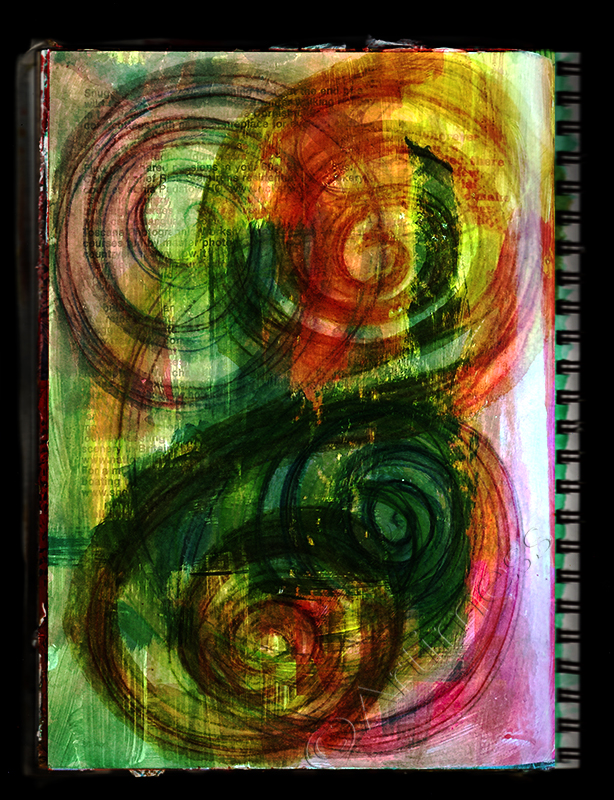 Its been a while since I played with any digital layers, so this last image is a digital blend of two journal pages – a series of swirls drawn with watercolour pencils, and a page created to use up some leftover paint.
Only five days left before the start of 21 Secrets Fall 2015 – I'm really looking forward to working and learning with all the amazing teachers Connie has gathered together.

As part of my September fresh start, Ive been brushing the cobwebs off my creative skills and learning some new techniques as I've played along with a whole bunch of fabulous artists – free workshops that Connie Solera gave as a bonus for signing up to Fall 2015 21 Secrets. I love the variety of different styles that I've created as a result.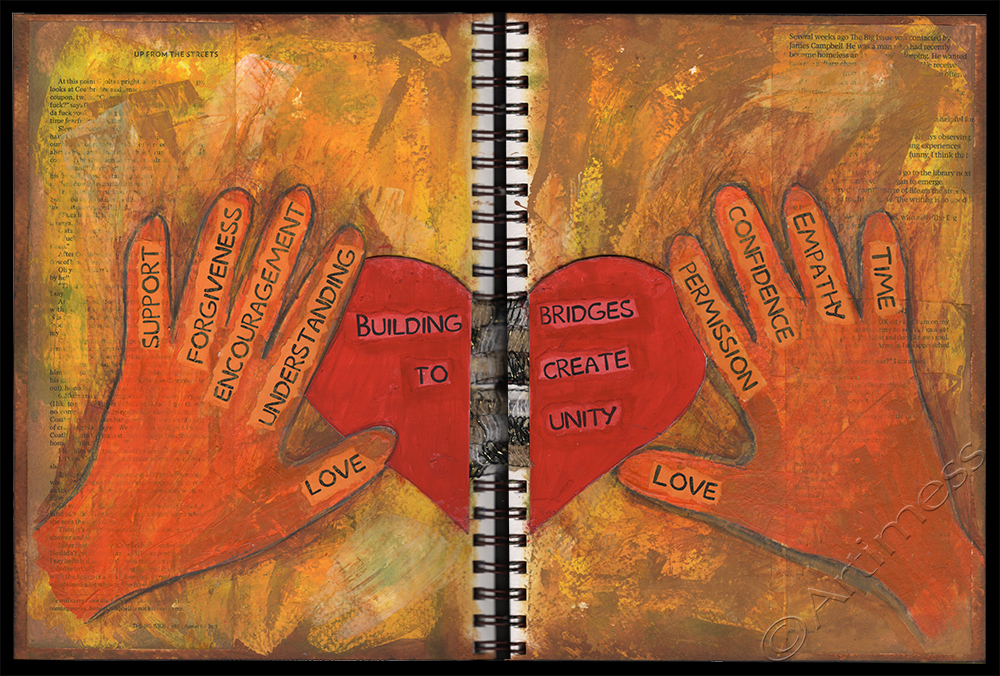 This first journal spread was the result of a workshop with Gretchen Miller reflecting on giving and receiving. I had great fun creating the bridge over the binder rings using some of the wool I bought recently, but its made it quite difficult to close the journal now!
I really loved creating this journal page with Violette Clarke. I didn't follow her instructions to the letter, but I learned a lot and really like how my page turned out. I was totally inspired by this amazing lady, her incredible vitality and vibrant work.
This page was the result of listening to the 21 Secrets Conversation with Eric Scott from Journal Fodder Junkies. After listening to Eric talking to Connie I was intrigued to find out more, and went hot footing over to the Journal Fodder Junkies site where I discovered a series of how to videos. My page didn't quite turn out how I thought it would, but I had great fun making it, and learnt loads in the process.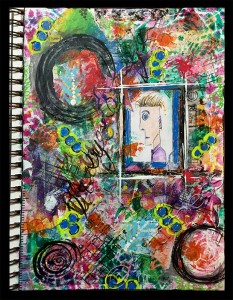 This final page was inspired by a workshop with Roben Marie Smith. I don't think I've ever made such a busy page with so many layers before, but I really love how it's turned out.
I still have a couple more free workshops to take part in before the end of the month when 21 secrets starts, and lots of inspiration for more pages to create – so watch this space to see what I get up to next!

Just a quick post to show you my second mandala created on Julie Gibbon's Mandala Magic Course.
It's called an Intention Mandala, and I really enjoyed creating it. It has a hidden layer behind the collage – powerful stuff! I'm working on number three now. Watch this space!

In contrast to yesterday's post, and just to prove that I have been creating some of my more usual bright work, here are the latest two – digitally altered of course!!
This is my favourite – I love the softness of the colours and the textures which the tissue collage adds to the image. I created the collage using home made background papers, torn paint tissues, acrylic paint, stencils and some Krylon webbing spray. After photographing, I digitally altered the image using filters and blending.
This one is Bry's favourite – he loves the bright colours, and yes, it is meant to make your eyes go funny!. I created this using acrylic paint, stencils and Krylon webbing spray, then digitally altered it using filters and blending.
I've been playing digital with yesterdays images, but you'll have to wait till tomorrow to see what I've done to them!