"The most precious gift we can offer others is our presence. When mindfulness embraces those we love, they will bloom like flowers."
I thought this quotation from Thich Nhat Hanh was very appropriate for my journal spread inspired by Cathy Bluteau's class on the 21 Secrets 2013 course.
Why is it that whenever you want a specific sort of image in a magazine you can never find what you want? I ended up sourcing my flowers online from Five5Cats who very kindly allows her images to be used for private artwork. Thank you Cindy!
I collaged the background using old papers and flowers, then added doodling using Pitt Artist Pens. I coloured my doodles using Inktense pencils and filled in with more collage using various tapes and pieces of old artwork. I created the quotation using digital text and finished off by adding details with Pitt pens, an Edding 780 paint marker, neocolour crayons and distress ink pads.
I've never done anything quite like this before, but I really enjoyed it and will definitely do some more pages using these techniques. Thank you Cathy for a great class!

Yesterday, Christmas came early! I got these Texture Stencils from "artistcellar" in the post! So much fun!
I started out by adding colour washes with Inktense pencils to some watercolour paper to create an under layer to the stencils. I used the Inktense pencils because once they've been activated they become permanent. When the colour wash layers were dry I got out the acrylic paint and started playing with the stencils! It was very messy – but the stencils are great!
I have no idea at the moment what I'll use these backgrounds for, they'll probably get obscured by additional layers of something else, but for now I'm just enjoying them as they are!

Today I created a batch of coloured backgrounds in different colours using inktense pencils and neocolour crayons. I often do this when I can't think what to do as I find it generally sets me off on a new creative path. Today was no exception! During the background process I ended up with several very painty tissues, but one in particular caught my eye.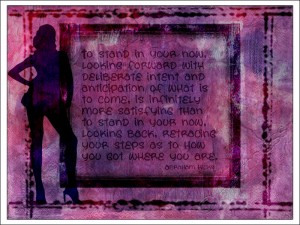 I carefully separated the three layers of tissue then tore and arranged them before glueing them to the background with a healthy dose of gel medium. When it was all dry I scanned the image into the computer, added the quotation and chose some digital brushes to frame the words.

I've been playing with the iFontMaker app again – it's just so much fun!
Today I used a stylus instead of my finger, so I got slightly less wobbly results than last time. This font is called "Handwritten" and you can download it by clicking HERE if you like it 🙂
I created the background using my favourite Inktense pencils on water-colour paper.

After yesterday's disaster I thought I'd keep things nice and simple today. I felt like playing with bright colours so I got my Inktense pencils out.
I created the flowers and the background using the Inktense pencils, then added some foliage using digital brushes after scanning it into the computer. I love the way the Inktense colours glow!

Seeing all Leah's snow pictures last week got me thinking about snowflakes, which in turn inspired me to get some paper and scissors and start cutting! I know snowflakes are supposed to have six sides, but mine has eight – call it artistic license!
I coloured the background using Inktense pencils then cut the snowflake out of white paper and coloured it using distress ink pads applied with cling film. I stuck the snowflake to the background using gel medium then added more colour to the background using the same distress ink and cling film technique.
After I scanned it into the computer I started wondering what it would look like if I played digital blending games! You need to click on this one to look at it large.

Today I played catch up with my Life book 2012 classes. I completed Lesson 29 from Jodi Ohl. The lesson started with a positive letter to my younger self which I then tore up and used as the basis for the piece. For the next layer I added some printed tissue paper followed by a thin wash of white gesso. Then I stamped a border using home-made foam stamps and acrylic paint – messy!
When it was all dry I drew the face using pencil and coloured it using a mixture of acrylic paint, gesso, Inktense pencils, uniball pen and pencil. Finally I added a set of positive affirmations around the edge.
I had so much fun making this and found the personal development element very useful – thank you Jodi!

I so enjoyed making Guada's mandala the other day that I thought I'd have a go at another one.
I used the same template just joined the lines up differently. all the techniques were the same as before – neocolour background, Rapidograph pen and Inktense Pencil lines and shading, but the result is so different. I'm looking forward to starting Guada's free course on the 8th October!