I'd been reading online about Tilt Brush the new virtual reality 3D painting app by Google, thinking that it looked like a lot of fun. So I was really excited yesterday at work to be given the opportunity to try it out – absolutely awesome!! This is a picture of me creating my 3D landscape – totally oblivious to the world around me!
Back in the real world I've been busy creating lots of physical artwork as well.
When I finish work late at night, I often play with paint in my everyday notebook just to let off some energy and get messy. This is the result of one of those playings.
This next image was completed over a week – playing with the techniques taught in Effy's Book of Days week 18 lesson.
I really enjoyed learning these new techniques and found the whole process very therapeutic.
Back to the notebook again…
… I had great fun using the wrong end of the paintbrush to scratch some texture into my image.
Staying with the same colour palette, I moved over to my small art journal…
…and had some more fun playing with textures.
This next spread was inspired by Tracy Verdugo's lesson from the Spectrum 2016 course.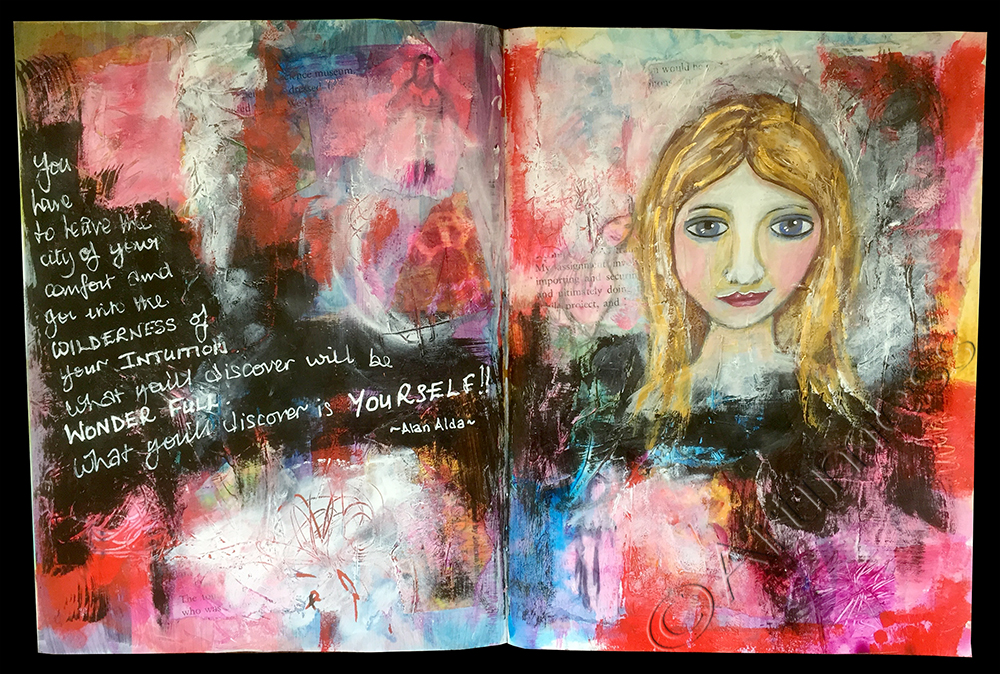 It was an amazing lesson and I loved the process. I really like the Alan Alda quote that I found to go with it too.
And finally, I've just finished this last spread, inspired by Effy's Book of Days week 20 lesson.
Following the BOD prompts this month has really taken me on an amazing journey and I've been continually surprised by the synchronicities that have appeared in my world as a result. Thank you Effy!

A few weeks ago I attended the last of a series of Person Centred Expressive Arts Workshops with Dinah Brown up in the Lake District. One of our tasks over the weekend was to create a loom from natural materials into which we wove words from stories we had written. This is my story loom.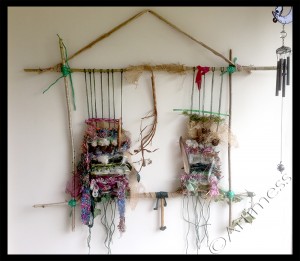 Going back to messy paint, I've managed to create a couple of rather spooky images in the last few days.
This first one was created using collage, washi tape together with some distress ink and fluid acrylic paint. When I had finished playing I noticed this strange looking person looking out at me so I used a white posca paint marker and some light coloured very dilute acrylic paint to bring the figure out from the background. Then I noticed three more shadow people standing by.
This second image started out as just playing with tombow brush markers distress ink spray and dripped fluid acrylic paint. I decided to make the drips look 3D by highlighting and low lighting them with posca paint pens. When I'd finished, I noticed that I'd created another spooky image. Not my usual style – will there be more?

I thought it was about time I caught up with posting some images; I've spent so much time having fun and getting messy in my art journals that I've not got round to uploading any of my work.
This image was inspired by a Journal 52 prompt to pick a zany word and illustrate it. I chose 'exuviate' which means, apparently, to shed or cast off a covering. I liked the idea of emerging into a new reality.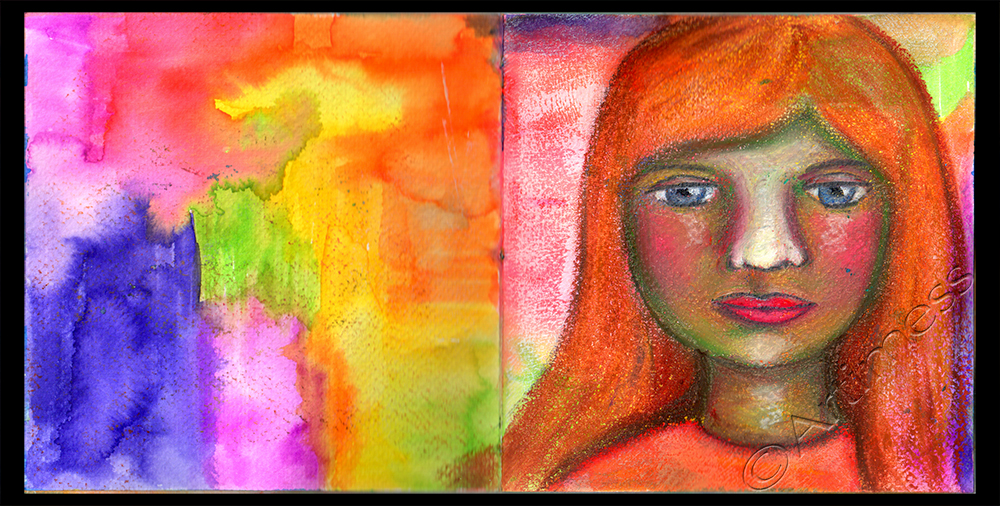 Returning to the 29 Faces 2016 challenge – I can't resist playing with the oil pastels. I created the colourful background using Tombow brush markers – I just love those bright colours!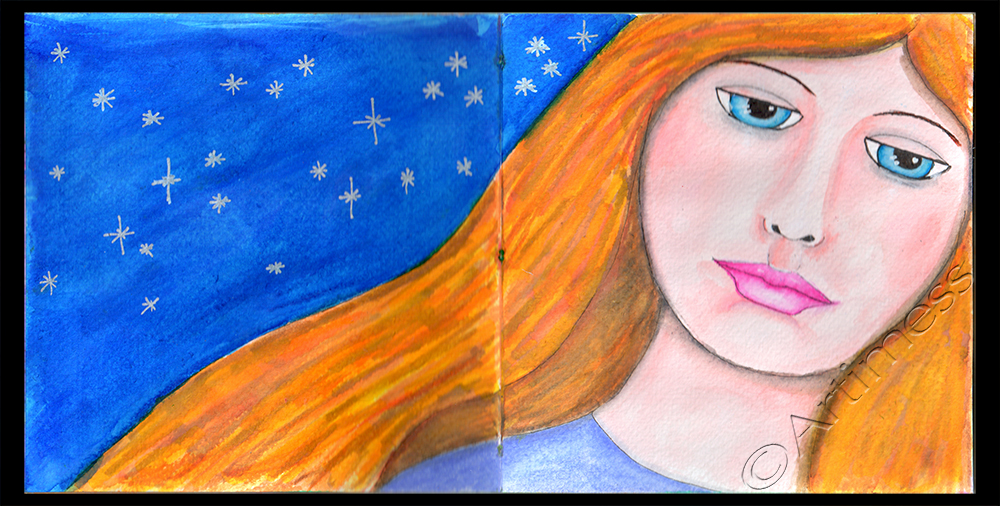 Effy Wild inspired this next piece with her class, based on Nolwenn's lesson, taken from the Radiant 2 course.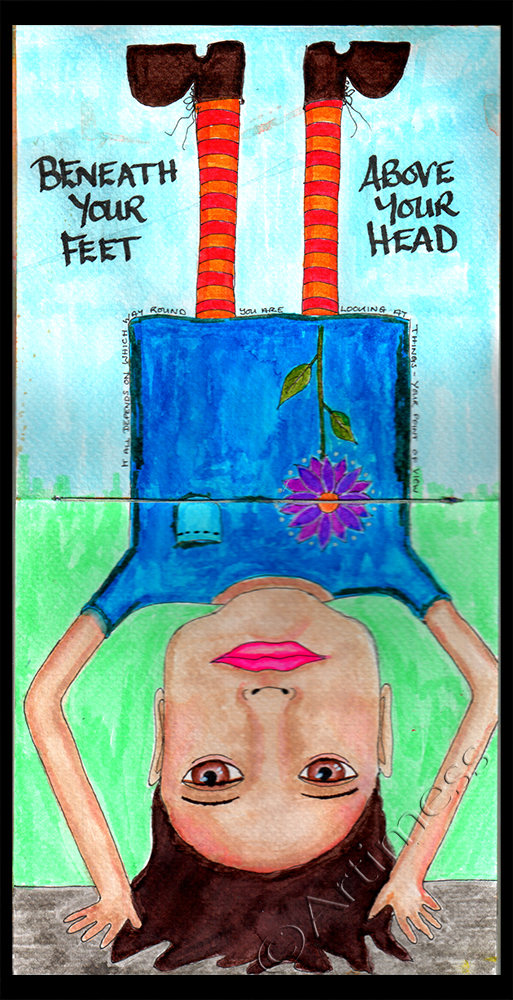 This last piece was created in response to two Journal 52 prompts – 'above your head' and 'below your feet'. When I saw these two prompts it occurred to me that depending on how you looked at things, they could either be pointing in opposite directions or the towards each other. This was how I saw it.
I still have more to post – I'll try to create another post tomorrow. Keep watching!

There's just time for one more post before Christmas – my Christmas angel wishing you all a Very Happy Christmas!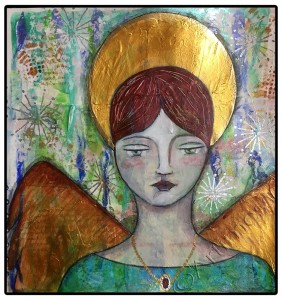 I like to paint an angel card each year at a this time but often have difficulty getting started. So Effy's Soul Friend Angel Mini mixed media class was the perfect inspiration I needed to create this year's angel. Thank you Effy – the class was amazing and I learnt so much in such a short space of time.

It's almost time for the Winter Solstice and I've been starting to reflect on this last year in readiness for the new cycle about to begin.
I've also been making a fair amount of artwork inspired mainly by the amazing lessons in Effy's Radiant 2 course – I thought it was about time I posted some of the work online. I have found it really interesting going back over my work from the last few months to notice how much my work has been changing.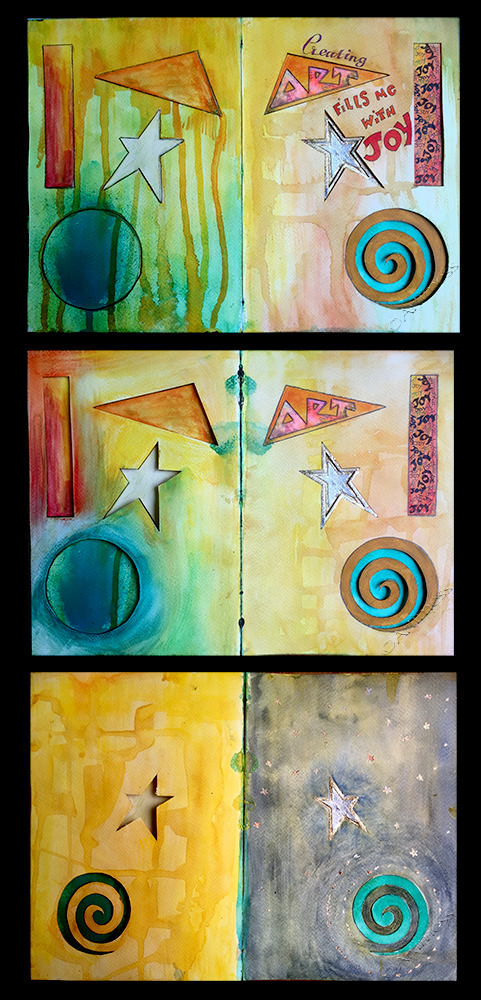 This is the oldest piece, and was inspired by the lesson from Tangie Baxter. I really enjoyed using her cut-out techniques to create these pages and am sure I will use this technique again in the future.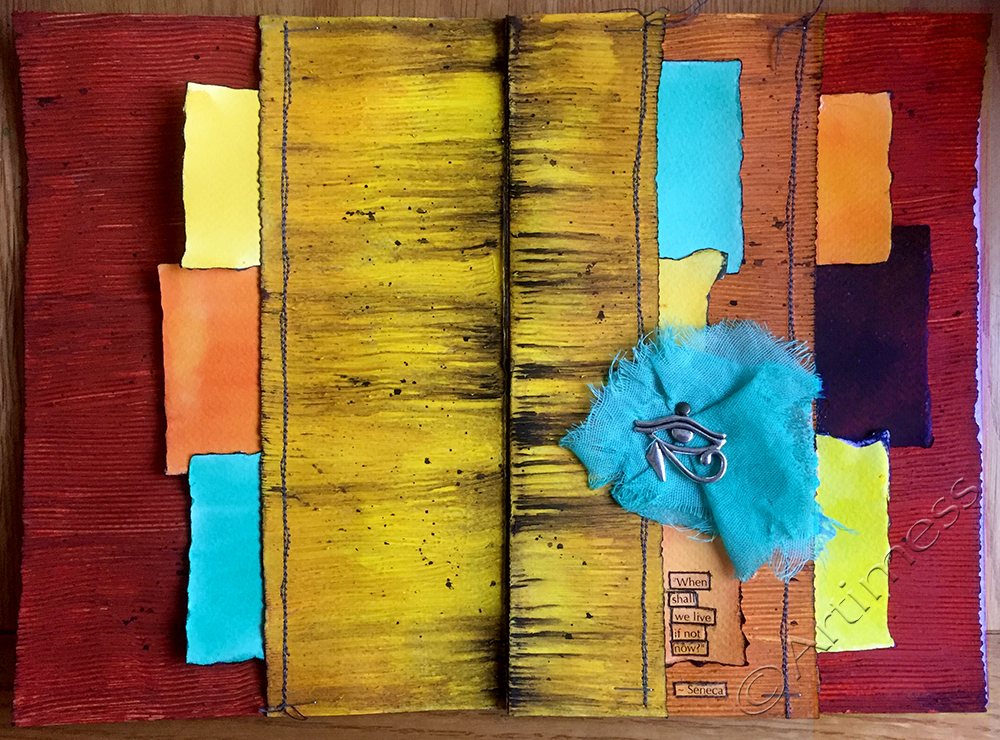 I had so much fun creating this next piece. It was inspired by the lesson from France Papillon – I learnt so many new techniques from this class. Simple, but so effective!
Nolwenn Petitbois's lesson inspired this piece. It has so many layers – and i got so messy creating it – great fun!
At the end of November, I treated myself to this Winsor & Newton Cotman Half Pan Water Colour Studio Set
from Amazon…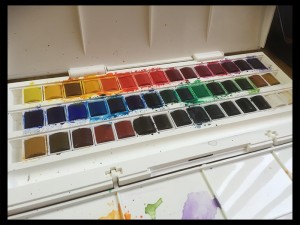 …and I couldn't wait to try them out when they arrived!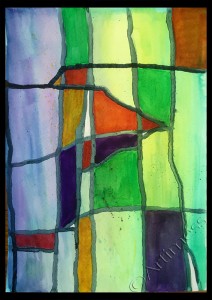 This was result of that first play with my new paints! I enjoyed using them so much that I think I've used them in every picture I've made since!
My golden haired lady was inspired by Marieke Blokland's class – such a comprehensive lesson – so much detail. I really enjoyed creating her – especially using the gold flakes in her hair – I love the way she sparkles!
I have a load more work waiting to be uploaded, I hope to get it done before Christmas… so keep watching this space.

I am so loving my new Effidori! I always love learning new book making techniques and Effy's lesson on how to make the Effidori was so easy to follow that I enjoyed every minute of it!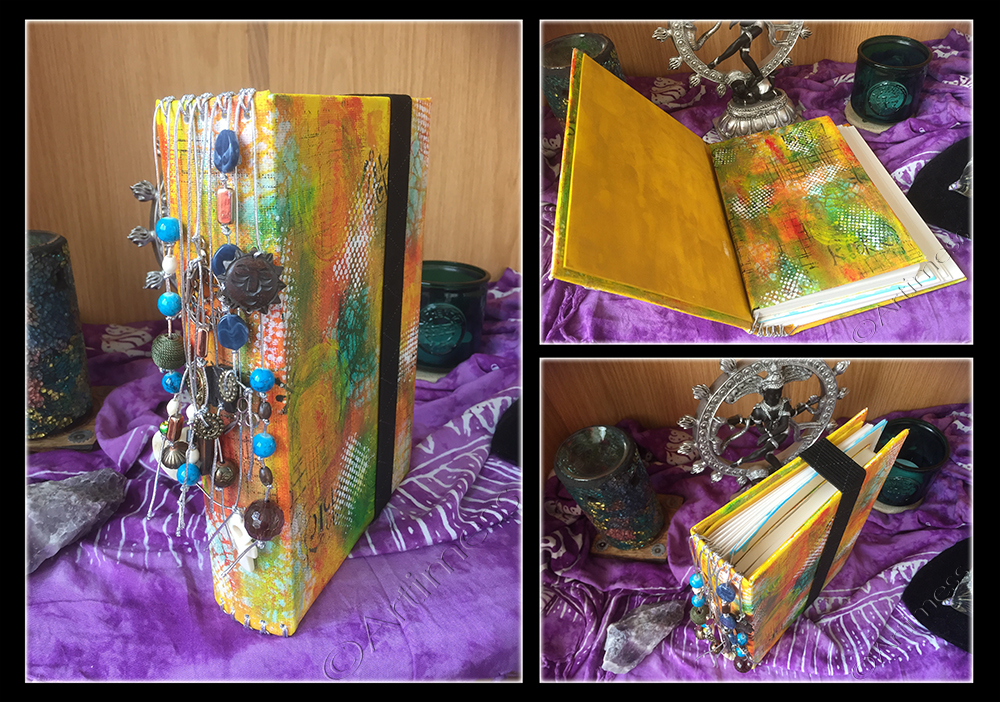 And I'm loving the results – both the way it looks and using it as a journal. Thank you Effy for an amazing lesson!
Having made the journal, I was ready to start the first guest teacher lesson on the Radiant 2 course.
Felicia Borges lesson was just so much fun and really messy. I love the way she works. I didn't have all the supplies that she used, and my alternatives created a rather different look. But I'm really pleased with the result!
Which lesson shall I do next I wonder? Keep watching to find out.

I've been getting messy and having fun! Not content with having recently signed up to 21 Secrets Fall 2015, I've just signed up to Effy Wild's Radiant 2 Course which started on 1st October. So much juicy, messy goodness to choose from! I'm loving every minute of it!! And just for good measure. I've signed up for the iHannah DIY Postcard Swap – Fall 2015. Yeah! – got to share the abundance that I'm creating.
So far I've been playing along with two of the 21 Secrets classes, and experimenting with some of the techniques in my everyday journal.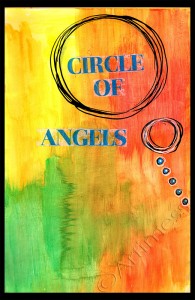 On this first page, I was trying out a letter transfer technique from Catherine Anderson's class. Her lesson has so many cool things to try.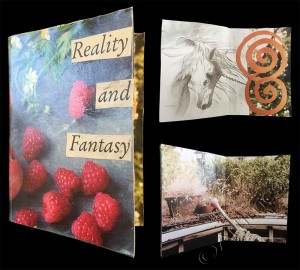 This is another technique from Catherine's lesson – a really cute mini book. It's only 5cm x 7cm but it was so much fun to make and decorate. I think I might try and incorporate some of these into my postcards for the swap at the end of the month.
I made this image while I was watching Orly Avineri's class video from 21 Secrets. So many great ideas to try! I still have loads more to try out yet – but I'll use my watercolour journal next time. My everyday journal is only made with ordinary printer paper, so it doesn't cope very well with too much wet. This page bled quite badly through onto my handwritten notes on the previous page – oops!!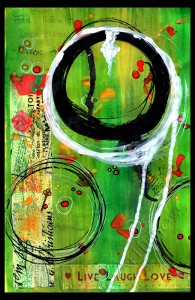 This last page started as an excuse to play with my latest washi tapes. Then I added some messy paints and ink to finish it off.
Right now, I'm busy making my journal for Radiant 2. How to make the Effydori journal (Effy's version of the classic Midori notebook) is the first lesson Effy teaches on the course. Once that's done, I can get started on the rest of the classes. So keep watching this space to see what I get up to next!

As part of my September fresh start, Ive been brushing the cobwebs off my creative skills and learning some new techniques as I've played along with a whole bunch of fabulous artists – free workshops that Connie Solera gave as a bonus for signing up to Fall 2015 21 Secrets. I love the variety of different styles that I've created as a result.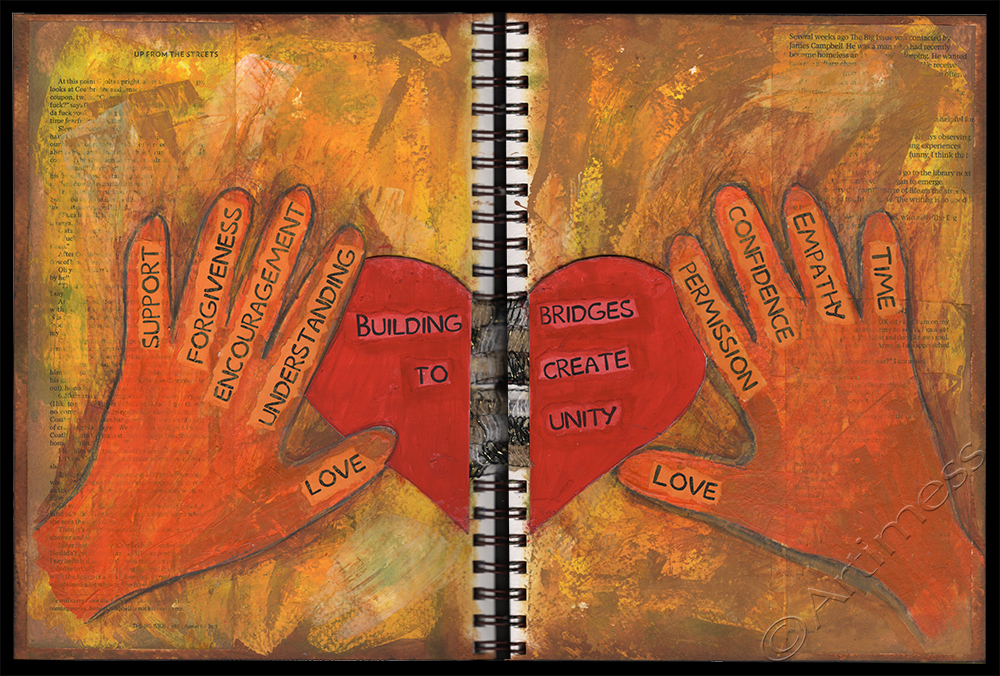 This first journal spread was the result of a workshop with Gretchen Miller reflecting on giving and receiving. I had great fun creating the bridge over the binder rings using some of the wool I bought recently, but its made it quite difficult to close the journal now!
I really loved creating this journal page with Violette Clarke. I didn't follow her instructions to the letter, but I learned a lot and really like how my page turned out. I was totally inspired by this amazing lady, her incredible vitality and vibrant work.
This page was the result of listening to the 21 Secrets Conversation with Eric Scott from Journal Fodder Junkies. After listening to Eric talking to Connie I was intrigued to find out more, and went hot footing over to the Journal Fodder Junkies site where I discovered a series of how to videos. My page didn't quite turn out how I thought it would, but I had great fun making it, and learnt loads in the process.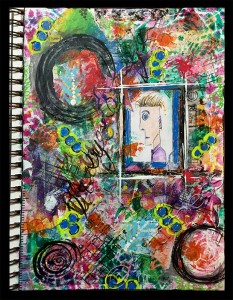 This final page was inspired by a workshop with Roben Marie Smith. I don't think I've ever made such a busy page with so many layers before, but I really love how it's turned out.
I still have a couple more free workshops to take part in before the end of the month when 21 secrets starts, and lots of inspiration for more pages to create – so watch this space to see what I get up to next!

I've just realised how long it is since I posted anything online. I've been busy keeping up with Julie's Mandala Magic classes, I just haven't got round to posting anything online. So here's the first instalment – moving on from the Void to the Bliss…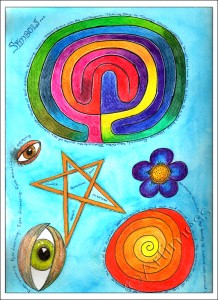 … I created this page of symbols that are important in my life right now.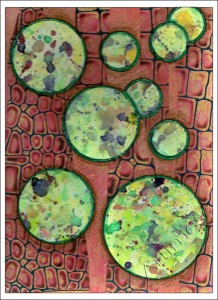 I found the bliss quite a difficult stage to be in, and had trouble with the shaving foam technique that Julie recommended. After struggling for a while, I gave up and decided to use a mixture of other watery techniques to create the mandalas on this next image.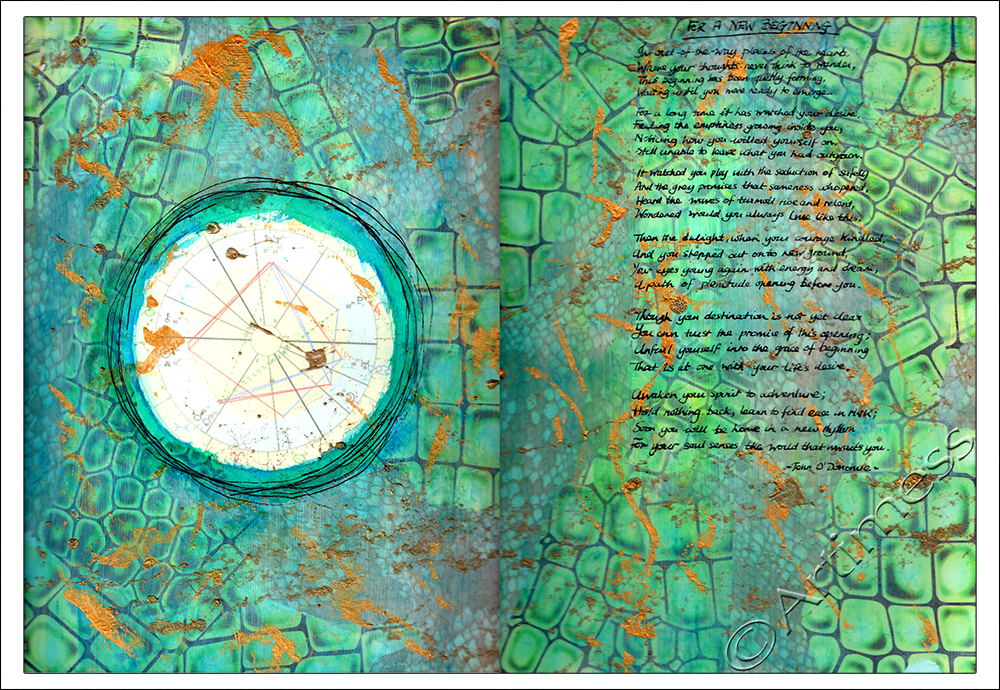 I quite enjoyed making this page which has a background made from patterned tissue paper covered in water activated neocolour crayons. The free birth chart I used comes from the website astro.com. To complete the spread, I handwrote the poem 'For A New Beginning' by John O'Donohue.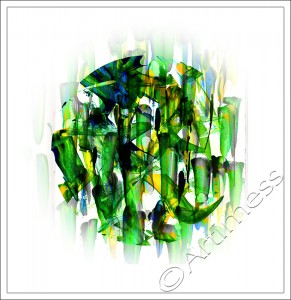 Slightly apart from making mandalas, I've been playing with paint in a very free way and have taken a few of those images and created this blended mandala. Keep watching for the next instalment!
It all started with a piece of white paper and four bottles of ready mix poster paint in blue, yellow, purple and fuscia pink…
…I squirted the paint into the paper, folded it in half, and squigged it everywhere! This photo was taken when it was all gleaming and wet. As soon as it was uploaded to the computer, I just couldn't resist playing…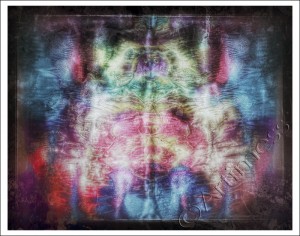 …and this was the first result created using the Snapseed app. I think it makes it look like a piece of beaten up metal. What do you think?
Next came the serious photoshop stuff…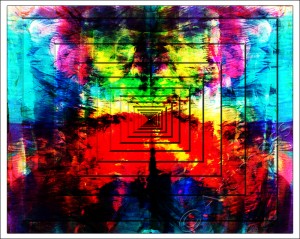 …and this is what evolved! I called it "Looking for the Light". You'll have to look at the large image to see the light at the end of the tunnel which reflects the meaning of this image.
Which one do you like best?