Ive been wanting to keep a Journal for a long time now but haven't managed to get started. So when I saw Rhomany's 'When Frogs Sing', Journalling course I signed up for the year! I had to smile to myself while watching todays video – I have this little problem – I love making mixed media backgrounds, but I'm not so good at adding the journalling. But then I thought "why don't I add it digitally" – so that's what I'm doing!
This is the scan of the first page which I created in my altered book/journal using acrylic paint and a home made stamp.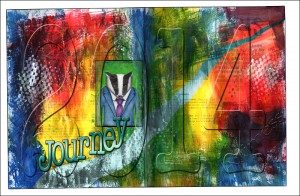 And this is the page after adding digital text and images. Journey is my word for the year and Badger is my totem animal for 2014. My colour for the year is Phtholo Blue Green Shade.
Yeah – my first journal page complete!

No … I've not gone completely mad … I really have been ironing my images! I've been trying out another technique from the Image Transfer Workshop Book. By some magical process (the physicists out there will be able to explain exactly how it happens) heating a magazine page that is next to some cling film (plastic wrap) enables the two to bond. You can then remove most of the paper backing which leaves you with a new very thin, waterproof version of the image. Clever stuff!! This is my first attempt … and I've stuck it in my altered fiction book before adding paint to the page.

I've been busy completing more pages in my Wreck this Journal as well. This page was done using the Gel Medium method described in my last post. I used last week's church bulletin (which was printed using an ink jet printer). I love the distressed look this method gives to the transfers!
I've been struggling over what to do with this next page for some time. The page was headed "Space for Negative Comments" – not something I thought was very constructive! But then I thought … what if I wrote my negative thoughts in thin black pen and wrote their opposite on top in thick red pen – it would be following the instructions, but putting a positive spin on it. So that's what I did! Next I painted the opposite page and squidged them together to transfer some of the wet paint. That obscured some of the words, but it was still too legible for for my liking, so I added a blur filter to the right hand page after I scanned it!
… sorry … you don't get to read my secrets … but I like the way it looks 🙂
I've been wanting to try out image transfers for such a long time … but every time I've found a set of instructions they've involved using substances which were either dangerous or else difficult to obtain. So imagine my excitement when I came across this book, Image transfer Workshop by Darlene Olivia McElroy which has a huge variety of very simple step by step instructions for transferring images, many of which use common safe substances! I'm planning on trying them all over time, but I started with the ink jet / gel medium transfers as they were so simple. All you need is a pot of Gel Medium, a paint roller/brayer and an ink jet printed image!
The image on the left-hand page of a rose bud is my very first attempt … pretty impressive I thought. I got so excited with my success that when I did

the next one, after remembering to reverse the image when I printed it, I stuck it to the page upside down!! Luckily it was in my Wreck this Journal Book so I figured it was meant to be!!
This next transfer forms the first completed page in my creative business plan which was inspired by The Right-Brain Business Plan devised by Jennifer Lee. The page is in the middle of

the book I have made and I have written " Development and growth are vital to my business. I need to experiment, experience, and constantly be trying out new ideas. Having Fun!`' around the the image. This is much more fun than a traditional business plan 🙂
This last image is my favourite of the lot! Inspired by my Wreck this Journal Book, I have decided to alter one of the many fiction paperback

books I have littered throughout my house waiting to be taken to the charity shop. I love the way the text looks like it's been aded after, when in fact it's the only bit of the original page that you can see!
I can't wait to get started on trying out some of the other techniques in the book … keep watching this space!
Losing, tearing and four letter words …. yes … I've been wrecking again! But I must confess …. I haven't actually lost the "Lose this Page" yet …

… I just tore it out of the book and got it ready for losing, which of course involved writing messages on it and splattering paint all over it's other side! I may add some writing on the painted side before I lose it [maybe the secret message to hide] but only the person who finds it will know for sure!!
When I first tore the strips on this page…

… they curled up and looked really pretty, but by the time I got round to scanning the page they'd got well and truly squished … much more wrecked looking!!
I thought I'd make my four letter words colourful …

… I used my nice new sharpies which look really great here … but they bled through several pages on either side … definitely journal wrecking! I'll have to find ways to incorporate the back to front words into those pages … maybe rename the pages and call them the write backwards pages!! …. Keep watching 🙂
Smelly plants, messy hands and gooey paint …… mmmm …… now what could I have been up to? …. Yes, you're right …. I've been playing with/destroying my journal over the weekend!
The hot weather has killed most of the weeds wildflowers that normally can be found in my garden, but I managed to find a few, and some lovely variegated leaves. I'm no gardener …. my thumbs are black – not green …. so I have no idea what any of the plants I gathered are called apart from the one at the bottom right corner which is mint …. It's smelled the whole book out! Any ideas anyone?

Painting my hands is much more my kind of thing …..
…… and dripping and squidging paint …… Yes! Lead me there!! Just one slight problem ….. the paint was soooo thick (even after the squidging) that it didn't want to dry. So I set the heat gun on it and nearly caught the page on fire!! Even though the paint is now dry … I still have to prise the pages apart as they keep sticking together 🙂
p.s. If you look really closely …. you can see where the paint bubbled and blistered!
Today I took my 'Wreck This Journal' book to the Thanet Venture Group's monthly meeting with a simple request …." Would they please each do something on the 'Hang this Journal in a Public Place' page. I provided lots of coloured marker pens for them to play with and they added some coffee/tea and biscuits. The original intention was for them to complete it during the break, but the book was passed round continually throughout the meeting causing much hilarity and raising some really great issues. It definitely made for an altered business meeting! This is the result 🙂
The book is starting to look really battered now ….
…… but there are still plenty of pages left to have fun with – keep watching this space for further updates!
Take one vintage book, a sharp knife, some sharp scissors, a photo of your choice, a word to sum it up and a few embellishments, add some lumiere paint and a huge dose of inspiration from Kelly Rae Roberts in her book Taking Flight … and this is what I got 🙂

It took a lot of courage for me to cut the book up like this … I was brought up to respect and almost revere books by my schoolteacher father … so damaging a book in any way goes right against the grain for me … but I'm really glad I took the plunge! Dad might be turning in his grave, but I'm really pleased with the new life I have given to this old book!