Still playing catch up with Life Book 2013 classes, today I finished this piece for Tam's week 10 lesson.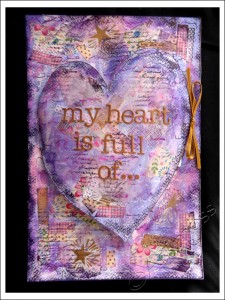 I decided to add my own twist to the lesson by folding my paper in half and cutting a heart shape in the front half to make a heart door. After cutting the door, I started the background using acrylic paint, then added a collage of printed tissue paper, washi tape, and paper ribbon. Next I used Caran d'Ache neocolour crayons and stamping with a staz-on ink pad to add more colour, then finished the front using die cut letters. Once it was all dry, I taped in the ribbon ties and stuck the two halves together.
On the inside, I covered the back of the door with torn tissue paper and gel medium, then set to work making the mini scrolls for the centre from a mixture of torn magazine pages and digital design prints, decorating some of them with stamping. I filled the heart shape with gel medium, and arranged the scrolls on top. Lastly, I made the 'Gratitude" banner by sticking some die cut letters on a scrap of digital design paper.
I had great fun with this lesson – thank you so much Tam!

I have always loved pop-up cards so this Life Book lesson from Mitsi B really appealed to me, and I loved every bit of the process of making it.
I started by journalling over both sides of the paper using a water soluble graphite stick, then activated it to stop it bleeding. I added big blocks of colour using acrylic paint, then splattered and dripped a bit over it all.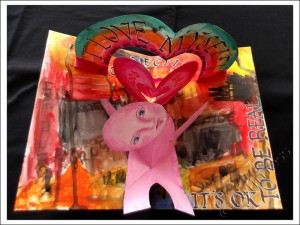 Next I made the pop-ups for the inside of the card. Owing to my inability to listen to/read instructions, my card is slightly smaller than instructed so I had to modify the rainbow pop-up to make it fit! I painted the shapes using acrylic paint, stuck them in and added more journalling using calligraphy pens from Asda and an Edding 780 paint marker to outline the letters.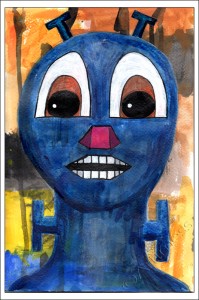 Finally I painted my monster on the front cover using acrylic paint. Don't you think she's lovely? I think this has been one of my most favourite lessons so far this year. Thank you so much Michelle!

I've got a bit behind with the Life Book 2013 Classes, so I was quite pleased when I managed to finish Mindy Lacefield's lesson today. I had great fun with it, but was a little unsure of how the whimsies would turn out using Mindy's draw in paint technique!
I started out by writing 7 quotations about connections on the right hand page, then used various stencils with homemade ink sprays to create a background and partially hide the journalling. Next I used various stamps with distress ink pads to add some more detail to the background and did some acrylic finger painting. Lastly, I painted the whimsies with acrylic paint and used a pilot gold marker to add belts to their skirts.
This is my first ever attempt at drawing people using paint, pretty scary, but I'm quite pleased with the result!

Today I finally got around to finishing my latest zentangle canvas! I drew it at the beginning of the month but didn't get round to colouring it till today.
This was the original, drawn on a canvas board using a unipin fine line pen…
… and this is the final version, coloured using Twinkling H2O's.

Since finishing my postcards, I have been busy playing with the new stencils I got last weekend. I always start my playing in my everyday notebook/journal, which is not quite big enough for the whole stencil.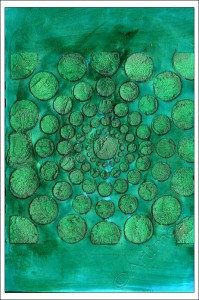 I had a tiny bit of Light Molding Paste left in my pot so I thought I'd try it out with this Creative Expressions stencil. When it was dry, I painted it with acrylic paint, then added some green Perfect Pearls using a Versamark ink pad. Just to finish it off I added a shadow to the circles with a Unipin fine line pen. The scan really doesn't show the lovely sparkly finish of the perfect pearls.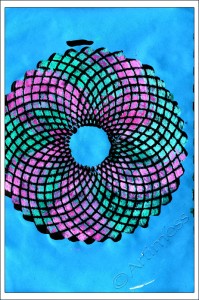 As I'd run out of texture paste, I thought I'd try creating a texture using some black gesso with this TCW stencil. At first I thought it had worked, but when it dried, it went rather flat! So I decided to add some colour to it using acrylic paint. I'm quite pleased with the way it turned out.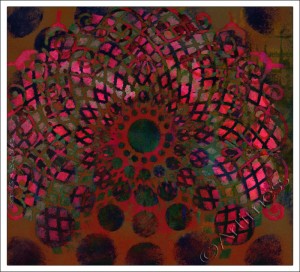 This last image is a digital blend of two scans of earlier acrylic paint prints using the two stencils above. I just love how many different effects it's possible to get using stencils!

Last Sunday we travelled to Harrogate and visited the Great Northern Papercrafts Extravaganza – great fun! I got some really cool stencils, stamps and dies which I have been playing with this week.
On Monday I signed up to take part in the iHannah's DIY Postcard Swap 2013. (There's still time to sign up if you're interested, you just have to pledge to post 10 handmade cards by 30th March.) So I have been busy this week making my ten cards for the swap.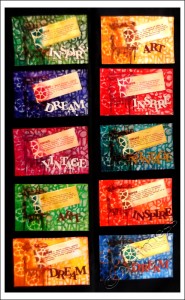 I started by creating a set of coloured backgrounds using Inktense Watercolour pencils. Next I added a contrasting colour using Acrylic paint and an Artist Cellar Stencil followed by a stamped image from IndigoBlu using a mixture of distress ink and staz-on ink pads. I followed this with a layer of gel medium to seal everything and to stick on the word definition tags, which I created using more stamps from IndigoBlu and a Creative Expressions stencil, and the die cut letters from memory box. Lastly I added another layer using the same stencil with acrylic paint.
I created the backs of the postcards using a free postcard backside from iHannah which I had to resize to fit my postcards, then added a digital stamp which I made using a scan of another Creative Expressions stencil, some hand drawn bird shapes and a quotation from Friedrich Nietzsche.
The completed postcards are now sitting waiting for their recipients addresses to be added!

The trouble with playing digital is that it's totally addictive! I've always loved kaleidoscopes so I had to have another go.
Using the same original images as yesterday, this is today's version! I think this is my favourite so far. What do you think?

I've been so busy drawing and painting lately that I haven't had time for playing with digital blending. So today I thought I'd rectify that omission!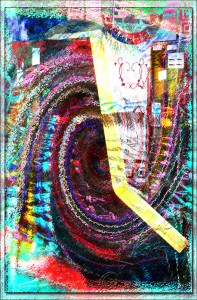 I started out with an artwork scan and two photographs. This was the first result. I really like this one, but decided to have a go at making a kaleidoscope style mandala.
This was the result! Which one do you prefer?

Now that February is over and my Mystery Musee has safely received her gifts, I can show you what I've been up to! I took part in the Artella Mystery Muse 2013 Project; you submit your details and a word which sums up the year for you and get given in return a "Mystery Musee" person to send two hand made gifts to in the month of February. I had great fun making gifts for my "Mystery Musee".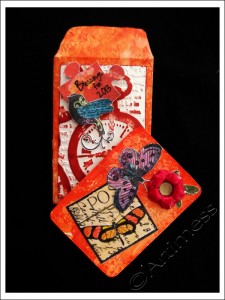 The first gift I sent was this collaged playing card with her word for the year on the back enclosed in the altered envelope.
For her second gift I made this canvas board collage using letter stencils and a quotation from Maya Angelou.
In return, I received 2 beautiful gifts from a different person who had been given my details. It was so lovely to receive surprise 'snail mail' and inspirational to see another persons work in this way. I will definitely be signing up for this challenge again next year, and will be looking out for other hand made/artwork exchanges during the rest of the year. Do you know of any?

I've been zentangling again! Only this time I forgot to scan before I started painting.
I chose an Ankh as my central image – said to represent eternal life, dating back to Egyptian times. As with the others, I drew it using a unipin fine line pen and coloured it using Twinkling H2O's. I added a small gem stone to the centre which made it impossible to scan! No matter how hard I try to capture it, the image is a pale shadow of the original!