Nearly May – and the weather's still no better. We've had a mixture of snow and hail storms this week! But it hasn't stopped me making art.
I'm really loving working in this A6 journal – it's perfect for those days when the big journal is too intimidating!
I created this spread using watercolour paints, tombow markers, a stencil and a gel medium resist.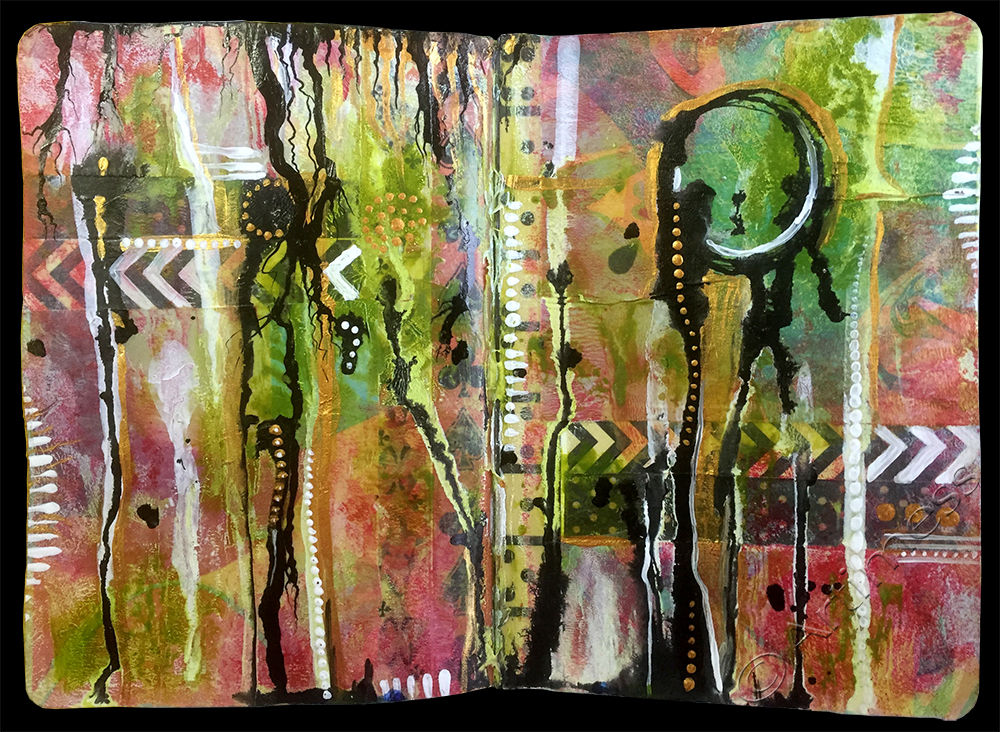 This spread started out as a collage which then got covered up with layers of paint, ink and paint markers. I love the richness of the colours.
I started this next spread by covering the pages with washi tape, then used thin washes of acrylic paint to colour the page and create the 'green girl' on the right.
My 'I Believe' spread was inspired by Effy's Book of Days spreecast about wonder. I really love how it turned out.
In this last spread I decided to play with some rediscovered hand made funky foam stamps that I made quite a few years ago. I had so much fun – I'm planning on making some more stamps to add to the collection!
I've almost finished making the postcards for the iHannah DIY Postcard swap so keep watching for some pictures of those once they're done.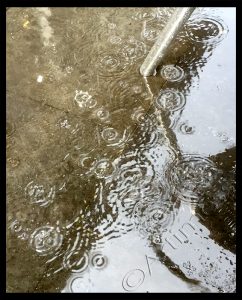 So far this month has been living up to it's reputation for April showers. Puddles like this have been everywhere. But we have been blessed with some wonderful sunny days as well.
I began April by creating a couple of backgrounds in my new A6 art journal.
For this first one, I started off by using watercolour paint, then used some stencils with acrylic paint to add some interest and depth. I love the way it turned out.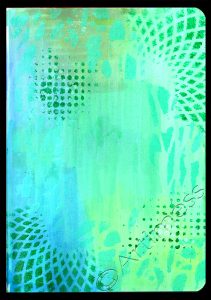 This next spread was created using just watercolour paint and a stabilo all pencil to outline the circles.
Sarah Trumpp's quirky lady in her spread for Journal 52, week 14, inspired this next image which I created with a mixture of watercolour paint, acrylic paint and stencils.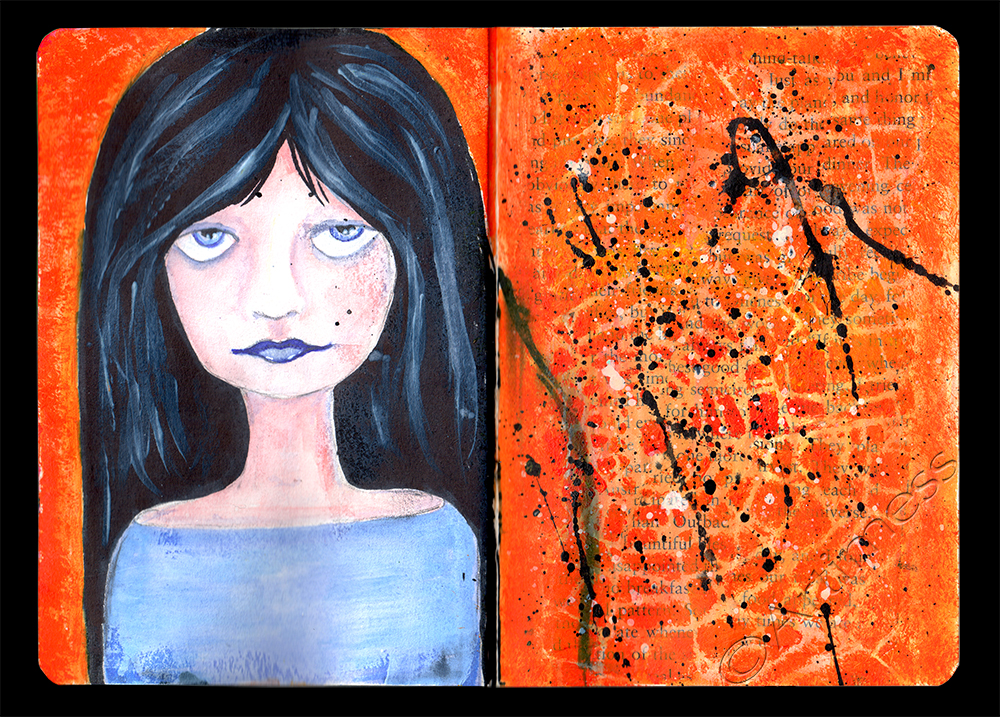 I created this last spread in response to Effy Wild's Book of Days class at the beginning of the month. The image was inspired by a combination of the Kuan Yin Oracle card I selected for the month and a photograph of a peacock displaying his beautiful tail that my brother uploaded to Flickr. I've been working on the spread for just over a week now, using a combination of tombow brush markers and Posca paint pens. I'm really pleased with how its turned out. I may well add some text to it later, but I haven't quite decided yet.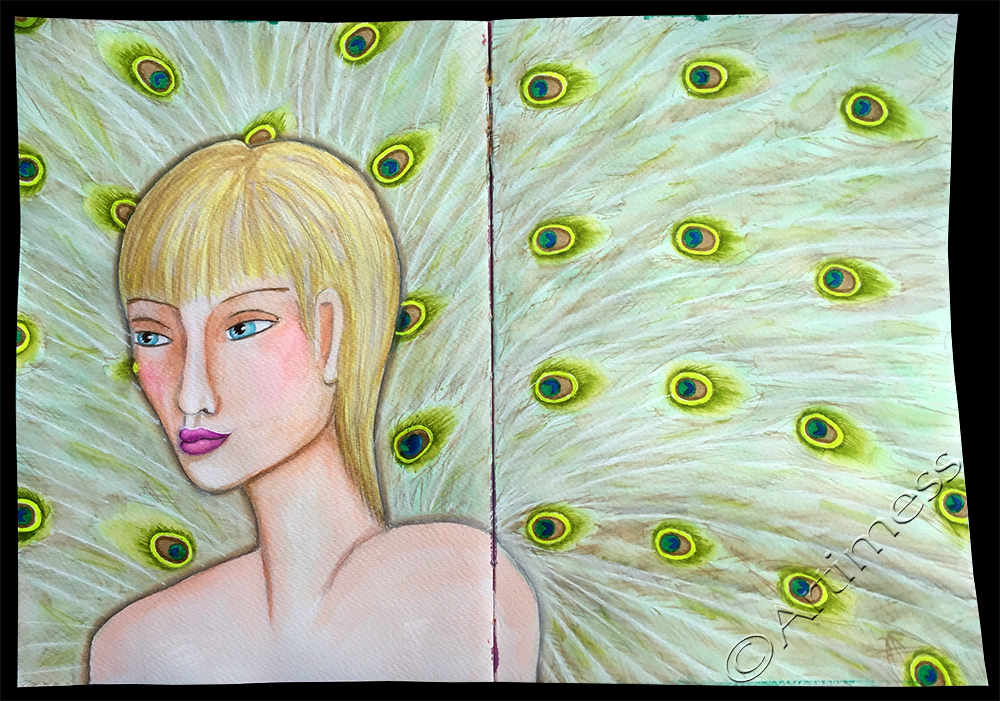 That's all for now, but I have a pile of postcards to prepare for the latest iHannah DIY Postcard Swap. So watch out for some more artwork soon!

I can't believe that a whole month has gone by since I last posted anything here. I've made plenty of art – just haven't got round to sharing it. So here goes. I'm a bit late uploading them, but here are the last of my faces for 29 Faces 2016. Yeah – I made it!!
They're created with a mixture of watercolour, oil pastels and pencil. I really enjoyed the challenge of drawing so many faces.
I've also been playing along with the Journal 52 prompts. This is my response to Sarah Trumpp's prompt for week seven using a mixture of tombow brush pens and posca paint pens – called "Nerdy Love"…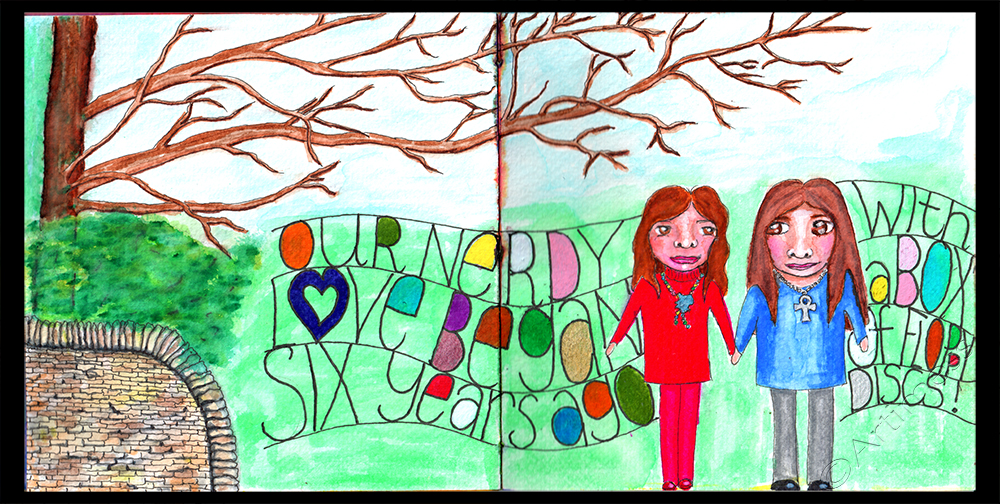 …and for week eight using a mixture of fluid acrylics, distress ink, collage, tombow brush pens, posca paint pens, stabilo all pencil and calligraphy pens – called "Listen to Crow".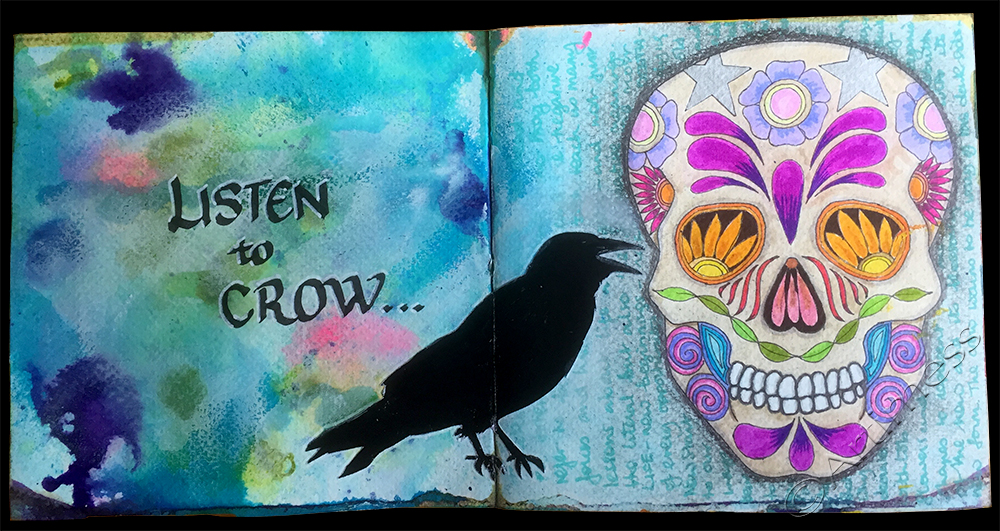 This next spread was created in response to the prompts for week eight of Effy Wild's Book of Days. I created it over the course of a week using tombow brush pens and computer generated text, and was amazed by how it all came together over the course of the week.
I was continuing to think about spring and all the new growth starting to appear while playing with acrylic paint which led me to create this spread. I just love the vibrant colours on this page.
I love the word emergence, and had great fun creating this spread in response to Effy Wild's prompt for week ten of Book of Days. I used acrylic paint, fluid acrylics and a collage of computer generated text to create these pages.
I have lots more work to share so keep watching … here's just a sneak peak of something a bit different that I'll show you more of in the next post.

Since the beginning of this year I have been inspired by so many challenges and classes. Although I haven't necessarily completed all the prompts and suggestions, I've found that having so much inspiration has enabled me to maintain a much more consistent artistic practice. I have been making art every day – and am definitely feeling the benefits.
I've been working in a number of different journals and have been playing with lots of different styles.
This first piece was inspired by Effy's Book of Days theme for the month of January. The background is a created with lots of layers of acrylic paint, then I added the bird and the lettering as collaged cutouts which I created using tombow pens. I like the subtle contrast to the bold colours of the background this creates. I wrote the quotation using a dip pen and indian ink.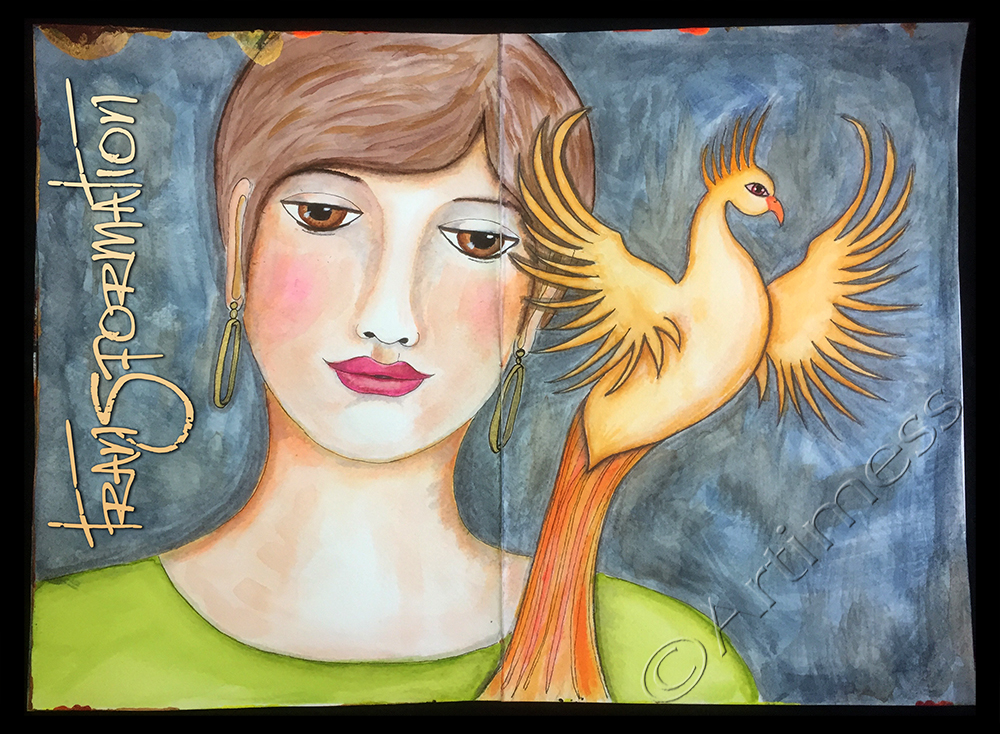 "Transformation" is my interpretation of Tam's lesson from Radiant 2. I used Tombow pens to colour the lady and the phoenix and watercolour paint for the background. I added the text digitally after scanning the completed spread.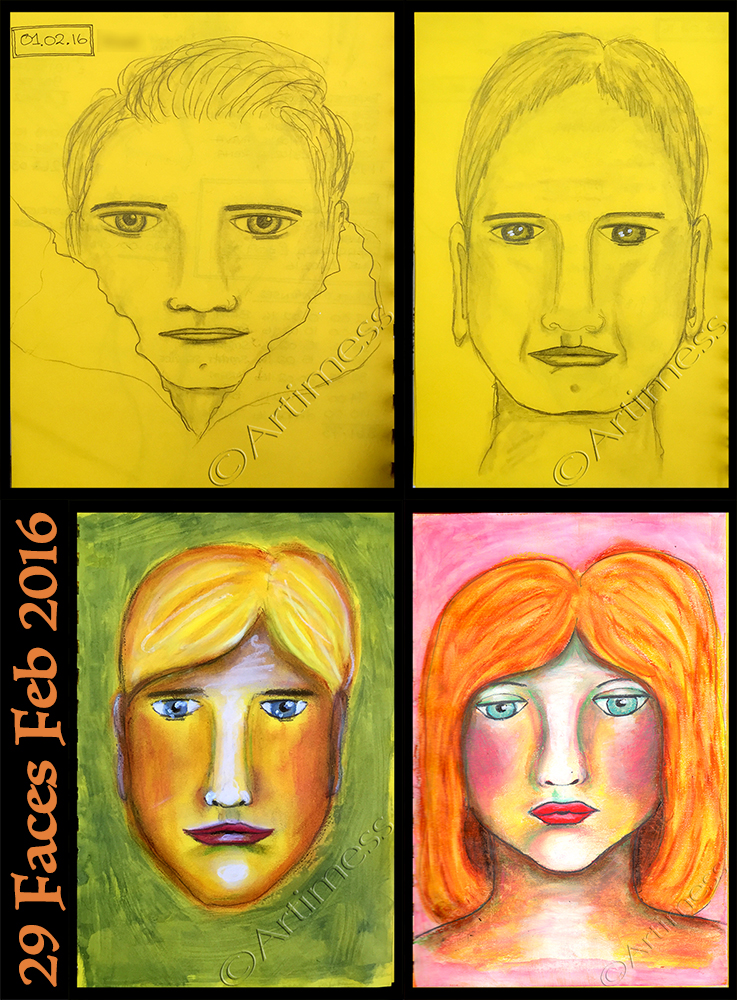 Moving on to challenges – I thought I'd try to include some male faces in my responses to the 29 Faces challenge this year – this is my first four. I'm really loving using oil pastels for the faces.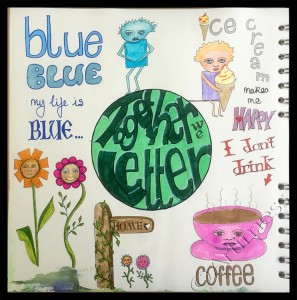 Finally, as a result of following the Journal 52 group on Facebook, although I haven't got around to journalling any of those prompts, I was inspired by Sarah Trump's work and checked out her blog posts. As a result I discovered the "Together We Letter" challenge by @lissletters on Instagram. This is my response to the prompts for the first four days – so much fun!

I really enjoyed all the mixed media work I've been doing recently, so I decided to do some more playing with layers, both physical and digital.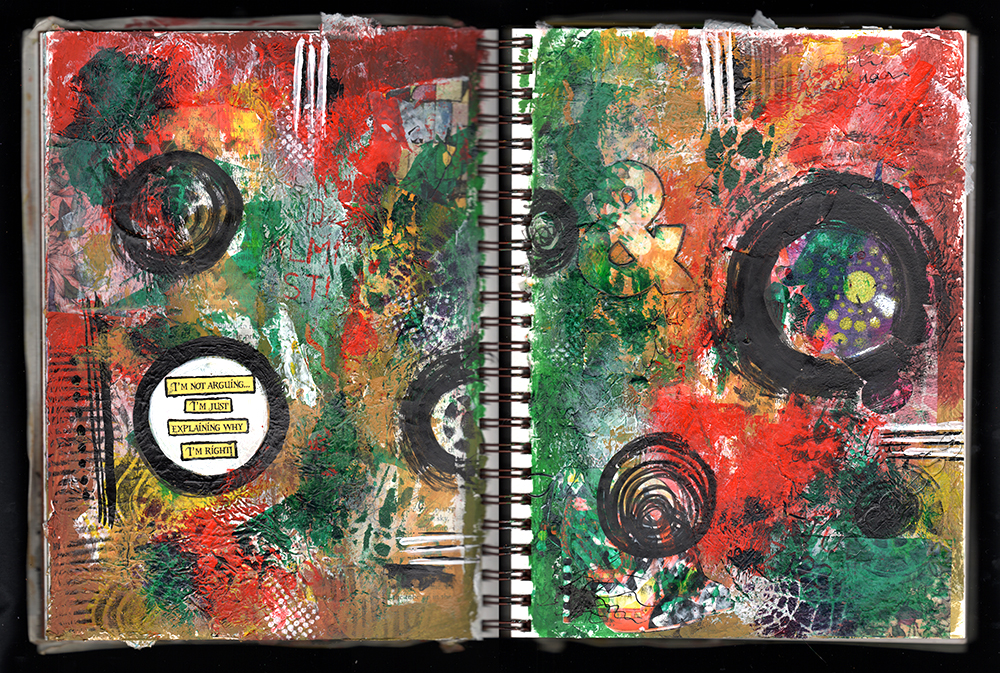 This first image started out as a collage using a mixture of old papers, book pages, old paint stained tissues, and magazine clippings. This was followed by a liberal application of acrylic paint, stencilling, homemade stamps, washi tape, and more collage. The quotation made me smile, as it's the kind of thing I say all the time!
This second image was inspired by some work I did at the weekend on the Person Centred Expressive Arts workshop that I attended run by Dinah Brown and Nuala Eden. It began life as a geometric abstract created using watercolour pencils. Although it was quite colourful, it looked a bit flat, so I gave it the mixed media treatment. I added acrylic paint, stencils, homemade stamps, paint markers and indian ink, then finished it off with some letter stamps and collaged letters.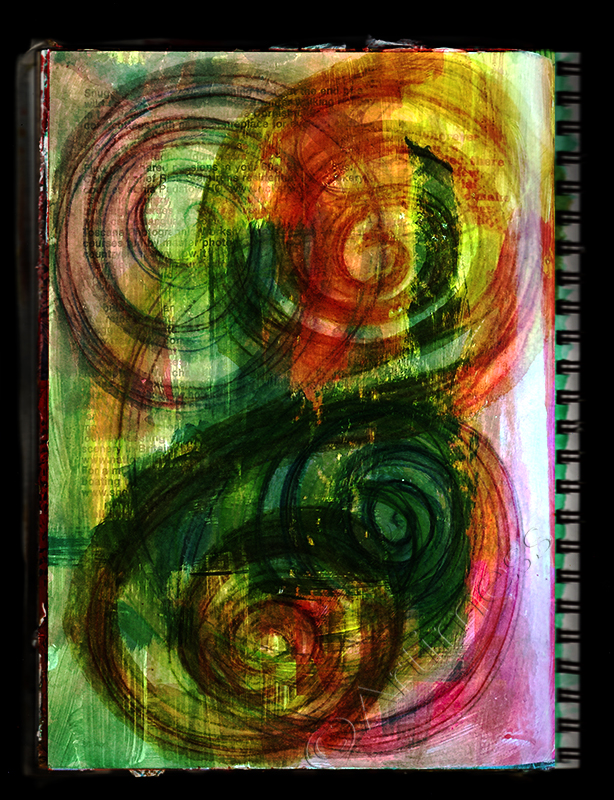 Its been a while since I played with any digital layers, so this last image is a digital blend of two journal pages – a series of swirls drawn with watercolour pencils, and a page created to use up some leftover paint.
Only five days left before the start of 21 Secrets Fall 2015 – I'm really looking forward to working and learning with all the amazing teachers Connie has gathered together.

In the meantime, and between creating mandalas of all kinds, I've been experimenting and playing with paint.
I've been applying the paint to the page straight from the bottle, then using a tool intended for shaping clay to mix and spread it around the page. I must admit, I quite like the resulting dimensional abstract images
I created this one in my everyday notebook…
…and this double page spread was created in my altered journal. I love the way the original pages peep through from beneath the paint.

We're over halfway through the void now, and the mandalas are still flowing. Journalling with words doesn't come easily to me – I prefer to express my thoughts in visual ways…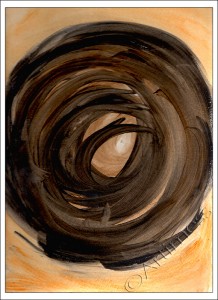 …so I've been up in my studio for a while today responding to my thoughts. This is my first completed mandala painted with very wet acrylic paint in my mandala journal.
There are two more in process…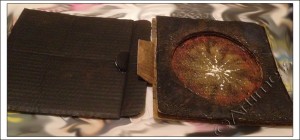 …this one is made with recycled cardboard, acrylic paint and crackle paint – the crackle paint is taking a long time to dry…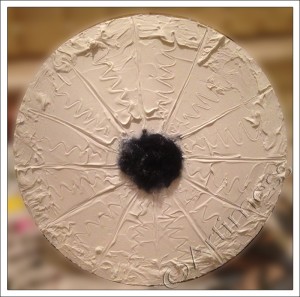 …and this one is made from a cardboard disc and moulding paste. It too is in the process of drying, and I will be painting it once the moulding paste has properly hardened. I'll post more pictures of these when they're finished.

Mandala Magic, Julie Gibbons year long Mandala course started this week, so I've been busy creating mandalas for the first round. The course is based on exploring the twelve archetypal stages of the great round of mandala developed by Joan Kellogg and written about by Susanne F Fincher in her book called The Mandala Workbook: A Creative Guide for Self-Exploration, Balance, and Well-Being
. I had already bought the book before I signed up for Julie's course but you really don't need it as Julie provides an amazing wealth of information and the group members are a constant source of inspiration and encouragement.
These are two of the mandalas I made for this stage of the journey. The mandala on the left represents the Void – a place to rest in the darkness. The mandala on the right draws on traditional wisdom drawn from many sources in which the spiders web is used to represent the darkness and safety of the womb.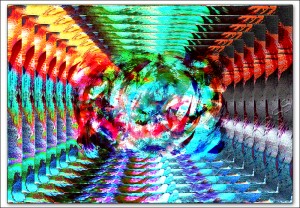 This next image is a blend of acrylic prints digitally altered to create a 3D effect.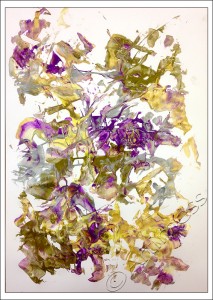 And this final image, created with acrylic paint using various palette knives, reminds me of an ancient battle scene. I can see lots of fighting figures in it – can you?

You've probably heard the saying, "One man's trash is another man's treasure". This latest mandala is made almost entirely from "one man's trash"!
One of my workplaces have a large laser cutter which collects quantities of leftover bits from the work that people do on it. This mandala is created from some of those leftover bits, stuck to a circle cut from an old cardboard box with pva glue.
I couldn't decide whether to leave it the original colour, or whether to paint it, so I tried adding some digital colour to help me make up my mind.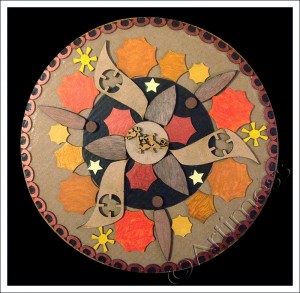 I decided to paint it and this is the result. Which do you like the best?

Two more pages to add to the steadily growing collection! Another painted postcard for journalling on…
…created using acrylic paint, a stencil and acrylic ink. The black blots remind me of seahorses or maybe glow-worms. What do you think?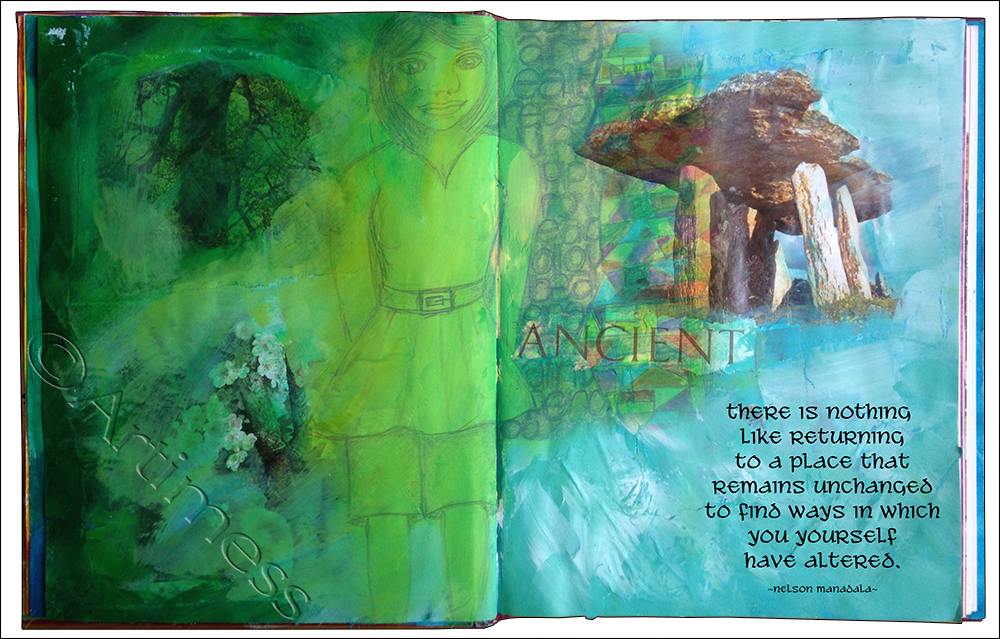 And another page in my recycled journal. This started out as a collage with acrylic paint. I added the scanned person doodle and blended her in, then chose and added the Nelson Mandala quotation using digital text.