I've just realised how long it is since I posted anything online. I've been busy keeping up with Julie's Mandala Magic classes, I just haven't got round to posting anything online. So here's the first instalment – moving on from the Void to the Bliss…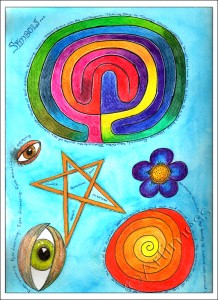 … I created this page of symbols that are important in my life right now.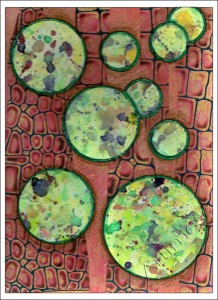 I found the bliss quite a difficult stage to be in, and had trouble with the shaving foam technique that Julie recommended. After struggling for a while, I gave up and decided to use a mixture of other watery techniques to create the mandalas on this next image.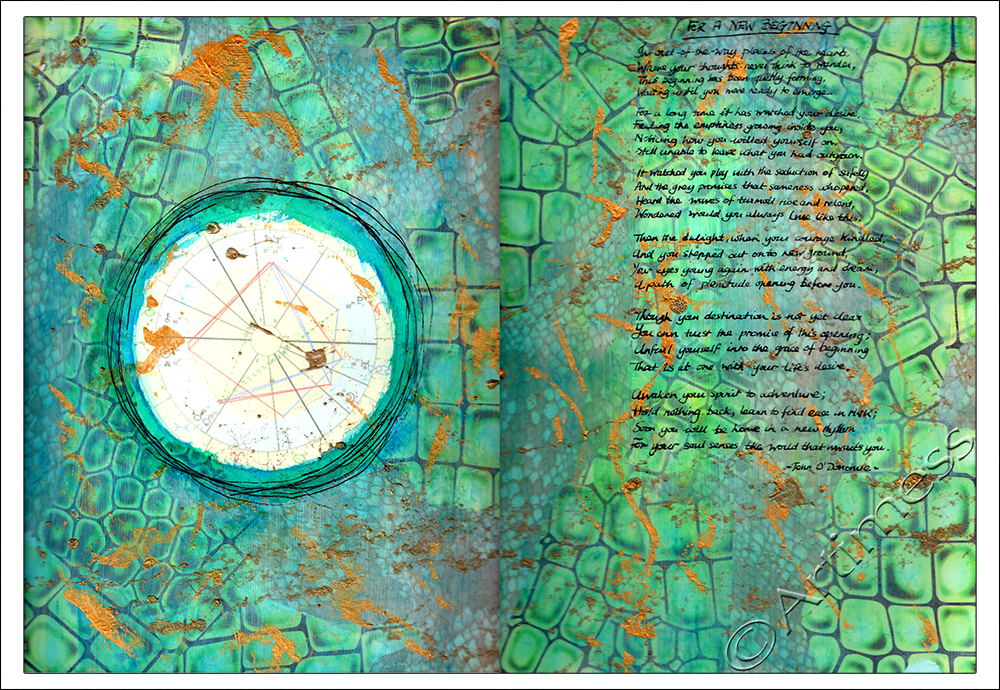 I quite enjoyed making this page which has a background made from patterned tissue paper covered in water activated neocolour crayons. The free birth chart I used comes from the website astro.com. To complete the spread, I handwrote the poem 'For A New Beginning' by John O'Donohue.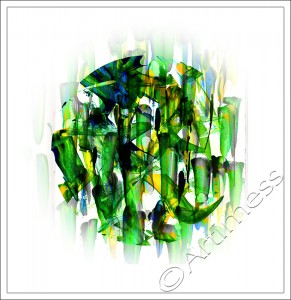 Slightly apart from making mandalas, I've been playing with paint in a very free way and have taken a few of those images and created this blended mandala. Keep watching for the next instalment!
Thinking about mandalas, I created this hand drawn one in my small journal the other day.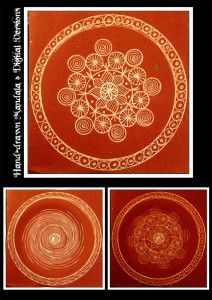 But as usual, I couldn't just leave it at that. I had to play with it once I'd scanned it. I started off by adding some 'twirl', then blended the two together to come up with the final version.
Once in the blending mode, I find it's difficult to stop! This image is a blend of two paintings to which I added the Maslow quotation.

Every year about this time I receive a pack of beautiful cards, prints of pictures painted by mouth and foot artists. I have always admired their work and wondered how they manage to paint such beautiful pictures. I now have even more admiration for them having just completed this page of mouth writing for my journal …..
…. it was so hard to do …. it says "I don't think I'm very good at this! It looks like Chinese. How do people paint pictures like this? I'll try. Do you like my stick people?" …. I think I need a lot more practice 🙂
Not content with just making a beautiful mess in my journal, I love taking the scanned images and blending them to create more beautiful images. I started with this pen drawing …
…. and blended it with the scans of the "Document Your Dinner" and "Sample Various Substances" journal pages with these results ….
Finally … I just discovered this JigZone site that makes jigsaws out of your images. How cool is that!!! I just had to have a go 🙂
I've made two so far and posted them on the Pick a Puzzle page. Have a go and see how long it takes you to do one!
Keep checking … I'll add some more later.
I took my camera out for a long overdue photo shoot the other day …. not the pretty picture kind mind you … more an up close and odd angles shoot!! This is a macro shot of one of the handles on my (rather rusty) wheelbarrow.

Then I started playing blended images …. a brick blended with a piece of angle iron ….
… a rusty tin blended with a sycamore seed …
… and late at night I managed to capture my first spiders web!
It took a bit of doing – I had to get my daughter to stand outside waving at the motion sensor on the security light … but I think it was worth it! I hope to get some better web pictures once we get some frosts later on!
I have been following 'Thurdays with Earl' on the Jessica Sprague website for quite a few weeks now and have really enjoyed the different lessons he has taught. Last week Earl taught us how to make Celtic Knot Designs, something I have wanted to have a go at doing for ages!
So I drew my grid, then carefully followed the instructions (except I changed the shape!) with this result ….

But when I looked at it … it was just crying out to be blended in with something else. So I tried it with this …
Then I just had to do something messy after all that concentration. I used a pop-up butterfly template from
RobertSabuda.com
then got out some newspaper, clingfilm, alcohol ink and blending fluid. If you haven't tried squirting alcohol ink onto cling film… you really should!! It's very messy – hence the newspaper, but if you lay your paper on top you get some fabulous results! This is mine … framed of course by my Celtic Knot Frame!!
I have great plans to try out some more complex knot designs … so watch this space 🙂
It started with an A4 sheet of acetate. I added a generous covering of pva glue followed by a dash of alcohol ink, some lumiere paint, a few sprinkles of glitter and some torn pieces of newspaper. I covered this with three layers of tissue paper (and some more pva glue) then left it to dry overnight!! This morning I assembled my own collage stamp using a selection of unmounted stamps stuck on a large piece of perspex and stamped the front of the acetate using a staz-on ink pad. Result …..
Most people would stop there …. but me …. I had to scan it into the computer …. and then I had to try blending it with something else!! I think it looks quite good blended with last nights Sail Collage. There were two that I really liked …
What do you think?
I've been really messy with glue and paint and glitter …. but I think the results were worth it! I scanned the results, then blended them to create these images.
I was inspired by this episode of "Thursdays with Earl" to make this mini-book. It's made from a single sheet of 12×12 card and I have covered it with a mixture of papers I have designed and tissue paper!
After I've had fun making a mess, doing my creative bit  … I like nothing better than scanning my work into the computer to see how I can change it by blending it with other images. Here are my two latest creations!
This is a combination of the distorted video image blended with the spritzed distress ink scan.
This is a combination of the distorted video image blended with the painted string scan. I just love how the blending process creates so many beautiful new colours!