A few weeks ago I attended the last of a series of Person Centred Expressive Arts Workshops with Dinah Brown up in the Lake District. One of our tasks over the weekend was to create a loom from natural materials into which we wove words from stories we had written. This is my story loom.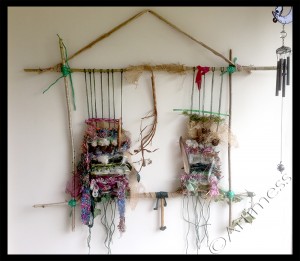 Going back to messy paint, I've managed to create a couple of rather spooky images in the last few days.
This first one was created using collage, washi tape together with some distress ink and fluid acrylic paint. When I had finished playing I noticed this strange looking person looking out at me so I used a white posca paint marker and some light coloured very dilute acrylic paint to bring the figure out from the background. Then I noticed three more shadow people standing by.
This second image started out as just playing with tombow brush markers distress ink spray and dripped fluid acrylic paint. I decided to make the drips look 3D by highlighting and low lighting them with posca paint pens. When I'd finished, I noticed that I'd created another spooky image. Not my usual style – will there be more?

I can't believe that a whole month has gone by since I last posted anything here. I've made plenty of art – just haven't got round to sharing it. So here goes. I'm a bit late uploading them, but here are the last of my faces for 29 Faces 2016. Yeah – I made it!!
They're created with a mixture of watercolour, oil pastels and pencil. I really enjoyed the challenge of drawing so many faces.
I've also been playing along with the Journal 52 prompts. This is my response to Sarah Trumpp's prompt for week seven using a mixture of tombow brush pens and posca paint pens – called "Nerdy Love"…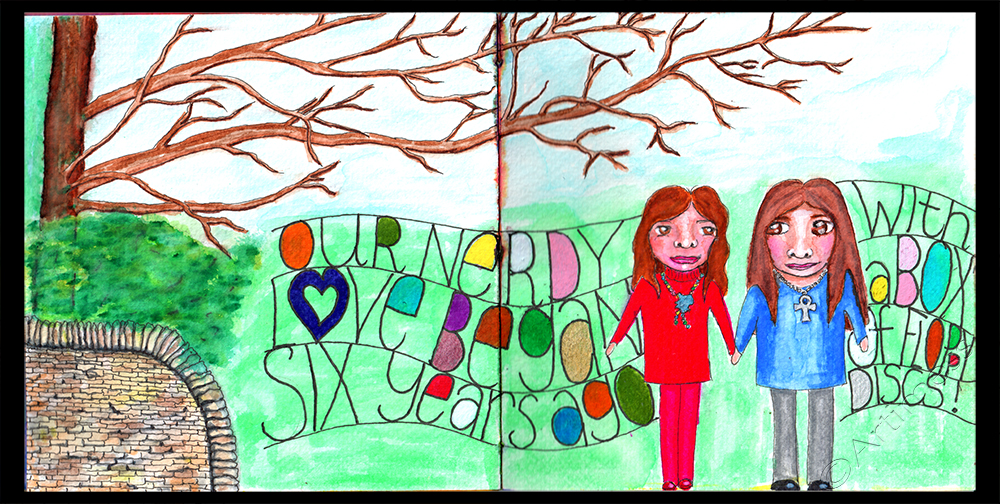 …and for week eight using a mixture of fluid acrylics, distress ink, collage, tombow brush pens, posca paint pens, stabilo all pencil and calligraphy pens – called "Listen to Crow".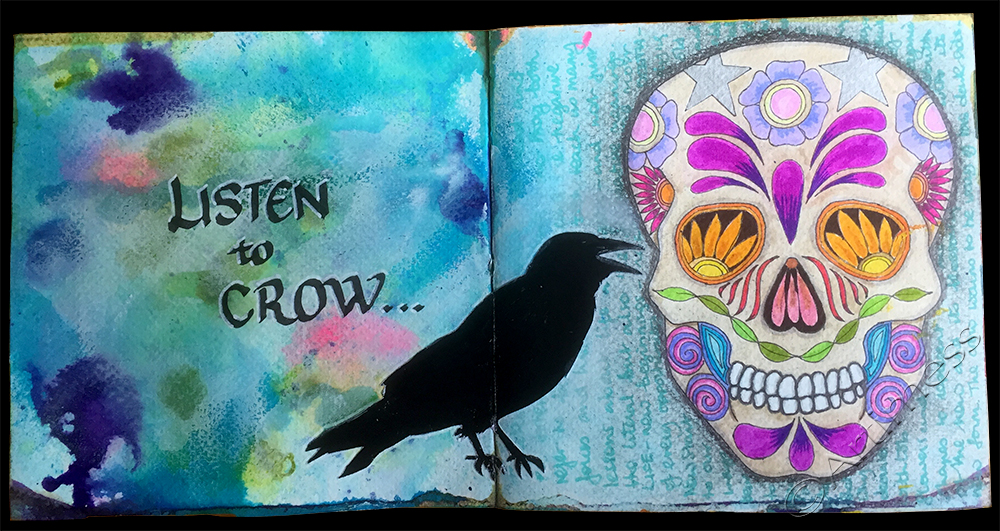 This next spread was created in response to the prompts for week eight of Effy Wild's Book of Days. I created it over the course of a week using tombow brush pens and computer generated text, and was amazed by how it all came together over the course of the week.
I was continuing to think about spring and all the new growth starting to appear while playing with acrylic paint which led me to create this spread. I just love the vibrant colours on this page.
I love the word emergence, and had great fun creating this spread in response to Effy Wild's prompt for week ten of Book of Days. I used acrylic paint, fluid acrylics and a collage of computer generated text to create these pages.
I have lots more work to share so keep watching … here's just a sneak peak of something a bit different that I'll show you more of in the next post.