Today I've been having fun trying out some new techniques and ideas.
I found this first technique in the latest copy of Craft Stamper magazine.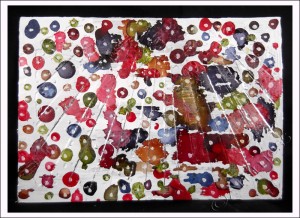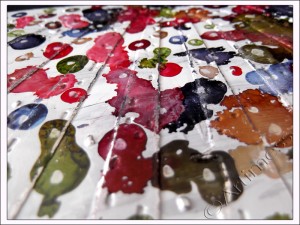 As usual I didn't have all the suggested ingredients, so I improvised! I started by gluing a piece of baking foil to a piece of recycled packaging card, then coloured the foil white using a Uni Paint Marker. When the white marker was dry I dripped spots of different colours of alcohol ink onto the white then added white marker spots on top of the colours. As you can see – some of my spots spread a little! When all of that was dry, I embossed it using an embossing folder then sanded the edges of the embossed edges to allow the foil to shine through. Mine's not quite as dramatic looking as the example in the magazine, but I'm still impressed with the result.
The inspiration for my second piece came from these two posts (Dimensional Paper Cut Cards and Watercolored Dimensional Paper Cut Cards) from Julie Fei-Fan Balzer. I have always loved creating pop-ups but have normally made them as add-ons to the page. The idea of cutting them directly from the page seemed too intimidating. Seeing Julie's beautiful work inspired me to have a go.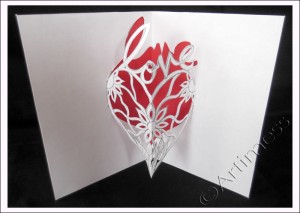 After a few rather disastrous efforts where the middles fell out altogether or the design folded into strange places, I finally got it worked out! I drew the design using pencil, then cut it out very carefully using a pair of tiny, very sharp pointed scissors. I chose a red card to back it and stuck them together using low tac double-sided tape. I didn't erase the pencil lines as I couldn't decide whether or not to outline the shapes. What do you think? I'm really pleased with how this first one turned out and am itching to try another one. As Julie says on her blog – they are very addictive!

All this book altering and Journal wrecking is having a profound and very freeing effect on my artistic endeavours. I've started this experimental journal …. and the first thing I did was cut a hole in the cover!!

The title I made from recycled magazine images and the flower from an old newspaper. The inside of the cover I created from an old book page crumpled and inked with alcohol inks.
The next page, Learning Curves, I cut the title from a magazine article. The facing page has a torn magazine image and some crumpled inked paper together with an aperture cut to accomodate the butterfly image which I stamped on the waste I cut from the cover of the Journal. [this is recessed within 4 pages]
On the next page I have used a complete newspaper page cut down to fit, then I coloured it with water colour pencils. I gave it a wash with water and shut the book to transfer some of the colour to the facing page.
Although it wasn't planned, I seem to be documenting my work in this journal … it will be interesting to see how it develops!
Take one wooden picture, some magazine illustrations, a celtic knot frame (yes it is the same one you've seen before!), a mixture of alcohol inks, some lumiere paint, a few grains of perfect pearls powder, an enormous quantity of mod podge, and a graphite pencil – mix well making sure to get your hands covered in all of the above ….

… get a massive dose of inspiration from one of your favourite artists [I just started reading
Taking Flight
by
Kelly Rae Roberts
… and this is what I got!
I've been meaning to try my hand a some mixed media collage work for ages. I'm quite pleased with the result of my first attempt. I hope you like it!
I haven't got around to creating any new knots yet, instead I used the pattern I created to make an embossed frame from aluminium sheet. I thought it looked a bit bland when it was finished so I coloured it with a mixture of alcohol inks and staz-on ink pads 🙂

Then I got the embossing bug and started playing with some words!!
I have been following 'Thurdays with Earl' on the Jessica Sprague website for quite a few weeks now and have really enjoyed the different lessons he has taught. Last week Earl taught us how to make Celtic Knot Designs, something I have wanted to have a go at doing for ages!
So I drew my grid, then carefully followed the instructions (except I changed the shape!) with this result ….

But when I looked at it … it was just crying out to be blended in with something else. So I tried it with this …
Then I just had to do something messy after all that concentration. I used a pop-up butterfly template from
RobertSabuda.com
then got out some newspaper, clingfilm, alcohol ink and blending fluid. If you haven't tried squirting alcohol ink onto cling film… you really should!! It's very messy – hence the newspaper, but if you lay your paper on top you get some fabulous results! This is mine … framed of course by my Celtic Knot Frame!!
I have great plans to try out some more complex knot designs … so watch this space 🙂
It started with an A4 sheet of acetate. I added a generous covering of pva glue followed by a dash of alcohol ink, some lumiere paint, a few sprinkles of glitter and some torn pieces of newspaper. I covered this with three layers of tissue paper (and some more pva glue) then left it to dry overnight!! This morning I assembled my own collage stamp using a selection of unmounted stamps stuck on a large piece of perspex and stamped the front of the acetate using a staz-on ink pad. Result …..
Most people would stop there …. but me …. I had to scan it into the computer …. and then I had to try blending it with something else!! I think it looks quite good blended with last nights Sail Collage. There were two that I really liked …
What do you think?
I just thought I'd try adding some images …
I love recycling things … this is my version of a baked bean tin inspired by a combination of two articles in the SSP Guild online magazine.
It was made using a combination of acetate, alcohol inks, tissue paper glitter and lots of glue … very messy!! … but great fun! The inside is lined with felt … just to protect any rough edges and to make it look finished.
Oh … and this is the business card I was messing about with yesterday!