I treated myself to a set of drawing inks a while ago and created this background with them.
I played around with it a bit to give it a bit more depth and have used it a few times already, including on the inside cover of my new notebook.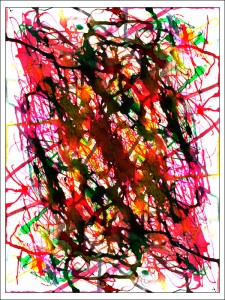 But you know me – never miss a chance to do a bit of blending, so when I made this star image on my iPad, I thought I'd just have a go and see what happened.
I added it to the ink blots, did a lot of copying and blending …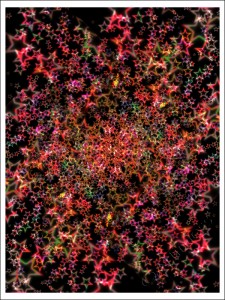 … and ended up with this! What do you think?

Once or twice a year I make myself a new notebook. My notebooks are a cross between a diary, an art journal, a planner, a message book and a reference book. Basically, everything I do every day is recorded in some way, shape, or form in my notebook. Because I'm a visual person, I like my pages to be different colours and unlined so that I have freedom to use the pages any way that suits what I'm doing. Today I made myself a new notebook as my old one has only 18 pages left!
It took a little longer than usual as I had trouble finding the right grade of chipboard to be thick enough for the covers but thin enough to fit into my binding machine. I made one set of covers before realising that they were just a tad too thick! Luckily I had enough material to make two sets of covers!
What you can't see from the photo is the diversity of the pages. I used 13 different colours of paper (including black and white) and made up 12 segments of the colours giving me a total of 156 pages!
Now that it's finished, I can't wait to start using it!

Seeing all the beautiful Christmas cards people have been making out there, I thought it was maybe time I put my newly learned skills to use making some Christmas cards to send to my friends. With that in mind, I set about drawing a Christmas Angel.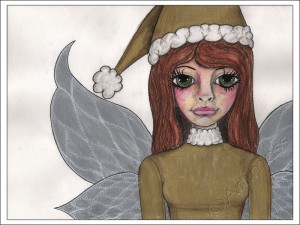 I drew her using pencil, then coloured her using a combination of Caran d'ache watercolour pencils, acrylic paint, a Sakura Pen-touch marker and a Uniball eye pen. When she was completed I scanned her into the computer to add a digital background.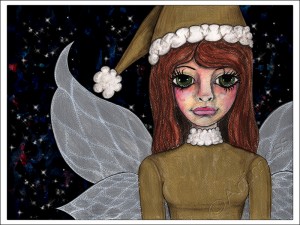 I created the background using a blend of two of the stencil backgrounds I made last week together with a star brush.
Lastly I took the image, added a digital 'Happy Christmas' down the left hand side and created a printable Christmas card.
They're all winging their way through the postal system at this moment and will hopefully arrive in time for Christmas!

Still playing catch up with Life Book 2012, Jodi Ohl showed us how to make these embossed foam embellishments – really cool!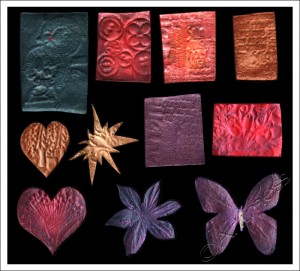 They really are very simple and cheap to make and can be made into simple embellishments, buttons or anything else you can dream up! Heat up the foam with a heat gun and then press a rubber stamp into it to emboss the pattern. You need to press very hard, and the foam is quite hot so I don't think it will work with clear stamps (they don't like heat, and tend to go all squadgy if you press too hard). If you don't like the result just heat and try again. When you are happy with the result you can colour them any way you want. I used a mixture of acrylic paint, perfect pearls and gel medium to give a nice glossy finish and seal them.
Like the backgrounds, I'm not sure what I'm gong to use them for yet … but keep watching … they'll turn up on something soon!

Yesterday, Christmas came early! I got these Texture Stencils from "artistcellar" in the post! So much fun!
I started out by adding colour washes with Inktense pencils to some watercolour paper to create an under layer to the stencils. I used the Inktense pencils because once they've been activated they become permanent. When the colour wash layers were dry I got out the acrylic paint and started playing with the stencils! It was very messy – but the stencils are great!
I have no idea at the moment what I'll use these backgrounds for, they'll probably get obscured by additional layers of something else, but for now I'm just enjoying them as they are!

Phew! – that was one busy week!
But I'm back now and still playing catch up on the Life Book 2012 course – I'd better get a move on as I've just signed up for the 2013 course!
This is my interpretation of Adriana Almanza's Hope Fairy lesson from Week 31. I had so much fun – I hope you like her!
I drew the fairy in pencil then outlined her using a permanent marker pen. Next I painted the background using acrylic paint. I coloured the fairy using a mixture of Caran d'ache watercolour pencils, acrylic paint and white paint markers. I stamped the flowers onto white paper using a black staz-on ink pad and coloured them using Caran d'ache watercolour pencils, cut them out and collaged them into the picture. Lastly, I added the text digitally after scanning the picture.

After the tension of posting something new every day it was nice to take things at a bit more leisurely pace when following last weeks Life Book 2012 lesson with Adriana Almanza. I was a bit apprehensive about it before I started because I've never been good at stylised faces like these – but I surprised myself and had a ball. Thank you for a great lesson Adriana, I learnt a lot!
Adriana provided us with a template to use for the face, but I decided it would be much more fun to draw my own. My witch has a much longer face than the one Adriana supplied – but that's how you learn! I coloured her face using ordinary water colour pencils (the Intense one's would've been a bit bright) then blended the colours using white acrylic paint – something I learnt from Adriana. I used acrylic paint to colour her clothes and neocolour crayons to colour the central background. I created the border using a mixture of collage, acrylic paint and marker pens.
I'll definitely be having a go at some more of Adriana's classes.