Project #3 in Kate Crane's 21 Secrets 2013 class called for us to draw three people representations and journal on their bodies. Just prior to watching Kate's video, I had been reading these articles by William Bridges about transition and change: their meanings, the differences between them and their relationship to each other. While William Bridges is writing about these terms in relation to the work environment, I was thinking of them in a personal environment, and thought it would be interesting to use project #3 to journal about these ongoing experiences in my life. As a result I ended up with five figures!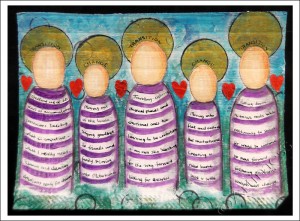 As before, I started off with a piece of recycled cardboard, but this time I began with two layers of white gesso. Next I positioned and lightly sketched my people, then painted the remaining background using acrylic paint and a variety of stencils, stamps and stamping junk (old bottle tops etc). I used more acrylic paint to paint my people, then added more depth to the colour using neocolour crayons. I added the journalling using a dip pen and black indian ink and finished the piece off with six hearts cut from leftover scraps from a previous project.
Three done, three more to go. Keep watching this space!

We seem to have bought a lot of books just lately, acquiring as a by-product lots of those cardboard sleeves that books come wrapped in. So when I looked at Kate Crane's 21 Secrets 2013 Class and saw that it was about trying out lots of different techniques, I thought the book packaging would make an excellent base for these projects.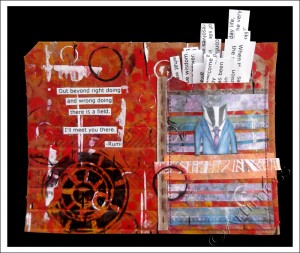 For the first project I started off using spray inks and stencils. Because I sprayed them directly onto the cardboard, the colour was not as bright as I was hoping for. I could have painted over with gesso and started again but I decided to go with it and see what happened. Next I added acrylic paint using a variety of stencils, bottle tops, cards and stamps (including one of my home made foam stamps). I decorated a "dinner money" envelope with strips of old scanned artwork and stitched it to the board then added some ribbon and some more stamping. Lastly I added some cut out quotations to the envelope, and stuck one of them to the card.
For the second project I started off with some old sheet music which I glued to the cardboard. I covered this with acrylic paint, then used a selection of hand made foam stamps to create more interest. I finished it off with a collage of a painted stamped image and a die cut butterfly joined using a tiny split pin, and a quotation which I outlined using a Pitt artist pen.
Four more projects to go – this is fun – I'm off to do some more. See you later!

I have never been a great one for glitter, although I have recently become quite addicted to twinkling H2O's. So when I read the introduction to my next 21 Secrets 2013 class I was a little nervous. Glitter – and more glitter!
Entitled Sparkle-Arkle, Dion Dior's class promised lots of light catching paint and glitter. Wow! – so many new techniques wrapped up in one class – and this is just part one!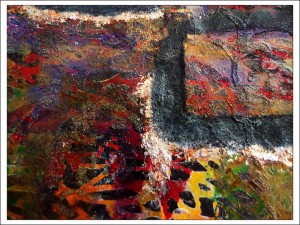 Much glitter later (I'm still covered in it and so are my scanner and my laptop)… here is the final result. I've included a detail photo as the scan really doesn't do justice to the amazing lustre of the final piece. The list of ingredients I used is long: water colour paint, tissue paper, Twinkling H2O's, gloss gel medium, glitter, stencils, stamps, acrylic paint, matt gel medium, gold thread, gilding flakes, pva glue, glue pen, and perfect pearls. I didn't have a lot of the suggested products so I had to improvise, but it was great fun!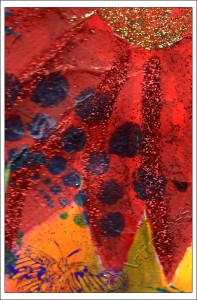 I'm not going to attempt to describe the process – you need to sign up for the course for that, I'll just show you this sneak peek of the underpainting.
Now if you'll excuse me, I'm off to start part two of Dion's class. More glitter!

Still playing catch up with Life Book 2013 classes, today I finished this piece for Tam's week 10 lesson.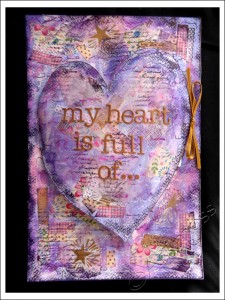 I decided to add my own twist to the lesson by folding my paper in half and cutting a heart shape in the front half to make a heart door. After cutting the door, I started the background using acrylic paint, then added a collage of printed tissue paper, washi tape, and paper ribbon. Next I used Caran d'Ache neocolour crayons and stamping with a staz-on ink pad to add more colour, then finished the front using die cut letters. Once it was all dry, I taped in the ribbon ties and stuck the two halves together.
On the inside, I covered the back of the door with torn tissue paper and gel medium, then set to work making the mini scrolls for the centre from a mixture of torn magazine pages and digital design prints, decorating some of them with stamping. I filled the heart shape with gel medium, and arranged the scrolls on top. Lastly, I made the 'Gratitude" banner by sticking some die cut letters on a scrap of digital design paper.
I had great fun with this lesson – thank you so much Tam!

I've got a bit behind with the Life Book 2013 Classes, so I was quite pleased when I managed to finish Mindy Lacefield's lesson today. I had great fun with it, but was a little unsure of how the whimsies would turn out using Mindy's draw in paint technique!
I started out by writing 7 quotations about connections on the right hand page, then used various stencils with homemade ink sprays to create a background and partially hide the journalling. Next I used various stamps with distress ink pads to add some more detail to the background and did some acrylic finger painting. Lastly, I painted the whimsies with acrylic paint and used a pilot gold marker to add belts to their skirts.
This is my first ever attempt at drawing people using paint, pretty scary, but I'm quite pleased with the result!

Last Sunday we travelled to Harrogate and visited the Great Northern Papercrafts Extravaganza – great fun! I got some really cool stencils, stamps and dies which I have been playing with this week.
On Monday I signed up to take part in the iHannah's DIY Postcard Swap 2013. (There's still time to sign up if you're interested, you just have to pledge to post 10 handmade cards by 30th March.) So I have been busy this week making my ten cards for the swap.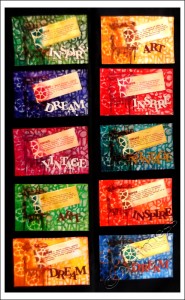 I started by creating a set of coloured backgrounds using Inktense Watercolour pencils. Next I added a contrasting colour using Acrylic paint and an Artist Cellar Stencil followed by a stamped image from IndigoBlu using a mixture of distress ink and staz-on ink pads. I followed this with a layer of gel medium to seal everything and to stick on the word definition tags, which I created using more stamps from IndigoBlu and a Creative Expressions stencil, and the die cut letters from memory box. Lastly I added another layer using the same stencil with acrylic paint.
I created the backs of the postcards using a free postcard backside from iHannah which I had to resize to fit my postcards, then added a digital stamp which I made using a scan of another Creative Expressions stencil, some hand drawn bird shapes and a quotation from Friedrich Nietzsche.
The completed postcards are now sitting waiting for their recipients addresses to be added!

Ever since Tam published this week's Life Book 2013 Lesson from Christy Tomlinson, every spare minute I've had has been devoted to getting messy playing with the new techniques Christy taught us.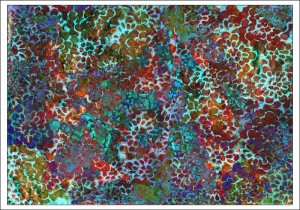 Along the way I had some leftover paint which I used with a flower stencil to create an image. I scanned this together with the sheet I prepared for making the flowers in the main project, then blended them. It'll make a good background for something one day!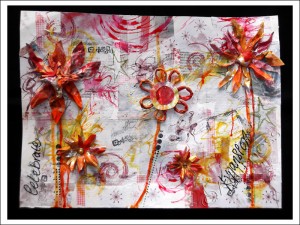 Finally – the finished product! I had so much fun! I started by creating a mixed media collage background using newspaper, old magazine inserts, bits of old envelopes, washi tape, white acrylic paint, inks, stamps and marker pen for the words. Then came the fun part of making the flowers. You'll have to do the course if you want to know how, but I used kitchen roll, tissue paper, very runny acrylic paint, stencils, stamps, kitchen foil and lots of gel medium. I had to adapt some of the ingredients as I didn't have everything on Christie's list! It was great fun, and very messy! – Thank You, Christie!
I've really been missing drawing this year, so today I drew the Pink Lady! I wasn't going to colour her at all, but then I had an accident over her right eye with my white marker. So she now has blue eyes! Not a bad cover up job!

Yes … I have a green thumb …. but no – that does not mean I'm good with plants! I just got a little bit too enthusiastic with a spray can of metallic green paint 🙂
It all started last week when I taught leaf printing at one of my craft classes. I get so much inspiration from teaching! … I came away from that class inspired to find as many ways as possible of using leaves.
A few weeks ago I came across several cans of spray paint left over from previous projects … so I decided to try using them with the leaves, and the 'Sample Various Substances' page seemed the perfect page in the journal to use for the experiment.
After I'd picked a selection of leaves I used them as both masks and stamps to achieve this effect.

Using leaves for printing, you end up with some beautiful colourful leaves. I took a couple of the ones I brought home from the class, covered them in Gel Medium and used them to create this picture.

Going back to my journal, I decided to do something with the 'Document Your Dinner' page. I wasn't prepared to feed my dinner to it, so I did the next best thing and used a heap of favourite ingredients to splatter over the page. I used Soy Sauce, Spaghetti Sauce, Strawberry Sauce, Lemon Juice and Salt!

I'm quite pleased with the visual effect … and it's added yet more interesting aromas to the journal – it really is a multi-sensory experience!!
At a recent business seminar we were given small gift boxes containing tiny meringues from Head in the clouds. The meringues were delicious … but I have to admit … it was the boxes that appealed to me the most!! I had to find out how they were made and have a go at reconstructing them. This is the result 🙂
I've been so busy working lately that I haven't had much time to get messy so it was a real treat to play with these boxes!