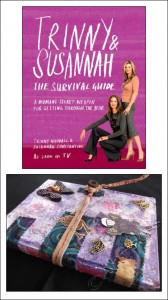 Ever since I saw Rae Missigman's 'Go Green' class on 21 Secrets 2013 I have been longing to have a go at making a recycled journal following her instructions. I have been an avid recycler for many years and have made use of many books in art projects, but I have never before taken one apart and reconstructed it, so this was a new adventure for me! My first step was a trip to my local Charity Shop to find a suitable hard back book to turn into my journal. These are the before and after pics!.
As usual I couldn't quite bring myself to follow all the instructions…
… plus I didn't have all the recommended ingredients, so I improvised a bit! The biggest change I made was to the binding. Because I had 7 signatures and my pages were quite heavy, I thought it better to use a different binding format to the one Rae taught. I used this brilliant tutorial from Sarah to learn how to do the binding the way I wanted.
But I digress! Having chosen and purchased my book for the princely sum of £1, the first task was to very carefully take it apart, removing all the signatures. Next came the fun part of decorating the cover, followed by the much trickier part of reassembling it into a book again! I started the decorating process with lots of layers of gesso, clean and painty tissues, and coloured inks dripped and sprayed. Once I was happy with that I added some scraps of material which I machine stitched very carefully to the cover – I only broke one needle in the process! Then came the embellishments which I added using hot glue and a material wrap to keep it closed. I am always envious of my American peers who seem to be able to purchase waxed bookbinding thread in assorted colours quite easily. I always end up waxing my own thread – and getting melted wax all over my cooker! With most of the book pages safely restitched within the covers I moved to inside the book.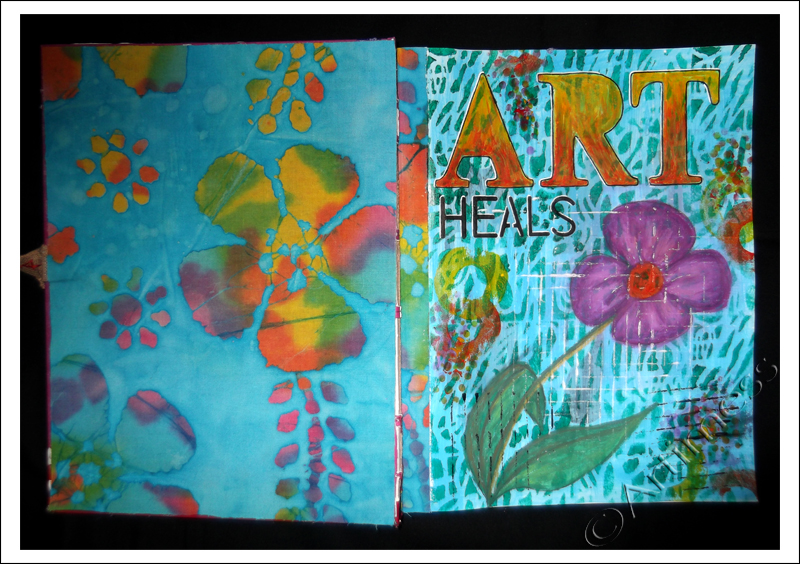 I covered the inside of the covers back and front with fabric which I stuck in using iron on fabric glue, then set to work creating a title page for the book. I started off with a layer of gesso, then added several layers of acrylic paint using a mixture of stencils and assorted stamping implements. I used letter stencils to create the titles and neocolour crayons to draw the flower.
I'm really pleased with the way the book has turned out and can't wait to work on some more pages! Thank you Rae for a really inspiring Class.

I have been busy painting and working on Rae Missigman's 21 Secrets 2013 Class, but I have nothing to show yet, so I thought I'd share some digital playing instead. I was catching up with my reading list yesterday and came across this post from iHannah about creating digital kaleidoscope mandalas. Well – I just had to give it a try, didn't I!
I decided to use my Face Emotions image as the source and had great fun playing. iHannah's instructions are very helpful. I created four mandalas, but that wasn't enough for me. After downloading the results I had to play digital blending to take it that little bit further! This is the result.
Thank you iHannah for the inspiration, and thank you SumoPaint for a nifty piece of software.
Finally! I've at long last finished projects #5 and #6 in Kate Crane's 21 Secrets 2013 class.
I started project #5 with a collage of printed artwork covered with acrylic paint. I used handmade stamps to add more depth then added a computer printed quotation and some grungeboard keys covered with metallic flakes. Lastly I added a metal key.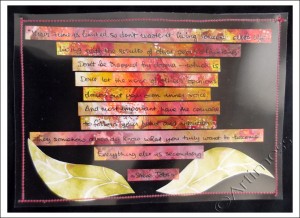 I just loved Kate's acetate sandwich for project #6 but had great problems getting my sandwich contents to stay still. In the end I decided to use some double sided tape to keep everything in place! The quotation is handwritten on strips of cut up painted background and the leaves are cutout prints of handmade stamps. Great fun to do, and so effective!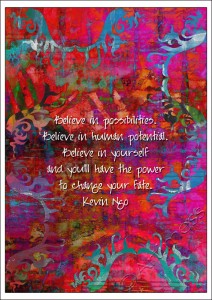 Last but not least, I thought it was time I played with digital blending again! The background is a digital blend of an artwork scan to which I added a blend of a digital brush I created from a hand drawn doodle. I really love this quotation – it's so true!

Project #4 in Kate Crane's 21 Secrets 2013 class is all about playing with ink! I managed to make quite a mess and had wonderfully coloured fingers for a day!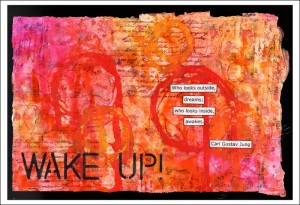 I started off with a piece of recycled cardboard and covered it with a patchwork of torn music squares then covered that with white gesso. Next came the messy part – spraying ink. It took several layers to achieve the look I was after and Kate showed us a really cool technique which disappointingly didn't work with my homemade ink sprays. Still I was pleased with the result I got. For the next layer I used an assortment of background stamps with colour co-ordinated distress ink pads. I have yet to add acrylic inks to my supplies, so I thought I'd have a go at making my own using golden fluid acrylics and water. It took a bit of juggling, but I managed to get quite a pleasing result which I used in a dropper to draw circles on top of the stamping. For the final layer I used Pitt Artist pens and an alphabet stencil to create my caption, and collaged a quotation from Carl Jung that I printed on my computer.
Just two more to go now!

Project #3 in Kate Crane's 21 Secrets 2013 class called for us to draw three people representations and journal on their bodies. Just prior to watching Kate's video, I had been reading these articles by William Bridges about transition and change: their meanings, the differences between them and their relationship to each other. While William Bridges is writing about these terms in relation to the work environment, I was thinking of them in a personal environment, and thought it would be interesting to use project #3 to journal about these ongoing experiences in my life. As a result I ended up with five figures!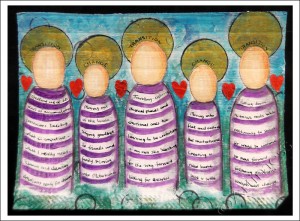 As before, I started off with a piece of recycled cardboard, but this time I began with two layers of white gesso. Next I positioned and lightly sketched my people, then painted the remaining background using acrylic paint and a variety of stencils, stamps and stamping junk (old bottle tops etc). I used more acrylic paint to paint my people, then added more depth to the colour using neocolour crayons. I added the journalling using a dip pen and black indian ink and finished the piece off with six hearts cut from leftover scraps from a previous project.
Three done, three more to go. Keep watching this space!

We seem to have bought a lot of books just lately, acquiring as a by-product lots of those cardboard sleeves that books come wrapped in. So when I looked at Kate Crane's 21 Secrets 2013 Class and saw that it was about trying out lots of different techniques, I thought the book packaging would make an excellent base for these projects.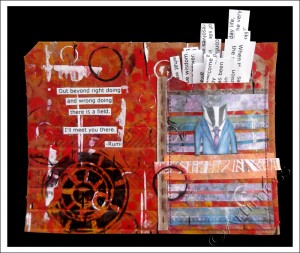 For the first project I started off using spray inks and stencils. Because I sprayed them directly onto the cardboard, the colour was not as bright as I was hoping for. I could have painted over with gesso and started again but I decided to go with it and see what happened. Next I added acrylic paint using a variety of stencils, bottle tops, cards and stamps (including one of my home made foam stamps). I decorated a "dinner money" envelope with strips of old scanned artwork and stitched it to the board then added some ribbon and some more stamping. Lastly I added some cut out quotations to the envelope, and stuck one of them to the card.
For the second project I started off with some old sheet music which I glued to the cardboard. I covered this with acrylic paint, then used a selection of hand made foam stamps to create more interest. I finished it off with a collage of a painted stamped image and a die cut butterfly joined using a tiny split pin, and a quotation which I outlined using a Pitt artist pen.
Four more projects to go – this is fun – I'm off to do some more. See you later!

Phew! – I finally finished my latest project, a hand made art journal!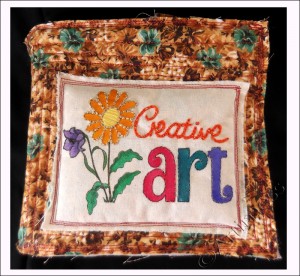 I started out by following Joanne Sharpe's class in 21 Secrets 2013. As usual, I didn't quite follow the instructions! Joanne taught us six embroidery stitches to use on our panels – I used three of them plus two of my own. Our design was supposed to be all embroidery, but I got rather carried away with using Twinkling H2O's to colour my shapes! While I was busy painting and embroidering my panel, I got a newsletter from Effy Wild which gave me a link to her free Bookbinding course. Well, I had to watch it didn't I! As a result, the journal I made is a combination of Joanne's and Effy's classes with a few of my own little quirks thrown in for good measure.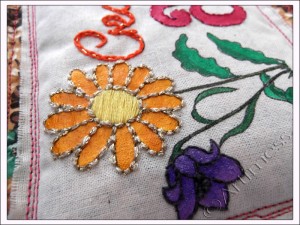 I drew the design for my book panel on some scrap paper then traced it onto calico using a homemade light box (a desk light pointed up through my glass topped coffee table) and a Pitt Artist Pen. I coloured it using a mixture of Twinkling H2O's over clear gesso and embroidery stitches.
After I chose the fabric for my book cover I sat and hand tacked my wadding sandwich together so that it didn't move about too much when I machine stitched it. I don't know anything about quilting, but the wadding I bought was really thick, so the only way to make it manageable was to 'quilt' it! – I'm sure it's not the right way to quilt, but I think it turned out alright.
Next came the pages for the journal. I started off with five signatures of watercolour paper but decided that wasn't enough. So I added another six signatures of assorted handmade paper in a variety of sizes. I now had a small problem. Neither of the binding methods suggested would work with my enormous pile of signatures. To make matters even worse I decided to add some spacers between the signatures to allow room for expansion. My spine measured 1.5″ deep! I decided the only thing to do was to sew the signatures together in traditional binding style then somehow attach them to the cover afterwards.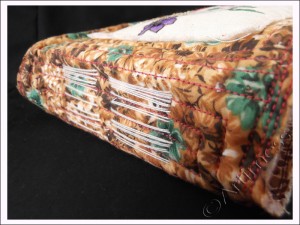 I knew how I wanted the finished book to look, but had no idea how to achieve it. Once the signatures were sewn together it was easier to see what I had to do, but the technicalities of it baffled me for a while. After a lot of head scratching I decided the only way to do it would be to sew each signature into the spine individually – no mean feat with them all sewn together! But I did it, and I got the stitching to look the way I wanted it to!! Now I just have to decide what I'm going to use the journal for!

Finally, at long last, my sparkling glitter web is complete!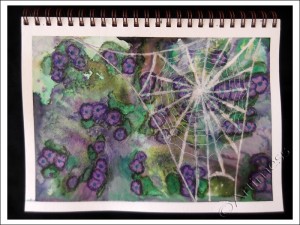 The photo really doesn't show just how sparkly it is, so I've included this detail shot. Click on it to see the sparkles! I love working with Twinkling H20's, but I've never actually used them as watercolour paints before – I must admit I struggled a bit with that! But overall I'm quite pleased with the result.
I created the background using a mixture of Twinkling H2O's and Inktense water colour pencils; the spiders web using bleach, a glue pen and holographic glitter. Oh, and I nearly forgot the salt – but I only used a little bit of that! It sounds so simple doesn't it – I suppose it was, I was just terrified something would go wrong!
There's still one more part of Dion's class to go (this lady believes in giving value for money!) – but as I don't have any of the ingredients at the moment – it will have to wait awhile. Thank you so much Dion, it' been brilliant so far – I'll come back later for the last bit!

I have never been a great one for glitter, although I have recently become quite addicted to twinkling H2O's. So when I read the introduction to my next 21 Secrets 2013 class I was a little nervous. Glitter – and more glitter!
Entitled Sparkle-Arkle, Dion Dior's class promised lots of light catching paint and glitter. Wow! – so many new techniques wrapped up in one class – and this is just part one!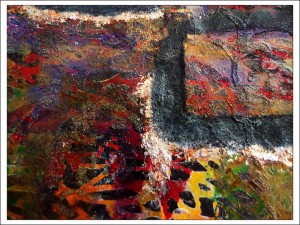 Much glitter later (I'm still covered in it and so are my scanner and my laptop)… here is the final result. I've included a detail photo as the scan really doesn't do justice to the amazing lustre of the final piece. The list of ingredients I used is long: water colour paint, tissue paper, Twinkling H2O's, gloss gel medium, glitter, stencils, stamps, acrylic paint, matt gel medium, gold thread, gilding flakes, pva glue, glue pen, and perfect pearls. I didn't have a lot of the suggested products so I had to improvise, but it was great fun!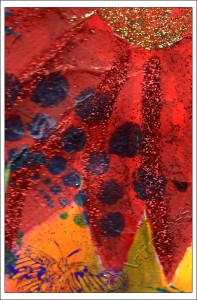 I'm not going to attempt to describe the process – you need to sign up for the course for that, I'll just show you this sneak peek of the underpainting.
Now if you'll excuse me, I'm off to start part two of Dion's class. More glitter!

I've been busy altering tins and making game cards for Diana Trout's class on the 21 Secrets 2013 course.
I took two old cough lozenge tins, sanded them and primed them with gesso, then painted them with acrylic paint. It was not a success – the paint started to flake off! So I covered the paint with tissue paper glued on with gel medium. Success! I still wasn't happy with the way they looked, so I added several more layers of acrylic paint in different colours and another layer of gel medium. Once I was happy with the tins I created their labels using a stamped flower and a digital label. I coloured both of these using Twinkling H2O's. I made the game cards from double-sided scrapbooking paper, then used the same stamped flower and digital label for the instructions.
I found this class to be quite a challenge, but I'm glad I did it – I learned a lot. Thank you Diana.
About a week ago I posted this blended image and said I didn't think I was quite finished with it yet. This is why – I just turned it into a kaleidoscope! I love the colours and all the faces in the patterns. How many faces can you find? I keep losing count!