I love the autumn when the leaves turn such beautiful colours on the trees. As they fall to the ground it's the perfect time of year to satisfy the child in me by doing some leaf printing. A few mornings ago, I came back from my early morning walk with a large bag of assorted fallen leaves ready to spend the day playing!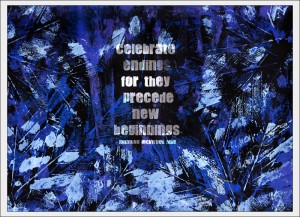 By the end of the day I had paint everywhere, together with a stack of images in a variety of styles and colours. Having scanned them all into the computer, I am now in the process of going through them. Some of them like the one above, immediately suggest something to me, but others may sit neglected for months before I discover a perfect use for them.
Autumn Blues was created using a base coat of black gesso, acrylic paint leaf prints, followed by some digital text and a bit of blending.
The observant among you may have noticed that I've just acquired a new badge on my right sidebar. I've just signed up for this years Art Every Day Month – the challenge of being creative every day for the month of November. I really enjoyed taking part last year from my Face of Love blog and am looking forward to being part of it again. Why don't you give it a try – it's great fun!
I love Guada's mandalas, and so was thrilled to have a lesson from her as this week's Life Book class. Her instructions are always so easy to follow and even though I started out copying her design the end result is so totally different!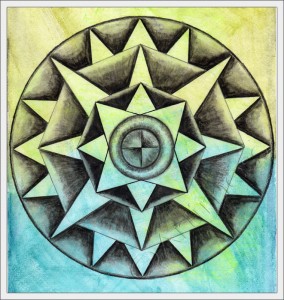 The background was created first using neocolour crayons on copy paper, blended using a watercolour brush. When the background had dried the paper was a little crinkly, so I ironed it flat (much more fun than ironing clothes!) and printed Guada's template onto it. Then following instructions, I created the mandala and coloured it using my Rotring Rapidograph pen and Derwent Inktense pencils.
I just love the result. If you'd like to have a go, Guada is running a free course starting in October called The Seed of Life. Click on the button on my right sidebar for more details. Thank you so much Guada 🙂
As part of re-creating my identity back here at Artimess, I decided to design myself some business cards. The front was no trouble, but I thought I'd like to put some of my artwork on the back.
I started by creating this Artimess zentangle: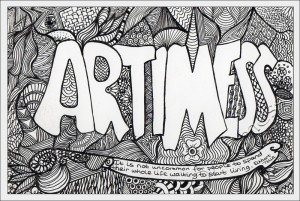 I used A6(105mm x 148mm) white art board and drew with my trusty Rotring Rapidograph .25 Pen.
Then I found this photoshop tutorial from 10 Steps and thought it looked like fun – I love digital blending! So I gave it a go: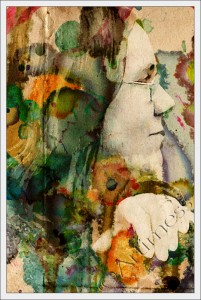 I love the result – mainly because it makes me look a lot younger than the original! So now I have 2 backs for my business card. Which do you think I should use?
After my travels over at Face of Love, I've decided to return to Artimess to continue my messy exploration of all things creative.
Since I completed my Wreck this Journal book I've been through a slightly more structured phase in my creativity, but I've decided it's time I came home to Artimess and started having fun again!
I signed up for Tamara Laporte's Life Book Course back in January and have been joining in rather haphazardly throughout the year. Last week's lesson by Connie Hozvicka from Dirty Footprints Studio caught my imagination. The picture above is my interpretation of the lesson. Created on watercolour paper (2 x A4 sheets), using glossy gel medium as a base to build texture followed by lots of layers of acrylic paint to add depth and more texture. I had great fun creating this – thank you Connie!