I really enjoyed all the mixed media work I've been doing recently, so I decided to do some more playing with layers, both physical and digital.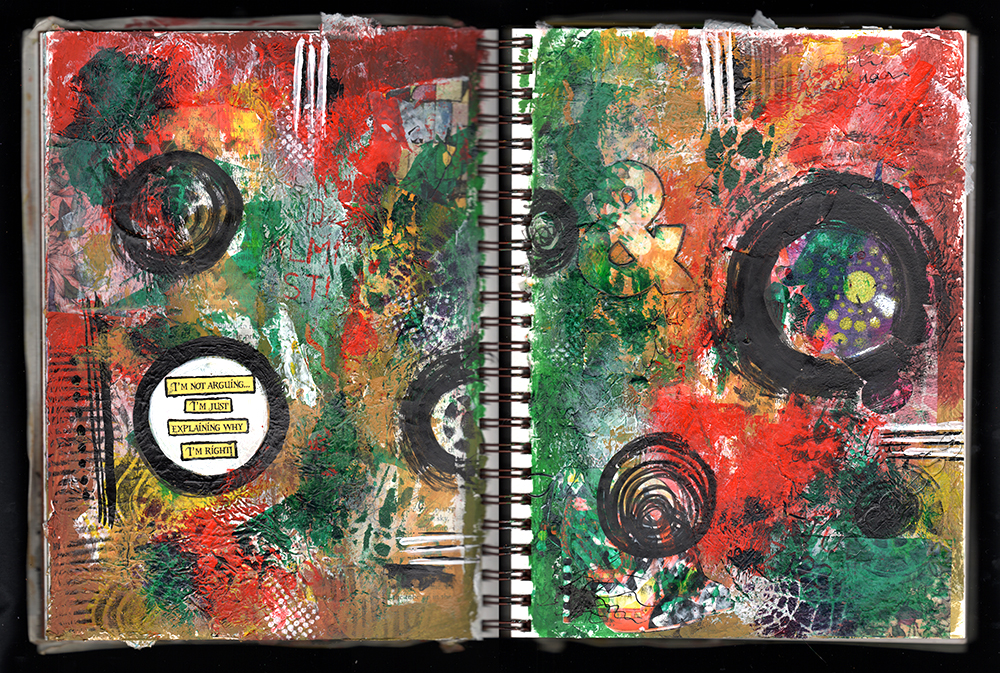 This first image started out as a collage using a mixture of old papers, book pages, old paint stained tissues, and magazine clippings. This was followed by a liberal application of acrylic paint, stencilling, homemade stamps, washi tape, and more collage. The quotation made me smile, as it's the kind of thing I say all the time!
This second image was inspired by some work I did at the weekend on the Person Centred Expressive Arts workshop that I attended run by Dinah Brown and Nuala Eden. It began life as a geometric abstract created using watercolour pencils. Although it was quite colourful, it looked a bit flat, so I gave it the mixed media treatment. I added acrylic paint, stencils, homemade stamps, paint markers and indian ink, then finished it off with some letter stamps and collaged letters.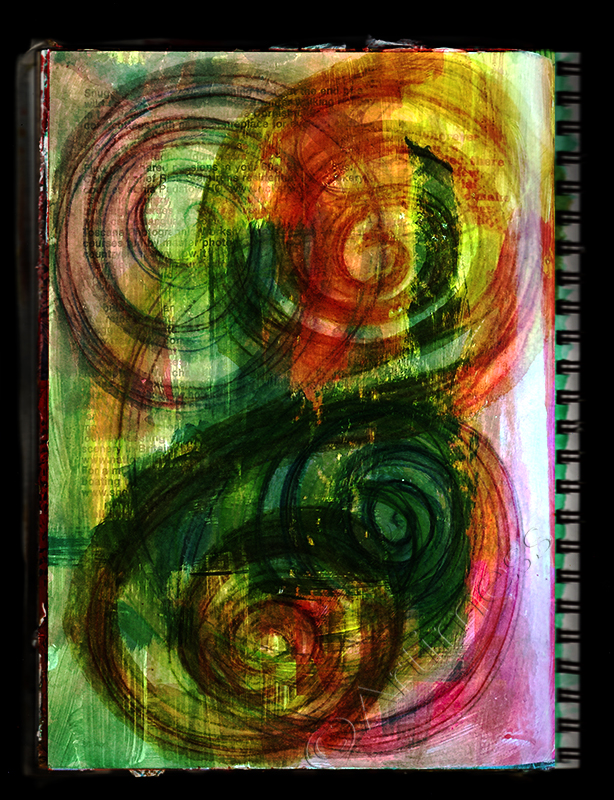 Its been a while since I played with any digital layers, so this last image is a digital blend of two journal pages – a series of swirls drawn with watercolour pencils, and a page created to use up some leftover paint.
Only five days left before the start of 21 Secrets Fall 2015 – I'm really looking forward to working and learning with all the amazing teachers Connie has gathered together.

Creativity rocks! I've been so busy writing my dissertation that I haven't had time to do anything else. But I took a couple of days off last week and did a bit of catching up!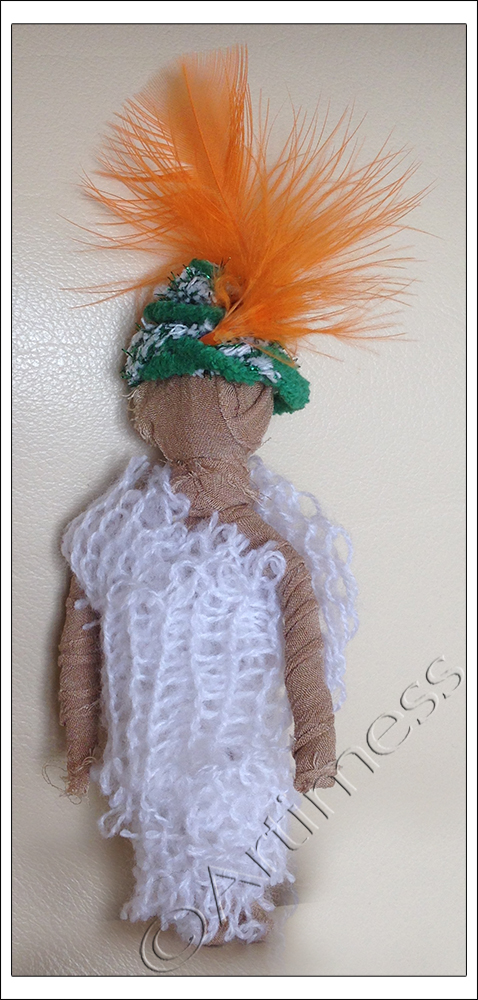 A couple of weeks ago we had our dissertation tutorials and as part of the tutorial, our group were asked to create an image to represent our finished dissertation. I knew I had to create a doll, but as we didn't have much time for the art work I knew she had to be simple. So I made a wrapped pipe cleaner doll and called her "All wrapped up with a feather in her cap!" Do you like her?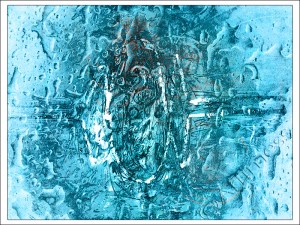 This image started out as a photograph of the kitchen sink with splashes of water all over it. Then I blended a painting into it – et voilá!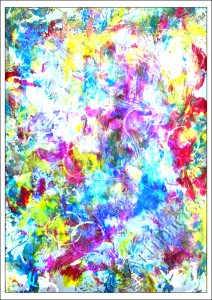 This one is a blend of two paintings created during a recent painting workshop.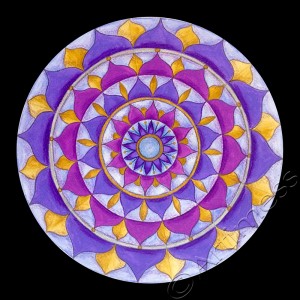 I've been fascinated by mandalas for a long time as any of you who have followed my blog or flickr stream will know. So when I saw Julie Gibbons was running a five day free course, I just had to sign up and play along. I must say, the course is one of the most comprehensive mandala courses I have ever seen and I am learning so much. Thank you Julie. This is my first mandala created on day two using a pencil drawn grid, neocolour crayons and watercolour pencils.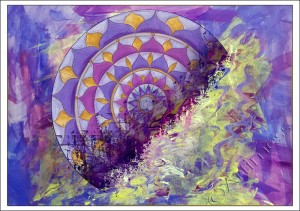 And I just couldn't resist playing digital with the mandala after I scanned it!

I thought it was about time I caught up with posting some more pictures from my journal.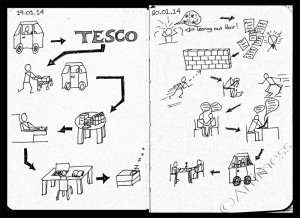 This is my interpretation of the last of the sketch noting prompts. The first one is pretty simple to interpret, but can you guess what the second one is all about?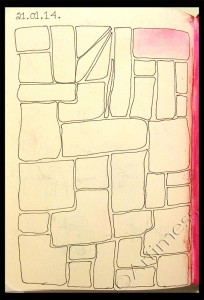 I ran out of time on the 21st and spent five minute drawing these interlocking shapes.
I started this page off using water colour pencils and neocolour ll crayons, then I just couldn't resist the call of the paint any longer! I used acrylic paint and stencils to finish it off.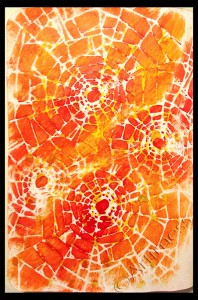 This last page was created using acrylic paint and stencils.

Just because I haven't been posting, doesn't mean I haven't been journalling! I treated myself to a little pocket journal, and have been doing my five minutes + every day! I made this title page at the beginning of the book…
… using my Rotring Rapidograph pen to draw with, then colouring with watecolour pencils and Neocolour ll crayons.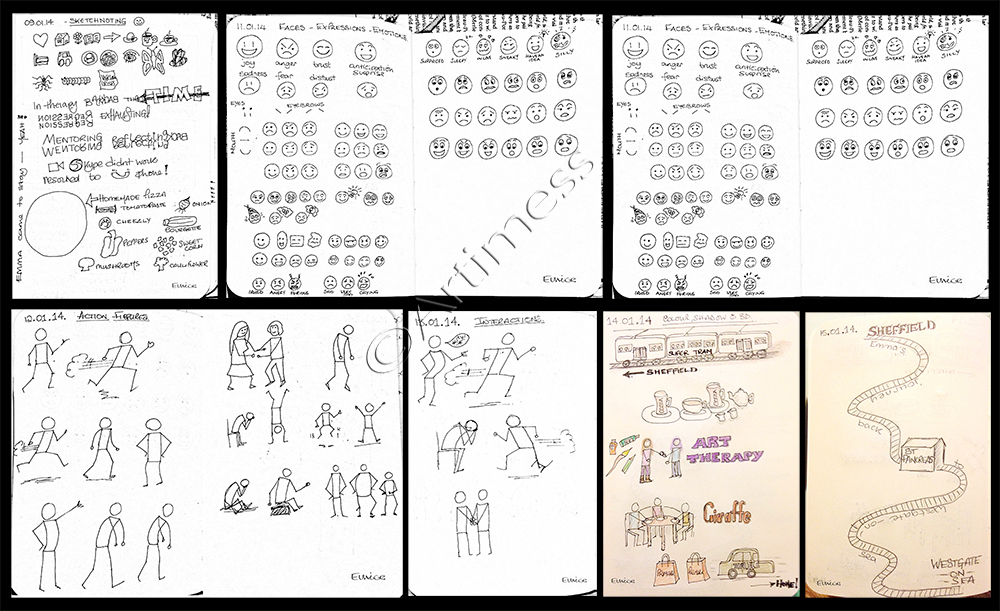 We've been learning about sketch noting, and I have to admit, I've really enjoyed using this way of journalling as you can see from these pages.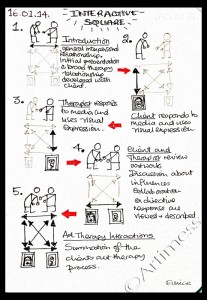 This last page is my version of a bit of psychoanalytic theory, adapted from a paper by Anita Bragg & Patricia Fenner (2009), which I'm talking about in my course essay at the moment!

I've been playing blending again! I made a stained glass window image inspired by Jodi Ohl's Just do it – Free Art Friday post.
But unlike Jodi, I didn't doodle on my painting, I scanned it and played digital blending with it!
Then I thought it might be a good idea to finish face #16 which has been lurking accusingly for a while now!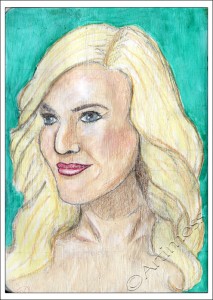 I'm glad I did – I'm quite pleased with how she turned out – she's definitely one of my better faces! I drew her in pencil and coloured her using acrylic paint and watercolour pencils. Now what shall I do next?

Still playing catch-up…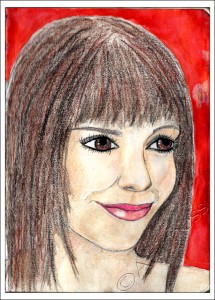 … but I think she's my favourite so far!

I'm still behind with my faces, but here is number 14.
Once again she's drawn in pencil and coloured with acrylic paint and watercolour pencils. I really must try drawing with paint one of these days – I'm sure I would learn a lot from it – it just a case of plucking up the courage!

Almost half-way, and still keeping up – I'm impressed with myself! Here's todays offering.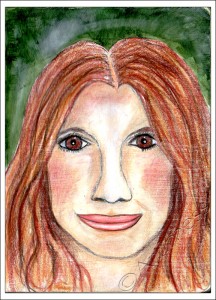 I'm told she is recognisable today – I must be getting better! Do you know who she is?

Today I have been getting really messy! In addition to creating my face for 29 faces, I've been playing with letter stencils.
I created today's face using pencil, watercolour pencils and acrylic paint. She still doesn't look entirely like the one I was copying, but I'm getting better!
I signed up for this free workshop, Use Your Words, from Carolyn Dube the other day and have been having fun playing with letter stencils for the first lesson.
I started off with a collage of torn newspaper which I covered with a few layers of acrylic paint. Then I started playing with stencils! As I didn't have the letter stencils Carolyn recommended, I made my own by removing a set of chipboard letters from their holding sheet, then using the sheet as a stencil. I used the whole alphabet and numbers to create the first layer, then made the word 'creative' over the top in a darker colour. I finished off using an Artist Cellar stencil to create a bit of interest at the bottom of the page.
I quite like how it looks right now, but I have a feeling I may be adding some more to it later!

Today was the first time in ages that I had a page with no gesso to work on. It was great not to have the smudging problem!
I drew her in pencil, then coloured her using a mixture of acrylic paint and watercolour pencils. Unfortunately when I came to paint the background, the paint leached straight through the page and left its mark on the next several pages in the book! So I'll be back to a gesso page tomorrow!