I've been playing blending again! I made a stained glass window image inspired by Jodi Ohl's Just do it – Free Art Friday post.
But unlike Jodi, I didn't doodle on my painting, I scanned it and played digital blending with it!
Then I thought it might be a good idea to finish face #16 which has been lurking accusingly for a while now!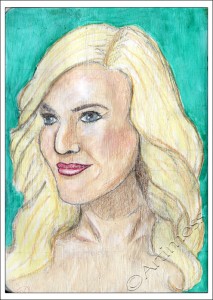 I'm glad I did – I'm quite pleased with how she turned out – she's definitely one of my better faces! I drew her in pencil and coloured her using acrylic paint and watercolour pencils. Now what shall I do next?