I'd been reading online about Tilt Brush the new virtual reality 3D painting app by Google, thinking that it looked like a lot of fun. So I was really excited yesterday at work to be given the opportunity to try it out – absolutely awesome!! This is a picture of me creating my 3D landscape – totally oblivious to the world around me!
Back in the real world I've been busy creating lots of physical artwork as well.
When I finish work late at night, I often play with paint in my everyday notebook just to let off some energy and get messy. This is the result of one of those playings.
This next image was completed over a week – playing with the techniques taught in Effy's Book of Days week 18 lesson.
I really enjoyed learning these new techniques and found the whole process very therapeutic.
Back to the notebook again…
… I had great fun using the wrong end of the paintbrush to scratch some texture into my image.
Staying with the same colour palette, I moved over to my small art journal…
…and had some more fun playing with textures.
This next spread was inspired by Tracy Verdugo's lesson from the Spectrum 2016 course.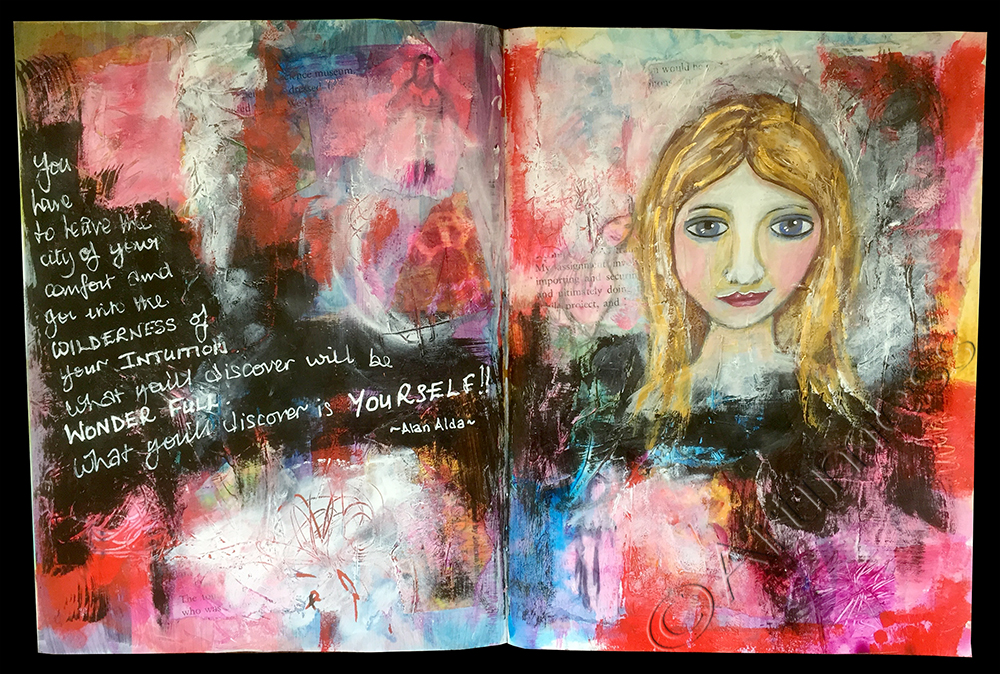 It was an amazing lesson and I loved the process. I really like the Alan Alda quote that I found to go with it too.
And finally, I've just finished this last spread, inspired by Effy's Book of Days week 20 lesson.
Following the BOD prompts this month has really taken me on an amazing journey and I've been continually surprised by the synchronicities that have appeared in my world as a result. Thank you Effy!

It's been a while since I made a collage that stayed visible after I completed the piece. Normally by the time I finish the image, the collage is buried under layers of paint, stamping or stencilling or a mixture of all three. But the last two classes I've done as part of Radiant 2, both have visible collage in the completed pieces!
This first piece was my response to Dyan Reaveley's class.
Her lesson was so great, I especially enjoyed the things she shared about her process – thank you Dyan. Although I didn't have many of the supplies Dyan used, I think my substitutions have worked well – I love the result and the quotation taken from Sandra Sturtz Hauss's poem "These are my wishes for you".
My second piece was made in response to Effy's interpretation of Felicia's class.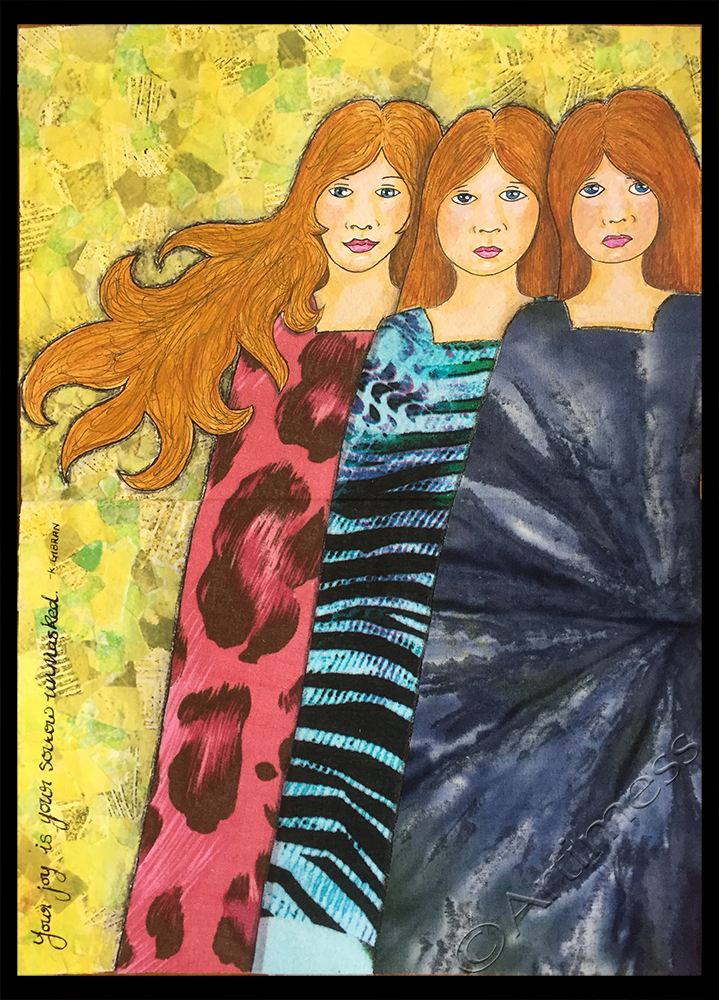 I loved the process, and learnt loads from the note writing. I found it really interesting to create a second image in a different style – thank you for a really inspiring lesson Effy. By the way – if you want to look up the quotation, it's taken from "On Joy and Sorrow" by Kahlil Gibran.
I haven't quite made up my mind what to do next, but I think I might start making postcards for iHannah's postcard swap ready for the end of the month.

Thinking about mandalas, I created this hand drawn one in my small journal the other day.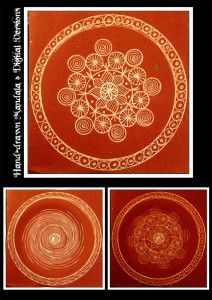 But as usual, I couldn't just leave it at that. I had to play with it once I'd scanned it. I started off by adding some 'twirl', then blended the two together to come up with the final version.
Once in the blending mode, I find it's difficult to stop! This image is a blend of two paintings to which I added the Maslow quotation.

Two more pages to add to the steadily growing collection! Another painted postcard for journalling on…
…created using acrylic paint, a stencil and acrylic ink. The black blots remind me of seahorses or maybe glow-worms. What do you think?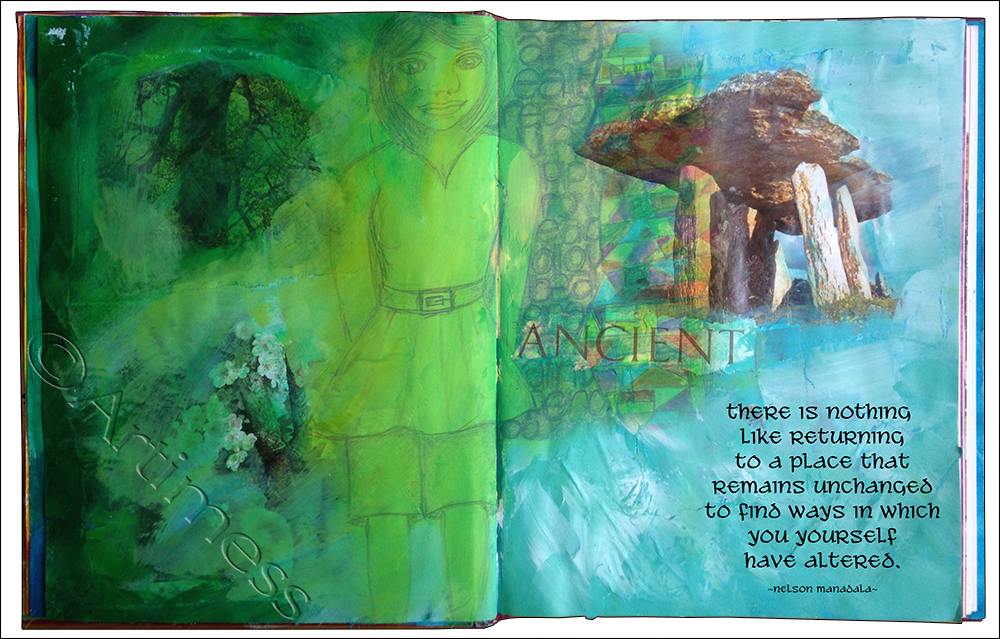 And another page in my recycled journal. This started out as a collage with acrylic paint. I added the scanned person doodle and blended her in, then chose and added the Nelson Mandala quotation using digital text.

I'm slowly filling my recycled journal! If you look closely you can see the fabric strips down the centre of the page marking the end of one signature and the beginning of another.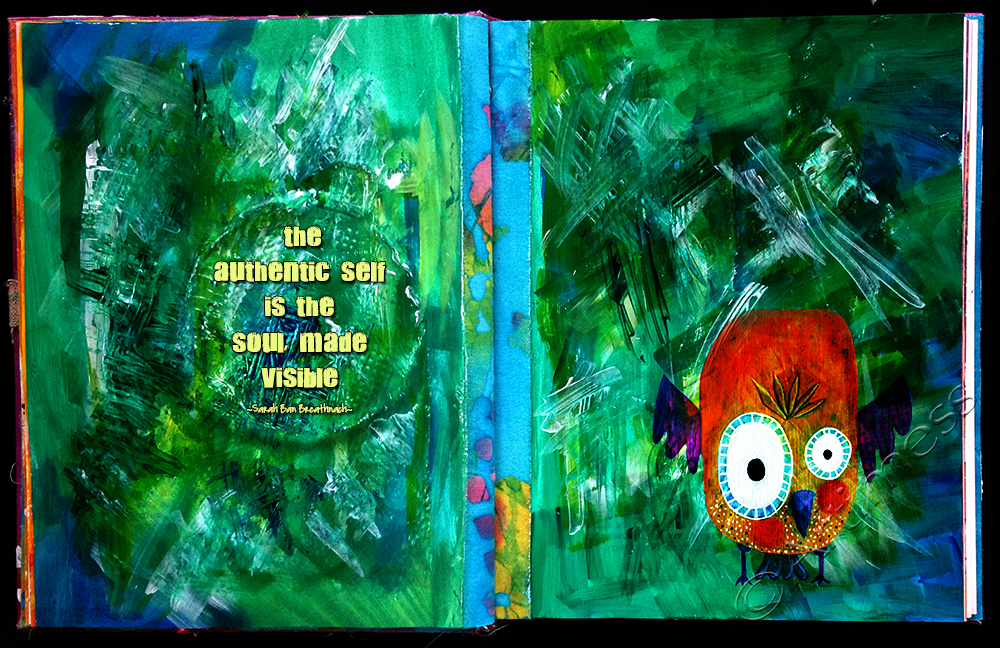 I created the background using acrylic paint in layers and used an old credit card to scrape the final layer on which gave it a more textured look. Some of you may recognise the quirky bird on the right. I originally painted it some time last year, but thought it would look good on this page so I added it digitally and blended it in a bit. Lastly I added the quotation using digital text. I love how the coffee creamer lid shape from the previous page makes a perfect frame for the quotation!

Ever since I can remember I have always believed in the interconnectedness of everything. So when I came across this Pueblo Indian saying in Way of the Doll: Art and Craft of Personal Transformation
by Cassandra Light, I couldn't help but feel a journal page needed to be created.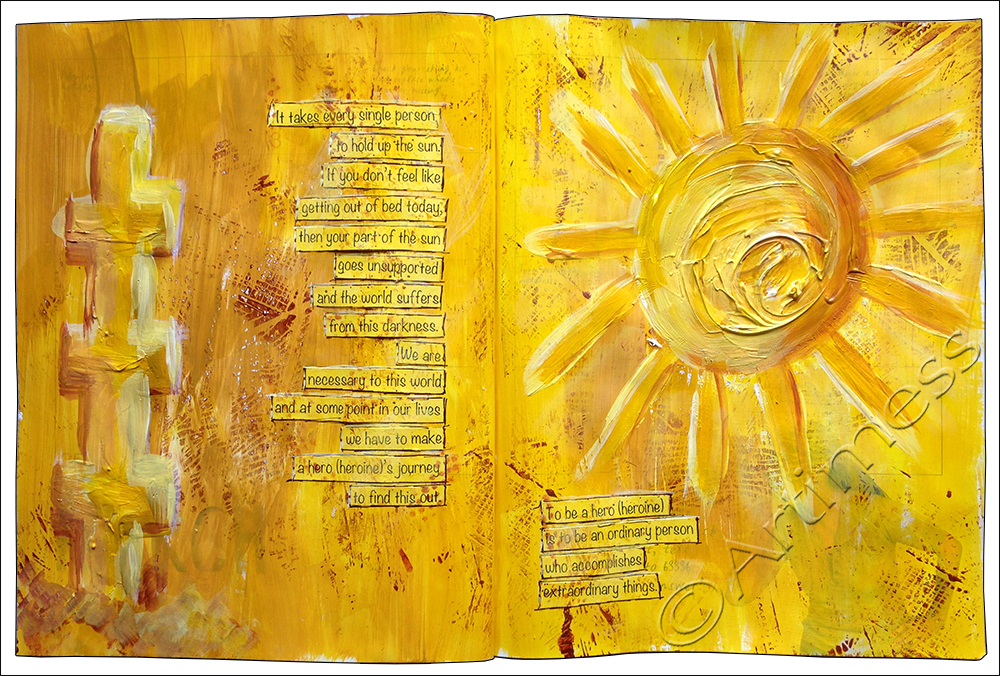 I decided to use my recycled journal, and created this double page spread using acrylic paint, moulding paste and a linocut stamp. I added the quotation by cutting up a digital printout of it, glueing it down then adding paint, stamping and permanent marker to help it to blend into the page. Did I mention that I printed it on yellow paper?
And talking of blending…
…I just couldn't resist the digital kind!