Moving day is less than 5 days away. Almost everything is in boxes, but I keep delaying sealing them up so that I can keep painting! We're moving into deep clean mode now – cleaning out cupboards, washing down paintwork and stuff like that. I ache all over from all the unaccustomed exercise!
I think I may be getting addicted to painting on recycled padded envelopes! They are so much fun, plus they're about the only things I can find to paint on at the moment! After the move I'll have loads of recycled cardboard – but for now I'm really enjoying my mail art.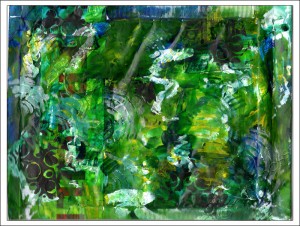 I began by adding some "Fragile" tape to the envelope to get it started, then added lots of layers of acrylic paint with my fingers. I originally intended to use ink pads to do my stamping, but they are packed too deep for me to get to them right now, so I used some more acrylic paint on my homemade stamps. I finished off by adding a bit of drippage – very watered down acrylic paint. I'm not sure if it's totally finished yet, but it felt like the right place to stop for now.

I'm never quite sure what qualifies as 'Mail Art'. Does it have to be something you make to send through the post, or can it be recycling something that has already been sent through the post? I'm sure someone will enlighten me, but in the meantime, I'm calling what I created today 'Mail Art'!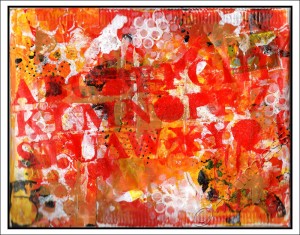 We received it in the mail a couple of days ago when it contained some computer memory for a computer Bry is currently repairing. Knowing my acquisitive habits, he gave it to me for recycling. I originally intended to put it with my collection of padded envelopes, but it never got that far. It's been sitting in a pile on my desk, and this evening when I was wanting to paint something small, it seemed the obvious choice of canvas.
I decorated it using acrylic paint applied with my fingers and an assortment of my recycled 'stamps' (sequin waste, old cards, creamer sealers, washers, etc). I finished it off using the waste from a die-cut alphabet as a stencil. I really like how it turned out – maybe I'll re-use it as an envelope now it's finished!

At last all the layers have dried and it's safe to scan the finished page.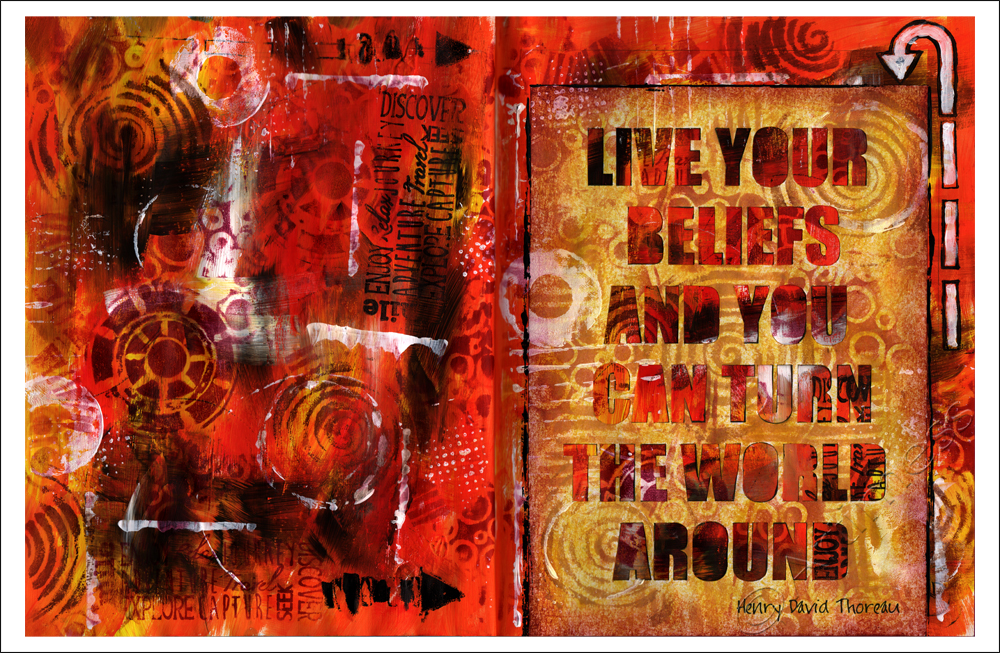 I love how the finished page turned out, and I had such fun making it. The only tricky part was managing the wet media on the thin pages of my new journal, but I managed that by starting with a thickish layer of white gesso and using the acrylic paint with a dry brush. What I love is that you can still see some of the original pages through the layers in places!
Just for a change my 'ingredients' list is quite short! I started with white gesso, added layers of acrylic paint, and stamped using various clear and homemade stamps with a staz-on ink pad and some distress ink pads. I printed the quotation onto plain white copy paper then cut out the letters by hand, leaving me with a stencil affect. I coloured this using distress ink pads, then stuck it to the page using a glue stick. Lastly I added some more acrylic paint using an assortment of household items!

Late last night, about 1am, I decided to start Misi B's Life Book 2013 lesson. I can always judge how much I've enjoyed something by the amount of paint I get all over me – I'm still picking the paint off my fingers now!! I only got as far as the first background, but I had so much fun and am really pleased with the result so far. So I scanned it to share with you.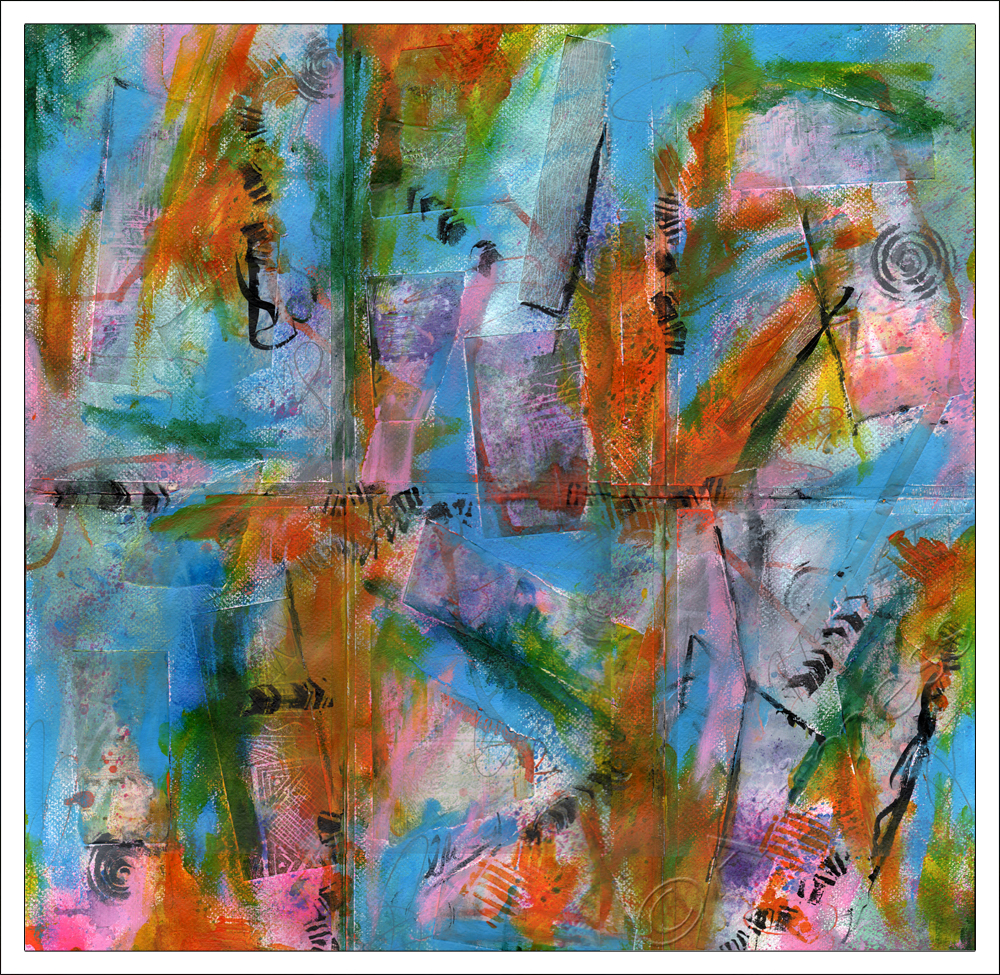 I started with a collage of leftover bits of artwork prints then added some glitter sprays and ink sprays. Next I added several layers of acrylic paint using my hands and some hand made stamps – very messy!! The next step is to search for faces in the background and paint them in. I can see two at the moment – how many can you see? I'll show you the result when I'm done – see you later!!

Project #4 in Kate Crane's 21 Secrets 2013 class is all about playing with ink! I managed to make quite a mess and had wonderfully coloured fingers for a day!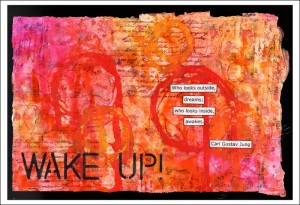 I started off with a piece of recycled cardboard and covered it with a patchwork of torn music squares then covered that with white gesso. Next came the messy part – spraying ink. It took several layers to achieve the look I was after and Kate showed us a really cool technique which disappointingly didn't work with my homemade ink sprays. Still I was pleased with the result I got. For the next layer I used an assortment of background stamps with colour co-ordinated distress ink pads. I have yet to add acrylic inks to my supplies, so I thought I'd have a go at making my own using golden fluid acrylics and water. It took a bit of juggling, but I managed to get quite a pleasing result which I used in a dropper to draw circles on top of the stamping. For the final layer I used Pitt Artist pens and an alphabet stencil to create my caption, and collaged a quotation from Carl Jung that I printed on my computer.
Just two more to go now!

Ooops! – I got sidetracked again! But this Life Book lesson from Dawn DeVries Skol was just so much fun!
I started by painting the background using acrylic paint. I decided that I wanted the self-portrait to be transparent so I printed it on overhead projector film then cut it out and stuck it down using gel medium. It has left me with a slightly streaky face, but I like being able to see the background through the image. Next I added the journalling and doodling using Pitt Artist pens and coloured the large letters and doodles using neocolour crayons. Lastly I inked round the edges of the pages with a distress ink pad. Thank you Dawn for a really great lesson!
Now I really am going to get back to Dion Dior's 21 Secrets Lesson!

I have never been a great one for glitter, although I have recently become quite addicted to twinkling H2O's. So when I read the introduction to my next 21 Secrets 2013 class I was a little nervous. Glitter – and more glitter!
Entitled Sparkle-Arkle, Dion Dior's class promised lots of light catching paint and glitter. Wow! – so many new techniques wrapped up in one class – and this is just part one!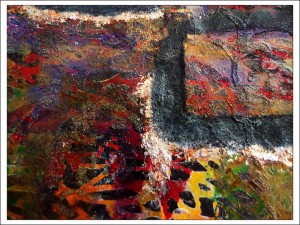 Much glitter later (I'm still covered in it and so are my scanner and my laptop)… here is the final result. I've included a detail photo as the scan really doesn't do justice to the amazing lustre of the final piece. The list of ingredients I used is long: water colour paint, tissue paper, Twinkling H2O's, gloss gel medium, glitter, stencils, stamps, acrylic paint, matt gel medium, gold thread, gilding flakes, pva glue, glue pen, and perfect pearls. I didn't have a lot of the suggested products so I had to improvise, but it was great fun!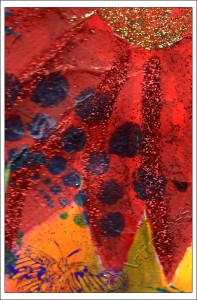 I'm not going to attempt to describe the process – you need to sign up for the course for that, I'll just show you this sneak peek of the underpainting.
Now if you'll excuse me, I'm off to start part two of Dion's class. More glitter!

Today I've been working on Danielle Daniel's class, part of the 21 Secrets 2013 course. I had great fun and got very messy creating this background.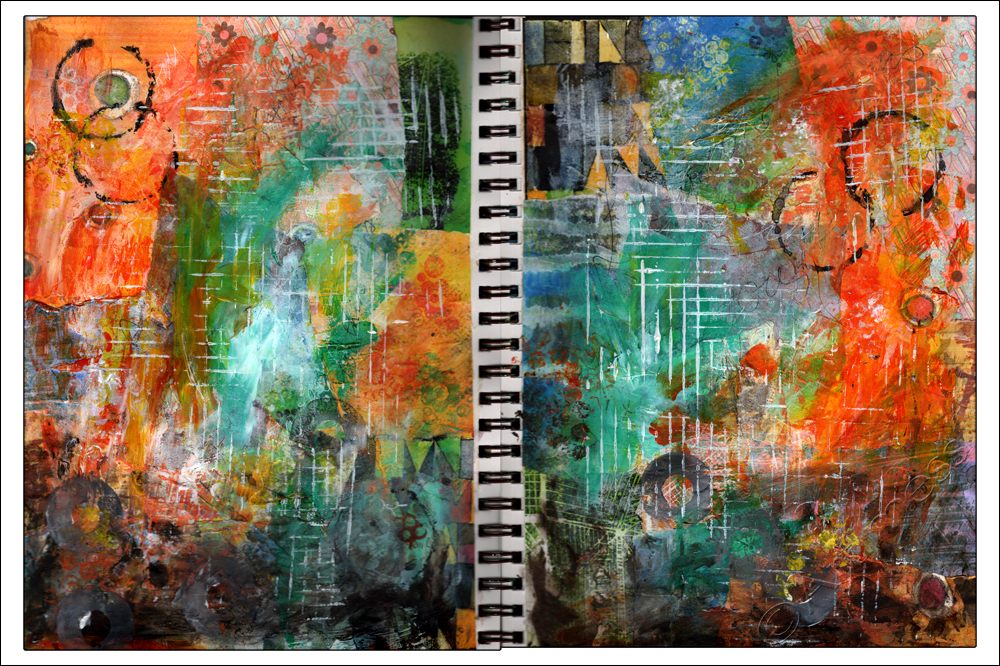 I started out with a collage of printed papers from my earlier artwork, then added acrylic paint using a variety of techniques. Next I added journalling followed by more acrylic paint! I still have more to do to finish – there's at least one person waiting to be painted – but I really like how it looks right now, so I thought I'd share it with you.
When I finished painting, I had rather a lot of leftover paint on my palette, so I created this in my notebook.
Then I decided to see what it looked like with a bit of digital blending. I quite like how it turned out so far, but I have a feeling I'm not finished with it yet!

"Just let go… … and soar to the heights …" was inspired by the second part of Carissa Paige's class on the 21 Secrets 2013 course.That's me painted over to look like a bird soaring in the sky – Oh how I envy the birds their ability to soar on the wind!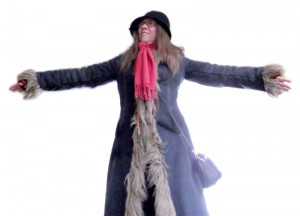 I created a background using a mixture of acrylic paint and spray ink then glued on this silly picture of me with my arms outstretched pretending to fly! I painted over the photo with acrylic paint, turning my arms into wings and giving myself some nice purple feathers and an orange beak, then added the digital text which I coloured using neocolour crayons. I finished it off by adding a couple of friends for me to fly with cut out from old paint stained tissues!
The arrival of this wonderful card from Australia has left me very sad. iHanna's postcard swap 2013 is finally over! But I have got some beautiful reminders and some of the lovely people I've met want to keep in touch, so hopefully there'll be some more artwork winging it's way around the world. Meantime, if you hear of any more swaps – please let me know!

Yeah! – at last, I got to play mixed media!! I had so much fun!
I finally got the courage this year and signed up for 21 Secrets 2013. As I have never really done any proper art journalling, I treated myself to a smart Strathmore Mixed Media Journal – it was a dream to use, and just the right size!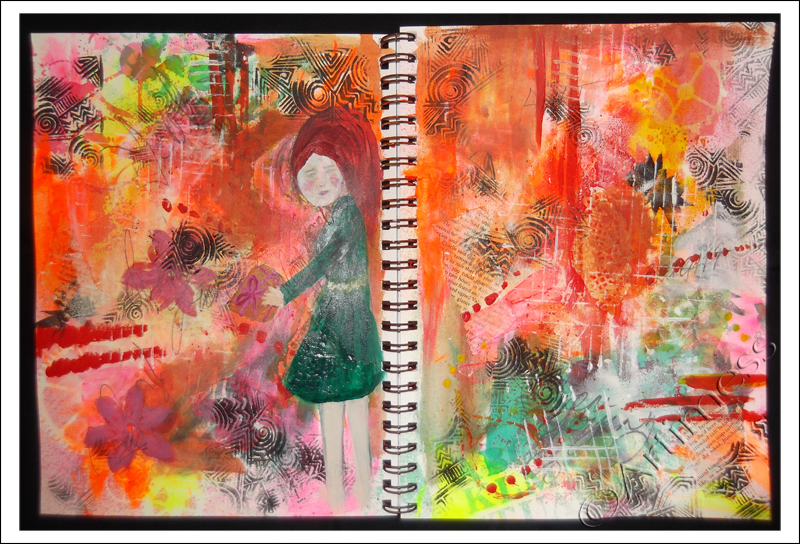 This is my play page, which I've titled 'The Gift', inspired by the class from Carissa Paige. I played with acrylic paint, ink sprays, stencils, foam stamps, staz-on ink pads, collage, and graphite pencils. I found the girl in green holding 'The Gift' lurking in the painty mix. Thank you Carissa for the gift of freedom you inspired with your class. I know I had fun – I'm still picking the paint and gel medium off my fingers!!
I made an interesting discovery when I tried to scan the finished picture – my scanner does not 'see' luminous acrylic paint, and as I used rather a lot, it left the colours looking a bit flat! So I spent ages trying to get a good photo which didn't have too much reflection! Has anyone else discovered this problem?
Last but not least – I received my ninth postcard this morning all the way from Australia – a wonderful hand drawn mandala from Lulu – beautiful! Thank you so much. Only one more postcard to go – then it's all over for this year – it's been so much fun! I'll have to hunt around for another swap to take part in. Anyone got any ideas?
Now I'm off to play mixed media in the next part of Carissa's class!