"Just let go… … and soar to the heights …" was inspired by the second part of Carissa Paige's class on the 21 Secrets 2013 course.That's me painted over to look like a bird soaring in the sky – Oh how I envy the birds their ability to soar on the wind!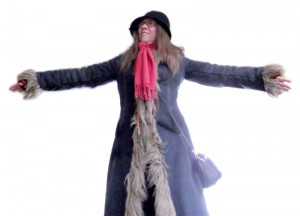 I created a background using a mixture of acrylic paint and spray ink then glued on this silly picture of me with my arms outstretched pretending to fly! I painted over the photo with acrylic paint, turning my arms into wings and giving myself some nice purple feathers and an orange beak, then added the digital text which I coloured using neocolour crayons. I finished it off by adding a couple of friends for me to fly with cut out from old paint stained tissues!
The arrival of this wonderful card from Australia has left me very sad. iHanna's postcard swap 2013 is finally over! But I have got some beautiful reminders and some of the lovely people I've met want to keep in touch, so hopefully there'll be some more artwork winging it's way around the world. Meantime, if you hear of any more swaps – please let me know!