I've been a bit caught up in the mechanics of website maintenance for the last few days and have been neglecting my mess-making creativity! Thank goodness for the Monday Life Book lesson from Dion Dior this week – it was just what I needed to get back into mess making again!
Starting with a piece of black paper, I drew a handprint and mini mandala using a white watercolour pencil, then shaded between two using an assortment of dry white media which included a neocolour crayon, a soft pastel and a jelly roll pen. It was great fun and I think I'll be playing with this concept some more over the next few days!
Just to add a bit of colour to the post, I had to show you this.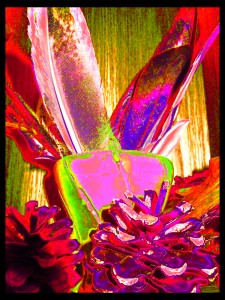 It happened when I was preparing this image for uploading yesterday. I accidentally pressed a few extra buttons … well maybe I did mean to press them … but it looks rather pretty, don't you think?