Two more pages to add to the steadily growing collection! Another painted postcard for journalling on…
…created using acrylic paint, a stencil and acrylic ink. The black blots remind me of seahorses or maybe glow-worms. What do you think?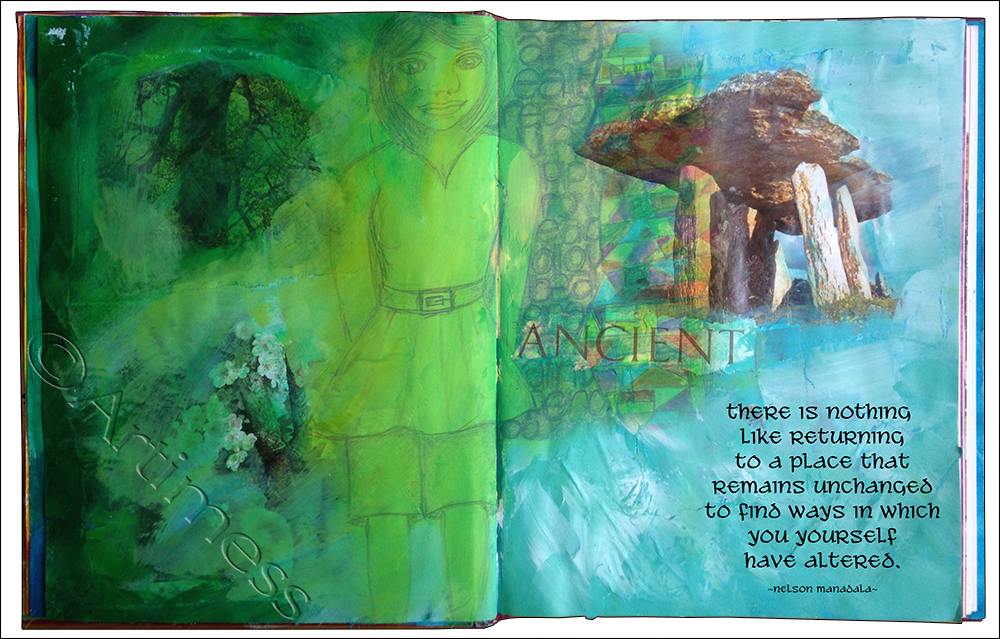 And another page in my recycled journal. This started out as a collage with acrylic paint. I added the scanned person doodle and blended her in, then chose and added the Nelson Mandala quotation using digital text.

Todays first image started out as an acrylic painted background in my handmade journal, which I transformed with a bit of digital magic!
When I first created this, I called it 'Christmas Background' because I thought the colours looked very festive…
…then I played digital – adding a digital image of Molly doll and a digital caption to explain why she's there!
Image two started out as a simple oil pastel drawing.
It too fell prey to the digital magic that was in the air and it ended up looking like this!

I'm slowly filling my recycled journal! If you look closely you can see the fabric strips down the centre of the page marking the end of one signature and the beginning of another.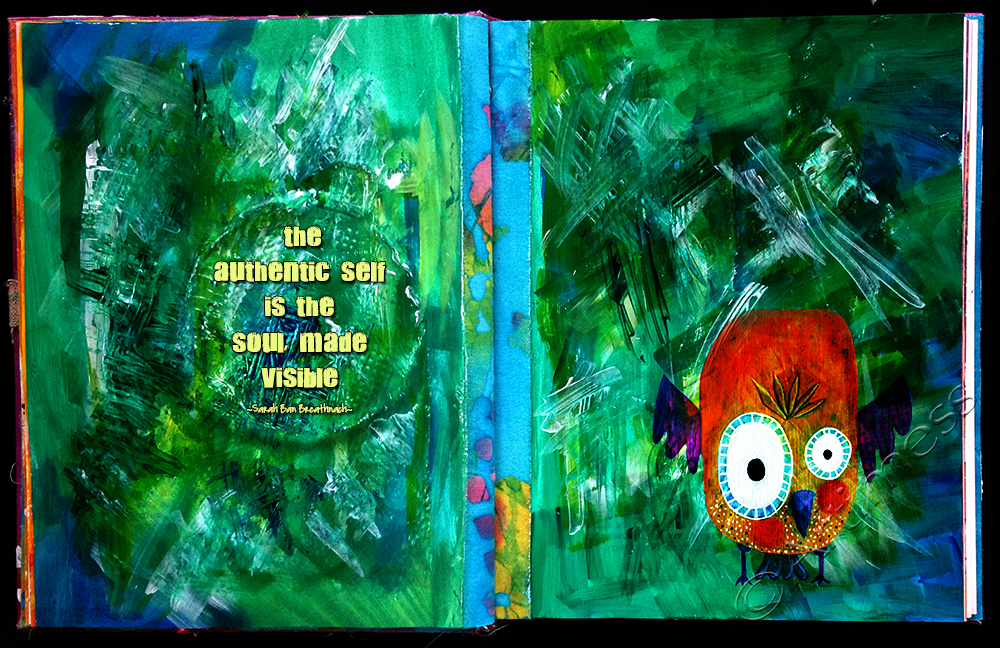 I created the background using acrylic paint in layers and used an old credit card to scrape the final layer on which gave it a more textured look. Some of you may recognise the quirky bird on the right. I originally painted it some time last year, but thought it would look good on this page so I added it digitally and blended it in a bit. Lastly I added the quotation using digital text. I love how the coffee creamer lid shape from the previous page makes a perfect frame for the quotation!

This morning I woke up with a head full of thoughts related to my personal therapy yesterday which I wanted to record.
I wrote the thoughts on the back of a postcard, then painted the other side using acrylic paint.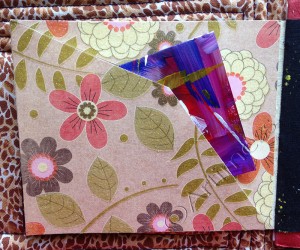 To keep my thoughts private, I made this little pocket using scrapbooking paper in my handmade journal.
Then I had a little fit of digital madness!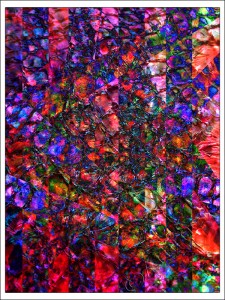 I started out cutting and blending several detail images from the 'Most Success' journal page…
…took pieces of the 'Cut and Blend image and created this Kaleidoscope…
…but I had to have one last fiddle and changed the colour to purple. Which one do you like best? I think I like the first one. It reminds me of the patterns and colours in my kaleidoscope when I was a little girl.

In a new effort to inject some discipline into my art making, I've joined Lani Gerity's Morning Pages Daily Art Practice eCourse and am attempting to start journalling every day! But as usual with these things, Im already behind with posting the images, so here goes for a catch up.
I started by creating this journal background in my recycled journal using acrylic paint, stencils, a coffee creamer seal, a net bag from the grocery shopping, some molding paste and a few homemade stamps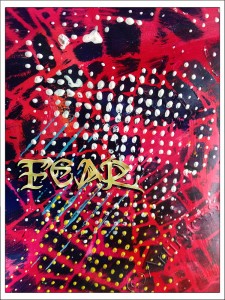 Next I used a photograph of some of the detail from the background (can you spot it?) and added some digital text to it.
After reading Soul Mate Dolls: Dollmaking as a Healing Art
by Noreen Crone-Findlay, I just had to have a go at making one of her paper dolls. I created her using card, fabric scraps, washi tape and wool, added her to the journal background above with a digital face, then added some digital text to the found text.
This last image was created in my handmade journal using leftover acrylic paint, a stencil and some digital text. Watch out for more journalling tomorrow!!

Did I mention that I am becoming addicted to doll making? This one's taking a bit longer than the others have, and she's still not quite finished, but I thought you might like to see her anyway.
The pattern came from Elinor Peace Bailey's book Mother Plays With Dolls … and Finds an Important Key to Unlocking Creativity
. It's a generic pattern which can be adapted to make any number of variations – there are some amazing examples in the book. I stuck pretty much to the basic pattern, but wanted to add some wool hair. I searched online for some tutorials and finished up using a combination of these two tutorials: this one from Gillian Wynn Grimm at Dried Figs and Wooden Spools; and this one from Gillian Austin at Astableulah. I haven't decided whether to paint or embroider her face, and I may add some other bits and pieces while I'm at it, but I'll post another picture when she's finally finished.
In between playing with dolls, I've also been playing with paint.
I started off with some recycled cardboard and a double page spread from a newspaper, added some blobs of moulding paste then swirled them about. I added acrylic paint, acrylic ink and spray paint to the mix, then left it all to dry. But that wasn't the end! After scanning it I had to play digital blending…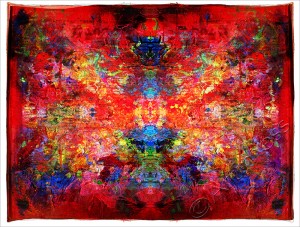 …I thought this one was quite nice, but then I thought I'd try inverting the colours…
…and came up with this which I rather like. What do you think?

I've finally finished handing in my written work for this academic year and have a little bit of breathing space before the next marathon of academic writing begins!! I haven't done any painting yet, but I have been playing digital and making dolls!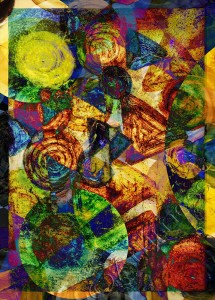 It never ceases to amaze me how many variations it's possible to create from one image simply by copying and blending.
The problem comes with knowing when to stop – tricky one that!! Both these images were created from one original piece of artwork which I played with digitally to achieve more depth and interest.
Ever since we had a doll making workshop on the course, I've been obsessed with doll making and have been reading about the history and researching well known doll makers. I bought this Art Doll Instructional Zine from Lani Gerity a while ago, and finally managed to have a go at making one of the dolls.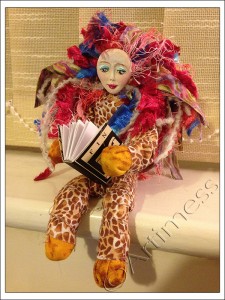 She's called "Study's Over" and if you want to know how I made her you're going to have to splash out $9 to buy the zine from Lani, but I can tell you I used pipe cleaners, fabric, yarn, air drying clay and acrylic paint. She was very simple and great fun to make!
I'm working on some more dolls and am hoping to get the paint out very soon, so keep watching!

Just in case you thought I'd forgotten to play digital, I had a little break from essay writing tonight and played with gradients and blending.
First I made it in colour…
… and then I desaturated it to turn it black and white. I can't decide which one I like best. Which one do you prefer?

Following on from yesterday's success, I've managed to create another journal page using the scanned digital technique. Yay!
This is the background I created in my altered journal using acrylic paint, home made stamps and stencils.
And this is my digital interpretation of todays 'When Frogs Sing' journal prompt.
I finally got around to processing the second of my recycled cardboard paintings from the other day. I created it using acrylic Paint, acrylic ink, stencils and moulding paste.
You can't really see the relief on the big picture so I took a couple of detail pictures to show it off. It makes a lovely textured surface – I really love texture!
And you know what – I haven't played blending for ages! So I just had to try a little blend here! I really like how this one turned out. What do you think?

Ive been wanting to keep a Journal for a long time now but haven't managed to get started. So when I saw Rhomany's 'When Frogs Sing', Journalling course I signed up for the year! I had to smile to myself while watching todays video – I have this little problem – I love making mixed media backgrounds, but I'm not so good at adding the journalling. But then I thought "why don't I add it digitally" – so that's what I'm doing!
This is the scan of the first page which I created in my altered book/journal using acrylic paint and a home made stamp.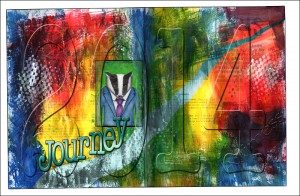 And this is the page after adding digital text and images. Journey is my word for the year and Badger is my totem animal for 2014. My colour for the year is Phtholo Blue Green Shade.
Yeah – my first journal page complete!