The 1st September, time to make a fresh start! As you might have noticed over the last day or so, I've been busy giving my site a face lift, playing around with some new colours and a different header. It feels like it's time to do some serious creating!
August has been a kind of limbo month for me, the time between the end of my studies, and the beginning of my new professional practice as an Art Psychotherapist, so I've been playing in my art journals exploring ideas and materials.
This journal page spread was created in my recycled Journal using torn magazine pages, fibres, gouache and homemade stamps created from repurposed rubbish.
August has also been a time for getting out and about, visiting new places and discovering wonderful bargains to add to my creative supplies.
I got this wonderful fabric from a lovely lady on a market stall in Bradford …
… and just look at all this amazing yarn that I found in the wool shop in Buxton!
September is going to be a month of new beginnings, so to mark my intention to create more art, I've signed up to Connie Solera's 21 Secrets course due to start on 28th September.
I've got lots more artwork from August which I'm looking forward to sharing with you. But for now I think I'd better get myself to bed as it's gone 2:00 am.

Happy New Year to you all!
December flew past, taken up with finishing my dissertation followed by a really relaxing family Christmas – it seems like ages since I last posted. But I have been busy creating!
It's become a habit over the last few years to use this workbook from Susannah Conway to review the passing year and look forward to the New Year, including choosing a word to represent the coming year. This year I chose 'Emergence' as my word and placed it in the mandala from the workbook.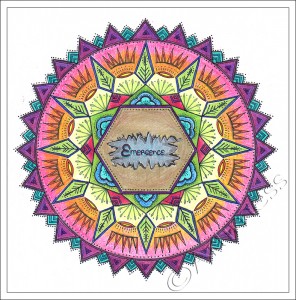 After I uploaded it, I just couldn't resist pushing the invert button to see what happened. I'm not sure if I like it. What do you think?
A couple of days ago, I was inspired to create this large painting by these words from Leonard Cohen's song 'Anthem':
"…There is a crack, a crack in everything
That's how the light gets in."
Today, I couldn't resist the call of a ball of yarn in my supply box. It was calling to be made into a doll. This is the result!
I devised this method of creating a doll from yarn last month when I was playing with a few scraps laying on my desk one evening. With the exception of the head, which was stuffed with a small ball of tissue to give it shape, the entire doll is made from wool wound round on itself. This is the original that I made last month.
They're so simple to make, and have endless possibilities from a therapeutic point of view which I'm working on developing at the moment.

I've finally finished handing in my written work for this academic year and have a little bit of breathing space before the next marathon of academic writing begins!! I haven't done any painting yet, but I have been playing digital and making dolls!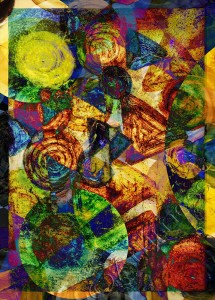 It never ceases to amaze me how many variations it's possible to create from one image simply by copying and blending.
The problem comes with knowing when to stop – tricky one that!! Both these images were created from one original piece of artwork which I played with digitally to achieve more depth and interest.
Ever since we had a doll making workshop on the course, I've been obsessed with doll making and have been reading about the history and researching well known doll makers. I bought this Art Doll Instructional Zine from Lani Gerity a while ago, and finally managed to have a go at making one of the dolls.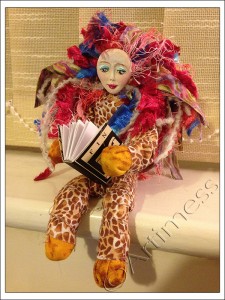 She's called "Study's Over" and if you want to know how I made her you're going to have to splash out $9 to buy the zine from Lani, but I can tell you I used pipe cleaners, fabric, yarn, air drying clay and acrylic paint. She was very simple and great fun to make!
I'm working on some more dolls and am hoping to get the paint out very soon, so keep watching!