Happy New Year to you all!
December flew past, taken up with finishing my dissertation followed by a really relaxing family Christmas – it seems like ages since I last posted. But I have been busy creating!
It's become a habit over the last few years to use this workbook from Susannah Conway to review the passing year and look forward to the New Year, including choosing a word to represent the coming year. This year I chose 'Emergence' as my word and placed it in the mandala from the workbook.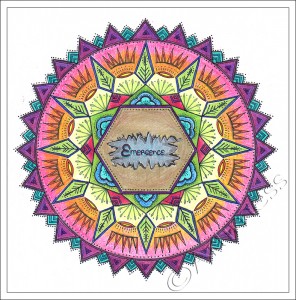 After I uploaded it, I just couldn't resist pushing the invert button to see what happened. I'm not sure if I like it. What do you think?
A couple of days ago, I was inspired to create this large painting by these words from Leonard Cohen's song 'Anthem':
"…There is a crack, a crack in everything
That's how the light gets in."
Today, I couldn't resist the call of a ball of yarn in my supply box. It was calling to be made into a doll. This is the result!
I devised this method of creating a doll from yarn last month when I was playing with a few scraps laying on my desk one evening. With the exception of the head, which was stuffed with a small ball of tissue to give it shape, the entire doll is made from wool wound round on itself. This is the original that I made last month.
They're so simple to make, and have endless possibilities from a therapeutic point of view which I'm working on developing at the moment.