Continuing with my doll making addiction, the other day I got an urge to make a patchwork doll! I adapted the pattern from Elinor Peace Bailey's book Mother Plays With Dolls … and Finds an Important Key to Unlocking Creativity
, and decided to have a go at hand painting a face…
…and this is the result! She's very colourful and rather playful! What do you think?
Being me, I couldn't just leave her like that, I had to try adding her to a digital blend!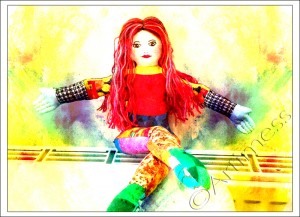 Do you like her in her new setting?

I've been totally overwhelmed by academic overload of late! But I have been painting … here are some of my latest creations!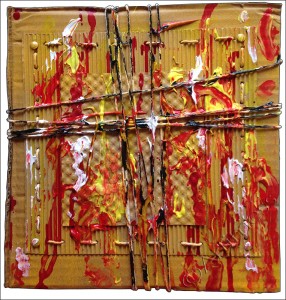 I've been using quite a lot of thread and string in my art work recently – a reflection on how I've been feeling, perhaps? I created this using recycled cardboard and packaging, string, brads, spray paint and acrylic paint.If you look at the enlarged image you can see how dimensional the paint is!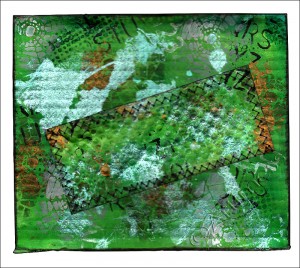 Some more recycled cardboard and packaging, machine stitched and painted with acrylic paint and acrylic ink using a selection of stencils.I created this piece alongside a stitched postcard that I made for the Great Big Stitched Postcard Swap. I'll post a picture of the postcard once I know it's been safely received.
This is my favourite piece. Unlike the other two pieces, this was created in a much more intuitive manner while reflecting on an issue that I am currently dealing with. Like the others it uses a recycled cardboard base, together with acrylic paint and acrylic ink. Which one's your favourite?

I really enjoyed this weeks Life Book lesson with Samantha Kira Harding. Each layer had its own special meaning and took courage to cover and move on. But I'm so glad I did – the finished piece has so much depth.
This is the first scan taken after the first three layers. Layer one was journalling done using Derwent inktense pencils. This was followed by a layer of white Gesso which made all the journalling colours run and blend together creating a lovely soft background colour. Layer three was a mixture of alcohol inks shaken from the bottles to create nice ink splodges which I swooshed around with a tissue to spread the colour further, and a lino cut which I stamped over the top using distress inks.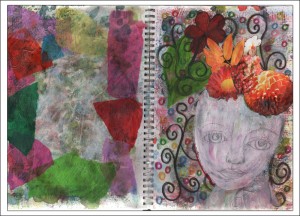 This next scan – done on my lovely new A3 scanner – was taken after the next two layers. It took a while for me to pluck up the courage to add a layer of Gesso to everything and even more courage to start doodling over the top of it, but I'm glad I took the plunge! The doodling on the right page was done using graphite pencil and neocolour crayons followed by a flower collage and face outline drawn in pencil.The left page got a collage of tissue paper.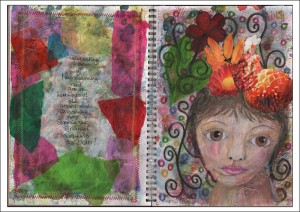 The final scan shows the finished piece. The face on the right page was painted using neocolour crayons. The left page had a machine stitched border added and journalling done with a gel pen. It took a few days to complete, but I'm really pleased with the end result. Thank you so much Samantha!

Last weeks life book lesson with Tam was to create a mixed media collage using paper and material celebrating where you are now using no more than two words. I love working with material, so I just had to have a go at this lesson! I chose Spiritual Growth for my two words as above everything else, that represents where I am right now.
I started off with a collage of images torn from magazines. Then I added an assortment of material pieces most of which were more or less transparent so they just added colour while still allowing the paper layer to show through. Next I added the images and words which I printed out using my computer. I used a distress ink pad to help the paper to blend in with everything else. I added some hand stitched crosses and buttons and finished off with some machine stitching to link everything together.
I'm quite pleased with the way it turned out. Its very tactile – I love the feel of all the stitching! Thank you Tam for another great lesson.