Today was such a beautiful day, I went out for a walk with my camera. Everywhere was a riot of colour: roses, bluebells, campions, clover, wild garlic, buttercups and daisies, to name the few flowers I know the names of, all showing off their vibrant colours in the long overdue sunshine. I took over 100 photographs! – but you know me, that wasn't enough, when I downloaded them onto the computer I had to play digital blending with them!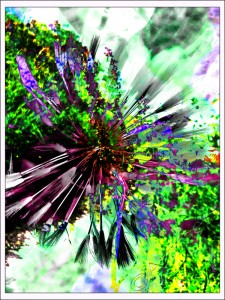 These are the three flowers that I played blending games with. I started off with the rose, then added the dandelion seed head, finishing up with the red grass like plant whose name I don't know. Each flower was blended separately before I blended them together. Can you spot them in the final blend?

Ever since Tam published this week's Life Book 2013 Lesson from Christy Tomlinson, every spare minute I've had has been devoted to getting messy playing with the new techniques Christy taught us.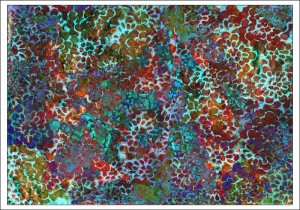 Along the way I had some leftover paint which I used with a flower stencil to create an image. I scanned this together with the sheet I prepared for making the flowers in the main project, then blended them. It'll make a good background for something one day!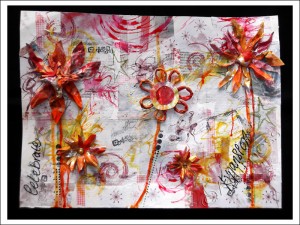 Finally – the finished product! I had so much fun! I started by creating a mixed media collage background using newspaper, old magazine inserts, bits of old envelopes, washi tape, white acrylic paint, inks, stamps and marker pen for the words. Then came the fun part of making the flowers. You'll have to do the course if you want to know how, but I used kitchen roll, tissue paper, very runny acrylic paint, stencils, stamps, kitchen foil and lots of gel medium. I had to adapt some of the ingredients as I didn't have everything on Christie's list! It was great fun, and very messy! – Thank You, Christie!
I've really been missing drawing this year, so today I drew the Pink Lady! I wasn't going to colour her at all, but then I had an accident over her right eye with my white marker. So she now has blue eyes! Not a bad cover up job!

I'm playing catch up today – it's been a really busy week!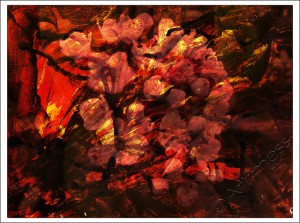 On Tuesday, I created a couple of backgrounds using a mixture of acrylic paint and ink. I scanned them both into the computer then added a photograph of some flowers and blended them to create this image.
On Wednesday I followed a video from Doll Dreams teaching us how to draw these cool doll birds! I tried it out in my everyday notebook using a uniball eye pen, then did the doodle later using my rapidograph pen while I was on the telephone! I didn't plan for them to go together, but I think they do anyway! Do you agree?
Today I had fun playing with all sorts. I started by colouring the page with neocolour crayons, then collaged an embossed sheet which I had coloured with distress ink and the stamped image of the globe which I cut out. Next I added the text which I printed on the computer and coloured using a watercolour pencil and a gold marker pen. Finally, after scanning, I added a bit of digital shading and distressing. I really like how it turned out. What do you think?

Yesterday I got talked into trying out a new app on my iPad called Bamboo Paper. It's a notebook that you can paint and scribble in.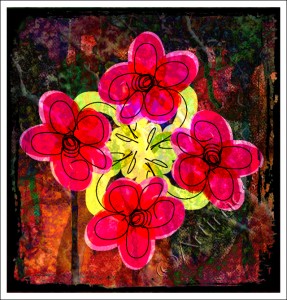 The first thing I wanted to know after I'd played around with the different tools and produced a few doodles was – "Can I export the images?" So I tried… and it let me email myself a .png file copy of the page I'd been working on. From there it was a simple matter of playing digital games to come up with today's image. I can see I'm going to have fun with this!

After yesterday's disaster I thought I'd keep things nice and simple today. I felt like playing with bright colours so I got my Inktense pencils out.
I created the flowers and the background using the Inktense pencils, then added some foliage using digital brushes after scanning it into the computer. I love the way the Inktense colours glow!