I got a bit behind with the Life Book 2012 classes and have only just finished Rhomany's monochromatic lesson from last week.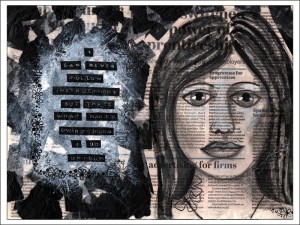 One of the disadvantages to having given away most of my craft supplies at the end of last year (read more about that here) is that I don't have a lot of the supplies that Rhomany used, but I'm very good at improvisation!!
I started off with a collage of newspaper pages then drew the face using a black biro. I didn't have any ink so I used a mixture of graphite pencils and neocolour crayons to colour and define the face. I used a tiny bit of white gesso for the highlights.
On the left hand side of the page Rhomany used black and white scrapbook paper. As I didn't have any of that I used layers of black and white tissue paper to create my pattern. Then I used white gesso to create a lighter area on which to add my words which I created using my dymo machine, black paper and a white oil pastel.
Lastly I added some stamping using a Staz-on ink pad.