All Packed up and ready to go… in just over 12 hours we'll have the keys to our new home – very exciting!
These two boxes contain essentials … my paints and brushes, recycled stamps, gel medium, stencils and many other goodies that I have been using for the last week or so. I feel as though part of me is missing at the moment! So to keep me out of mischief I've been playing image altering on my iPhone!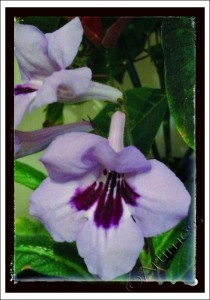 We were given this plant by a good friend just over a year ago, and it is still flowering and flourishing. I have no idea what it's called, but I love the colour and the shape of the flowers. Can you put a name to it?