Last weeks life book lesson with Tam was to create a mixed media collage using paper and material celebrating where you are now using no more than two words. I love working with material, so I just had to have a go at this lesson! I chose Spiritual Growth for my two words as above everything else, that represents where I am right now.
I started off with a collage of images torn from magazines. Then I added an assortment of material pieces most of which were more or less transparent so they just added colour while still allowing the paper layer to show through. Next I added the images and words which I printed out using my computer. I used a distress ink pad to help the paper to blend in with everything else. I added some hand stitched crosses and buttons and finished off with some machine stitching to link everything together.
I'm quite pleased with the way it turned out. Its very tactile – I love the feel of all the stitching! Thank you Tam for another great lesson.
While Bry and I were travelling, we got the chance to do something we had both always wanted to try – make clay pots using a potters wheel. It was great fun and we both got covered in clay despite the t-shirts we were given to cover our clothes with.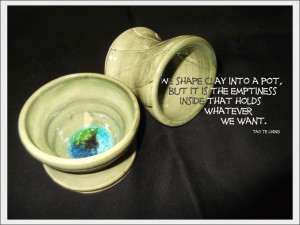 After careful instructions from Roy, the potter, we got to have three goes at making pots on the wheel by ourselves. We then had to choose our favourite which Roy fired and glazed ready for our collection a couple of weeks later. I don't know if other potters offer this kind of service, but if you're ever near York with an hour or so to spare, making pots at the Stamford Bridge Pottery would be a great way to spend the time!
I so enjoyed making Guada's mandala the other day that I thought I'd have a go at another one.
I used the same template just joined the lines up differently. all the techniques were the same as before – neocolour background, Rapidograph pen and Inktense Pencil lines and shading, but the result is so different. I'm looking forward to starting Guada's free course on the 8th October!
Newspaper is one of my favourite materials – it is so versatile! You can use it to protect your work areas, you can cut it up and make things with it, you can build things with it, you can use it for papier mache, you can take prints from it, you can use it in collages – and those are just a few of its craft uses!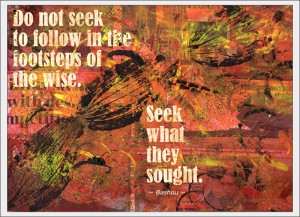 To create this image I completely covered a sheet of watercolour paper with torn newspaper, then added acrylic paint using a variety of implements including bottle lids, bubble wrap, sequin waste and old credit cards. Next I added some carefully chosen, strategically placed leaf prints and a few stencilled footprints. Finally after scanning the image into the computer, I added a quotation using distressed digital text.
I love the way the newspaper peeps through the layers in places!