Ive been wanting to keep a Journal for a long time now but haven't managed to get started. So when I saw Rhomany's 'When Frogs Sing', Journalling course I signed up for the year! I had to smile to myself while watching todays video – I have this little problem – I love making mixed media backgrounds, but I'm not so good at adding the journalling. But then I thought "why don't I add it digitally" – so that's what I'm doing!
This is the scan of the first page which I created in my altered book/journal using acrylic paint and a home made stamp.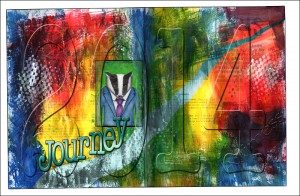 And this is the page after adding digital text and images. Journey is my word for the year and Badger is my totem animal for 2014. My colour for the year is Phtholo Blue Green Shade.
Yeah – my first journal page complete!

We've been battling with our internet provider this week and have been without service for nearly two days! It's just come back up so I'm making hay while the sun shines!
I wasn't in the mood for crochet (this weeks Life Book lesson) so I thought I'd play catch up with one of the previous lessons I've not looked at yet! I chose week 25 by Juliette Crane.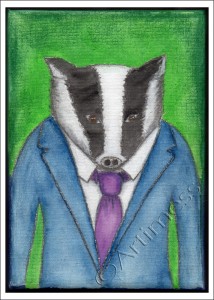 I loved every minute of doing this picture of my totem animal – so much so that I kind of forgot to follow the instructions and ended up with something rather different from Juliette's wonderful whimseys! I drew the outline using water soluble graphite sticks, then coloured Badger in using neocolour crayons. I used the neocolours to create the background, then added some distress ink to add a bit of depth.