Mandala Magic, Julie Gibbons year long Mandala course started this week, so I've been busy creating mandalas for the first round. The course is based on exploring the twelve archetypal stages of the great round of mandala developed by Joan Kellogg and written about by Susanne F Fincher in her book called The Mandala Workbook: A Creative Guide for Self-Exploration, Balance, and Well-Being
. I had already bought the book before I signed up for Julie's course but you really don't need it as Julie provides an amazing wealth of information and the group members are a constant source of inspiration and encouragement.
These are two of the mandalas I made for this stage of the journey. The mandala on the left represents the Void – a place to rest in the darkness. The mandala on the right draws on traditional wisdom drawn from many sources in which the spiders web is used to represent the darkness and safety of the womb.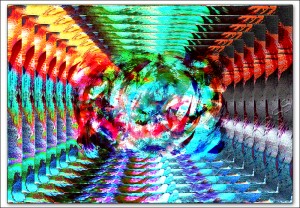 This next image is a blend of acrylic prints digitally altered to create a 3D effect.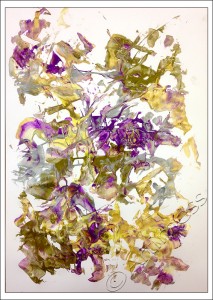 And this final image, created with acrylic paint using various palette knives, reminds me of an ancient battle scene. I can see lots of fighting figures in it – can you?

I took my camera out for a long overdue photo shoot the other day …. not the pretty picture kind mind you … more an up close and odd angles shoot!! This is a macro shot of one of the handles on my (rather rusty) wheelbarrow.

Then I started playing blended images …. a brick blended with a piece of angle iron ….
… a rusty tin blended with a sycamore seed …
… and late at night I managed to capture my first spiders web!
It took a bit of doing – I had to get my daughter to stand outside waving at the motion sensor on the security light … but I think it was worth it! I hope to get some better web pictures once we get some frosts later on!