I'm a bit happier with todays face…
… she still doesn't look too much like the image I was copying – but that's what this exercise is all about – practising to improve!

I'm not as happy with today's face…
… she started out alright, then seemed to go wrong with the colouring. I may try painting over her and trying again … or then again I might just move on to something new!

I really enjoyed copying a face from a magazine yesterday, so I thought I'd do another one today.
I had a lot more confidence today! I really like the dry watercolour pencil effect and the outline hair. What do you think?

Today I tried copying a face from a magazine.
In addition I only used dry watercolour pencils, and deliberately left the hair as just an impression. She doesn't look much like her original (can you guess who she is?), but I'm quite pleased with the result.

Here's my face number two.
I drew her in pencil, then coloured her using acrylic paint and watercolour pencils.
I've been busy finishing my game board for last weeks Life Book lesson and hope to post it tomorrow.

February is the month Ayala Art challenges us to draw 29 faces. I missed the February challenge last year, but took part in the May and September challenges and was amazed how the discipline of drawing faces every day for a month improved my face drawing and painting skills.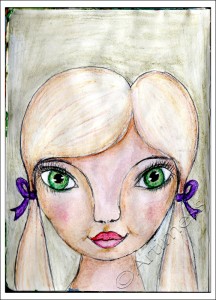 So here's my first face for the challenge. Drawn in pencil then coloured using a mixture of watercolour pencils and acrylic paint.