I'm really grateful for the inspiration I have had from Effy Wild and Sarah Trumpp this year. This page was inspired by both of them. The idea for the spread came from my response to Effy's Book of Days prompt for the 29th April, and Sarah's week 18, Journal 52 video inspired me to try drawing with my watercolour paints.
Although it's not perfect, I'm just loving the result and will definitely be using this technique again. Thank you both for your combined inspiration!
At last my postcards for the iHannah DIY postcard swap are ready to send.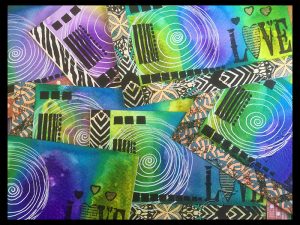 Here's a quick sneak peak at them before they start winging their way across the ocean.
This next image is a bit of digital wizardry.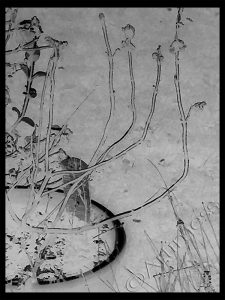 It started out as a photograph of some bare stems in the evening light. I desaturated the colour to make it black and white, then inverted the colours. I really like how it turned out.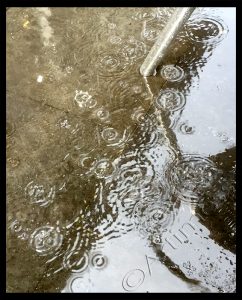 So far this month has been living up to it's reputation for April showers. Puddles like this have been everywhere. But we have been blessed with some wonderful sunny days as well.
I began April by creating a couple of backgrounds in my new A6 art journal.
For this first one, I started off by using watercolour paint, then used some stencils with acrylic paint to add some interest and depth. I love the way it turned out.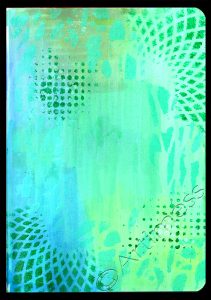 This next spread was created using just watercolour paint and a stabilo all pencil to outline the circles.
Sarah Trumpp's quirky lady in her spread for Journal 52, week 14, inspired this next image which I created with a mixture of watercolour paint, acrylic paint and stencils.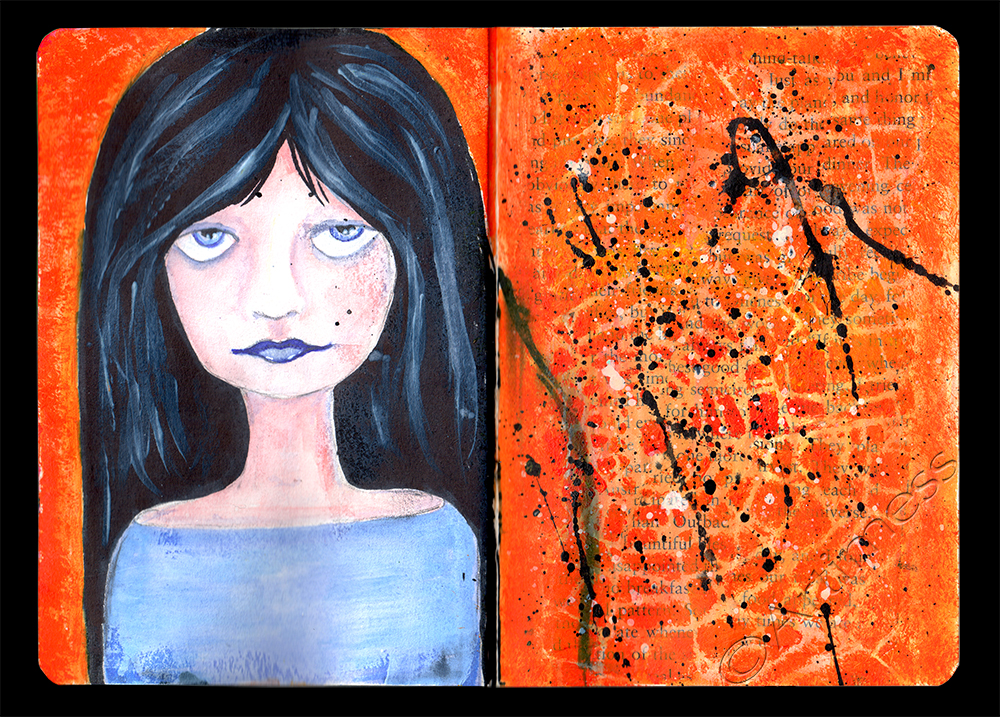 I created this last spread in response to Effy Wild's Book of Days class at the beginning of the month. The image was inspired by a combination of the Kuan Yin Oracle card I selected for the month and a photograph of a peacock displaying his beautiful tail that my brother uploaded to Flickr. I've been working on the spread for just over a week now, using a combination of tombow brush markers and Posca paint pens. I'm really pleased with how its turned out. I may well add some text to it later, but I haven't quite decided yet.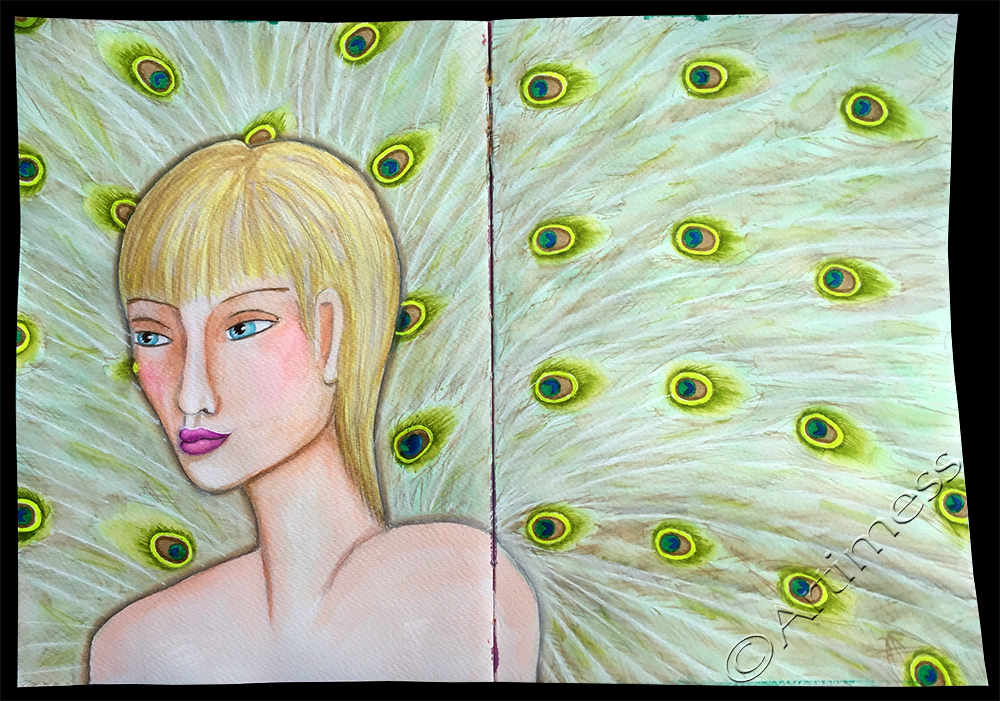 That's all for now, but I have a pile of postcards to prepare for the latest iHannah DIY Postcard Swap. So watch out for some more artwork soon!

I can't believe that a whole month has gone by since I last posted anything here. I've made plenty of art – just haven't got round to sharing it. So here goes. I'm a bit late uploading them, but here are the last of my faces for 29 Faces 2016. Yeah – I made it!!
They're created with a mixture of watercolour, oil pastels and pencil. I really enjoyed the challenge of drawing so many faces.
I've also been playing along with the Journal 52 prompts. This is my response to Sarah Trumpp's prompt for week seven using a mixture of tombow brush pens and posca paint pens – called "Nerdy Love"…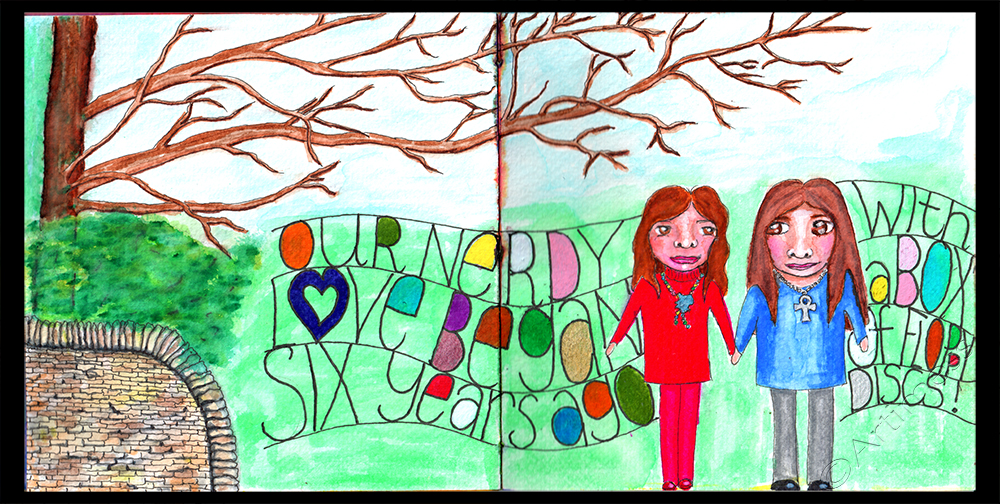 …and for week eight using a mixture of fluid acrylics, distress ink, collage, tombow brush pens, posca paint pens, stabilo all pencil and calligraphy pens – called "Listen to Crow".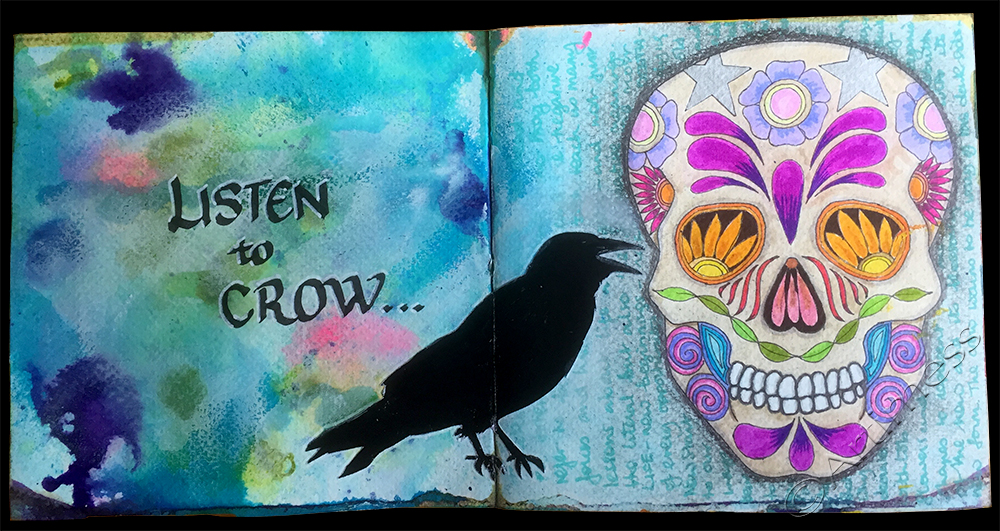 This next spread was created in response to the prompts for week eight of Effy Wild's Book of Days. I created it over the course of a week using tombow brush pens and computer generated text, and was amazed by how it all came together over the course of the week.
I was continuing to think about spring and all the new growth starting to appear while playing with acrylic paint which led me to create this spread. I just love the vibrant colours on this page.
I love the word emergence, and had great fun creating this spread in response to Effy Wild's prompt for week ten of Book of Days. I used acrylic paint, fluid acrylics and a collage of computer generated text to create these pages.
I have lots more work to share so keep watching … here's just a sneak peak of something a bit different that I'll show you more of in the next post.

I thought it was about time I caught up with posting some images; I've spent so much time having fun and getting messy in my art journals that I've not got round to uploading any of my work.
This image was inspired by a Journal 52 prompt to pick a zany word and illustrate it. I chose 'exuviate' which means, apparently, to shed or cast off a covering. I liked the idea of emerging into a new reality.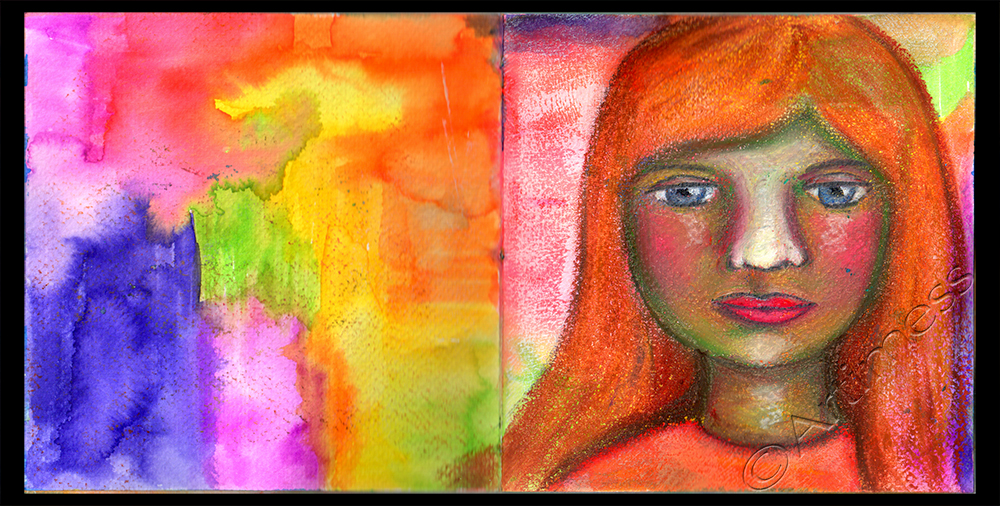 Returning to the 29 Faces 2016 challenge – I can't resist playing with the oil pastels. I created the colourful background using Tombow brush markers – I just love those bright colours!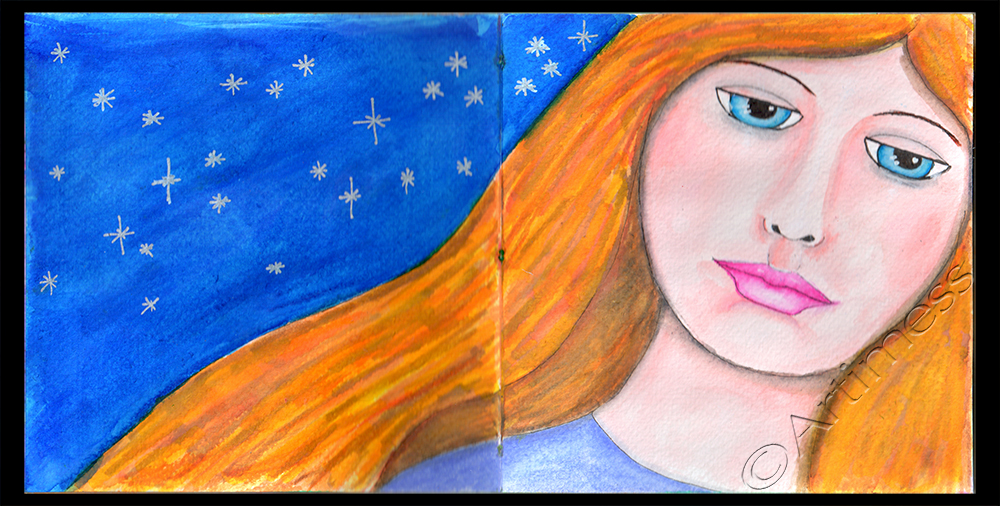 Effy Wild inspired this next piece with her class, based on Nolwenn's lesson, taken from the Radiant 2 course.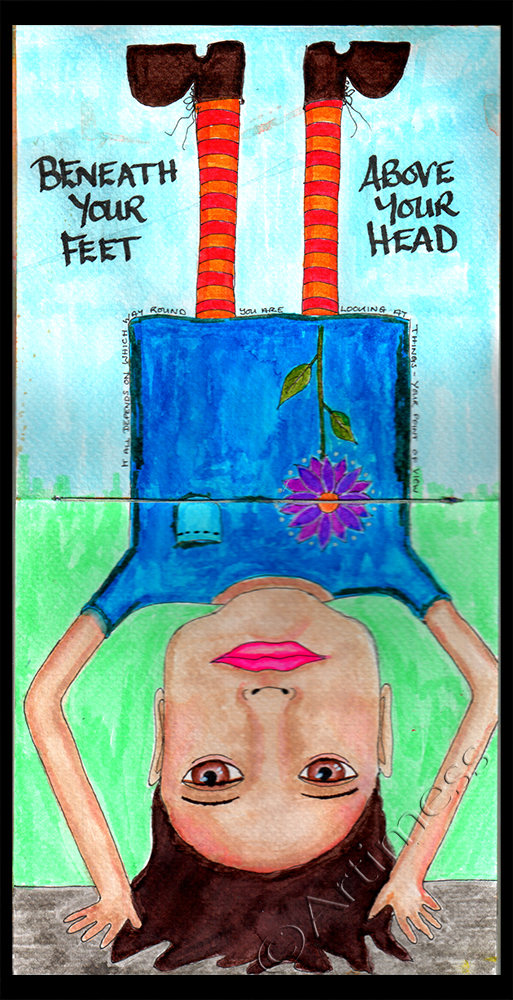 This last piece was created in response to two Journal 52 prompts – 'above your head' and 'below your feet'. When I saw these two prompts it occurred to me that depending on how you looked at things, they could either be pointing in opposite directions or the towards each other. This was how I saw it.
I still have more to post – I'll try to create another post tomorrow. Keep watching!