Since moving to our new home, I have really been struggling to be creative. It's not been helped by the wasps who have invaded my new studio space making it difficult for me to get unpacked. Not that we haven't been busy.
We treated ourselves to a brand new Dyson. I really love the quality in these machines, but today I discovered a whole new meaning to precision engineering – every single piece of cardboard used in packing the machine was a work of art! They were scored and folded just like pieces of origami to exactly fit round each part of the machine. Absolutely amazing! I sat and patiently deconstructed each one because I was so fascinated by their construction!
On a more artistic note, I also treated myself to some Pearlescent Fluid Acrylics. I tried them out in my notebook…
… then just had to play digital blending with the photos I took! Hopefully I'll be getting really messy very soon now!!

Today I've been working on Danielle Daniel's class, part of the 21 Secrets 2013 course. I had great fun and got very messy creating this background.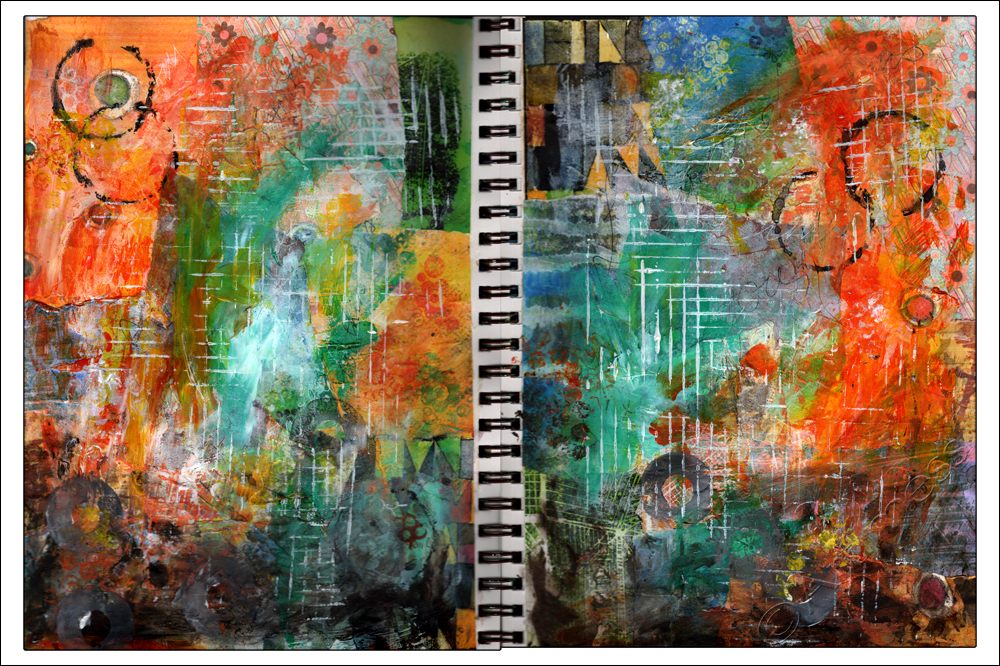 I started out with a collage of printed papers from my earlier artwork, then added acrylic paint using a variety of techniques. Next I added journalling followed by more acrylic paint! I still have more to do to finish – there's at least one person waiting to be painted – but I really like how it looks right now, so I thought I'd share it with you.
When I finished painting, I had rather a lot of leftover paint on my palette, so I created this in my notebook.
Then I decided to see what it looked like with a bit of digital blending. I quite like how it turned out so far, but I have a feeling I'm not finished with it yet!

Yeah! – at last, I got to play mixed media!! I had so much fun!
I finally got the courage this year and signed up for 21 Secrets 2013. As I have never really done any proper art journalling, I treated myself to a smart Strathmore Mixed Media Journal – it was a dream to use, and just the right size!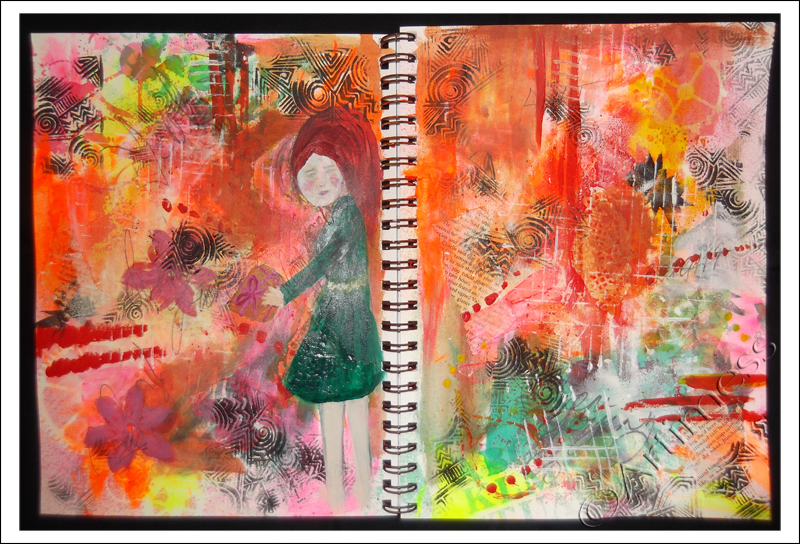 This is my play page, which I've titled 'The Gift', inspired by the class from Carissa Paige. I played with acrylic paint, ink sprays, stencils, foam stamps, staz-on ink pads, collage, and graphite pencils. I found the girl in green holding 'The Gift' lurking in the painty mix. Thank you Carissa for the gift of freedom you inspired with your class. I know I had fun – I'm still picking the paint and gel medium off my fingers!!
I made an interesting discovery when I tried to scan the finished picture – my scanner does not 'see' luminous acrylic paint, and as I used rather a lot, it left the colours looking a bit flat! So I spent ages trying to get a good photo which didn't have too much reflection! Has anyone else discovered this problem?
Last but not least – I received my ninth postcard this morning all the way from Australia – a wonderful hand drawn mandala from Lulu – beautiful! Thank you so much. Only one more postcard to go – then it's all over for this year – it's been so much fun! I'll have to hunt around for another swap to take part in. Anyone got any ideas?
Now I'm off to play mixed media in the next part of Carissa's class!
Ever since Tam published this week's Life Book 2013 Lesson from Christy Tomlinson, every spare minute I've had has been devoted to getting messy playing with the new techniques Christy taught us.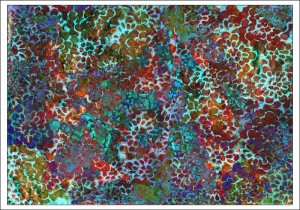 Along the way I had some leftover paint which I used with a flower stencil to create an image. I scanned this together with the sheet I prepared for making the flowers in the main project, then blended them. It'll make a good background for something one day!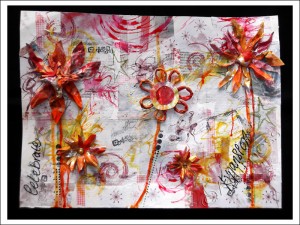 Finally – the finished product! I had so much fun! I started by creating a mixed media collage background using newspaper, old magazine inserts, bits of old envelopes, washi tape, white acrylic paint, inks, stamps and marker pen for the words. Then came the fun part of making the flowers. You'll have to do the course if you want to know how, but I used kitchen roll, tissue paper, very runny acrylic paint, stencils, stamps, kitchen foil and lots of gel medium. I had to adapt some of the ingredients as I didn't have everything on Christie's list! It was great fun, and very messy! – Thank You, Christie!
I've really been missing drawing this year, so today I drew the Pink Lady! I wasn't going to colour her at all, but then I had an accident over her right eye with my white marker. So she now has blue eyes! Not a bad cover up job!

It must be the effect of all the dull winter days at the moment, I just keep wanting to play with flower images, so here are some more winter flowers!
I started off by stencilling the big flowers onto the watercolour paper using acrylic paint – messy, but fun! Then I added some more flowers using clear stamps and a mixture of Staz-on ink pads and distress ink pads. Lastly I scanned the image into the computer, added some more greenery with digital brushes and some more background colour using gradients and blending.

Being without any internet for the past few days, I have had more time to get messy with paint and gel medium! Collage Lady is another catch up from the Life Book Course.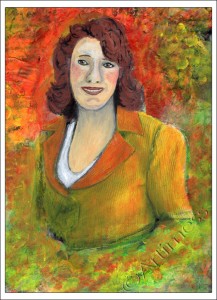 Loosely following Mystele's week 22 lesson I created a collage from torn magazine pages using a picture of a woman as the central focus. I then used a mixture of pastels, gel medium, neocolour crayons, journaling and acrylic paint to add colour and depth to the work. I must add that the painted lady bears virtually no resemblance to the collaged image underneath!
I had great fun making this piece. Thanks for the lesson Mystele and for the new techniques I learnt!
My brother and I signed up for a free Skype account each last week. (Free video/telephone link over the internet with other Skype users) It's really great … but sometimes the video link can be a bit … well just odd! Here's a screen shot of  a video image when it was playing games:
I'm busy getting ready for tomorrow night's craft class at the moment – a messy one – using paint to create interesting textures on tags to attach to the heart books we started making last class. Hopefully we'll get the books finished as well. This is what mine looks like so far 🙂
What else have I been up to? … playing with distressing ink and spritzer bottles …
… as well as string, glue and paint …
… altogether a wonderfully messy time!