I thought it was about time I caught up with posting some images; I've spent so much time having fun and getting messy in my art journals that I've not got round to uploading any of my work.
This image was inspired by a Journal 52 prompt to pick a zany word and illustrate it. I chose 'exuviate' which means, apparently, to shed or cast off a covering. I liked the idea of emerging into a new reality.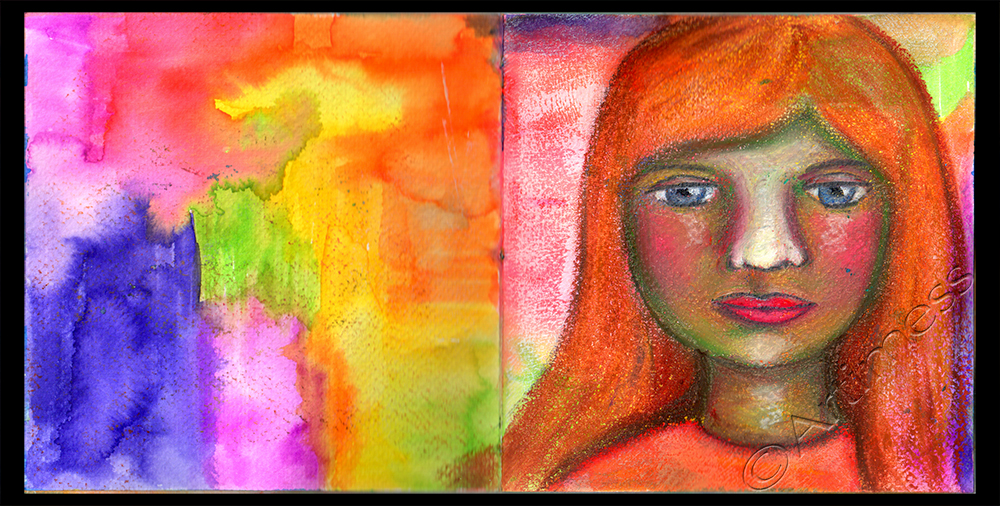 Returning to the 29 Faces 2016 challenge – I can't resist playing with the oil pastels. I created the colourful background using Tombow brush markers – I just love those bright colours!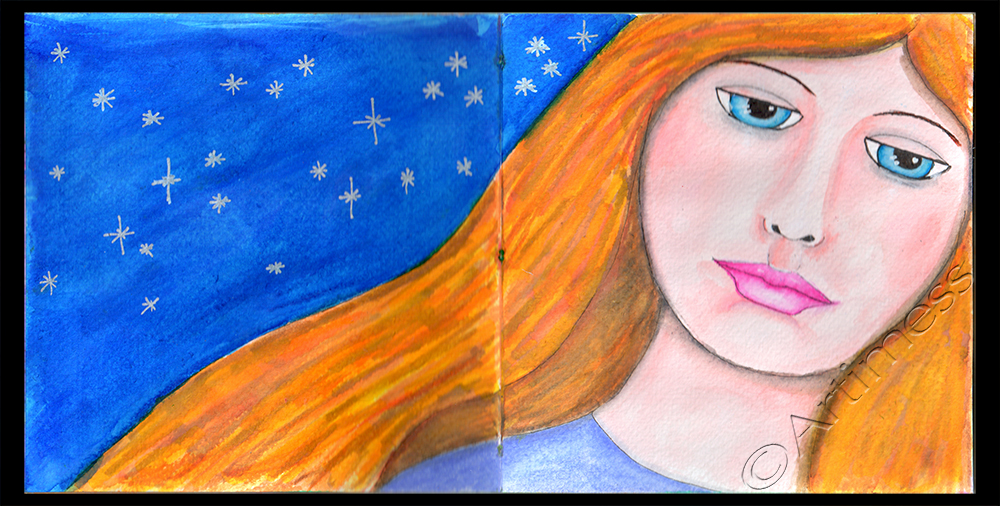 Effy Wild inspired this next piece with her class, based on Nolwenn's lesson, taken from the Radiant 2 course.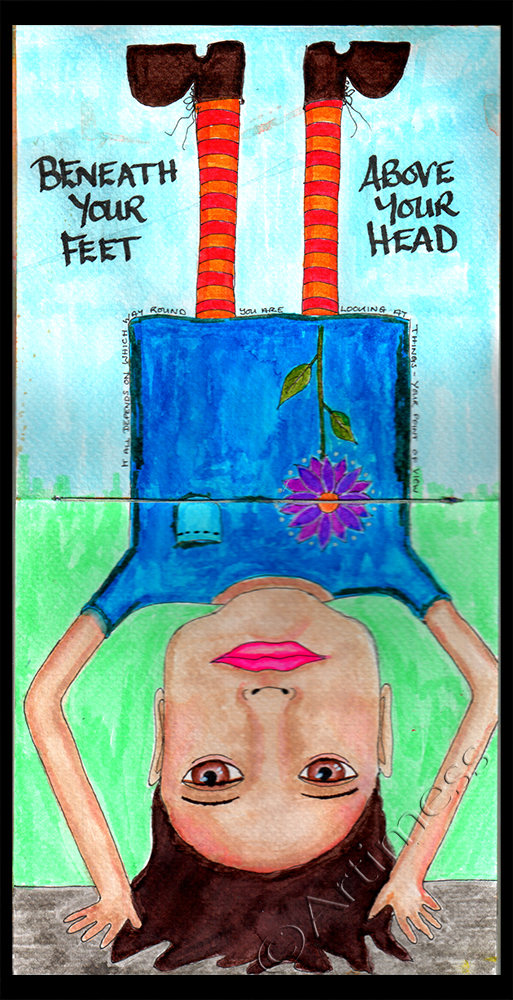 This last piece was created in response to two Journal 52 prompts – 'above your head' and 'below your feet'. When I saw these two prompts it occurred to me that depending on how you looked at things, they could either be pointing in opposite directions or the towards each other. This was how I saw it.
I still have more to post – I'll try to create another post tomorrow. Keep watching!

Since the beginning of this year I have been inspired by so many challenges and classes. Although I haven't necessarily completed all the prompts and suggestions, I've found that having so much inspiration has enabled me to maintain a much more consistent artistic practice. I have been making art every day – and am definitely feeling the benefits.
I've been working in a number of different journals and have been playing with lots of different styles.
This first piece was inspired by Effy's Book of Days theme for the month of January. The background is a created with lots of layers of acrylic paint, then I added the bird and the lettering as collaged cutouts which I created using tombow pens. I like the subtle contrast to the bold colours of the background this creates. I wrote the quotation using a dip pen and indian ink.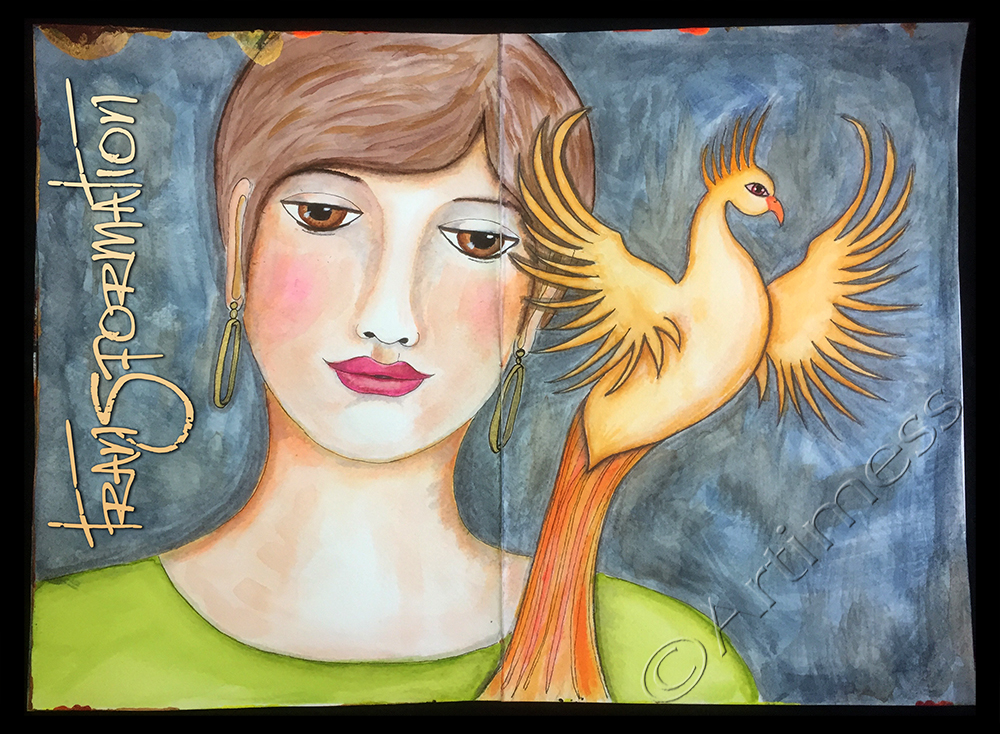 "Transformation" is my interpretation of Tam's lesson from Radiant 2. I used Tombow pens to colour the lady and the phoenix and watercolour paint for the background. I added the text digitally after scanning the completed spread.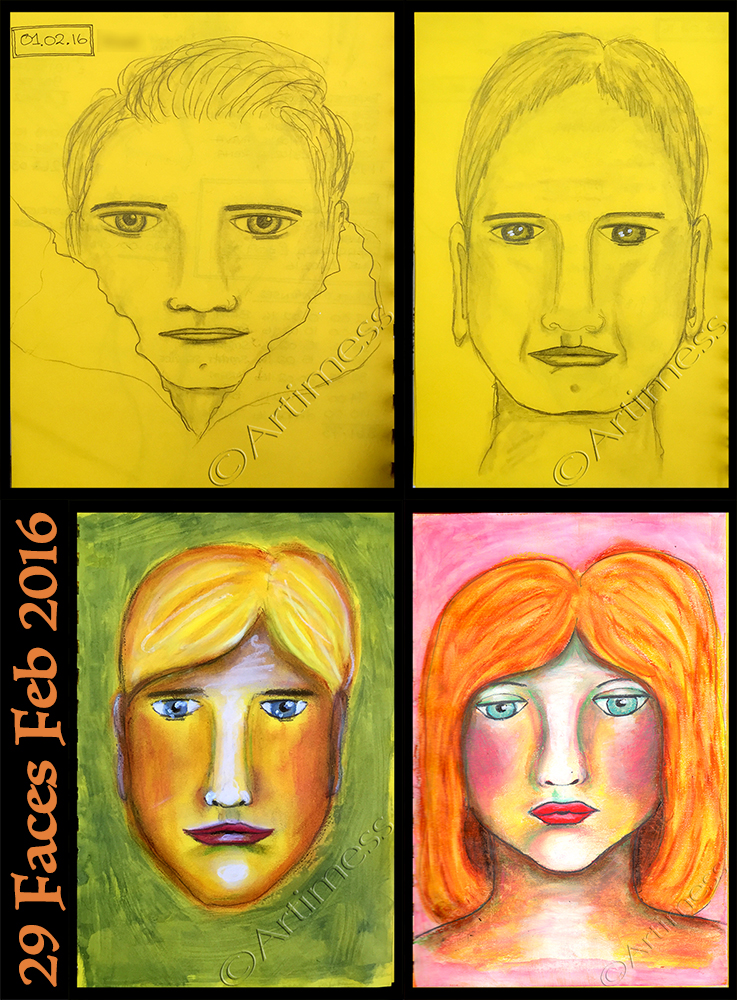 Moving on to challenges – I thought I'd try to include some male faces in my responses to the 29 Faces challenge this year – this is my first four. I'm really loving using oil pastels for the faces.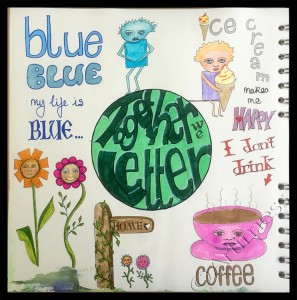 Finally, as a result of following the Journal 52 group on Facebook, although I haven't got around to journalling any of those prompts, I was inspired by Sarah Trump's work and checked out her blog posts. As a result I discovered the "Together We Letter" challenge by @lissletters on Instagram. This is my response to the prompts for the first four days – so much fun!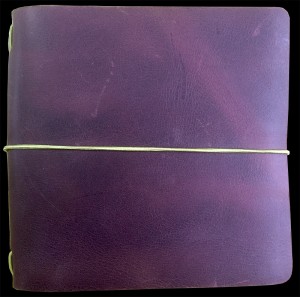 Ever since I started Radiant 2 and made my own Effidori, I've been wanting to get a leather version for my handbag journal and have had my eye on a soft leather journal cover from YarnTreeStudioUK on Etsy.
And yeah – I finally have this one – it's so beautiful! I chose the Quarto size which is 5.5″ x 5.5″ and am loving the square shape of the pages and the long landscape shape of the double spread.
The beauty of having a journal like this is that I can choose what kind of paper to use in it and can vary the size and shape of the pages. I stared by creating three signatures from cold press watercolour paper, and am loving the results!
I used the first three spreads to do the warm-up exercises in Iris Fritschi-Cussens lesson in Radiant 2.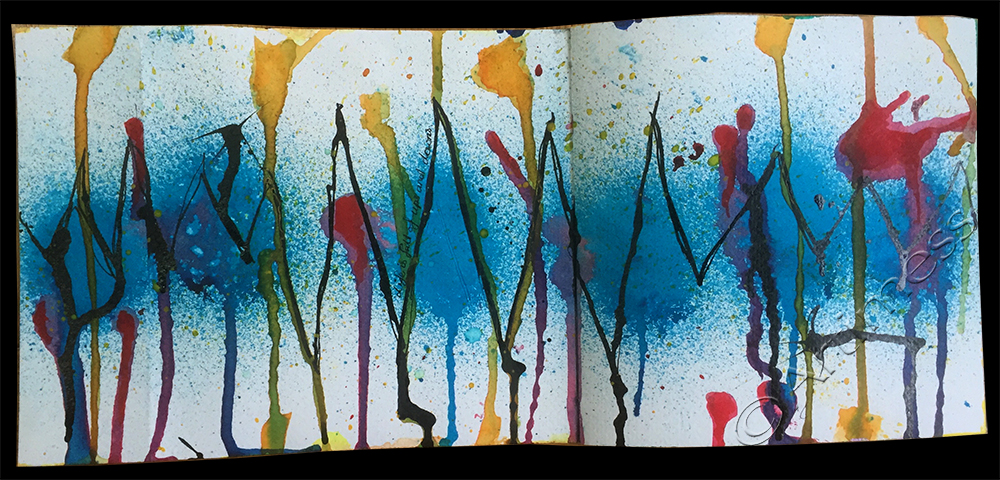 Creating all these drips was great fun…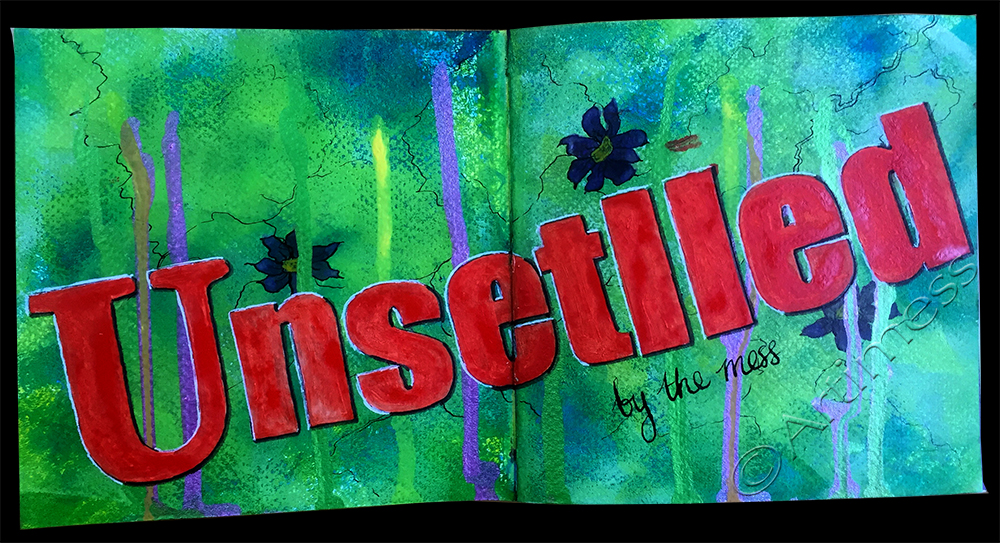 …and I love how this page turned out. Although it has been pointed out that my spelling is a little off!
Writing across the face on this spread was so liberating – I usually struggle to match the eyes on my faces.
For the main image in Iris's lesson, I went back to using my Effidori journal.
I have resisted using oil pastels for so long, but really enjoyed using the technique that Iris taught us in this class. I will definitely be using oil pastels for faces in the future!
I loved Sarah Trumpp's lesson and decided to go back to my small journal and use my new watercolour paints to create some quirky people.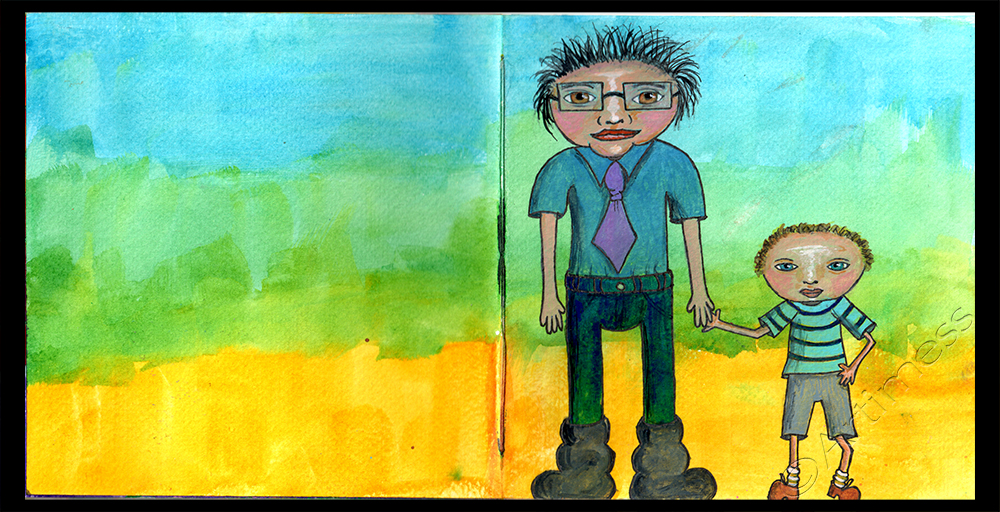 I called the first one Tagging Along…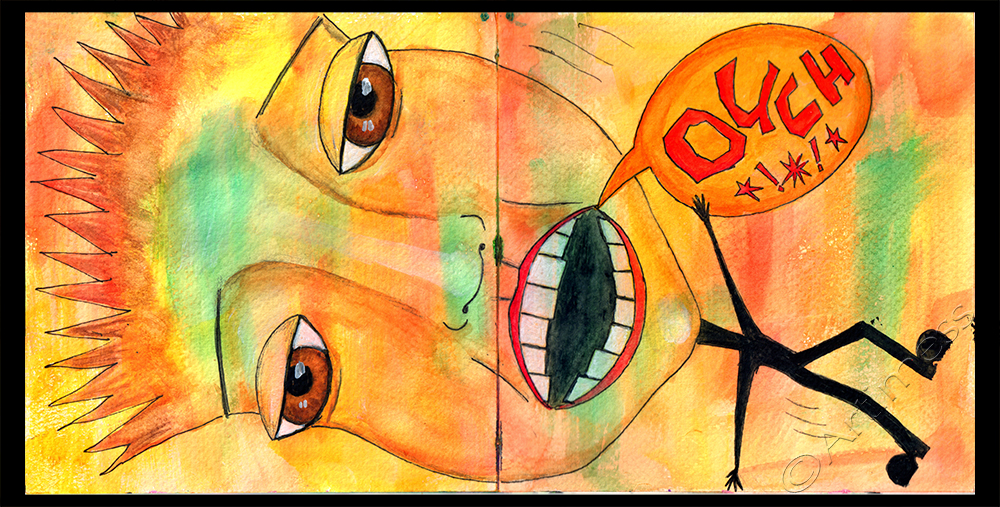 …and created the second one to illustrate the fall I had a couple of weeks ago. I have really enjoyed creating these cartoon like caricatures and can't wait to do some more.
There's a good chance that this will be my last post before Christmas – so have a good one, and I'll catch up with you when things calm down again.

It's almost time for the Winter Solstice and I've been starting to reflect on this last year in readiness for the new cycle about to begin.
I've also been making a fair amount of artwork inspired mainly by the amazing lessons in Effy's Radiant 2 course – I thought it was about time I posted some of the work online. I have found it really interesting going back over my work from the last few months to notice how much my work has been changing.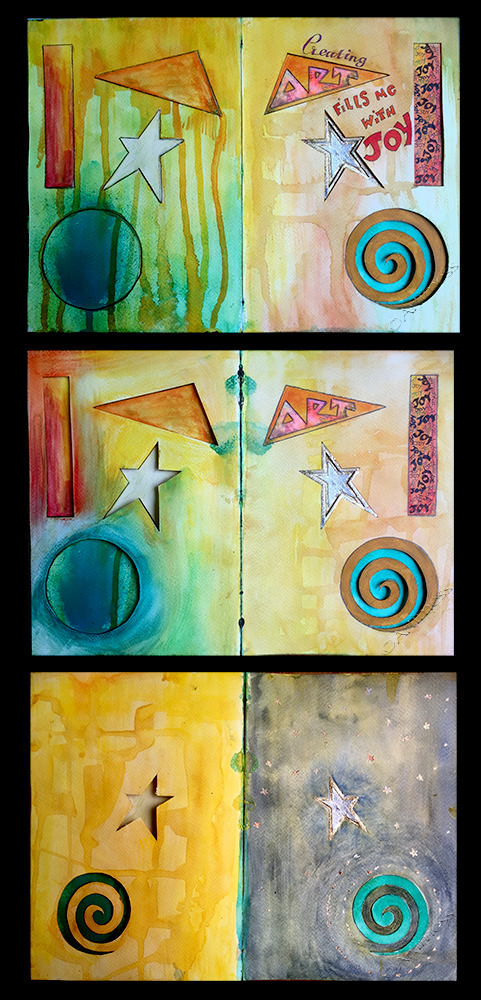 This is the oldest piece, and was inspired by the lesson from Tangie Baxter. I really enjoyed using her cut-out techniques to create these pages and am sure I will use this technique again in the future.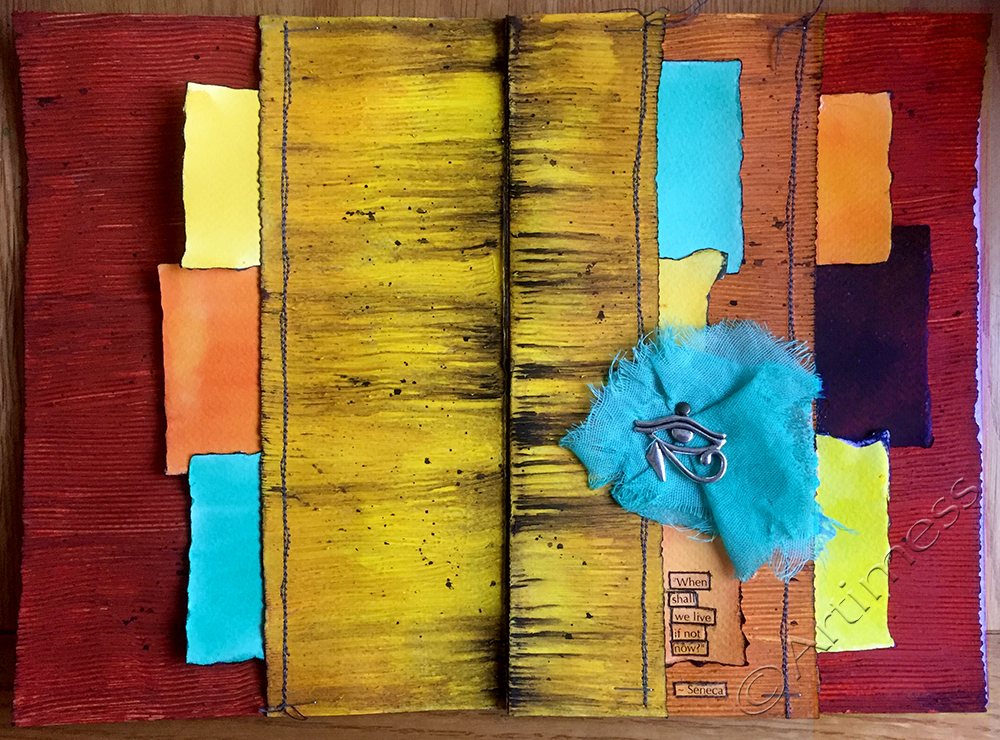 I had so much fun creating this next piece. It was inspired by the lesson from France Papillon – I learnt so many new techniques from this class. Simple, but so effective!
Nolwenn Petitbois's lesson inspired this piece. It has so many layers – and i got so messy creating it – great fun!
At the end of November, I treated myself to this Winsor & Newton Cotman Half Pan Water Colour Studio Set
from Amazon…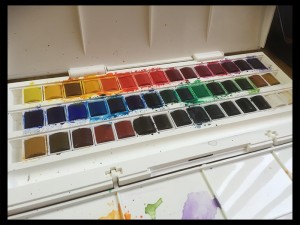 …and I couldn't wait to try them out when they arrived!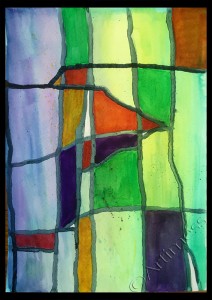 This was result of that first play with my new paints! I enjoyed using them so much that I think I've used them in every picture I've made since!
My golden haired lady was inspired by Marieke Blokland's class – such a comprehensive lesson – so much detail. I really enjoyed creating her – especially using the gold flakes in her hair – I love the way she sparkles!
I have a load more work waiting to be uploaded, I hope to get it done before Christmas… so keep watching this space.

It's been a while since I made a collage that stayed visible after I completed the piece. Normally by the time I finish the image, the collage is buried under layers of paint, stamping or stencilling or a mixture of all three. But the last two classes I've done as part of Radiant 2, both have visible collage in the completed pieces!
This first piece was my response to Dyan Reaveley's class.
Her lesson was so great, I especially enjoyed the things she shared about her process – thank you Dyan. Although I didn't have many of the supplies Dyan used, I think my substitutions have worked well – I love the result and the quotation taken from Sandra Sturtz Hauss's poem "These are my wishes for you".
My second piece was made in response to Effy's interpretation of Felicia's class.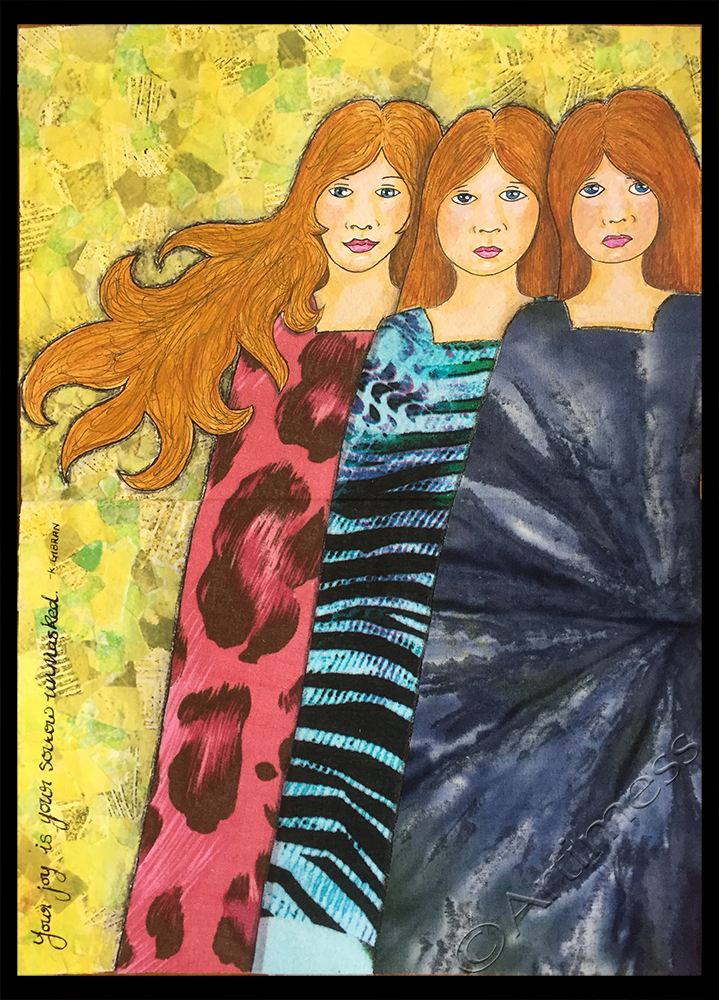 I loved the process, and learnt loads from the note writing. I found it really interesting to create a second image in a different style – thank you for a really inspiring lesson Effy. By the way – if you want to look up the quotation, it's taken from "On Joy and Sorrow" by Kahlil Gibran.
I haven't quite made up my mind what to do next, but I think I might start making postcards for iHannah's postcard swap ready for the end of the month.

I am so loving my new Effidori! I always love learning new book making techniques and Effy's lesson on how to make the Effidori was so easy to follow that I enjoyed every minute of it!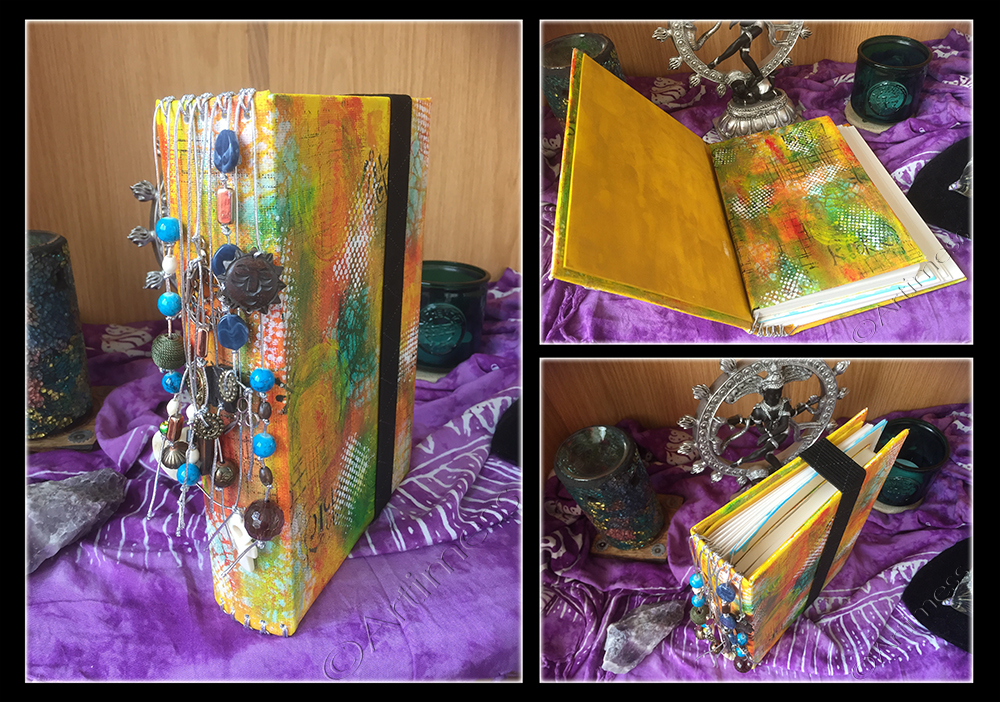 And I'm loving the results – both the way it looks and using it as a journal. Thank you Effy for an amazing lesson!
Having made the journal, I was ready to start the first guest teacher lesson on the Radiant 2 course.
Felicia Borges lesson was just so much fun and really messy. I love the way she works. I didn't have all the supplies that she used, and my alternatives created a rather different look. But I'm really pleased with the result!
Which lesson shall I do next I wonder? Keep watching to find out.

I've been getting messy and having fun! Not content with having recently signed up to 21 Secrets Fall 2015, I've just signed up to Effy Wild's Radiant 2 Course which started on 1st October. So much juicy, messy goodness to choose from! I'm loving every minute of it!! And just for good measure. I've signed up for the iHannah DIY Postcard Swap – Fall 2015. Yeah! – got to share the abundance that I'm creating.
So far I've been playing along with two of the 21 Secrets classes, and experimenting with some of the techniques in my everyday journal.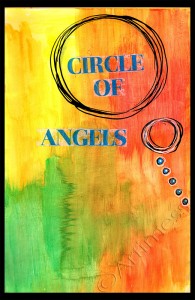 On this first page, I was trying out a letter transfer technique from Catherine Anderson's class. Her lesson has so many cool things to try.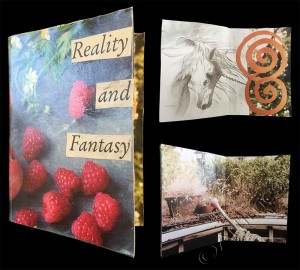 This is another technique from Catherine's lesson – a really cute mini book. It's only 5cm x 7cm but it was so much fun to make and decorate. I think I might try and incorporate some of these into my postcards for the swap at the end of the month.
I made this image while I was watching Orly Avineri's class video from 21 Secrets. So many great ideas to try! I still have loads more to try out yet – but I'll use my watercolour journal next time. My everyday journal is only made with ordinary printer paper, so it doesn't cope very well with too much wet. This page bled quite badly through onto my handwritten notes on the previous page – oops!!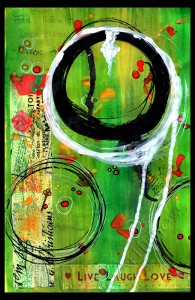 This last page started as an excuse to play with my latest washi tapes. Then I added some messy paints and ink to finish it off.
Right now, I'm busy making my journal for Radiant 2. How to make the Effydori journal (Effy's version of the classic Midori notebook) is the first lesson Effy teaches on the course. Once that's done, I can get started on the rest of the classes. So keep watching this space to see what I get up to next!