I can't believe that a whole month has gone by since I last posted anything here. I've made plenty of art – just haven't got round to sharing it. So here goes. I'm a bit late uploading them, but here are the last of my faces for 29 Faces 2016. Yeah – I made it!!
They're created with a mixture of watercolour, oil pastels and pencil. I really enjoyed the challenge of drawing so many faces.
I've also been playing along with the Journal 52 prompts. This is my response to Sarah Trumpp's prompt for week seven using a mixture of tombow brush pens and posca paint pens – called "Nerdy Love"…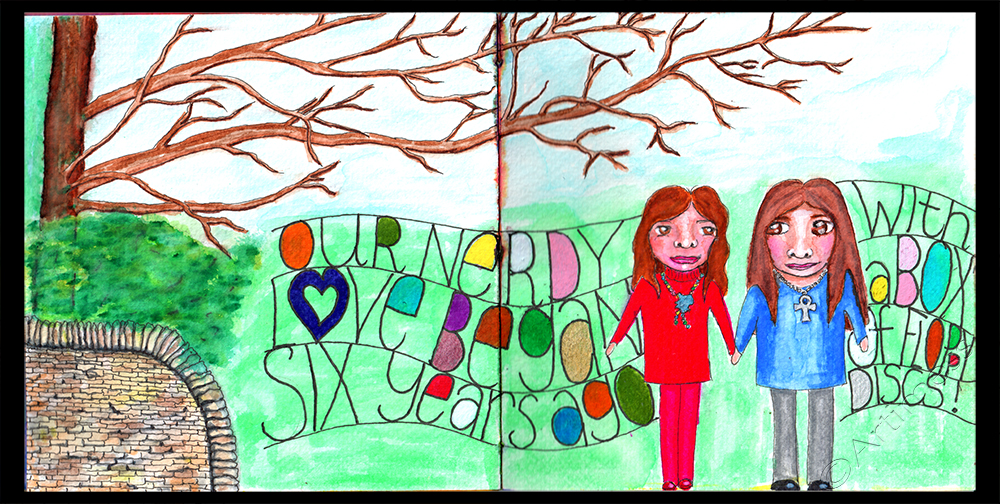 …and for week eight using a mixture of fluid acrylics, distress ink, collage, tombow brush pens, posca paint pens, stabilo all pencil and calligraphy pens – called "Listen to Crow".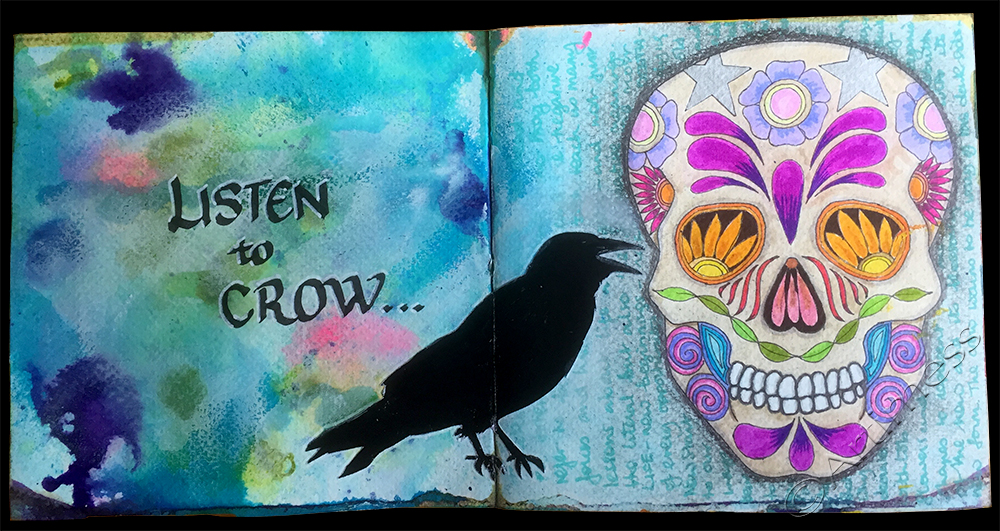 This next spread was created in response to the prompts for week eight of Effy Wild's Book of Days. I created it over the course of a week using tombow brush pens and computer generated text, and was amazed by how it all came together over the course of the week.
I was continuing to think about spring and all the new growth starting to appear while playing with acrylic paint which led me to create this spread. I just love the vibrant colours on this page.
I love the word emergence, and had great fun creating this spread in response to Effy Wild's prompt for week ten of Book of Days. I used acrylic paint, fluid acrylics and a collage of computer generated text to create these pages.
I have lots more work to share so keep watching … here's just a sneak peak of something a bit different that I'll show you more of in the next post.

I thought it was about time I caught up with posting some images; I've spent so much time having fun and getting messy in my art journals that I've not got round to uploading any of my work.
This image was inspired by a Journal 52 prompt to pick a zany word and illustrate it. I chose 'exuviate' which means, apparently, to shed or cast off a covering. I liked the idea of emerging into a new reality.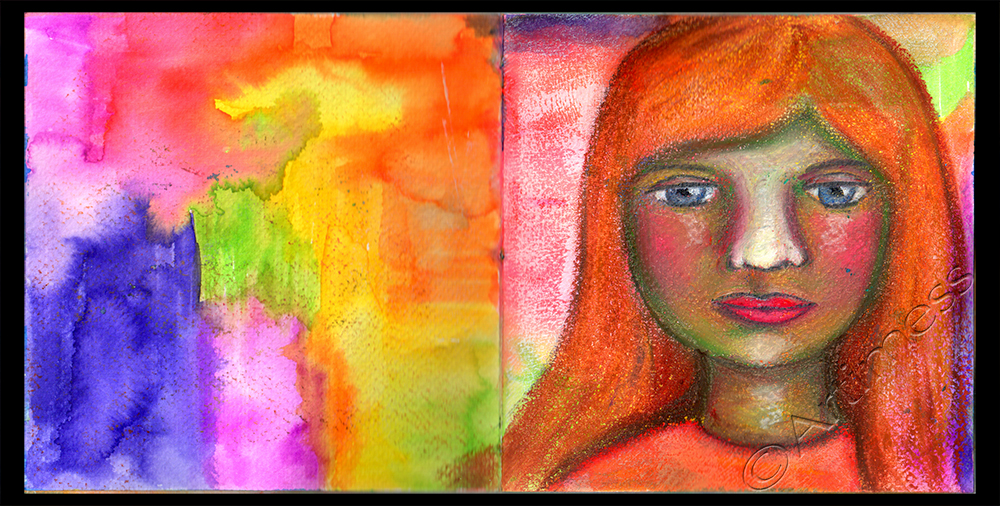 Returning to the 29 Faces 2016 challenge – I can't resist playing with the oil pastels. I created the colourful background using Tombow brush markers – I just love those bright colours!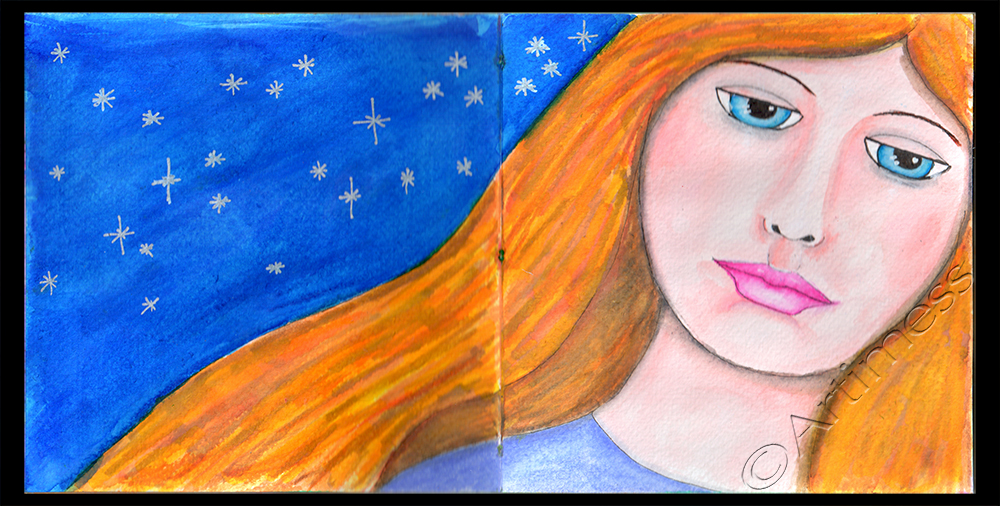 Effy Wild inspired this next piece with her class, based on Nolwenn's lesson, taken from the Radiant 2 course.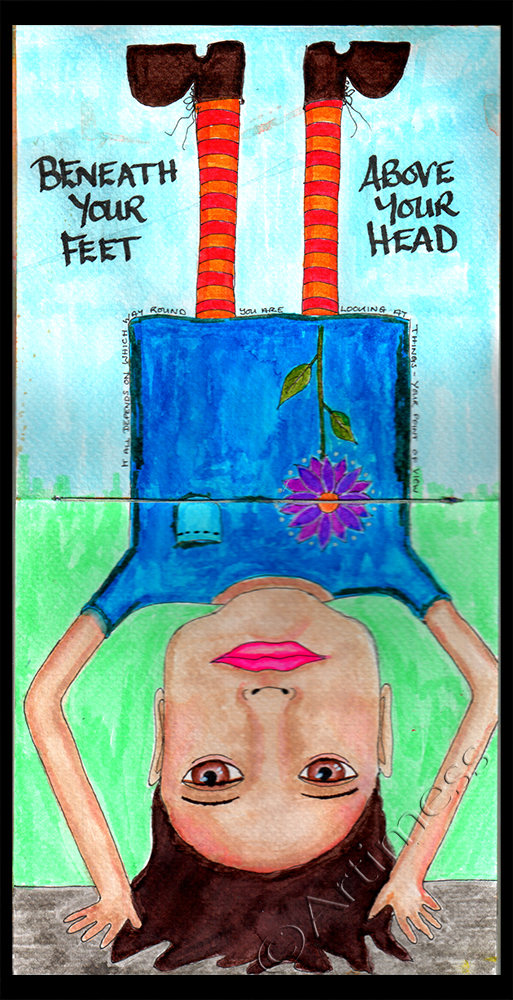 This last piece was created in response to two Journal 52 prompts – 'above your head' and 'below your feet'. When I saw these two prompts it occurred to me that depending on how you looked at things, they could either be pointing in opposite directions or the towards each other. This was how I saw it.
I still have more to post – I'll try to create another post tomorrow. Keep watching!

Since the beginning of this year I have been inspired by so many challenges and classes. Although I haven't necessarily completed all the prompts and suggestions, I've found that having so much inspiration has enabled me to maintain a much more consistent artistic practice. I have been making art every day – and am definitely feeling the benefits.
I've been working in a number of different journals and have been playing with lots of different styles.
This first piece was inspired by Effy's Book of Days theme for the month of January. The background is a created with lots of layers of acrylic paint, then I added the bird and the lettering as collaged cutouts which I created using tombow pens. I like the subtle contrast to the bold colours of the background this creates. I wrote the quotation using a dip pen and indian ink.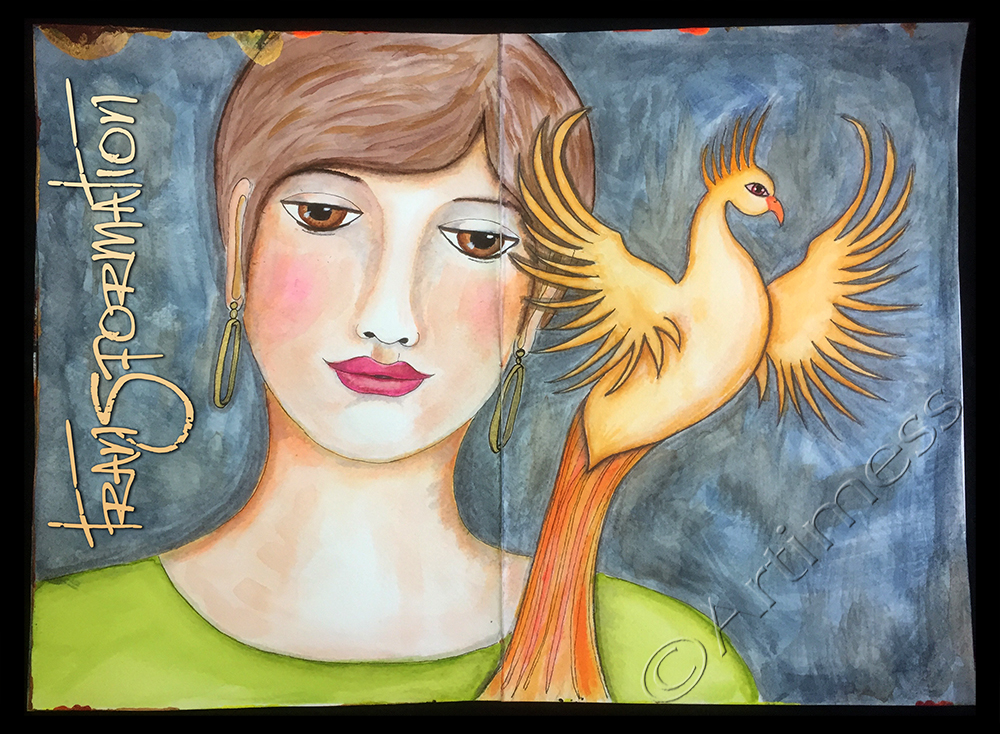 "Transformation" is my interpretation of Tam's lesson from Radiant 2. I used Tombow pens to colour the lady and the phoenix and watercolour paint for the background. I added the text digitally after scanning the completed spread.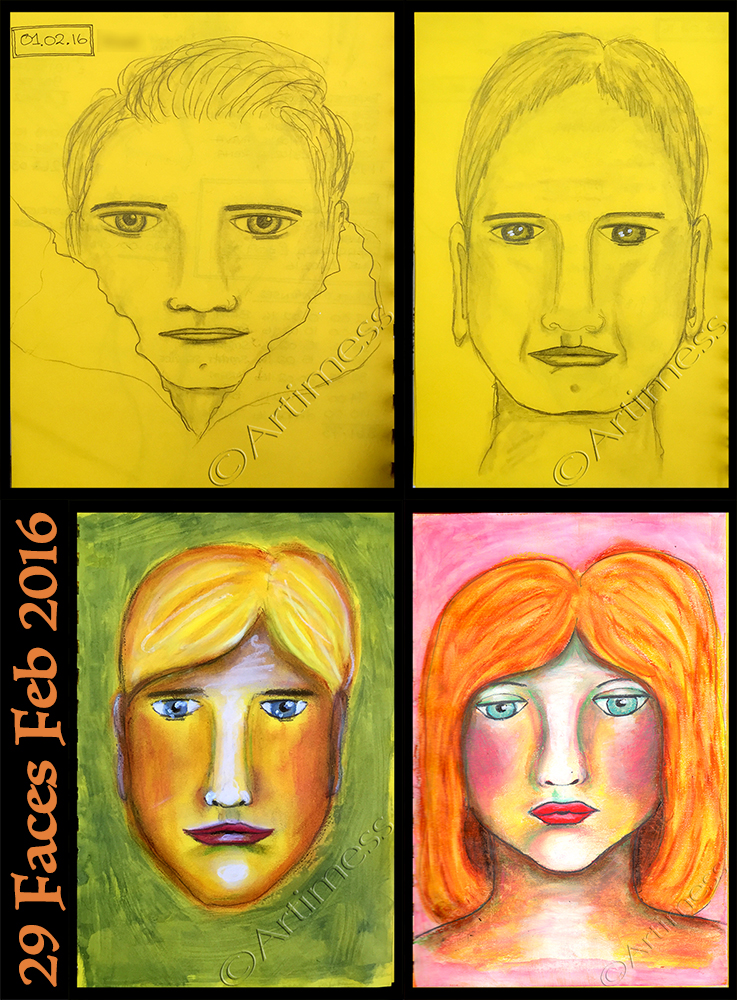 Moving on to challenges – I thought I'd try to include some male faces in my responses to the 29 Faces challenge this year – this is my first four. I'm really loving using oil pastels for the faces.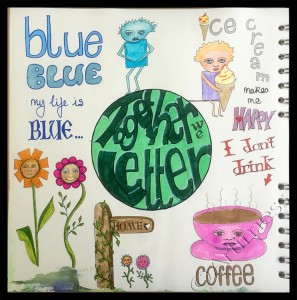 Finally, as a result of following the Journal 52 group on Facebook, although I haven't got around to journalling any of those prompts, I was inspired by Sarah Trump's work and checked out her blog posts. As a result I discovered the "Together We Letter" challenge by @lissletters on Instagram. This is my response to the prompts for the first four days – so much fun!

Since the end of last year, my focus has been changing. I have been working more playfully, experimenting with new techniques and materials and am in the process of developing my own unique portrait style.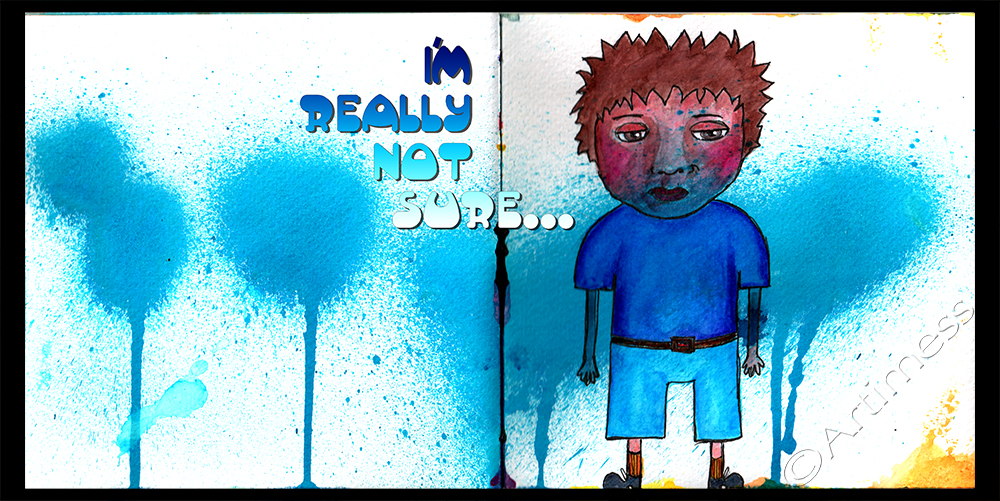 Creating this image, I discovered that my new Tombow pens don't work very effectively over the top of sprayed on distress ink. But I still like the finished effect – what do you think?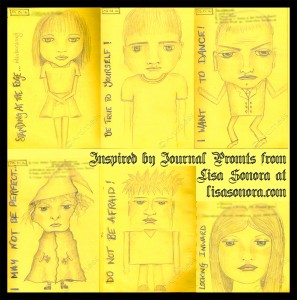 From the beginning of the new year I started following the prompts from Lisa Sonora's 30 Day Journal. I chose to illustrate each day with a quirky figure, and started the year off by doing some pencil sketches in my everyday journal.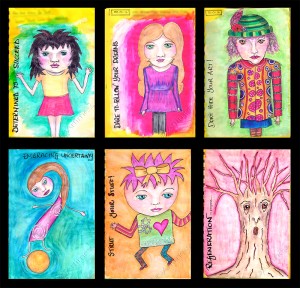 Then I decided to start adding some colour into the mix using my tombow brush pens. After a couple of weeks I found the discipline of following prompts too exacting and reverted to creating more spontaneously.
I had fun creating 'Zag' and decided to leave her incomplete without any hair.
I'd been meaning to play with oil pastels to create faces for a while, but just hadn't got around to it because I'd been having so much fun playing with my tombow pens.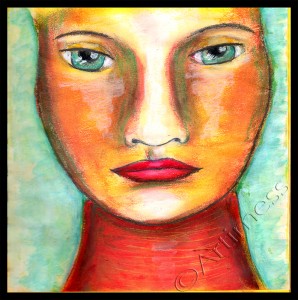 Finally I got around to it and this is the result. I really like the richness of the oil pastel colours and the sheen they leave on the paper.
I may not have been very consistent in following any particular set of prompts or programme, but I have been consistently making art every day this year which I am very pleased about. So there's loads more to show you, and I'll try to get round to posting some more very soon. Keep watching!

P.S. I've just signed up for the 29 Faces 2016 challenge for the month of February so that should keep me busy!! Why don't you give it a try? Just sign up over here on the ayala art 29 faces site and have some fun!