The 1st September, time to make a fresh start! As you might have noticed over the last day or so, I've been busy giving my site a face lift, playing around with some new colours and a different header. It feels like it's time to do some serious creating!
August has been a kind of limbo month for me, the time between the end of my studies, and the beginning of my new professional practice as an Art Psychotherapist, so I've been playing in my art journals exploring ideas and materials.
This journal page spread was created in my recycled Journal using torn magazine pages, fibres, gouache and homemade stamps created from repurposed rubbish.
August has also been a time for getting out and about, visiting new places and discovering wonderful bargains to add to my creative supplies.
I got this wonderful fabric from a lovely lady on a market stall in Bradford …
… and just look at all this amazing yarn that I found in the wool shop in Buxton!
September is going to be a month of new beginnings, so to mark my intention to create more art, I've signed up to Connie Solera's 21 Secrets course due to start on 28th September.
I've got lots more artwork from August which I'm looking forward to sharing with you. But for now I think I'd better get myself to bed as it's gone 2:00 am.

In the meantime, and between creating mandalas of all kinds, I've been experimenting and playing with paint.
I've been applying the paint to the page straight from the bottle, then using a tool intended for shaping clay to mix and spread it around the page. I must admit, I quite like the resulting dimensional abstract images
I created this one in my everyday notebook…
…and this double page spread was created in my altered journal. I love the way the original pages peep through from beneath the paint.

Ever since I can remember I have always believed in the interconnectedness of everything. So when I came across this Pueblo Indian saying in Way of the Doll: Art and Craft of Personal Transformation
by Cassandra Light, I couldn't help but feel a journal page needed to be created.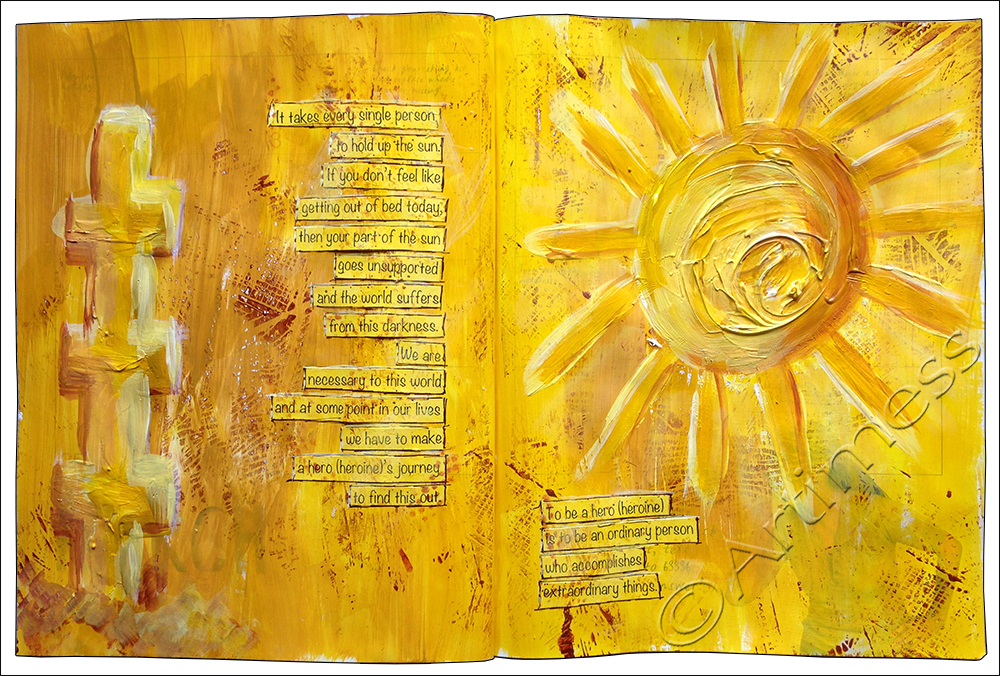 I decided to use my recycled journal, and created this double page spread using acrylic paint, moulding paste and a linocut stamp. I added the quotation by cutting up a digital printout of it, glueing it down then adding paint, stamping and permanent marker to help it to blend into the page. Did I mention that I printed it on yellow paper?
And talking of blending…
…I just couldn't resist the digital kind!

"Paint, glorious paint…" a slight misquote I grant you – but after a long absence (at least a week!) its so good to be slinging paint again!! Even in my little journal!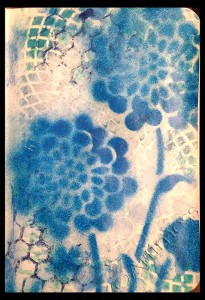 The colour's not very good in the photo, the original is a more peacocky colour! I created it with some acrylic paint, stencils and a bit of spray paint!
Then I went back to my recycled journal to make some more background pages.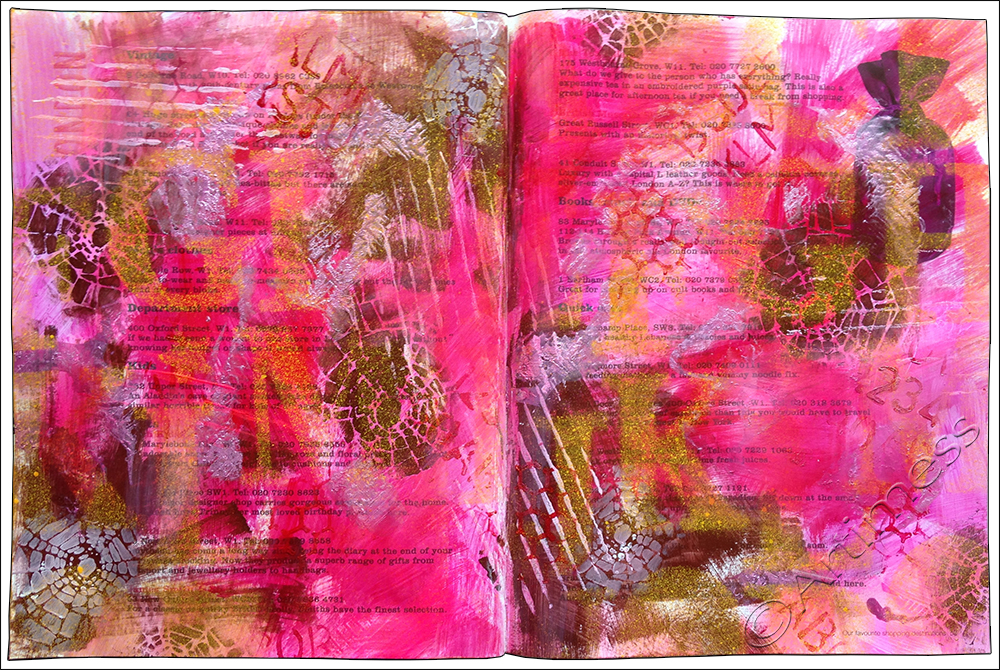 I don't really like pink… I know girls are supposed to, but I never have! So it was really quite a surprise for me to create such a pink page! I used a lot of different types of paint; acrylic paint, acrylic ink, fluorescent paint, spray paint, a few stencils and a homemade stamp.
I reverted to type and went back to my more usual colour palette.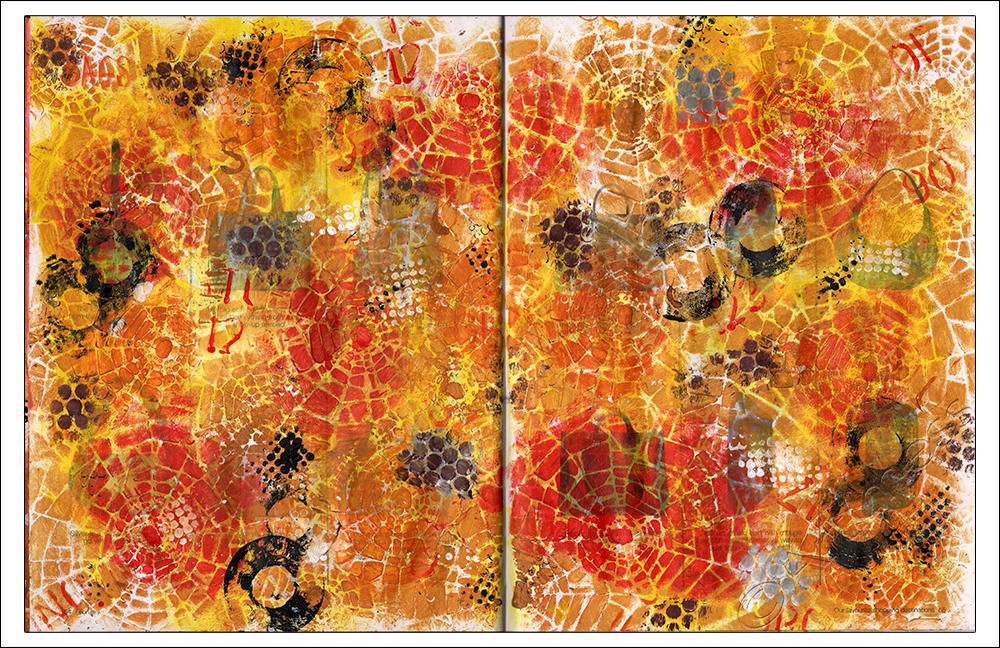 That's better… Sigh! All that pink… very worrying! I used acrylic paint, stencils and homemade stamps to make this page.
Last but not least, I dug out a piece of recycled cardboard for a change.
I do like working on recycled cardboard – it's such a forgiving medium. It just sits there and takes whatever you throw at it! In this case it was acrylic paint, spay paint and stencils.
I really think I'm overdue for a Big piece of cardboard. So watch this space!

Following on from yesterday's success, I've managed to create another journal page using the scanned digital technique. Yay!
This is the background I created in my altered journal using acrylic paint, home made stamps and stencils.
And this is my digital interpretation of todays 'When Frogs Sing' journal prompt.
I finally got around to processing the second of my recycled cardboard paintings from the other day. I created it using acrylic Paint, acrylic ink, stencils and moulding paste.
You can't really see the relief on the big picture so I took a couple of detail pictures to show it off. It makes a lovely textured surface – I really love texture!
And you know what – I haven't played blending for ages! So I just had to try a little blend here! I really like how this one turned out. What do you think?

Happy New Year to you all! This post has been a long time coming, but December was a totally chaotic month with so much going on that I scarcely had time to breathe! However… January is here now, and I have started creating art again! In fact I spent most of New Year's Day painting up in my studio – what a great way to welcome in the new year!
I created 2 images on recycled cardboard and 5 journal pages in my recycled journal. I had a bit of trouble getting my scanner to work after it's long rest, but the perseverance paid off! I created this piece using recycled cardboard, acrylic paint, stencils and spray paint.
I'll post the rest of the images over the next few days as soon as I've finished processing them. (I'm busy struggling to write an essay for my course at the moment!) So keep watching this space.

Every year about this time I receive a pack of beautiful cards, prints of pictures painted by mouth and foot artists. I have always admired their work and wondered how they manage to paint such beautiful pictures. I now have even more admiration for them having just completed this page of mouth writing for my journal …..
…. it was so hard to do …. it says "I don't think I'm very good at this! It looks like Chinese. How do people paint pictures like this? I'll try. Do you like my stick people?" …. I think I need a lot more practice 🙂
Not content with just making a beautiful mess in my journal, I love taking the scanned images and blending them to create more beautiful images. I started with this pen drawing …
…. and blended it with the scans of the "Document Your Dinner" and "Sample Various Substances" journal pages with these results ….
Finally … I just discovered this JigZone site that makes jigsaws out of your images. How cool is that!!! I just had to have a go 🙂
I've made two so far and posted them on the Pick a Puzzle page. Have a go and see how long it takes you to do one!
Keep checking … I'll add some more later.
No … I've not gone completely mad … I really have been ironing my images! I've been trying out another technique from the Image Transfer Workshop Book. By some magical process (the physicists out there will be able to explain exactly how it happens) heating a magazine page that is next to some cling film (plastic wrap) enables the two to bond. You can then remove most of the paper backing which leaves you with a new very thin, waterproof version of the image. Clever stuff!! This is my first attempt … and I've stuck it in my altered fiction book before adding paint to the page.

I've been busy completing more pages in my Wreck this Journal as well. This page was done using the Gel Medium method described in my last post. I used last week's church bulletin (which was printed using an ink jet printer). I love the distressed look this method gives to the transfers!
I've been struggling over what to do with this next page for some time. The page was headed "Space for Negative Comments" – not something I thought was very constructive! But then I thought … what if I wrote my negative thoughts in thin black pen and wrote their opposite on top in thick red pen – it would be following the instructions, but putting a positive spin on it. So that's what I did! Next I painted the opposite page and squidged them together to transfer some of the wet paint. That obscured some of the words, but it was still too legible for for my liking, so I added a blur filter to the right hand page after I scanned it!
… sorry … you don't get to read my secrets … but I like the way it looks 🙂
I've been wanting to try out image transfers for such a long time … but every time I've found a set of instructions they've involved using substances which were either dangerous or else difficult to obtain. So imagine my excitement when I came across this book, Image transfer Workshop by Darlene Olivia McElroy which has a huge variety of very simple step by step instructions for transferring images, many of which use common safe substances! I'm planning on trying them all over time, but I started with the ink jet / gel medium transfers as they were so simple. All you need is a pot of Gel Medium, a paint roller/brayer and an ink jet printed image!
The image on the left-hand page of a rose bud is my very first attempt … pretty impressive I thought. I got so excited with my success that when I did

the next one, after remembering to reverse the image when I printed it, I stuck it to the page upside down!! Luckily it was in my Wreck this Journal Book so I figured it was meant to be!!
This next transfer forms the first completed page in my creative business plan which was inspired by The Right-Brain Business Plan devised by Jennifer Lee. The page is in the middle of

the book I have made and I have written " Development and growth are vital to my business. I need to experiment, experience, and constantly be trying out new ideas. Having Fun!`' around the the image. This is much more fun than a traditional business plan 🙂
This last image is my favourite of the lot! Inspired by my Wreck this Journal Book, I have decided to alter one of the many fiction paperback

books I have littered throughout my house waiting to be taken to the charity shop. I love the way the text looks like it's been aded after, when in fact it's the only bit of the original page that you can see!
I can't wait to get started on trying out some of the other techniques in the book … keep watching this space!
Yes … I have a green thumb …. but no – that does not mean I'm good with plants! I just got a little bit too enthusiastic with a spray can of metallic green paint 🙂
It all started last week when I taught leaf printing at one of my craft classes. I get so much inspiration from teaching! … I came away from that class inspired to find as many ways as possible of using leaves.
A few weeks ago I came across several cans of spray paint left over from previous projects … so I decided to try using them with the leaves, and the 'Sample Various Substances' page seemed the perfect page in the journal to use for the experiment.
After I'd picked a selection of leaves I used them as both masks and stamps to achieve this effect.

Using leaves for printing, you end up with some beautiful colourful leaves. I took a couple of the ones I brought home from the class, covered them in Gel Medium and used them to create this picture.

Going back to my journal, I decided to do something with the 'Document Your Dinner' page. I wasn't prepared to feed my dinner to it, so I did the next best thing and used a heap of favourite ingredients to splatter over the page. I used Soy Sauce, Spaghetti Sauce, Strawberry Sauce, Lemon Juice and Salt!

I'm quite pleased with the visual effect … and it's added yet more interesting aromas to the journal – it really is a multi-sensory experience!!