I have to admit, I'm really enjoying taking the time to be creative again. I've worked my way through the free workshops for the first time now, but am thinking of revisiting some of them as they were so full of inspiration that I'm sure I've missed some of it first time round. But I'll share some more of what I've created so far.
I created these two images in response to the workshop led by Kate Crane. I love how Kate uses recycled cardboard as a canvas to create her images – she's definitely a lady after my own heart. I've been using 'junk' in my artwork for many years now.
Rae Missigman always inspires me with her workshops, and this one was no exception. I'm not quite sure how the pages got to be so pink though cos I am definitely not a pink person normally!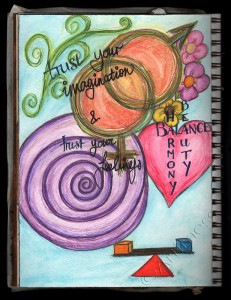 I thought I was going to struggle with Andrea Schroeder's workshop, but the results took me by surprise. As I followed her instructions, I found pictures kept popping into my head waiting for me to add them to the page. There's still some journalling to do, but I'll probably add that later.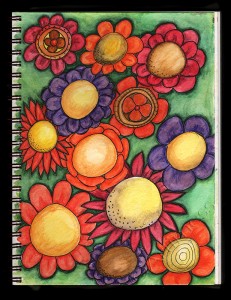 Diana Trout's workshop is definitely one that needs to be revisited. Her enthusiasm is so infectious, and I only took in a small portion of the amazing ideas she was sharing with us. That said, I really enjoyed creating this page and am pleased with how it turned out.
Hmmm… what shall I play with next?

As part of my September fresh start, Ive been brushing the cobwebs off my creative skills and learning some new techniques as I've played along with a whole bunch of fabulous artists – free workshops that Connie Solera gave as a bonus for signing up to Fall 2015 21 Secrets. I love the variety of different styles that I've created as a result.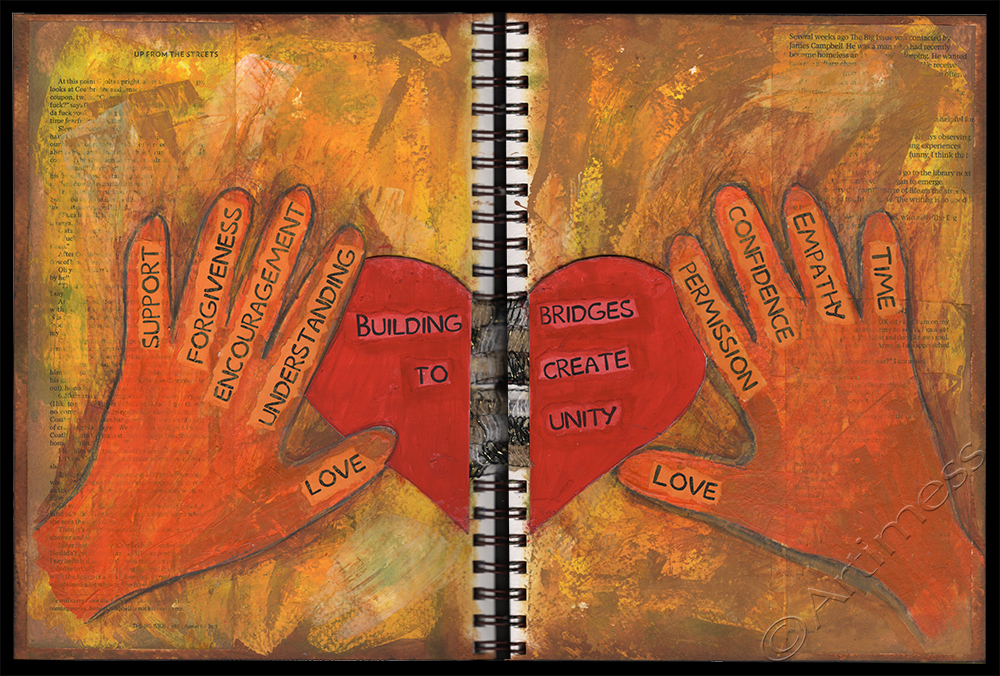 This first journal spread was the result of a workshop with Gretchen Miller reflecting on giving and receiving. I had great fun creating the bridge over the binder rings using some of the wool I bought recently, but its made it quite difficult to close the journal now!
I really loved creating this journal page with Violette Clarke. I didn't follow her instructions to the letter, but I learned a lot and really like how my page turned out. I was totally inspired by this amazing lady, her incredible vitality and vibrant work.
This page was the result of listening to the 21 Secrets Conversation with Eric Scott from Journal Fodder Junkies. After listening to Eric talking to Connie I was intrigued to find out more, and went hot footing over to the Journal Fodder Junkies site where I discovered a series of how to videos. My page didn't quite turn out how I thought it would, but I had great fun making it, and learnt loads in the process.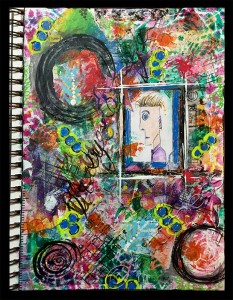 This final page was inspired by a workshop with Roben Marie Smith. I don't think I've ever made such a busy page with so many layers before, but I really love how it's turned out.
I still have a couple more free workshops to take part in before the end of the month when 21 secrets starts, and lots of inspiration for more pages to create – so watch this space to see what I get up to next!

The 1st September, time to make a fresh start! As you might have noticed over the last day or so, I've been busy giving my site a face lift, playing around with some new colours and a different header. It feels like it's time to do some serious creating!
August has been a kind of limbo month for me, the time between the end of my studies, and the beginning of my new professional practice as an Art Psychotherapist, so I've been playing in my art journals exploring ideas and materials.
This journal page spread was created in my recycled Journal using torn magazine pages, fibres, gouache and homemade stamps created from repurposed rubbish.
August has also been a time for getting out and about, visiting new places and discovering wonderful bargains to add to my creative supplies.
I got this wonderful fabric from a lovely lady on a market stall in Bradford …
… and just look at all this amazing yarn that I found in the wool shop in Buxton!
September is going to be a month of new beginnings, so to mark my intention to create more art, I've signed up to Connie Solera's 21 Secrets course due to start on 28th September.
I've got lots more artwork from August which I'm looking forward to sharing with you. But for now I think I'd better get myself to bed as it's gone 2:00 am.

Today at Uni, we made art using materials we had found during the course of our journey in to class. I carefully gathered my bag of found objects and waited to see what would emerge.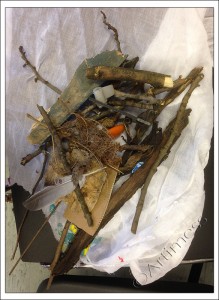 I was totally unprepared for this amazing doll!
In response to our artwork we were invited to write a short poem. This is mine – let me know if you like it.

In the meantime, and between creating mandalas of all kinds, I've been experimenting and playing with paint.
I've been applying the paint to the page straight from the bottle, then using a tool intended for shaping clay to mix and spread it around the page. I must admit, I quite like the resulting dimensional abstract images
I created this one in my everyday notebook…
…and this double page spread was created in my altered journal. I love the way the original pages peep through from beneath the paint.

Stage three of the great round of mandala, Labyrinth/Spiral, is one where I feel completely at home! I have loved every moment of this month. I haven't got round to creating a physical dreamcatcher yet…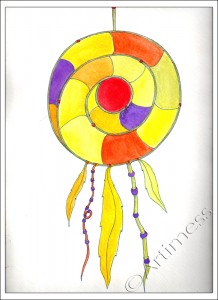 …but I started the month by creating this image of one using Derwent Intense watercolour pencils.
I am still waiting for the experience of walking a physical labyrinth, but in the meantime I had great fun creating this hand drawn one and then walking my finger round its paths.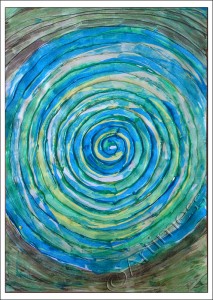 Spirals came next, and I've been having so much fun with these. This one was created using ready-mix paint…
…and I made this one by weaving some very thick wool in a spiral. It is absolutely mesmerising if you spin it! That's all for now, but I'll try not to leave it so long before I post the next instalment!

I've just realised how long it is since I posted anything online. I've been busy keeping up with Julie's Mandala Magic classes, I just haven't got round to posting anything online. So here's the first instalment – moving on from the Void to the Bliss…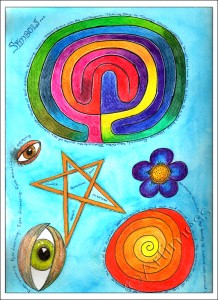 … I created this page of symbols that are important in my life right now.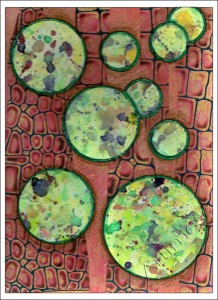 I found the bliss quite a difficult stage to be in, and had trouble with the shaving foam technique that Julie recommended. After struggling for a while, I gave up and decided to use a mixture of other watery techniques to create the mandalas on this next image.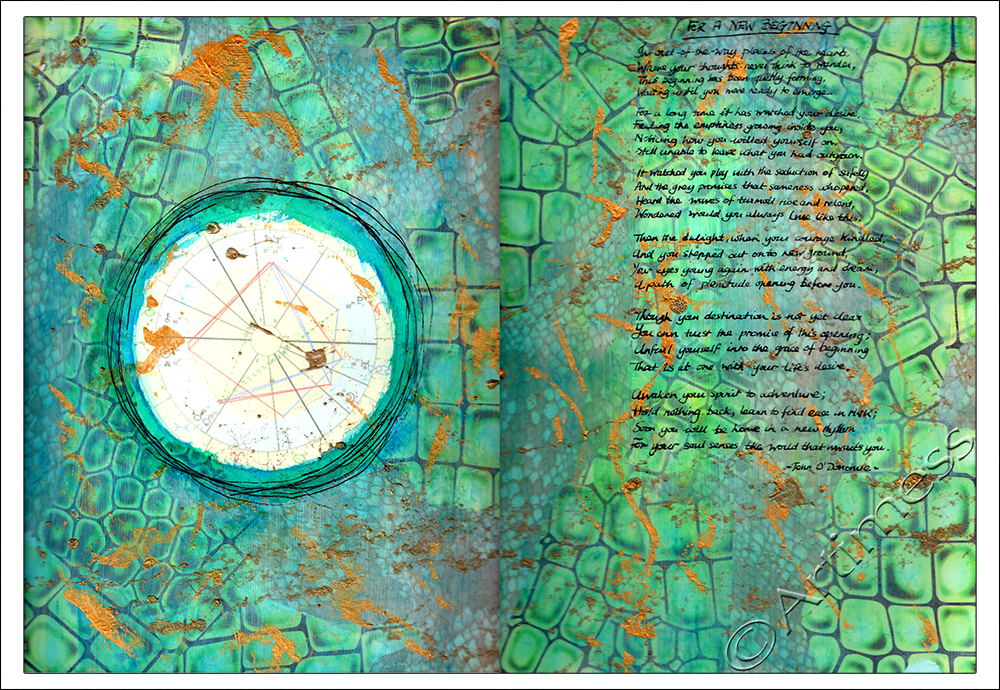 I quite enjoyed making this page which has a background made from patterned tissue paper covered in water activated neocolour crayons. The free birth chart I used comes from the website astro.com. To complete the spread, I handwrote the poem 'For A New Beginning' by John O'Donohue.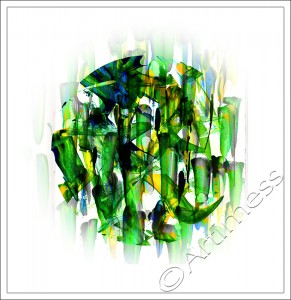 Slightly apart from making mandalas, I've been playing with paint in a very free way and have taken a few of those images and created this blended mandala. Keep watching for the next instalment!
We're over halfway through the void now, and the mandalas are still flowing. Journalling with words doesn't come easily to me – I prefer to express my thoughts in visual ways…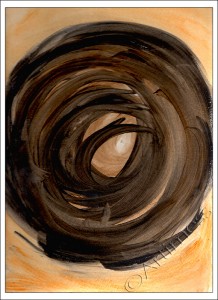 …so I've been up in my studio for a while today responding to my thoughts. This is my first completed mandala painted with very wet acrylic paint in my mandala journal.
There are two more in process…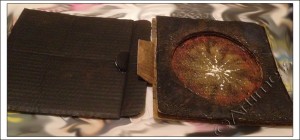 …this one is made with recycled cardboard, acrylic paint and crackle paint – the crackle paint is taking a long time to dry…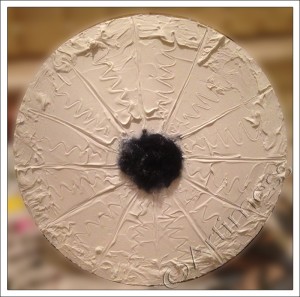 …and this one is made from a cardboard disc and moulding paste. It too is in the process of drying, and I will be painting it once the moulding paste has properly hardened. I'll post more pictures of these when they're finished.

I'd been thinking about the void, and the cycle of the year and the new life germinating in the darkness…
…I picked up some bottles of ready mix paint and a paint scraper, and created this mandala response.

In between updating my website, creating mandalas and starting work on my next uni assignment, Ive been just a little bit busy – but the website and mandalas have been great fun to do!
Still travelling through the void, I made this 'universe void' mandala. While I was making it, I had a slight accident with my bottle of white acrylic paint. I accidentally knocked it over, spilling white paint all over my desk. Not being one to see anything go to waste, I quickly opened up another journal and used a paint brush to mop up the paint.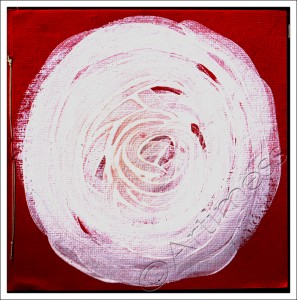 This is the result – a white, void mandala. I love the textures made by the thick ridges of paint!
This last mandala was inspired by a song called 'The Dark' by Mary Grigolia.