In between updating my website, creating mandalas and starting work on my next uni assignment, Ive been just a little bit busy – but the website and mandalas have been great fun to do!
Still travelling through the void, I made this 'universe void' mandala. While I was making it, I had a slight accident with my bottle of white acrylic paint. I accidentally knocked it over, spilling white paint all over my desk. Not being one to see anything go to waste, I quickly opened up another journal and used a paint brush to mop up the paint.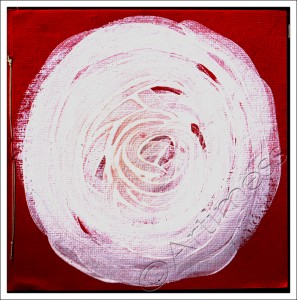 This is the result – a white, void mandala. I love the textures made by the thick ridges of paint!
This last mandala was inspired by a song called 'The Dark' by Mary Grigolia.