Just because I haven't been posting, doesn't mean I haven't been journalling! I treated myself to a little pocket journal, and have been doing my five minutes + every day! I made this title page at the beginning of the book…
… using my Rotring Rapidograph pen to draw with, then colouring with watecolour pencils and Neocolour ll crayons.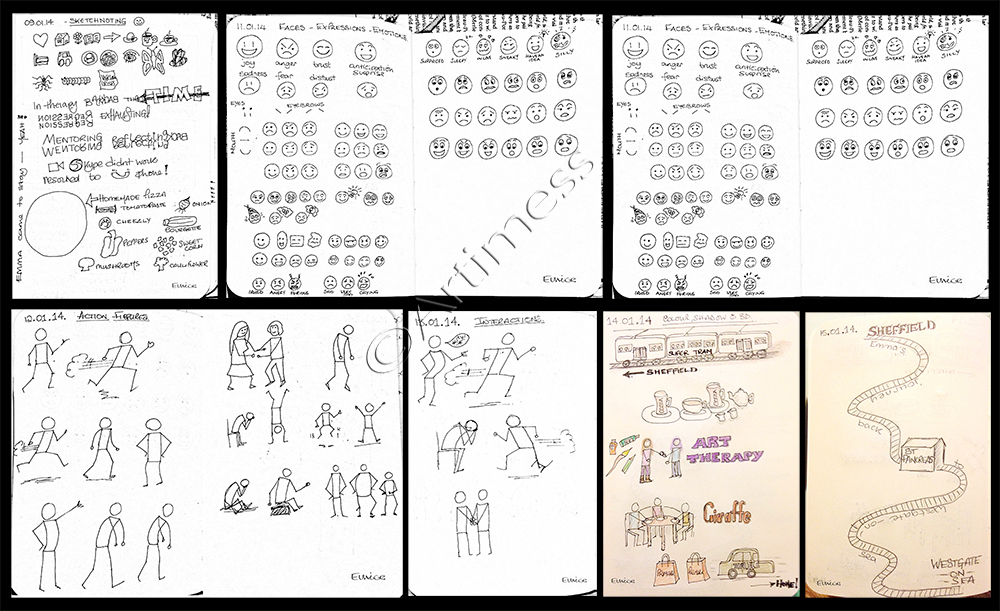 We've been learning about sketch noting, and I have to admit, I've really enjoyed using this way of journalling as you can see from these pages.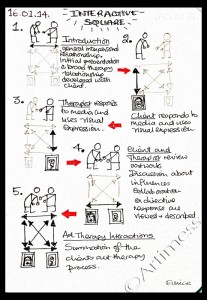 This last page is my version of a bit of psychoanalytic theory, adapted from a paper by Anita Bragg & Patricia Fenner (2009), which I'm talking about in my course essay at the moment!

I've not been blogging very regularly of late, so when I got effy's newsletter today and saw that she was hosting a blogalong during August, I thought it would be a good idea to sign up in an attempt to complete thirty posts in thirty days!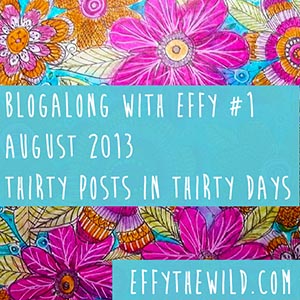 Meanwhile, I've been back to playing catch up with the Life Book 2013 lessons. I started with Danita's great class entitled Key to Freedom. The class started with a link to this cool podcast from Tarah Brach
The theme of the lesson corresponded exactly with the July Rumi Project quote over at the Glitterhood, so I had to incorporate it!
"Why do you stay in prison, br>when the door is so wide open?"
I started out by drawing the girl and the cage in pencil, then painted them using masking fluid before journalling on the background using a white gellyroll pen. I then painted over everything using Twinkling H2O's. When everything was dry, I peeled off the masking fluid, coloured the girl using neocolour crayons and painted the cage with Twinkling H2O's. Lastly I wrote the Rumi quote using a white Uni Paint Marker.
This week's class was from Dina Wakley.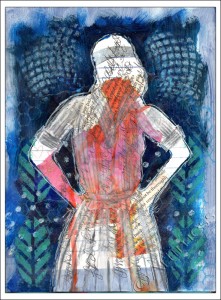 I started the page with a coat of white gesso then added some collaged book pages and old scanned artwork. Next I dripped some ink down the centre of the page and journalled across it, then placed a silhouette mask I created over the top and used acrylic paint to cover most of the page around the mask. I used stencils to add some interest to the background, and lastly, added some detail to the silhouette using a Stabilo All pencil and white acrylic paint. I found creating this page very therapeutic – thank you Dina.

As you may have noticed, I've got very behind with my Life Book 2013 classes. So I thought this week was time to rectify the situation and try to catch up a little! Rather than go back to where I got stuck, I thought I'd start with this weeks lesson from Joann Loftus and then move backwards in time!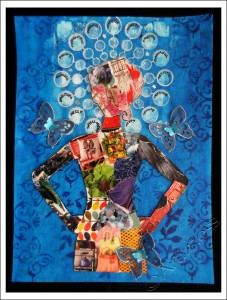 I created the background using 3 layers of journaling, white gesso, an acrylic paint wash and a variety of stencils. Joann gave us the template for the lady silhouette which I covered in a collage of torn magazine images and stuck to the background using sticky pads. I added die-cut butterflies coloured using Twinkling H2O's and a silver marker pen and added highlights and shadows using white paint pens and Pitt Artist pens. I really enjoyed the lesson and love how my lady turned out!

Ooops! – I got sidetracked again! But this Life Book lesson from Dawn DeVries Skol was just so much fun!
I started by painting the background using acrylic paint. I decided that I wanted the self-portrait to be transparent so I printed it on overhead projector film then cut it out and stuck it down using gel medium. It has left me with a slightly streaky face, but I like being able to see the background through the image. Next I added the journalling and doodling using Pitt Artist pens and coloured the large letters and doodles using neocolour crayons. Lastly I inked round the edges of the pages with a distress ink pad. Thank you Dawn for a really great lesson!
Now I really am going to get back to Dion Dior's 21 Secrets Lesson!

Today I've been working on Danielle Daniel's class, part of the 21 Secrets 2013 course. I had great fun and got very messy creating this background.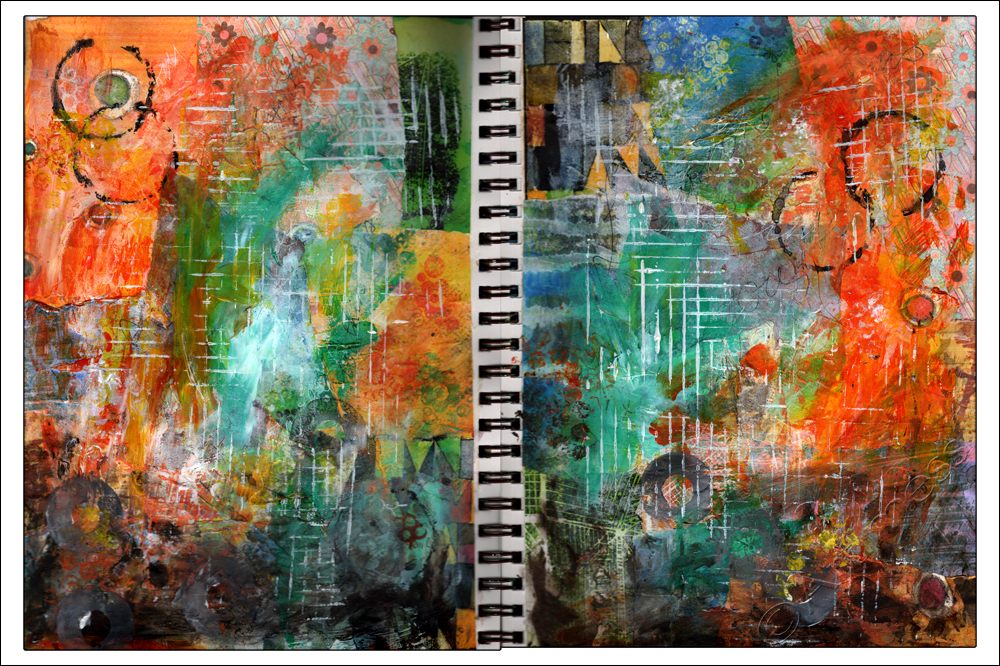 I started out with a collage of printed papers from my earlier artwork, then added acrylic paint using a variety of techniques. Next I added journalling followed by more acrylic paint! I still have more to do to finish – there's at least one person waiting to be painted – but I really like how it looks right now, so I thought I'd share it with you.
When I finished painting, I had rather a lot of leftover paint on my palette, so I created this in my notebook.
Then I decided to see what it looked like with a bit of digital blending. I quite like how it turned out so far, but I have a feeling I'm not finished with it yet!

I have always loved pop-up cards so this Life Book lesson from Mitsi B really appealed to me, and I loved every bit of the process of making it.
I started by journalling over both sides of the paper using a water soluble graphite stick, then activated it to stop it bleeding. I added big blocks of colour using acrylic paint, then splattered and dripped a bit over it all.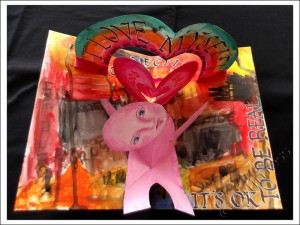 Next I made the pop-ups for the inside of the card. Owing to my inability to listen to/read instructions, my card is slightly smaller than instructed so I had to modify the rainbow pop-up to make it fit! I painted the shapes using acrylic paint, stuck them in and added more journalling using calligraphy pens from Asda and an Edding 780 paint marker to outline the letters.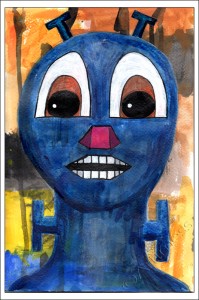 Finally I painted my monster on the front cover using acrylic paint. Don't you think she's lovely? I think this has been one of my most favourite lessons so far this year. Thank you so much Michelle!

When I started AEDM (Art Every Day Month) this time last year, we were in the process of selling the house prior to setting off on our travels. It's been a very exciting year, we've experienced a lot and had so much fun along the way! Now – one year later, we have settled near the sea in North Yorkshire. I'm really looking forward to taking part in the challenge again.
I created todays art for this weeks Life Book class from Tracy Verdugo.
As I completed each part of the process I was reluctant to go on to the next stage – I liked it as it was, so I scanned the four stages. The first stage above started off with journalling using wax crayon. I was supposed to use oil pastel but I didn't have any! The idea was to create a resist – I thought the wax crayon would work, but it didn't seem to work at all! I added acrylic paint on top of the journalling.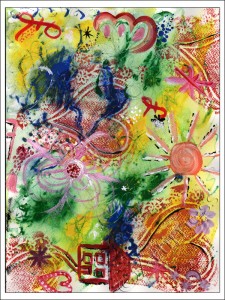 The next layer included stamping done using a home-made foam stamp with distress ink, and some more acrylic paint.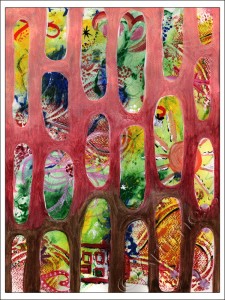 More acrylic paint for the next layer,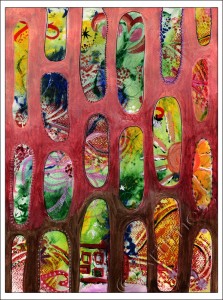 and finally a doodle layer. I doodled using a selection of gel pens, sakura soufflé pens, uni paint marker, and rotring rapidograph pen then added some additional colour added using neocolour crayons.