Following on from yesterday's success, I've managed to create another journal page using the scanned digital technique. Yay!
This is the background I created in my altered journal using acrylic paint, home made stamps and stencils.
And this is my digital interpretation of todays 'When Frogs Sing' journal prompt.
I finally got around to processing the second of my recycled cardboard paintings from the other day. I created it using acrylic Paint, acrylic ink, stencils and moulding paste.
You can't really see the relief on the big picture so I took a couple of detail pictures to show it off. It makes a lovely textured surface – I really love texture!
And you know what – I haven't played blending for ages! So I just had to try a little blend here! I really like how this one turned out. What do you think?

It's less than two days now before we get the keys to our new home and it's getting to the point where I will have to seal up the boxes with my paint in. But I was determined to have one last play before that happens.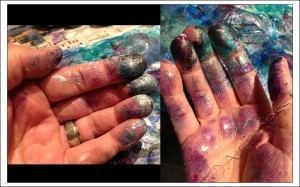 As you can see by the state of my hands, I had a lot of fun!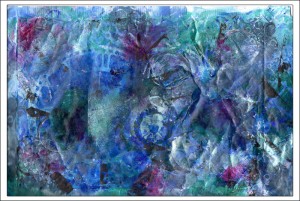 And this is the new mail art! I really wanted the colour to be all blue, but as you can see… the red and purple just couldn't help but creep in! I used acrylic paint with stencils and fingers and home made stamps, and lots of layers – so many layers, that I don't think any of the original envelope shows through at all!
I hope to be back with the paint by the weekend, but till then I'll be playing with photos and blending and possibly some words!.