Today I created a batch of coloured backgrounds in different colours using inktense pencils and neocolour crayons. I often do this when I can't think what to do as I find it generally sets me off on a new creative path. Today was no exception! During the background process I ended up with several very painty tissues, but one in particular caught my eye.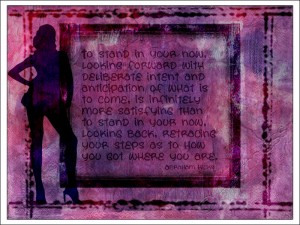 I carefully separated the three layers of tissue then tore and arranged them before glueing them to the background with a healthy dose of gel medium. When it was all dry I scanned the image into the computer, added the quotation and chose some digital brushes to frame the words.

Seeing all Leah's snow pictures last week got me thinking about snowflakes, which in turn inspired me to get some paper and scissors and start cutting! I know snowflakes are supposed to have six sides, but mine has eight – call it artistic license!
I coloured the background using Inktense pencils then cut the snowflake out of white paper and coloured it using distress ink pads applied with cling film. I stuck the snowflake to the background using gel medium then added more colour to the background using the same distress ink and cling film technique.
After I scanned it into the computer I started wondering what it would look like if I played digital blending games! You need to click on this one to look at it large.

Being without any internet for the past few days, I have had more time to get messy with paint and gel medium! Collage Lady is another catch up from the Life Book Course.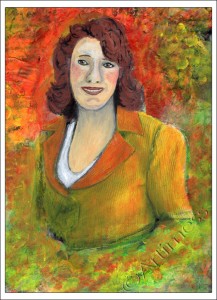 Loosely following Mystele's week 22 lesson I created a collage from torn magazine pages using a picture of a woman as the central focus. I then used a mixture of pastels, gel medium, neocolour crayons, journaling and acrylic paint to add colour and depth to the work. I must add that the painted lady bears virtually no resemblance to the collaged image underneath!
I had great fun making this piece. Thanks for the lesson Mystele and for the new techniques I learnt!
No … I've not gone completely mad … I really have been ironing my images! I've been trying out another technique from the Image Transfer Workshop Book. By some magical process (the physicists out there will be able to explain exactly how it happens) heating a magazine page that is next to some cling film (plastic wrap) enables the two to bond. You can then remove most of the paper backing which leaves you with a new very thin, waterproof version of the image. Clever stuff!! This is my first attempt … and I've stuck it in my altered fiction book before adding paint to the page.

I've been busy completing more pages in my Wreck this Journal as well. This page was done using the Gel Medium method described in my last post. I used last week's church bulletin (which was printed using an ink jet printer). I love the distressed look this method gives to the transfers!
I've been struggling over what to do with this next page for some time. The page was headed "Space for Negative Comments" – not something I thought was very constructive! But then I thought … what if I wrote my negative thoughts in thin black pen and wrote their opposite on top in thick red pen – it would be following the instructions, but putting a positive spin on it. So that's what I did! Next I painted the opposite page and squidged them together to transfer some of the wet paint. That obscured some of the words, but it was still too legible for for my liking, so I added a blur filter to the right hand page after I scanned it!
… sorry … you don't get to read my secrets … but I like the way it looks 🙂
I've been wanting to try out image transfers for such a long time … but every time I've found a set of instructions they've involved using substances which were either dangerous or else difficult to obtain. So imagine my excitement when I came across this book, Image transfer Workshop by Darlene Olivia McElroy which has a huge variety of very simple step by step instructions for transferring images, many of which use common safe substances! I'm planning on trying them all over time, but I started with the ink jet / gel medium transfers as they were so simple. All you need is a pot of Gel Medium, a paint roller/brayer and an ink jet printed image!
The image on the left-hand page of a rose bud is my very first attempt … pretty impressive I thought. I got so excited with my success that when I did

the next one, after remembering to reverse the image when I printed it, I stuck it to the page upside down!! Luckily it was in my Wreck this Journal Book so I figured it was meant to be!!
This next transfer forms the first completed page in my creative business plan which was inspired by The Right-Brain Business Plan devised by Jennifer Lee. The page is in the middle of

the book I have made and I have written " Development and growth are vital to my business. I need to experiment, experience, and constantly be trying out new ideas. Having Fun!`' around the the image. This is much more fun than a traditional business plan 🙂
This last image is my favourite of the lot! Inspired by my Wreck this Journal Book, I have decided to alter one of the many fiction paperback

books I have littered throughout my house waiting to be taken to the charity shop. I love the way the text looks like it's been aded after, when in fact it's the only bit of the original page that you can see!
I can't wait to get started on trying out some of the other techniques in the book … keep watching this space!
Yes … I have a green thumb …. but no – that does not mean I'm good with plants! I just got a little bit too enthusiastic with a spray can of metallic green paint 🙂
It all started last week when I taught leaf printing at one of my craft classes. I get so much inspiration from teaching! … I came away from that class inspired to find as many ways as possible of using leaves.
A few weeks ago I came across several cans of spray paint left over from previous projects … so I decided to try using them with the leaves, and the 'Sample Various Substances' page seemed the perfect page in the journal to use for the experiment.
After I'd picked a selection of leaves I used them as both masks and stamps to achieve this effect.

Using leaves for printing, you end up with some beautiful colourful leaves. I took a couple of the ones I brought home from the class, covered them in Gel Medium and used them to create this picture.

Going back to my journal, I decided to do something with the 'Document Your Dinner' page. I wasn't prepared to feed my dinner to it, so I did the next best thing and used a heap of favourite ingredients to splatter over the page. I used Soy Sauce, Spaghetti Sauce, Strawberry Sauce, Lemon Juice and Salt!

I'm quite pleased with the visual effect … and it's added yet more interesting aromas to the journal – it really is a multi-sensory experience!!
Jigsaw pieces, thick and thin lines, gesso and gel medium …

I had great fun drawing the thick and thin lines with my water colour pencils. I'm still considering giving it a wash to soften and blend it … but I can't make up my mind … so I'm leaving it for now!
The jigsaw pieces weren't meant to stick to the page!! I was trying to make a raised jigsaw outline, but I used a bit too much gesso and when I came to remove the pieces… they were stuck solid!! So I turned them into a collage instead and added some thick gel medium to create some great textured ridges in the pieces!
After I scanned the image of these pages into the computer, I created an A4 print of the coloured lines pages and printed it out.

I used this to cut up and make a sort of collage/mosaic fill for my traced hand. I coloured the background using a black water colour pencil.
I'm having so much fun with this journal and learning so many new techniques; but most importantly i am learning to be more experimental in my creativity.