Two more pages to add to the steadily growing collection! Another painted postcard for journalling on…
…created using acrylic paint, a stencil and acrylic ink. The black blots remind me of seahorses or maybe glow-worms. What do you think?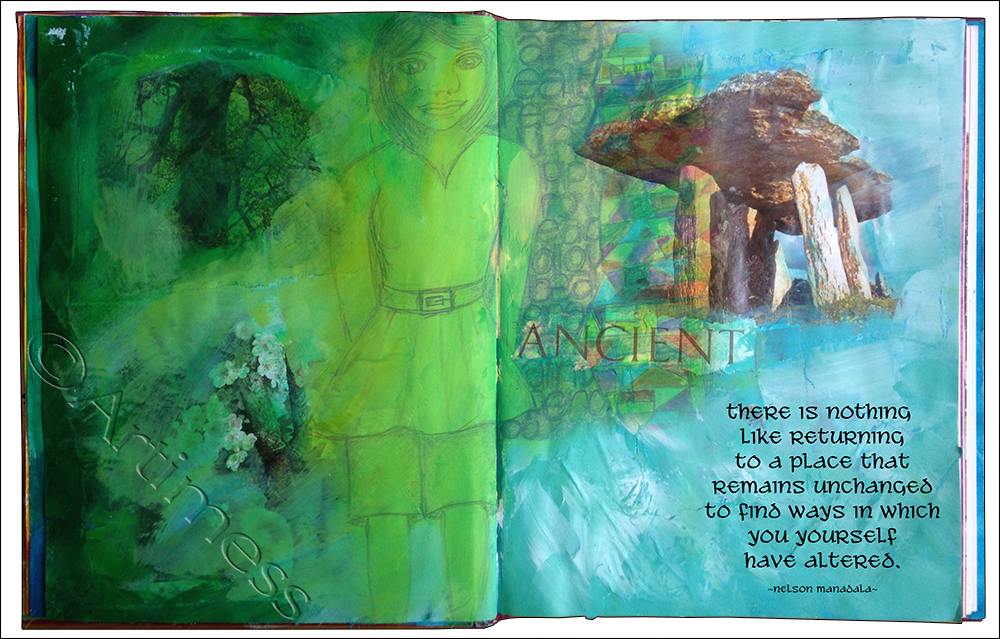 And another page in my recycled journal. This started out as a collage with acrylic paint. I added the scanned person doodle and blended her in, then chose and added the Nelson Mandala quotation using digital text.

I'm playing catch up today – it's been a really busy week!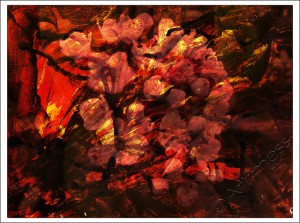 On Tuesday, I created a couple of backgrounds using a mixture of acrylic paint and ink. I scanned them both into the computer then added a photograph of some flowers and blended them to create this image.
On Wednesday I followed a video from Doll Dreams teaching us how to draw these cool doll birds! I tried it out in my everyday notebook using a uniball eye pen, then did the doodle later using my rapidograph pen while I was on the telephone! I didn't plan for them to go together, but I think they do anyway! Do you agree?
Today I had fun playing with all sorts. I started by colouring the page with neocolour crayons, then collaged an embossed sheet which I had coloured with distress ink and the stamped image of the globe which I cut out. Next I added the text which I printed on the computer and coloured using a watercolour pencil and a gold marker pen. Finally, after scanning, I added a bit of digital shading and distressing. I really like how it turned out. What do you think?

I know it's a bit early for Christmas …. but I've been making paper chains!

Not full size ones, just one mini paper chain made from a page of my Wreck this Journal book! I coloured the strips with Sharpies, then drew flowers on them using Sakura Souffle pens. Lastly I glued them together and attached them to the journal using mini brads.
I started this doodle ages ago during a long telephone conversation with my brother. Then it got put aside and I forgot about it for a while. So when I stumbled across it the other day I thought it was about time I finished it!!

I used a very fine Copic Multiliner pen.
The word I chose for this next page is the Artist in me acknowledging her presence!

I used some cheap Calligraphy pens from Asda for the calligraphy (which as you can see – write beautifully), and a mixture of other markers for the rest of the writing.
The journal is getting soooo thick now …. I have a job to hold it and I still have loads of pages to do!!! So much fun 🙂