I can't believe that a whole month has gone by since I last posted anything here. I've made plenty of art – just haven't got round to sharing it. So here goes. I'm a bit late uploading them, but here are the last of my faces for 29 Faces 2016. Yeah – I made it!!
They're created with a mixture of watercolour, oil pastels and pencil. I really enjoyed the challenge of drawing so many faces.
I've also been playing along with the Journal 52 prompts. This is my response to Sarah Trumpp's prompt for week seven using a mixture of tombow brush pens and posca paint pens – called "Nerdy Love"…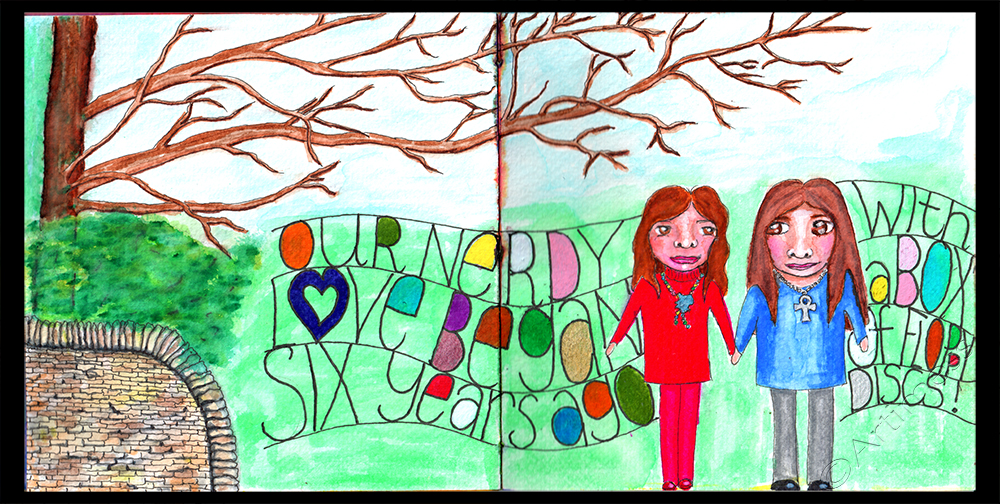 …and for week eight using a mixture of fluid acrylics, distress ink, collage, tombow brush pens, posca paint pens, stabilo all pencil and calligraphy pens – called "Listen to Crow".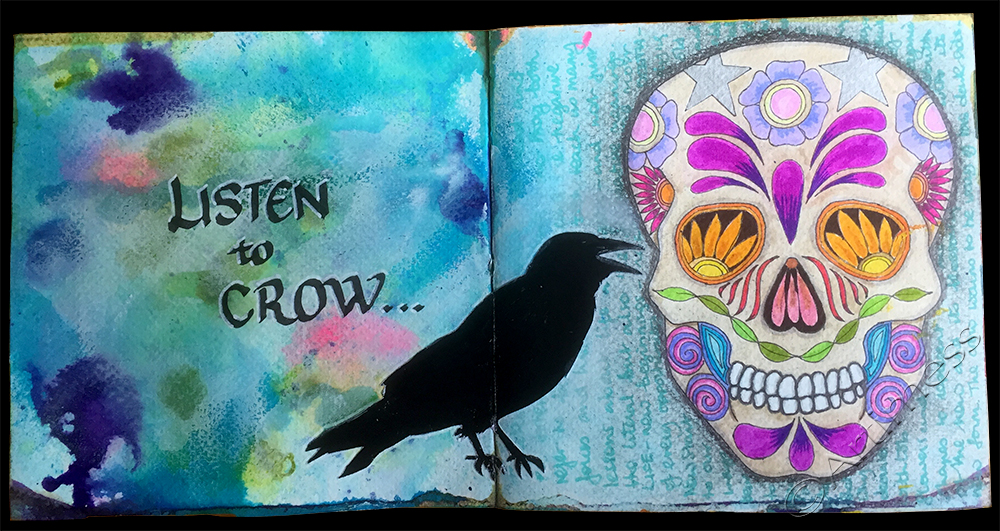 This next spread was created in response to the prompts for week eight of Effy Wild's Book of Days. I created it over the course of a week using tombow brush pens and computer generated text, and was amazed by how it all came together over the course of the week.
I was continuing to think about spring and all the new growth starting to appear while playing with acrylic paint which led me to create this spread. I just love the vibrant colours on this page.
I love the word emergence, and had great fun creating this spread in response to Effy Wild's prompt for week ten of Book of Days. I used acrylic paint, fluid acrylics and a collage of computer generated text to create these pages.
I have lots more work to share so keep watching … here's just a sneak peak of something a bit different that I'll show you more of in the next post.

I have always loved pop-up cards so this Life Book lesson from Mitsi B really appealed to me, and I loved every bit of the process of making it.
I started by journalling over both sides of the paper using a water soluble graphite stick, then activated it to stop it bleeding. I added big blocks of colour using acrylic paint, then splattered and dripped a bit over it all.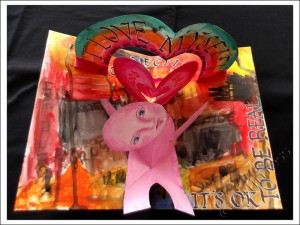 Next I made the pop-ups for the inside of the card. Owing to my inability to listen to/read instructions, my card is slightly smaller than instructed so I had to modify the rainbow pop-up to make it fit! I painted the shapes using acrylic paint, stuck them in and added more journalling using calligraphy pens from Asda and an Edding 780 paint marker to outline the letters.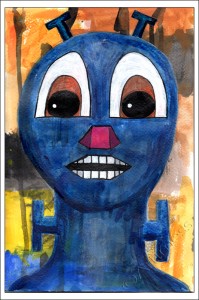 Finally I painted my monster on the front cover using acrylic paint. Don't you think she's lovely? I think this has been one of my most favourite lessons so far this year. Thank you so much Michelle!

I know it's a bit early for Christmas …. but I've been making paper chains!

Not full size ones, just one mini paper chain made from a page of my Wreck this Journal book! I coloured the strips with Sharpies, then drew flowers on them using Sakura Souffle pens. Lastly I glued them together and attached them to the journal using mini brads.
I started this doodle ages ago during a long telephone conversation with my brother. Then it got put aside and I forgot about it for a while. So when I stumbled across it the other day I thought it was about time I finished it!!

I used a very fine Copic Multiliner pen.
The word I chose for this next page is the Artist in me acknowledging her presence!

I used some cheap Calligraphy pens from Asda for the calligraphy (which as you can see – write beautifully), and a mixture of other markers for the rest of the writing.
The journal is getting soooo thick now …. I have a job to hold it and I still have loads of pages to do!!! So much fun 🙂