Today I have been getting ready for a new start. Tomorrow I start my Art Psychotherapy Masters Degree! I was hoping to do some painting today, but last minute form filling and organisation took over leaving me just enough time for a little digital blending but not much else!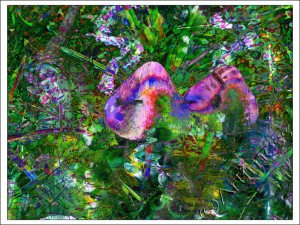 A little digital blending and some photo manipulation created these wonderful psychedelic magic mushrooms!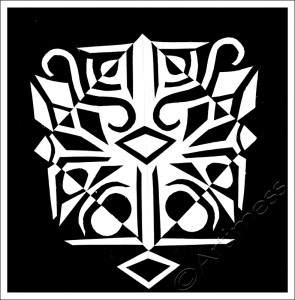 Yesterday I played with another Notan design. This one has lots of faces in it. How many can you see?

I'm finding this Notan quite addictive… so here's another one.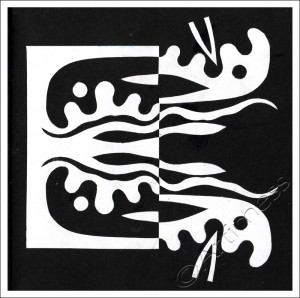 I cut this one a bit differently. Instead of folding the paper into four before cutting, I only folded it in half; and rearranged a couple of the pieces to break the symmetry. I wasn't sure which way up it should go, but I think I prefer it with the straight edge to the left. What do you think?
I'm still busy scanning some of the smaller cardboard pieces I created a while ago, so here's a couple more.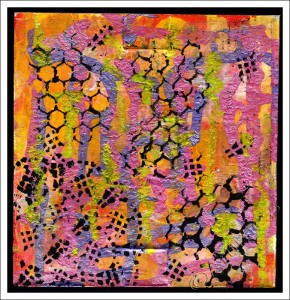 I created this piece on recycled cardboard using acrylic paint, acrylic ink, stencils and homemade stamps.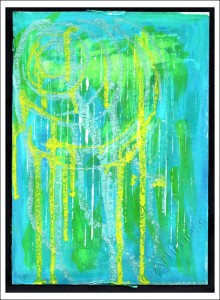 This is another piece on recycled cardboard created using acrylic paint and acrylic ink. But this one was calling to be blended…
…this is the result – quite dramatic, don't you think?

Up until the advent of the new easel, the biggest I had ever painted was a double page in my 12″x9″ Strathmore journal! To be honest, I had never had the courage to try anything bigger. But that's all changed now! With all the recycled cardboard from moving, I have lots of larger canvases to play on, and because they're made from recycled cardboard I don't have the fear of spoiling them that I might have if I'd invested lots of money in expensive canvases! And I'm really loving the freedom of painting big! Every day so far I've been adding some more to my 25″x25″ recycled cardboard.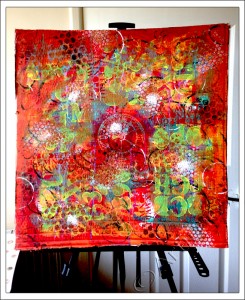 I've added more acrylic paint using letter stencils and home made stamps and am loving how it's looking so far, but have a feeling it still wants some more layers!
Meanwhile, I've been playing with some rather smaller pieces as well!
I created this one on recycled cardboard using acrylic paint, stencils, homemade stamps and a paint covered mopping up tissue to add the highlights…
…and this one on salvaged plywood using acrylic paint, acrylic ink and homemade stamps. The only problem with the plywood was that it had quite a pronounced curve from being used to protect the corners of something (I can't remember what!) and when I tried to flatten it for the scanner it cracked across the top and had to be mended 🙁 …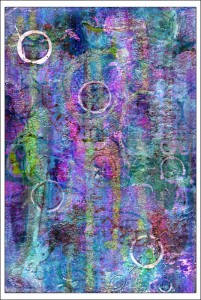 …and lastly – a little bit of sparkly digital blending – you need to look at the larger version to really see the sparkles.

As promised yesterday…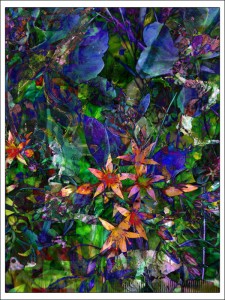 …today I played with a spot of digital blending! I blended the original photograph together with a scan of the blue green mail art I created a few days ago. I'm quite pleased with the way it's turned out. What do you think?


I took this picture of our front room today to show my daughter how the packing was going. I was wondering how it would look if I blended some of my scanned mail art with it …
… this was the first version with just one image blended…
… and this is the second version with another image blended. I can't decide which one I like best. What do you think?

Whenever I create anything, I take scans of my work through all its stages, so that I can use the images for backgrounds and texture in future work. Today I took two of those intemediate scans of my last two projects and played digital blending with them.
I think the result looks like the background of a fairytale story, and can imagine lots of quirky characters running around in the image. I might just print it out and have a go at adding some of them to it. What do you think?

The last few times I've been out, I've been snapping pictures of summer feet…. and true to form – I wondered what they'd look like if I played a spot of digital blending with them.
I took two of my photographs, added an artwork scan and whizzled the blending buttons. I rather like the result – what do you think?

I've been working on a mixed media piece in my new journal for the last couple of days and experimenting with the camera on my iPhone as well.
Inspired by this post from Julie Fei-Fan Balzer, I spent a while cutting out this quotation to use on my new page.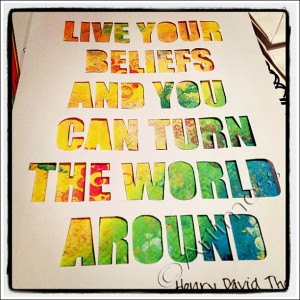 After I'd finished the cutting out, I downloaded the Snapseed app and took this photograph to play with on my new app!
Today I was working on the background, and scanned in the different stages to use as future collage material. As is often the case, I got sidetracked into doing some digital blending 🙂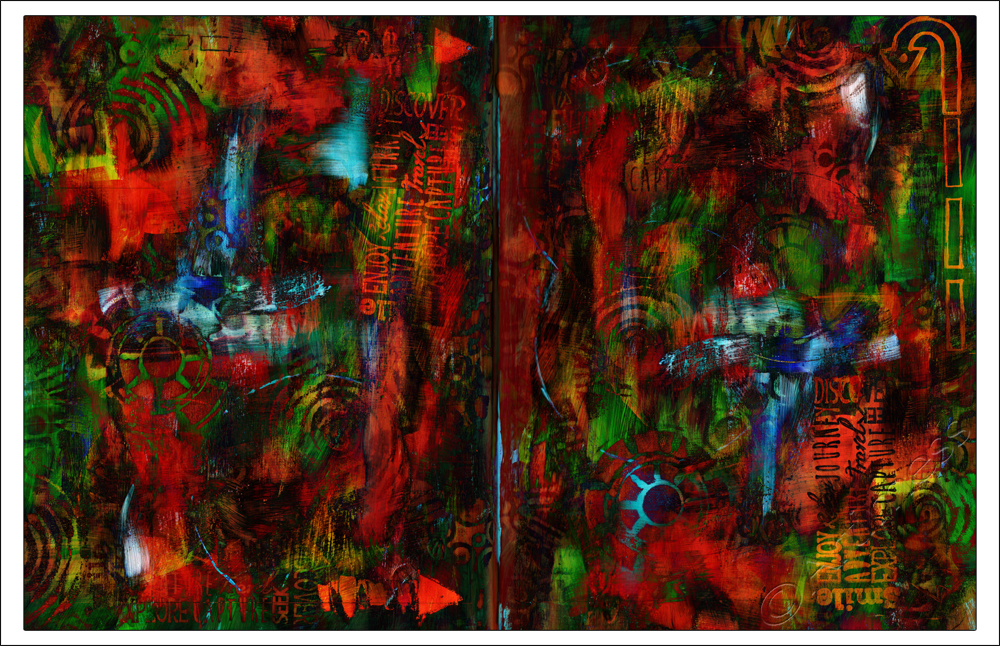 This is the result – pretty colourful, yes? You'll have to wait till tomorrow to see the finished page as the final layer is still drying at the moment!

I have been busy painting and working on Rae Missigman's 21 Secrets 2013 Class, but I have nothing to show yet, so I thought I'd share some digital playing instead. I was catching up with my reading list yesterday and came across this post from iHannah about creating digital kaleidoscope mandalas. Well – I just had to give it a try, didn't I!
I decided to use my Face Emotions image as the source and had great fun playing. iHannah's instructions are very helpful. I created four mandalas, but that wasn't enough for me. After downloading the results I had to play digital blending to take it that little bit further! This is the result.
Thank you iHannah for the inspiration, and thank you SumoPaint for a nifty piece of software.
Finally! I've at long last finished projects #5 and #6 in Kate Crane's 21 Secrets 2013 class.
I started project #5 with a collage of printed artwork covered with acrylic paint. I used handmade stamps to add more depth then added a computer printed quotation and some grungeboard keys covered with metallic flakes. Lastly I added a metal key.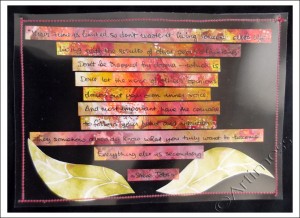 I just loved Kate's acetate sandwich for project #6 but had great problems getting my sandwich contents to stay still. In the end I decided to use some double sided tape to keep everything in place! The quotation is handwritten on strips of cut up painted background and the leaves are cutout prints of handmade stamps. Great fun to do, and so effective!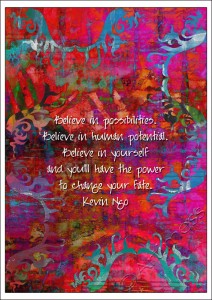 Last but not least, I thought it was time I played with digital blending again! The background is a digital blend of an artwork scan to which I added a blend of a digital brush I created from a hand drawn doodle. I really love this quotation – it's so true!