Today was such a beautiful day, I went out for a walk with my camera. Everywhere was a riot of colour: roses, bluebells, campions, clover, wild garlic, buttercups and daisies, to name the few flowers I know the names of, all showing off their vibrant colours in the long overdue sunshine. I took over 100 photographs! – but you know me, that wasn't enough, when I downloaded them onto the computer I had to play digital blending with them!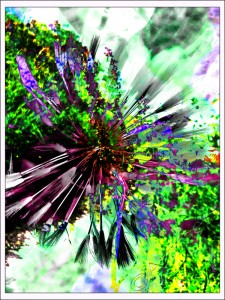 These are the three flowers that I played blending games with. I started off with the rose, then added the dandelion seed head, finishing up with the red grass like plant whose name I don't know. Each flower was blended separately before I blended them together. Can you spot them in the final blend?

I just couldn't resist doing some more paper cutting today. I drew the design, a kind of flower mandala, cut it out then thought it might look good with some colour. I scanned the cut out to print it, but couldn't resist playing digital blending with it first…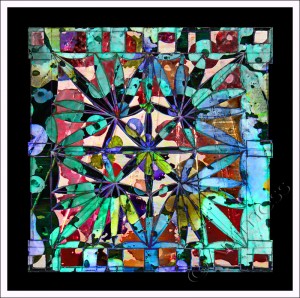 … I rather like how this one turned out. After that little detour I got down to trying out some colours and decided to go ahead with them.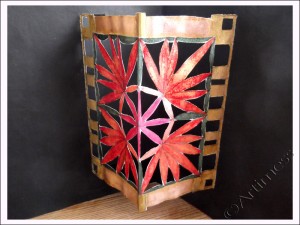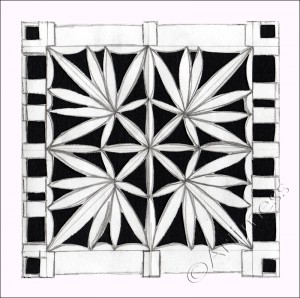 I created the mandala design on some scrap white printing paper then painted it with Twinkling H2O's. It looked a bit anaemic on the white so I painted the background with black gesso before sticking the whole thing to black card with lo-tack double sided tape. I love the way the Twinkling H2O's contrast with the matt black of the gesso.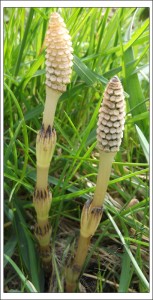 The other weekend we went to York to visit a friend and were taken to visit the city's nature reserve. Always on the look out for a photo opportunity, I noticed these unusual plants growing just behind a bench and had to get down in the dirt to photograph them. Later, playing on the computer, I thought they would make a good subject for some funky blending.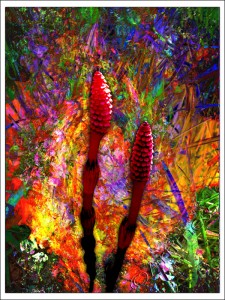 I started with the photograph of the plants, then blended lots of layers of a scan of some leftover paint. By this time it was looking very funky, but the plants had disappeared. So I cut them out, duplicated them on top of the pile, and added some colour and blending to make them fit in with the rest of the picture. I'm very pleased with the result. What do you think?

I've been busy altering tins and making game cards for Diana Trout's class on the 21 Secrets 2013 course.
I took two old cough lozenge tins, sanded them and primed them with gesso, then painted them with acrylic paint. It was not a success – the paint started to flake off! So I covered the paint with tissue paper glued on with gel medium. Success! I still wasn't happy with the way they looked, so I added several more layers of acrylic paint in different colours and another layer of gel medium. Once I was happy with the tins I created their labels using a stamped flower and a digital label. I coloured both of these using Twinkling H2O's. I made the game cards from double-sided scrapbooking paper, then used the same stamped flower and digital label for the instructions.
I found this class to be quite a challenge, but I'm glad I did it – I learned a lot. Thank you Diana.
About a week ago I posted this blended image and said I didn't think I was quite finished with it yet. This is why – I just turned it into a kaleidoscope! I love the colours and all the faces in the patterns. How many faces can you find? I keep losing count!

Today I've been working on Danielle Daniel's class, part of the 21 Secrets 2013 course. I had great fun and got very messy creating this background.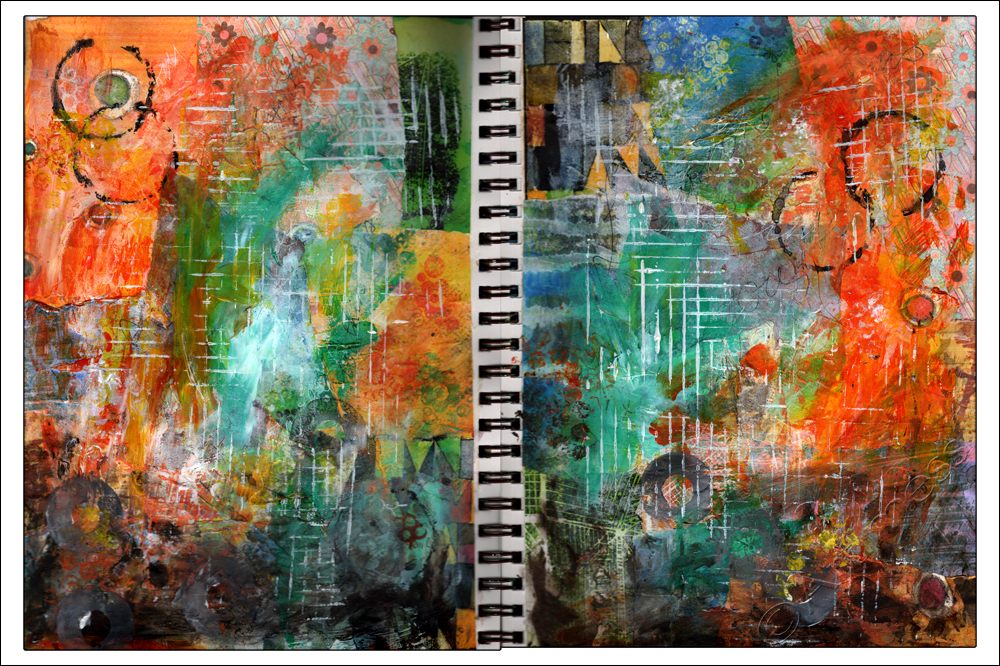 I started out with a collage of printed papers from my earlier artwork, then added acrylic paint using a variety of techniques. Next I added journalling followed by more acrylic paint! I still have more to do to finish – there's at least one person waiting to be painted – but I really like how it looks right now, so I thought I'd share it with you.
When I finished painting, I had rather a lot of leftover paint on my palette, so I created this in my notebook.
Then I decided to see what it looked like with a bit of digital blending. I quite like how it turned out so far, but I have a feeling I'm not finished with it yet!

Since finishing my postcards, I have been busy playing with the new stencils I got last weekend. I always start my playing in my everyday notebook/journal, which is not quite big enough for the whole stencil.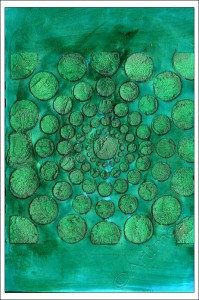 I had a tiny bit of Light Molding Paste left in my pot so I thought I'd try it out with this Creative Expressions stencil. When it was dry, I painted it with acrylic paint, then added some green Perfect Pearls using a Versamark ink pad. Just to finish it off I added a shadow to the circles with a Unipin fine line pen. The scan really doesn't show the lovely sparkly finish of the perfect pearls.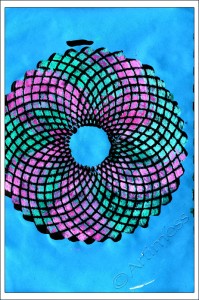 As I'd run out of texture paste, I thought I'd try creating a texture using some black gesso with this TCW stencil. At first I thought it had worked, but when it dried, it went rather flat! So I decided to add some colour to it using acrylic paint. I'm quite pleased with the way it turned out.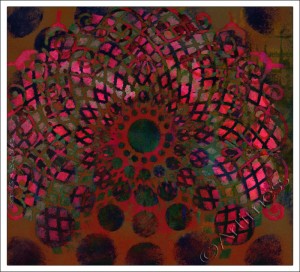 This last image is a digital blend of two scans of earlier acrylic paint prints using the two stencils above. I just love how many different effects it's possible to get using stencils!

The trouble with playing digital is that it's totally addictive! I've always loved kaleidoscopes so I had to have another go.
Using the same original images as yesterday, this is today's version! I think this is my favourite so far. What do you think?

I've been so busy drawing and painting lately that I haven't had time for playing with digital blending. So today I thought I'd rectify that omission!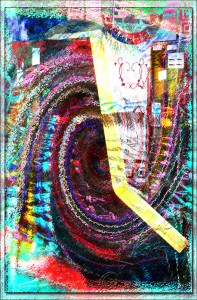 I started out with an artwork scan and two photographs. This was the first result. I really like this one, but decided to have a go at making a kaleidoscope style mandala.
This was the result! Which one do you prefer?

I've been playing blending again! I made a stained glass window image inspired by Jodi Ohl's Just do it – Free Art Friday post.
But unlike Jodi, I didn't doodle on my painting, I scanned it and played digital blending with it!
Then I thought it might be a good idea to finish face #16 which has been lurking accusingly for a while now!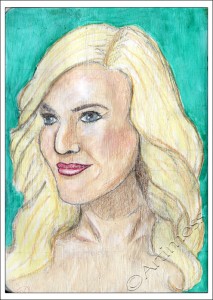 I'm glad I did – I'm quite pleased with how she turned out – she's definitely one of my better faces! I drew her in pencil and coloured her using acrylic paint and watercolour pencils. Now what shall I do next?

Today I played digital blending as well as faces.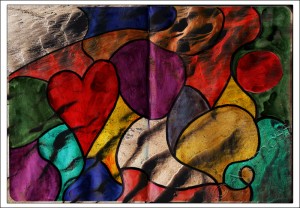 This started as an abstract created using Twinkling H2O's. Then I scanned it and played digital blending with a photo of sand patterns. This is the result.
Todays face got the works!
I was so determined she wouldn't have any strange paint marks today that I gessoed the page before I started! Then I had to draw her face on the gesso. I hate pencil drawing on gesso! – it smudges everywhere!Luckily the putty rubber does a good job of cleaning up! To stop further smudging I started off with an acrylic wash base, then coloured her face and hair using watercolour pencils. I added some background colour using Twinkling H2O's. I must admit – I'm quite pleased with the final result. What do you think?