I have never been a great one for glitter, although I have recently become quite addicted to twinkling H2O's. So when I read the introduction to my next 21 Secrets 2013 class I was a little nervous. Glitter – and more glitter!
Entitled Sparkle-Arkle, Dion Dior's class promised lots of light catching paint and glitter. Wow! – so many new techniques wrapped up in one class – and this is just part one!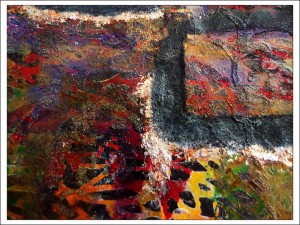 Much glitter later (I'm still covered in it and so are my scanner and my laptop)… here is the final result. I've included a detail photo as the scan really doesn't do justice to the amazing lustre of the final piece. The list of ingredients I used is long: water colour paint, tissue paper, Twinkling H2O's, gloss gel medium, glitter, stencils, stamps, acrylic paint, matt gel medium, gold thread, gilding flakes, pva glue, glue pen, and perfect pearls. I didn't have a lot of the suggested products so I had to improvise, but it was great fun!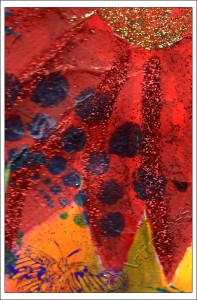 I'm not going to attempt to describe the process – you need to sign up for the course for that, I'll just show you this sneak peek of the underpainting.
Now if you'll excuse me, I'm off to start part two of Dion's class. More glitter!

Since finishing my postcards, I have been busy playing with the new stencils I got last weekend. I always start my playing in my everyday notebook/journal, which is not quite big enough for the whole stencil.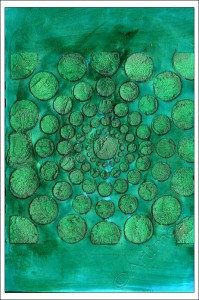 I had a tiny bit of Light Molding Paste left in my pot so I thought I'd try it out with this Creative Expressions stencil. When it was dry, I painted it with acrylic paint, then added some green Perfect Pearls using a Versamark ink pad. Just to finish it off I added a shadow to the circles with a Unipin fine line pen. The scan really doesn't show the lovely sparkly finish of the perfect pearls.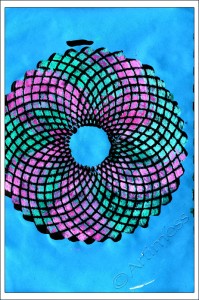 As I'd run out of texture paste, I thought I'd try creating a texture using some black gesso with this TCW stencil. At first I thought it had worked, but when it dried, it went rather flat! So I decided to add some colour to it using acrylic paint. I'm quite pleased with the way it turned out.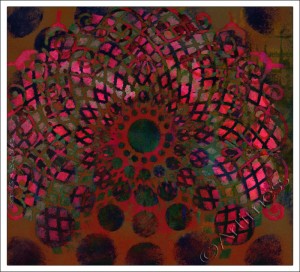 This last image is a digital blend of two scans of earlier acrylic paint prints using the two stencils above. I just love how many different effects it's possible to get using stencils!

Still playing catch up with Life Book 2012, Jodi Ohl showed us how to make these embossed foam embellishments – really cool!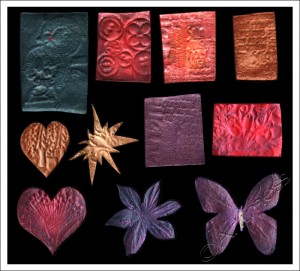 They really are very simple and cheap to make and can be made into simple embellishments, buttons or anything else you can dream up! Heat up the foam with a heat gun and then press a rubber stamp into it to emboss the pattern. You need to press very hard, and the foam is quite hot so I don't think it will work with clear stamps (they don't like heat, and tend to go all squadgy if you press too hard). If you don't like the result just heat and try again. When you are happy with the result you can colour them any way you want. I used a mixture of acrylic paint, perfect pearls and gel medium to give a nice glossy finish and seal them.
Like the backgrounds, I'm not sure what I'm gong to use them for yet … but keep watching … they'll turn up on something soon!

Sleep with the Journal? …. No Way!!! It's much too lumpy and there are far too many sharp bits sticking out!! Instead I altered the instructions and created new ones!!

It now has a series of statements/ instructions:
Sleep is something we all need
Are you happy with Life?
Experiment with the book!
Journal your thoughts …
Descibe how you are feeling …
Play with the art
All experiences are useful
Leave your comments here
I then coloured the pages using a water colour pencil wash, and added an explosion of colour to the left page! I may well add some more comments to the right page as I think of them 🙂
This next page evolved as my doodles are inclined to do!! I had no intention of drawing a face when I started out … it just ended up that way!

The left page evolved after I used it to try out some new rubber stamps I got from the
SSP Guild
on Saturday morning. It just reminded me of these words from an old Dave Clark Five song called Here comes Summer (Showing my age there!!) Only trouble was … the page got really wet after I wrote the words and they bled everywhere!! So I wrote over the top again. I think it looks even better now!! What was that I was saying about accidents improving artistic content?
(see bottom of last post)
Following another set of instructions …

… I coloured the edges of the pages using Perfect Pearls from Ranger. It would have been easier to do at the beginning before the book got so fat!! 🙂
At a recent business seminar we were given small gift boxes containing tiny meringues from Head in the clouds. The meringues were delicious … but I have to admit … it was the boxes that appealed to me the most!! I had to find out how they were made and have a go at reconstructing them. This is the result 🙂
I've been so busy working lately that I haven't had much time to get messy so it was a real treat to play with these boxes!
Take one wooden picture, some magazine illustrations, a celtic knot frame (yes it is the same one you've seen before!), a mixture of alcohol inks, some lumiere paint, a few grains of perfect pearls powder, an enormous quantity of mod podge, and a graphite pencil – mix well making sure to get your hands covered in all of the above ….

… get a massive dose of inspiration from one of your favourite artists [I just started reading
Taking Flight
by
Kelly Rae Roberts
… and this is what I got!
I've been meaning to try my hand a some mixed media collage work for ages. I'm quite pleased with the result of my first attempt. I hope you like it!