Did I mention that I am becoming addicted to doll making? This one's taking a bit longer than the others have, and she's still not quite finished, but I thought you might like to see her anyway.
The pattern came from Elinor Peace Bailey's book Mother Plays With Dolls … and Finds an Important Key to Unlocking Creativity
. It's a generic pattern which can be adapted to make any number of variations – there are some amazing examples in the book. I stuck pretty much to the basic pattern, but wanted to add some wool hair. I searched online for some tutorials and finished up using a combination of these two tutorials: this one from Gillian Wynn Grimm at Dried Figs and Wooden Spools; and this one from Gillian Austin at Astableulah. I haven't decided whether to paint or embroider her face, and I may add some other bits and pieces while I'm at it, but I'll post another picture when she's finally finished.
In between playing with dolls, I've also been playing with paint.
I started off with some recycled cardboard and a double page spread from a newspaper, added some blobs of moulding paste then swirled them about. I added acrylic paint, acrylic ink and spray paint to the mix, then left it all to dry. But that wasn't the end! After scanning it I had to play digital blending…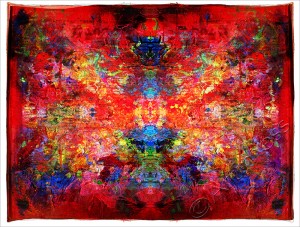 …I thought this one was quite nice, but then I thought I'd try inverting the colours…
…and came up with this which I rather like. What do you think?

Ever since Tam published this week's Life Book 2013 Lesson from Christy Tomlinson, every spare minute I've had has been devoted to getting messy playing with the new techniques Christy taught us.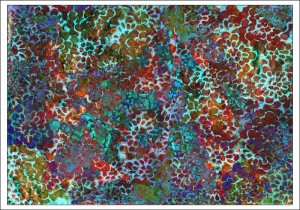 Along the way I had some leftover paint which I used with a flower stencil to create an image. I scanned this together with the sheet I prepared for making the flowers in the main project, then blended them. It'll make a good background for something one day!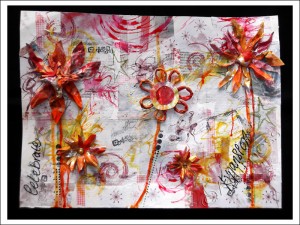 Finally – the finished product! I had so much fun! I started by creating a mixed media collage background using newspaper, old magazine inserts, bits of old envelopes, washi tape, white acrylic paint, inks, stamps and marker pen for the words. Then came the fun part of making the flowers. You'll have to do the course if you want to know how, but I used kitchen roll, tissue paper, very runny acrylic paint, stencils, stamps, kitchen foil and lots of gel medium. I had to adapt some of the ingredients as I didn't have everything on Christie's list! It was great fun, and very messy! – Thank You, Christie!
I've really been missing drawing this year, so today I drew the Pink Lady! I wasn't going to colour her at all, but then I had an accident over her right eye with my white marker. So she now has blue eyes! Not a bad cover up job!

I got a bit behind with the Life Book 2012 classes and have only just finished Rhomany's monochromatic lesson from last week.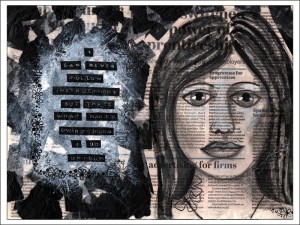 One of the disadvantages to having given away most of my craft supplies at the end of last year (read more about that here) is that I don't have a lot of the supplies that Rhomany used, but I'm very good at improvisation!!
I started off with a collage of newspaper pages then drew the face using a black biro. I didn't have any ink so I used a mixture of graphite pencils and neocolour crayons to colour and define the face. I used a tiny bit of white gesso for the highlights.
On the left hand side of the page Rhomany used black and white scrapbook paper. As I didn't have any of that I used layers of black and white tissue paper to create my pattern. Then I used white gesso to create a lighter area on which to add my words which I created using my dymo machine, black paper and a white oil pastel.
Lastly I added some stamping using a Staz-on ink pad.

Newspaper is one of my favourite materials – it is so versatile! You can use it to protect your work areas, you can cut it up and make things with it, you can build things with it, you can use it for papier mache, you can take prints from it, you can use it in collages – and those are just a few of its craft uses!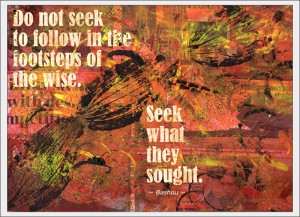 To create this image I completely covered a sheet of watercolour paper with torn newspaper, then added acrylic paint using a variety of implements including bottle lids, bubble wrap, sequin waste and old credit cards. Next I added some carefully chosen, strategically placed leaf prints and a few stencilled footprints. Finally after scanning the image into the computer, I added a quotation using distressed digital text.
I love the way the newspaper peeps through the layers in places!
All this book altering and Journal wrecking is having a profound and very freeing effect on my artistic endeavours. I've started this experimental journal …. and the first thing I did was cut a hole in the cover!!

The title I made from recycled magazine images and the flower from an old newspaper. The inside of the cover I created from an old book page crumpled and inked with alcohol inks.
The next page, Learning Curves, I cut the title from a magazine article. The facing page has a torn magazine image and some crumpled inked paper together with an aperture cut to accomodate the butterfly image which I stamped on the waste I cut from the cover of the Journal. [this is recessed within 4 pages]
On the next page I have used a complete newspaper page cut down to fit, then I coloured it with water colour pencils. I gave it a wash with water and shut the book to transfer some of the colour to the facing page.
Although it wasn't planned, I seem to be documenting my work in this journal … it will be interesting to see how it develops!
I have been following 'Thurdays with Earl' on the Jessica Sprague website for quite a few weeks now and have really enjoyed the different lessons he has taught. Last week Earl taught us how to make Celtic Knot Designs, something I have wanted to have a go at doing for ages!
So I drew my grid, then carefully followed the instructions (except I changed the shape!) with this result ….

But when I looked at it … it was just crying out to be blended in with something else. So I tried it with this …
Then I just had to do something messy after all that concentration. I used a pop-up butterfly template from
RobertSabuda.com
then got out some newspaper, clingfilm, alcohol ink and blending fluid. If you haven't tried squirting alcohol ink onto cling film… you really should!! It's very messy – hence the newspaper, but if you lay your paper on top you get some fabulous results! This is mine … framed of course by my Celtic Knot Frame!!
I have great plans to try out some more complex knot designs … so watch this space 🙂