I love the autumn when the leaves turn such beautiful colours on the trees. As they fall to the ground it's the perfect time of year to satisfy the child in me by doing some leaf printing. A few mornings ago, I came back from my early morning walk with a large bag of assorted fallen leaves ready to spend the day playing!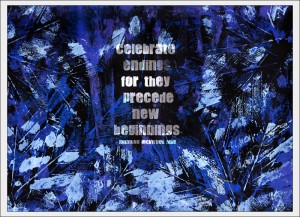 By the end of the day I had paint everywhere, together with a stack of images in a variety of styles and colours. Having scanned them all into the computer, I am now in the process of going through them. Some of them like the one above, immediately suggest something to me, but others may sit neglected for months before I discover a perfect use for them.
Autumn Blues was created using a base coat of black gesso, acrylic paint leaf prints, followed by some digital text and a bit of blending.
The observant among you may have noticed that I've just acquired a new badge on my right sidebar. I've just signed up for this years Art Every Day Month – the challenge of being creative every day for the month of November. I really enjoyed taking part last year from my Face of Love blog and am looking forward to being part of it again. Why don't you give it a try – it's great fun!
Yes … I have a green thumb …. but no – that does not mean I'm good with plants! I just got a little bit too enthusiastic with a spray can of metallic green paint 🙂
It all started last week when I taught leaf printing at one of my craft classes. I get so much inspiration from teaching! … I came away from that class inspired to find as many ways as possible of using leaves.
A few weeks ago I came across several cans of spray paint left over from previous projects … so I decided to try using them with the leaves, and the 'Sample Various Substances' page seemed the perfect page in the journal to use for the experiment.
After I'd picked a selection of leaves I used them as both masks and stamps to achieve this effect.

Using leaves for printing, you end up with some beautiful colourful leaves. I took a couple of the ones I brought home from the class, covered them in Gel Medium and used them to create this picture.

Going back to my journal, I decided to do something with the 'Document Your Dinner' page. I wasn't prepared to feed my dinner to it, so I did the next best thing and used a heap of favourite ingredients to splatter over the page. I used Soy Sauce, Spaghetti Sauce, Strawberry Sauce, Lemon Juice and Salt!

I'm quite pleased with the visual effect … and it's added yet more interesting aromas to the journal – it really is a multi-sensory experience!!