Ooops! – I got sidetracked again! But this Life Book lesson from Dawn DeVries Skol was just so much fun!
I started by painting the background using acrylic paint. I decided that I wanted the self-portrait to be transparent so I printed it on overhead projector film then cut it out and stuck it down using gel medium. It has left me with a slightly streaky face, but I like being able to see the background through the image. Next I added the journalling and doodling using Pitt Artist pens and coloured the large letters and doodles using neocolour crayons. Lastly I inked round the edges of the pages with a distress ink pad. Thank you Dawn for a really great lesson!
Now I really am going to get back to Dion Dior's 21 Secrets Lesson!

Last Sunday we travelled to Harrogate and visited the Great Northern Papercrafts Extravaganza – great fun! I got some really cool stencils, stamps and dies which I have been playing with this week.
On Monday I signed up to take part in the iHannah's DIY Postcard Swap 2013. (There's still time to sign up if you're interested, you just have to pledge to post 10 handmade cards by 30th March.) So I have been busy this week making my ten cards for the swap.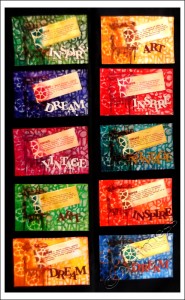 I started by creating a set of coloured backgrounds using Inktense Watercolour pencils. Next I added a contrasting colour using Acrylic paint and an Artist Cellar Stencil followed by a stamped image from IndigoBlu using a mixture of distress ink and staz-on ink pads. I followed this with a layer of gel medium to seal everything and to stick on the word definition tags, which I created using more stamps from IndigoBlu and a Creative Expressions stencil, and the die cut letters from memory box. Lastly I added another layer using the same stencil with acrylic paint.
I created the backs of the postcards using a free postcard backside from iHannah which I had to resize to fit my postcards, then added a digital stamp which I made using a scan of another Creative Expressions stencil, some hand drawn bird shapes and a quotation from Friedrich Nietzsche.
The completed postcards are now sitting waiting for their recipients addresses to be added!

Following on from yesterday, I thought I'd create a background on glossy card using the distress ink pad and cling film technique.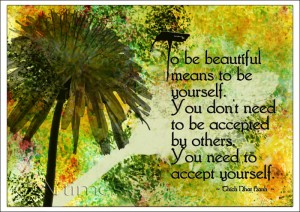 When I saw how it turned out, I decided to scan it, add some digital brushes which I created from a couple of my own photos and the Thich Nhat Hanh quotation.

Seeing all Leah's snow pictures last week got me thinking about snowflakes, which in turn inspired me to get some paper and scissors and start cutting! I know snowflakes are supposed to have six sides, but mine has eight – call it artistic license!
I coloured the background using Inktense pencils then cut the snowflake out of white paper and coloured it using distress ink pads applied with cling film. I stuck the snowflake to the background using gel medium then added more colour to the background using the same distress ink and cling film technique.
After I scanned it into the computer I started wondering what it would look like if I played digital blending games! You need to click on this one to look at it large.

This catch-up on the Life Book Course came from Lesson 20 with Jodi Ohl.
I started out by colouring the background using Derwent Inktense pencils. For the doodling and text I used a uniball eye pen, then coloured the doodles using neocolour crayons and a graphite pencil. The two stamps were hand made using pieces of fun foam: I stamped the butterflies using a distress ink pad, and the star using a Staz-on ink pad.
I'm still toying with the idea of adding more doodling. What do you think – do you think I should?

Last weeks life book lesson with Tam was to create a mixed media collage using paper and material celebrating where you are now using no more than two words. I love working with material, so I just had to have a go at this lesson! I chose Spiritual Growth for my two words as above everything else, that represents where I am right now.
I started off with a collage of images torn from magazines. Then I added an assortment of material pieces most of which were more or less transparent so they just added colour while still allowing the paper layer to show through. Next I added the images and words which I printed out using my computer. I used a distress ink pad to help the paper to blend in with everything else. I added some hand stitched crosses and buttons and finished off with some machine stitching to link everything together.
I'm quite pleased with the way it turned out. Its very tactile – I love the feel of all the stitching! Thank you Tam for another great lesson.