Following on from yesterday, I thought I'd create a background on glossy card using the distress ink pad and cling film technique.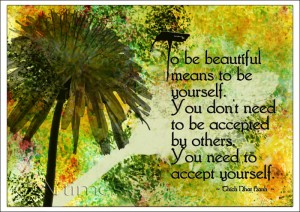 When I saw how it turned out, I decided to scan it, add some digital brushes which I created from a couple of my own photos and the Thich Nhat Hanh quotation.

Seeing all Leah's snow pictures last week got me thinking about snowflakes, which in turn inspired me to get some paper and scissors and start cutting! I know snowflakes are supposed to have six sides, but mine has eight – call it artistic license!
I coloured the background using Inktense pencils then cut the snowflake out of white paper and coloured it using distress ink pads applied with cling film. I stuck the snowflake to the background using gel medium then added more colour to the background using the same distress ink and cling film technique.
After I scanned it into the computer I started wondering what it would look like if I played digital blending games! You need to click on this one to look at it large.

No … I've not gone completely mad … I really have been ironing my images! I've been trying out another technique from the Image Transfer Workshop Book. By some magical process (the physicists out there will be able to explain exactly how it happens) heating a magazine page that is next to some cling film (plastic wrap) enables the two to bond. You can then remove most of the paper backing which leaves you with a new very thin, waterproof version of the image. Clever stuff!! This is my first attempt … and I've stuck it in my altered fiction book before adding paint to the page.

I've been busy completing more pages in my Wreck this Journal as well. This page was done using the Gel Medium method described in my last post. I used last week's church bulletin (which was printed using an ink jet printer). I love the distressed look this method gives to the transfers!
I've been struggling over what to do with this next page for some time. The page was headed "Space for Negative Comments" – not something I thought was very constructive! But then I thought … what if I wrote my negative thoughts in thin black pen and wrote their opposite on top in thick red pen – it would be following the instructions, but putting a positive spin on it. So that's what I did! Next I painted the opposite page and squidged them together to transfer some of the wet paint. That obscured some of the words, but it was still too legible for for my liking, so I added a blur filter to the right hand page after I scanned it!
… sorry … you don't get to read my secrets … but I like the way it looks 🙂
I have been following 'Thurdays with Earl' on the Jessica Sprague website for quite a few weeks now and have really enjoyed the different lessons he has taught. Last week Earl taught us how to make Celtic Knot Designs, something I have wanted to have a go at doing for ages!
So I drew my grid, then carefully followed the instructions (except I changed the shape!) with this result ….

But when I looked at it … it was just crying out to be blended in with something else. So I tried it with this …
Then I just had to do something messy after all that concentration. I used a pop-up butterfly template from
RobertSabuda.com
then got out some newspaper, clingfilm, alcohol ink and blending fluid. If you haven't tried squirting alcohol ink onto cling film… you really should!! It's very messy – hence the newspaper, but if you lay your paper on top you get some fabulous results! This is mine … framed of course by my Celtic Knot Frame!!
I have great plans to try out some more complex knot designs … so watch this space 🙂