Ive been wanting to keep a Journal for a long time now but haven't managed to get started. So when I saw Rhomany's 'When Frogs Sing', Journalling course I signed up for the year! I had to smile to myself while watching todays video – I have this little problem – I love making mixed media backgrounds, but I'm not so good at adding the journalling. But then I thought "why don't I add it digitally" – so that's what I'm doing!
This is the scan of the first page which I created in my altered book/journal using acrylic paint and a home made stamp.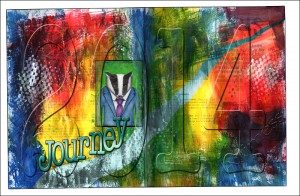 And this is the page after adding digital text and images. Journey is my word for the year and Badger is my totem animal for 2014. My colour for the year is Phtholo Blue Green Shade.
Yeah – my first journal page complete!

This weeks Life Book lesson is about celebrating the things we have achieved this year. I am very fortunate in having many things to celebrate – having given up my security to travel, successfully navigating the subsequent soul searching and releasing that went with it, resettling in a new location, studying and developing my spiritual life, completing the first two levels of Reiki training, and getting back into creating every day.
So it gave me great pleasure to create this whimsey with her animal totem, Badger. I drew her in pencil, then coloured her using neocolour crayons. I used some patterned paper to collage her dress and used letter stamps to create the word 'celebrating' in the balls I gave her to juggle with. I added golden stars using star confetti and coloured the background using a neocolour crayon. It looked good but I felt something was missing. So… I used a watercolour pencil to write words describing what I was celebrating around the balls, then blended them into the background using a damp brush. Although it more or less obliterated the words, the extra colour just completed the picture.
Thank you Tam for such an inspiring lesson 🙂

We've been battling with our internet provider this week and have been without service for nearly two days! It's just come back up so I'm making hay while the sun shines!
I wasn't in the mood for crochet (this weeks Life Book lesson) so I thought I'd play catch up with one of the previous lessons I've not looked at yet! I chose week 25 by Juliette Crane.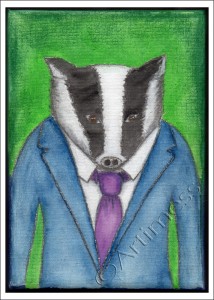 I loved every minute of doing this picture of my totem animal – so much so that I kind of forgot to follow the instructions and ended up with something rather different from Juliette's wonderful whimseys! I drew the outline using water soluble graphite sticks, then coloured Badger in using neocolour crayons. I used the neocolours to create the background, then added some distress ink to add a bit of depth.